It's St. Patrick's Day again, that patriotic time of year when we celebrate all the good things about being Irish. And as we all know, one of the things we do best collectively, is produce quality music. Last year we marked the occasion with a playlist of 100 great Irish songs. This year, we humbly point you in the direction of some of our favourite Irish albums.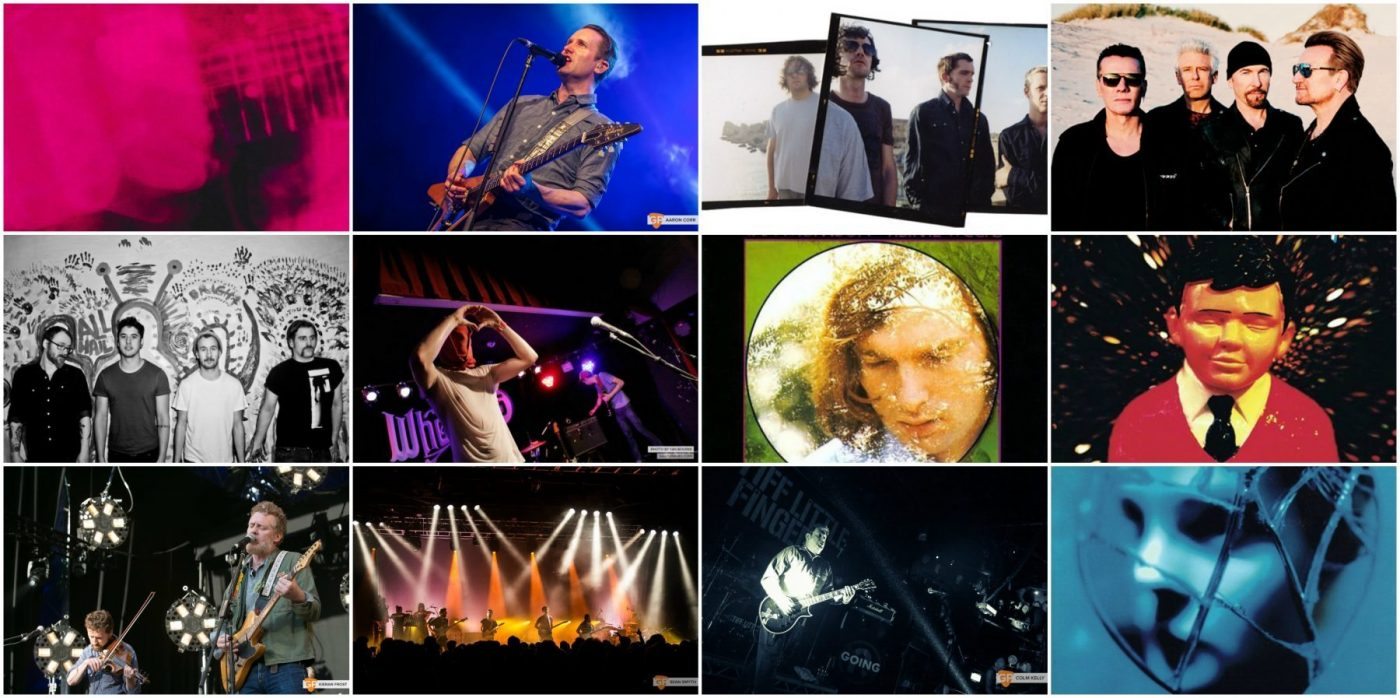 My Bloody Valentine - Loveless
Having already laid down the foundation for the shoegazing movement on their 1988 debut LP 'Isn't Anything', My Bloody Valentine would cement their place in alternative rock history with Loveless. Frontman Kevin Shields' innovative guitar technique (alternate tunings and liberal use of a loosened tremolo arm) and painstaking attention to sonic detail gave birth to a plethora of stunning soundscapes and otherworldly sounds while maintaining a keen sense of melodicism and pop sensibility as proven by timeless tracks like Only Shallow and Sometimes, and even hazy dance-ability on indie disco floor-filler Soon. Vocals courtesy of Shields and Bilinda Butcher are sleepy, druggy and sexy; and mere instruments; lyrics unintelligible but for all it's sonic innovation and impressionistic take on the verse-chorus-verse song structure; Loveless remains unmatched, unrivalled in it's niche.

Stiff Little Fingers – Inflammable Material
Barking at the feet of their John Peel-championed single Suspect Device, released on Stiff Little Fingers' own Rigid Digits label in 1978, the following year's 'Inflammable Material' remains one of the most charged, volatile and politically astute debuts of the punk era…fuck that, of any era. Heavily influenced by the Troubles and the realities of growing up in Northern Ireland, SLF nailed oppression, violence and dark humour to a lean, tautly-coiled thirteen tracks. Bob Marley's Johnny Was migrated to the streets of Belfast, Barb Wire Love tipped a nod to doo-wop, Rough Trade stuck it to the record execs, and Alternative Ulster remains their finest 165 seconds. The Stiffs set the bar with this one.

Astral Weeks – Van Morrison
Astral weeks is simultaneously a weird rambly mess and a perfectly album. It floats dreamily across a disparate range of genre elements from folk to blues to jazz. The lyrics bounce from vague impressionism to blunt, unadorned honestly. Somehow it all just fits together as a collection of songs more than the sum of its parts. Maybe it's because, no matter where the mood is, Morrison's vocal delivery oozes emotional resonance. As he reels off his stream conscious lyrics he feels like he's channelling the very heart of the things he's singing about, and doing himself real harm in the process. It's a feverish dream of a record, and one to get lost in.

Rollerskate Skinny - Horsedrawn Wishes
Arriving during the peak of Brit Pop, Rollerskate Skinny's Horsedrawn Wishes was the very antithesis of the vapid second rate muck being peddled as the next Blur, Oasis or Suede by a slavering music press. It didn't have radio friendly singles or a quick throw away three minute ditty and it more importantly it wasn't fucking Menwsear or Dodgy. It was a free wheeling, kaleidoscopic of screeching guitars and effects. It's a melting pot of ideas that stood out a million miles from all around it. It's aged incredibly well as back then it didn't sound of it's time due to it's unique dense layered sound. It's only years afterwards that the true standing of Horsedrawn Wishes has been fully appreciated.

Adebisi Shank - This is the Second Album of a band called Adebisi Shank
Adebisi Shank's sophomore offering, the cleverly titled 'This is the Second Album of a band called Adebisi Shank', came out at the height of the economic recession. Financially the country was bollocksed and unemployment wasn't far off an all-time high. With every second of radio and TV seemingly dedicated to mourning the loss of another major business or boatful of young and beautiful people, there didn't seem like there was much being said in a cheery manner at all. So Adebisi's latest offering didn't - and it did so with glee.
A triumphant opening in 'International Dreambeat', complete with rising swelling guitars and boinking muppet-like drum-intro set the tone. This was an aural landscape at odds with the ever-greying, TO-LET covered cities and towns it was released into. The frantically building 'Frunk' and heavy groove in 'Masa' are personal favourites, but there's not a dud moment of this album. For 39 minutes and 5 seconds, dole queues were forgotten about and the imagery of Zebras racing across neon Tron-like plains danced in heads.

And So I Watch You From Afar - And So I Watch You From afar
Screeching, jittery guitars that wail like sirens, pounding drums that build the anticipation and thundering bass that sets the entire thing alight. Belfast noise merchants And So I Watch You From Afar don't waste much time kicking their debut album into gear with the fantastically named Set Guitars To Kill, a track that sets the scene both in sonic outline and excellent song titling.
What follows over the next ten tracks is amongst the most visceral, ferocious and exciting instrumental music you'll hear. ASIWYFA are to conventional song structures what Picasso was to photorealistic paintings. Songs like If It Ain't Broke Break It do their best to take as many sharp turns as possible in the hope of throwing you off their tale whilst still functioning as a cohesive piece.

U2 -
Achtung Baby
Achtung Baby - Reinvention is nothing new to U2, it's something they have been doing their entire career, but it was how they reinvented themselves after the success of 'The Joshua Tree' which really showcased the band's ingenuity and creativity. They completely transformed their sound and image for a new decade. With 'Achtung Baby' there's the psychedelic Even Better Than The Real Thing, The brash and abrasive The Fly as well as the haunting closer Love is Blindness. However, it was the centrepiece One which basically saved the band and became one of their biggest anthems. 'Achtung Baby' was a new beginning for U2 and it's still as groundbreaking and daring as it was all those years ago.

The Future Kings Of Spain - The Future Kings Of Spain
One of the great mysteries from the Irish music scene in the early noughties is how Future Kings Of Spain failed to turn one of the best Irish rock records of the decade into chart success, whilst bands such as Director straddled the charts with albums crammed with more filler than Pete Burns' lips.
Their eponymous 2003 début pulsated with the swaggering self-loathing of alternative rock acts such as Pavement, Nada Surf and the Pixies, and lyrics that bled the heartbreak and ache of unrequited love, rejection, and the string-along.
Singer Joey Wilson's tortured screams were as palpable as his hesitant admissions of emotions on the album's more soul-searching moments. Working with Fugazi producer Ted Niceley and Eli Janney from Girls Against Boys ensured that the album had an authentic DIY hard-core sound, one that suited both the frenzied and sedate sides of the Future Kings Of Spain in equal measure.

Ash - 1977
If their punk-inflected 1994 mini-album 'Trailer' was exactly that – a trailer for what was yet to hit our screens and speakers – then Ash's '1977' was for all intents and purposes a coming-of-age movie in album form, taking cues from Star Wars, Jackie Chan and the spirit of punk rock, repackaging all three for the Britpop era.
The title pays tribute to two out of three of these influences: 1977 was the year that Star Wars was released and the year that punk broke out and swept away everything that came before it, with the release of seminal albums such as 'Never Mind The Bollocks – Here's The Sex Pistols', 'The Clash' and 'Damned Damned Damned' among others.
With that in mind, it's only fitting that the album opens with the supersonic roar of a TIE Fighter from the Downpatrick boys' beloved sci-fi epic soaring overhead, giving way to a blistering flurry of escalating guitar chords before roaring into the power pop of the opening track Lose Control, setting the tone for the youthful exuberance and energy heard throughout.

Whipping Boy - Heartworm
The perennial underdogs of Irish music, Whipping Boy are the kind of band you can't help but love. Though immensely talented, a combination of record label difficulties, creative differences, substance abuse and mental problems meant they never reached the heights their talent warranted. But in spite of all the turbulence they still managed to record 'Heartworm'; a dark and brooding masterpiece that easily ranks amongst the greatest Irish albums ever recorded.
Realised in 1995, the three singles this album produced alone make it an essential listen. First came Twinkle; a song that flows perfectly from its cello laden intro to its guitar driven crescendo. Lyrically the song describes the 'flaws' of the female disposition, the gorgeous chorus of "She's the only one for me/Now and always" suggesting, though, that the singer's relationship with womanhood is one of love/hate. This is in essence the theme that dominates the album; the volatile, complicated relationship between man and woman.

Overhead, The Albatross - Learning To Growl
After what felt like decades, Overhead, The Albatross finally released their debut album in 2016. Chock full of the kind of tracks that make you realise just how powerful music can be while simultaneously filling you with pride that yes, these guys are Irish. Post rock is a genre that creates the big sound feel of an orchestra while using guitars and bass as core instruments. It can't be understated how well the genre is shown off on this album. Big River Man also saw the debut of ladder as an instrument, the unsung member of O,TA. If you haven't already treated yourself to this slice of aural pleasure, now is a pretty good time to change that.
The Frames - Set list
In many ways, 'Set List' is the definitive Frames album. The live versions of these songs simply surpass their studio equivalents by miles. Revelate as heard on 'Fitzcarraldo' will never be the version of choice when given the epic option from 'Setlist'. The same must be said of Lay Me Down, Fitzcarraldo, Perfect Opening Line etc. Not only does the album capture the band at their most powerful, it also captures their personality with stories of Difor (D for Dog) and several musical easter eggs such as Ring of Fire and Willy Wonka. They always had the songs, but these songs have always been delivered best live.