We're looking for writers with a deep passion for music.
Whether you're someone with a niche/focused taste in music or someone who has a broad interest in many genres, we're looking to hear from you! We're looking for rock, pop, metal, jazz, rap fans and everything in between, while you could also contribute to our Classical section, one of the only classical music review sites in the country.
What you can do for us:
Review gigs, albums/EP's
Interview Global and Irish stars
Write columns, articles and/or features
Promote Irish music
Write comment/industry articles
Provide music news
We're really passionate about Irish music too, having written over 1,400 Irish album reviews in our time. If you're interested in promoting Irish music, then GP is the home for you!
Whether you're based in Dublin, Belfast, Derry, Cork or elsewhere (or abroad) we're interested in hearing from you!
We've been going for 15 years (take a look at all the stats around that here), promoting all things music in Ireland. As such, we can be a good platform for your work, your writing and your potential future in media in Ireland.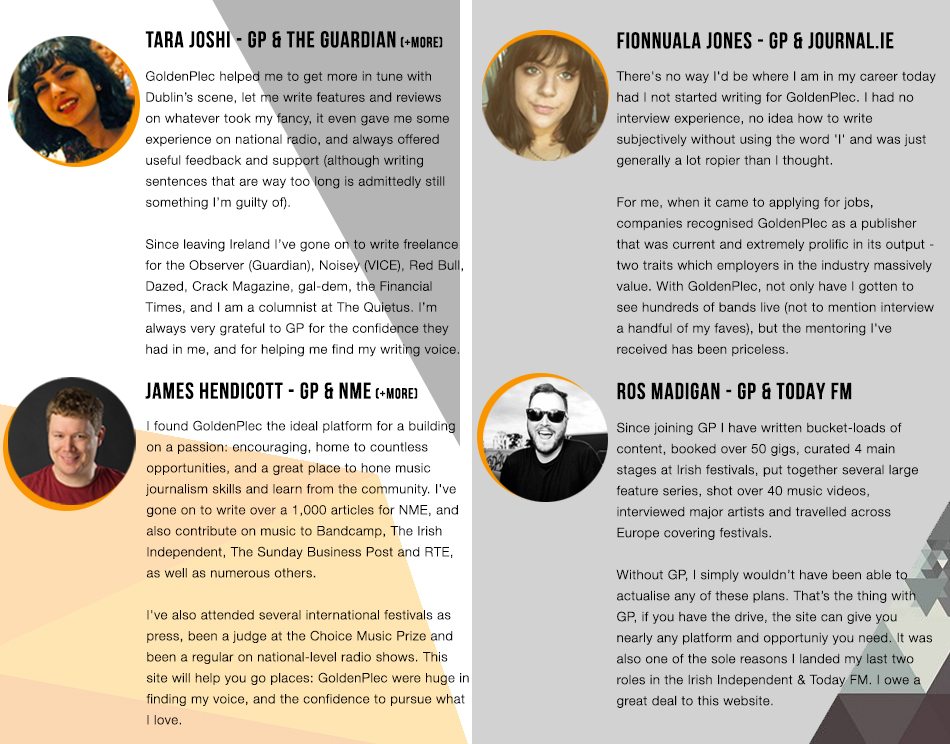 A little bit about GP:
We are a close knit team of writers and photographers (team of 70+) who have fun contributing to the site. Here are all the details you need to know about GoldenPlec before you submit yourself to be a writer.
Volunteer Network
GoldenPlec is entirely volunteer run. From the news, reviews, competitions and interviews, everything is done by volunteers who are doing it for experience, practice or for fun. Some of our writers have been picked up for print and major online publications too (Guardian, NME, Rolling Stone, Irish Independent, Journal.ie, RTE, Today FM, Newstalk & more), so the benefits are clear.
Gig / Interviews / Album / EP Reviews
We review tons of gigs each week/month and review plenty of albums too. We get albums before they are released, we get interviews with acts right through the spectrum from rising stars to international superstars. We put these opportunities to our team and those who are interested get the chance.
Is There Paid Work?
Unfortunately no. Even the Editors of the site are unpaid. We pump what little advertising money we receive back into the site to improve the site, buy equipment to allow us to do further things. Any equipment we have will be made available to GoldenPlec writers/photographers should they need the use of it.
That sounds great, how do I apply?
Send us three samples of your writing (music-based is preferred)
A little bit about you and your experience (if any)
What you are interested in contributing (live reviews, features, album reviews etc.)
What music are you interested in?
Are you interested in Irish music?
Send this  to writeforus <at> goldenplec <dot> com
(If you're interested and don't have loads of examples of your writing. Drop us an email and tell us a little about yourself!)
We'll be taking applicants over the next few weeks so get them in!