One of the bright hopes for Irish music in 2021 is Kynsy. The Dubliner's brand of anxious, melodic indie pop captured the attention of the likes of NME and Dork, who have both tipped her in their respective ones to watch for the year. Of course, we got in there before them all, tipping her for great things in our Plec Picks series for 2020.
However, while Kynsy appreciates the welcome rush of streams and followers she received from being the first song on NME's playlist, she isn't allowing the sudden rush of attention to turn her head.
"My dad was like 'oh my God' and I was like 'no, they have to put someone first, but it's not in order," she says, before noting that being featured in NME was one of her childhood dreams.
"One of the goals I had when I was first releasing was to get on a Spotify playlist and get mentioned in the NME. I wrote that down years ago in a little copybook and they've happened, so I'm really buzzed about that."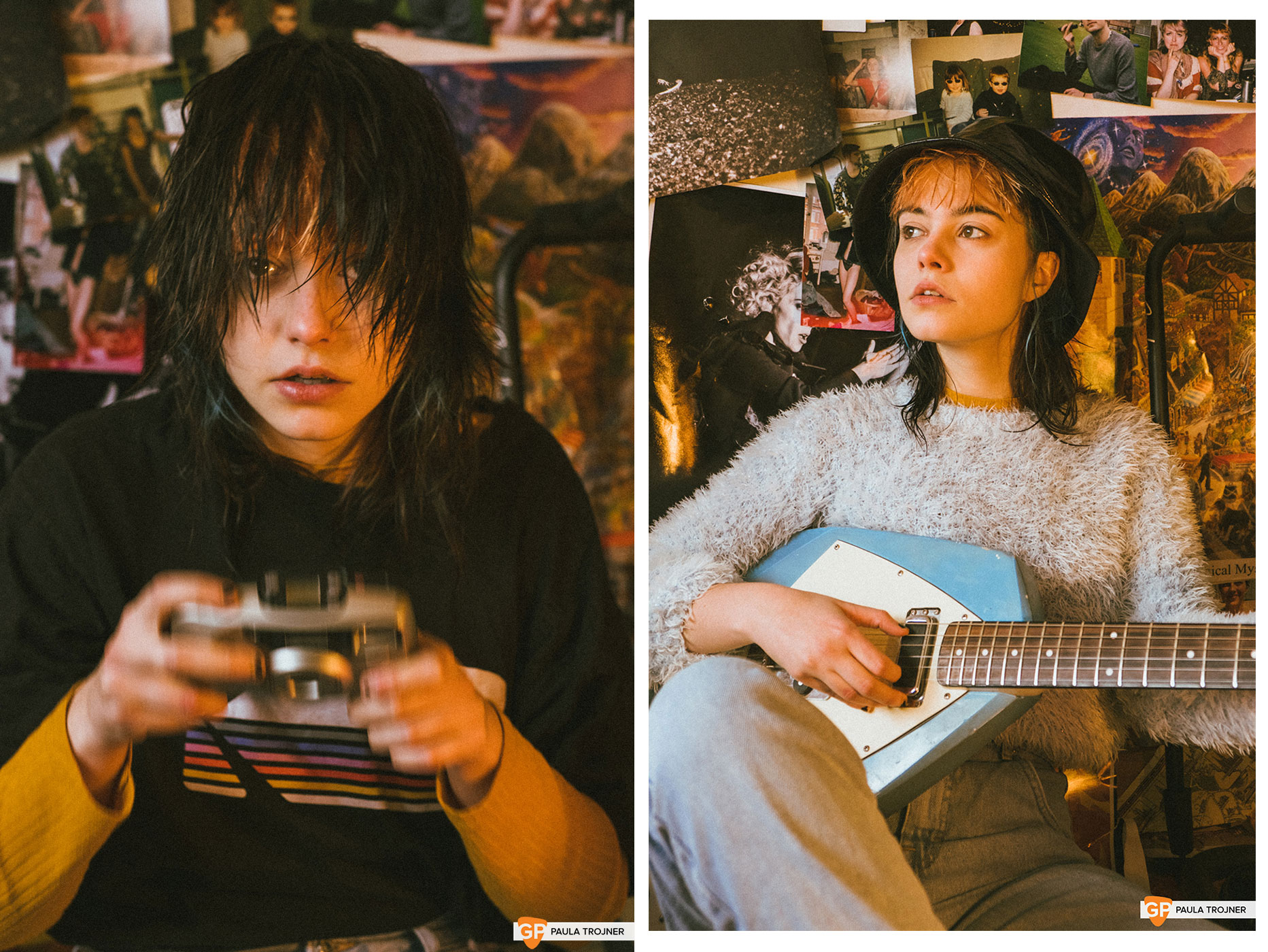 It is unsurprising that Kynsy holds the NME in such regards considering her clear affection for The Strokes and the Arctic Monkeys.
"I feel like when you're a teenager growing up, you listen to Arctic Monkeys, all those British bands and then you're like 'oh class, maybe I could slot into that scene in the future'. I want to move to the UK eventually, so it's cool it's creating connections there."
If anything, Kynsy is more surprised by the reaction in Ireland than abroad. "There's been great Irish press as well and it's been good because I feel like there isn't a lot of artists (in Ireland) doing the kind of music that I'm doing - it's a little bit more indie and a little bit more niche, but there's a lot of Irish people backing it and radio people too," she says.
"I would've thought that my music was a little bit too niche to get all the positive press that it has - it's good that people are open to it."
It is often claimed that the Irish music scene is a closed shop, but Kynsy has had the opposite experience to date. "I feel like it's pretty open. I feel like maybe when you get to a certain place in the Irish music industry, it's harder to go further," she says noting. "Ireland is such a small country, there isn't really enough money in the industry here to live off. I think you do have to start looking elsewhere."
Kynsy, notes the rise of CMAT, someone she admirers greatly as both a performer and a songwriter as an example for other Irish artists to follow.
"It's easier to get artists out there through technology now. I can build a bit of a fanbase in the UK without going to the UK, but I also think that marketing is really important and that pushing yourself with your online presence and really thinking deeply about your marketing campaign and who your audience is, or who you want to speak to."
"CMAT - she's on Twitter every 5 minutes but it's really heavily focused on the marketing side of it and I think that's how Irish artists are breaking out of Ireland and getting noticed in other places is through their really good social media technique and their really good marketing campaigns. Obviously, you need really good songs too."
Speaking of great songs, Kynsy has just released her debut EP 'Things That Don't Exist' to rave reviews (read our take here) 'Things That Don't Exist' sees Kynsy examining how alienation, anxiety and escapism are intertwined in our consumption of social media.
"Elephant in the Room is a song about being alienated from yourself and trying to avoid these feelings through escapism," she says of the EP's current single. "I feel like the elephant in the room is when you're going through issues and your friends are going through issues and you're all partying too much, running away from those feelings, that's the elephant in the room, that you're not talking about it."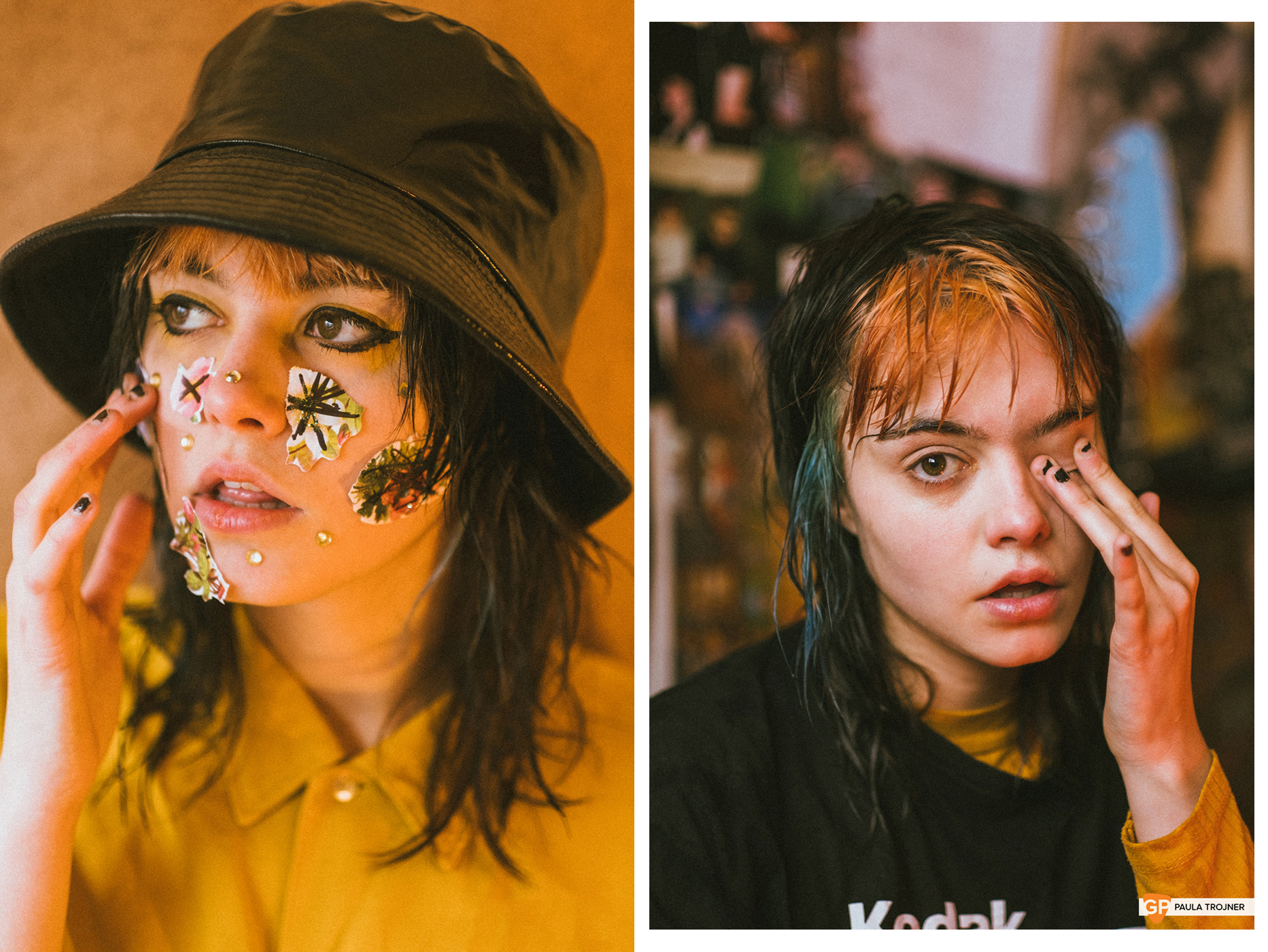 Now 23, Kynsy started working on the track 5 years ago. "I worked on it over a long period of time," she says, noting the experiential nature of the track. "It's about that period of time, when you're that age, you're lost and you're figuring yourself out."
"There's a side of Elephant in the room that's talking about escapism, but it's also talking about pulling yourself out of those darker places too and trying to take an objective look at what you're going through and saying I don't want to go back to that place.
"The lyrics are 'Elephant in my room remembers how I used to go and lose my temper' and then 'and I don't play my part' so it's about dealing with negative emotions, but also trying to be objective and pull yourself out of that and have hope."
Kynsy describes the video for Elephant in The Room, shot in Donegal by Joe Doherty (Rosie Carney, The Murder Capital) as being an emotional landscape keying into alienation.
"it's an atmospheric video that explores a toxic relationship, almost like an emotional landscape. It's not very linear, but it's really beautiful. It explores alienation and feeling lost in your environment and yourself. It focuses on a relationship, but I think it was more of a metaphorical idea that you're lost."
"He's a really beautiful cinematographer," adds Kynsy, of Doherty's work. "It's set in a really beautiful part of Donegal - a lot of horses and forests and mountains. One of the things we were trying to show was how beautiful the surrounds were but how they were disassociated with the surroundings. They were in this beautiful place, but they couldn't see how beautiful it was because they were so stuck in their heads with their own anxieties."
In many ways Elephant in The Room is the EPs key track, its lyrics giving birth to the collections title, it's sense of alienation and escapism the pivotal artery through which all the other songs flow. The key thread which runs throughout as Kynsy points out are "subliminal forces."
"You're chasing ideals that aren't real and you're in between being pulled and pushed against chasing this future idealism and not being present or happy in the moment," explains Kynsy of the thought process behind calling the EP Things That Don't Exist.
"Also, the idea of things that don't exist could be references to a lot of subliminal forces which I felt were in each song. I talked a lot about anxiety in the songs, which is something which I feel doesn't really exist (physically) because it's just in your head. Technology, as well, which I talk about in Happiness Isn't a Fixed State and Dog Videos - watching dog videos on your phone when you're supposed to be doing something with your life, but you're just scrolling.
"And I was thinking about how technology is this made-up world that we are so invested in, so keyed into, that also, fundamentally, isn't reality. So, it's a combination of those things, having idealized futures and then having anxiety and this element of technology. Because these things are subliminal forces, I thought it was really fitting as a title because almost all of these ideas could be considered things that don't exist and we're always being called by things that don't exist, we're just not living in the moment at all."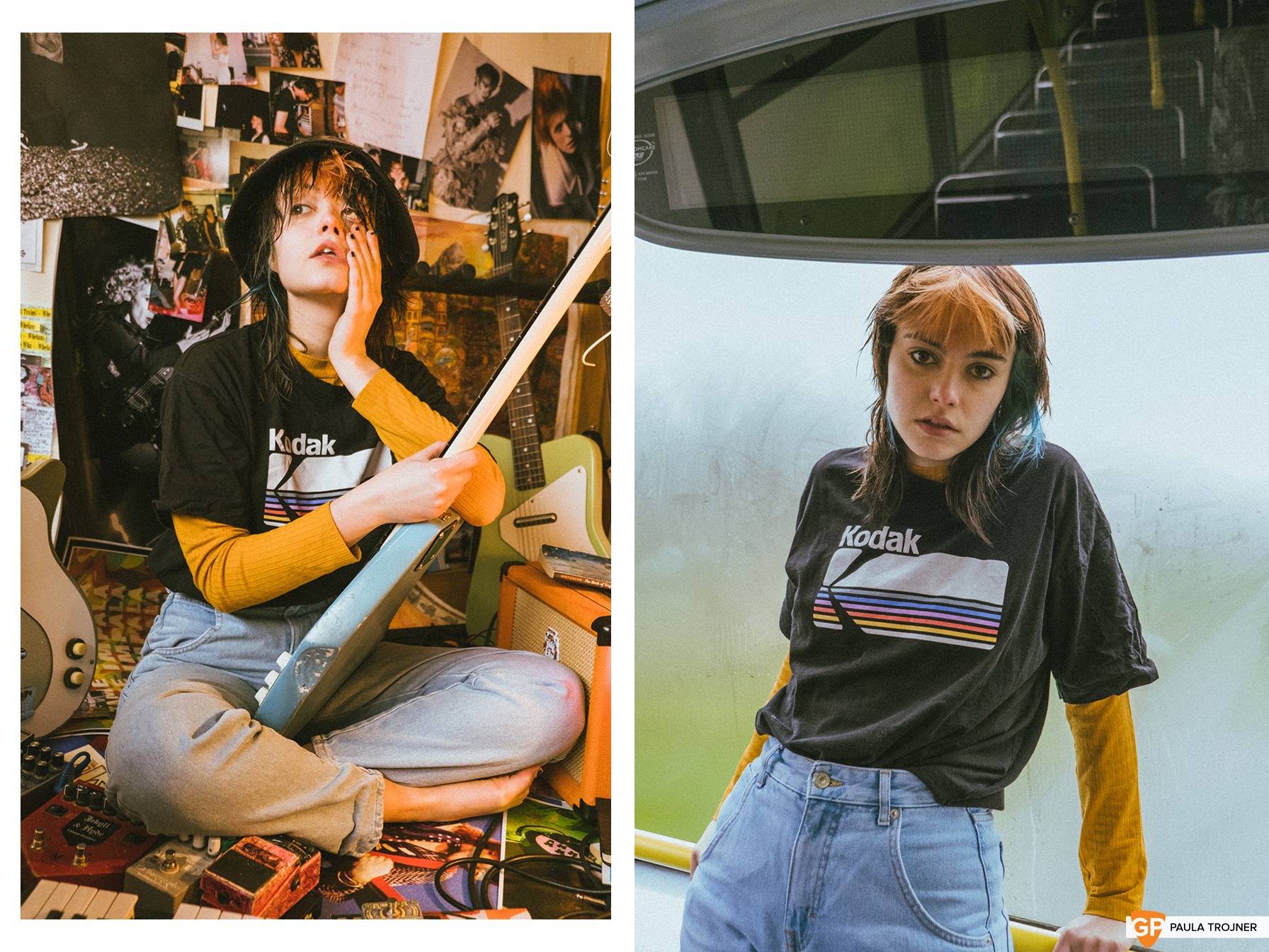 The upbeat nature of Dog Videos may have caught some people unawares, but Kynsy is keen to stress that she is more than just an indie song writer.
"The next couple of songs are a little bit more dance-y, I'm very inspired by Roisin Murphy," she says, before adding "but honestly, I don't think much about the styles of the songs. I just go with whatever comes. If I write a song and I hear a guitar it becomes a rock song and that's great, but I'm into so many different types of music so it just depends how I'm feeling."
"I'm not worried about trying to be an indie artist. I fundamentally just think I write pop songs, some of them will come off more indie and others more electronic, but it's just pop songs overall."
Kynsy's myriad of musical interests leaves her eager to write songs for both herself and others in various style and keen to collaborate with other artists.
"I'm a massive fan of co-writing, that's something I'd love to explore more. There's no downside to it, I find, it's only positive. It helps your mind so much I think it affects my mental health positively, it's a great experience. Definitely in the next year it's something I want to do more of."
Artists on her hitlist include Roisin Murphy, Sorcha Richardson, Villagers, Julian Casablanca, PJ Harvey, St. Vincent and CMAT.
"I'd love to do something with CMAT. I know she's a bit poppier, but I'd love to write with her cause she's just so cool."
'Things That Don't Exist' was mostly recorded and produced by Kynsy at home. She brought in outside counsel in the shape of BIMM lecturer Michael Moloney (formerly of Irish band Director) whom she met whilst attending the college.
"I demoed the tunes and then we'd go into the studio and record drums and then did one or two guitar lines in the BIMM studio and then for the last little bits I'd go home and record synths and more guitars and stuff."
"I made a lot of friends and good connections there," says Kynsy, when we broach the thorny subject of rock school. "Learning the way the music industry works was one of the biggest things I took from going to BIMM. Having a fundamental understanding of how the music industry works, the good side and the bad side of it, is really important to grasp from early on."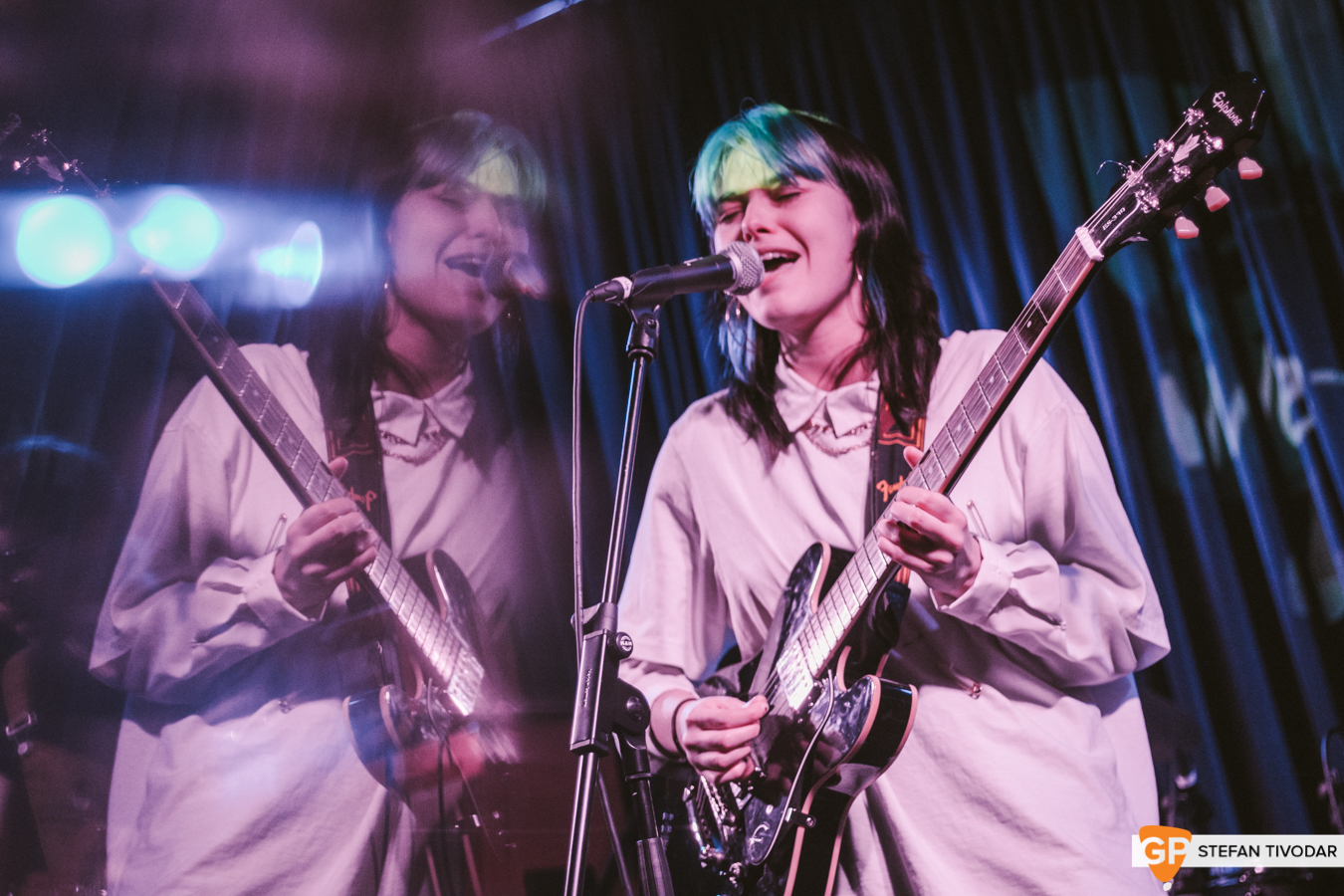 However, Kynsy can understand why people are sceptical about the concept of learning to write songs.
"I think it's the same with any art form, if you go to study it you're going to mess with it a bit because it's such an individualistic craft." She says, adding.
"You're kind of playing with fire when you study it a bit. That's something that other songwriters should know; you've got to protect your craft as well, protect your own ideas about song writing. But I think you have to learn the rules to break the rules. You have to learn everything about the craft and then say no, I don't like that, I'm gonna write like this instead."
"You need people to break the rules. You need musicians to break the rules, you need people to keep reinventing music."
We will hear one of Kynsy's Roisin Murphy inspired tracks later this year. "I got the funding from FMC to do a single so I will be doing a single now after the EP. I have no gigs lined up so I'm just going to try and write as hard as I ever have. That's the main thing knuckling down and doing that."
You can listen to 'Things That Don't Exist' while you wait for more new music from Kynsy, or watch some Dog Videos.