Jape – The Heart's Desire – Video
Stephen Byrne
Nov 19 2014
Jape has dropped a deliciously colourful video for The Heart's Desire the first single from new album 'This Chemical Sea' out Jan 2015.
Watch St. Vincent Perform at Pitchfork Music Festival Paris
Stephen Byrne
Nov 18 2014
Watch St. Vincent's full performance at this year's Pitchfork Music Festival, Paris. The concert was recorded on October 31st and we can't think of a better way to spend Halloween.
Silences – Emily's Corridors | GP Video
Ros Madigan
Oct 07 2014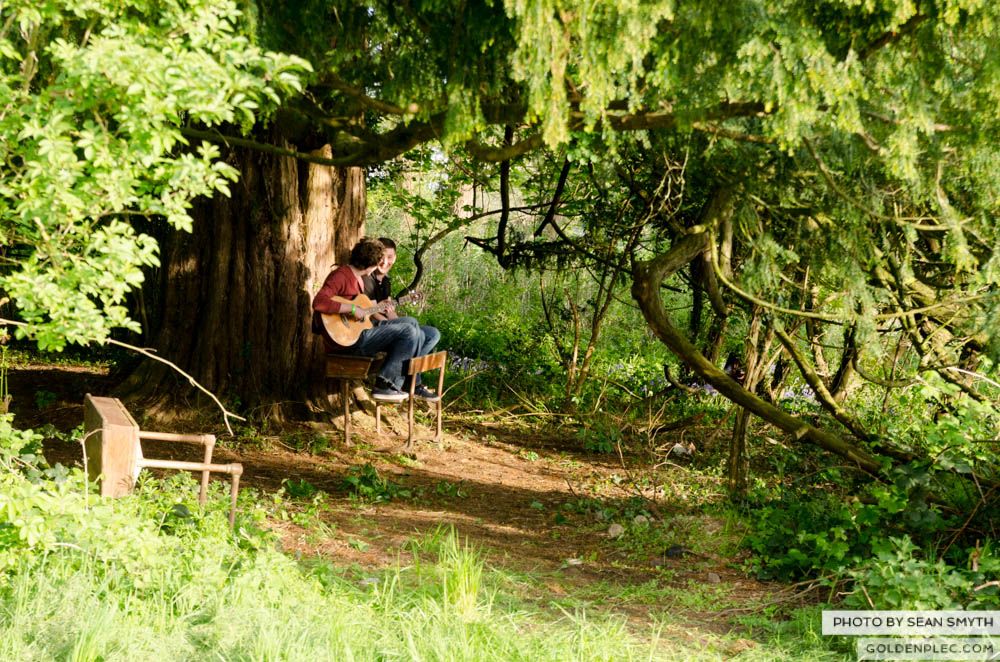 Way back at the start of the Summer, we were introduced to Silences. We had heard rumblings about this band who were to play Other Voices and once the footage came out from that performance; we were hooked.
We duly asked them to come down and play for us on our own stage at Vantastival. That stage was set up in conjunction with those fierce nice people over in The Spirit Store, Dundalk, and Silences did not disappoint. Not long after, we took the lads out beyond the Vantastival gates at a meeting point just in front of the immense Bellurgan Park home.
After the initial exchange of pleasantries and location scouting, we then ended up shooting in a tree. Yes, in a tree.
Not the most common of video-shooting locations but one that threw up some fabulous shots. The the low hanging evening-sun limped through the huge overarching branches; creating strips of lights like tiny spotlights shining upon the bark.
Handily enough, there was two small, old and unstable kids school desks; probably from the 60's just making it's acquaintance with the earth.
Mongoose – Woman on the Beat | GP Video
Ros Madigan
Jun 11 2014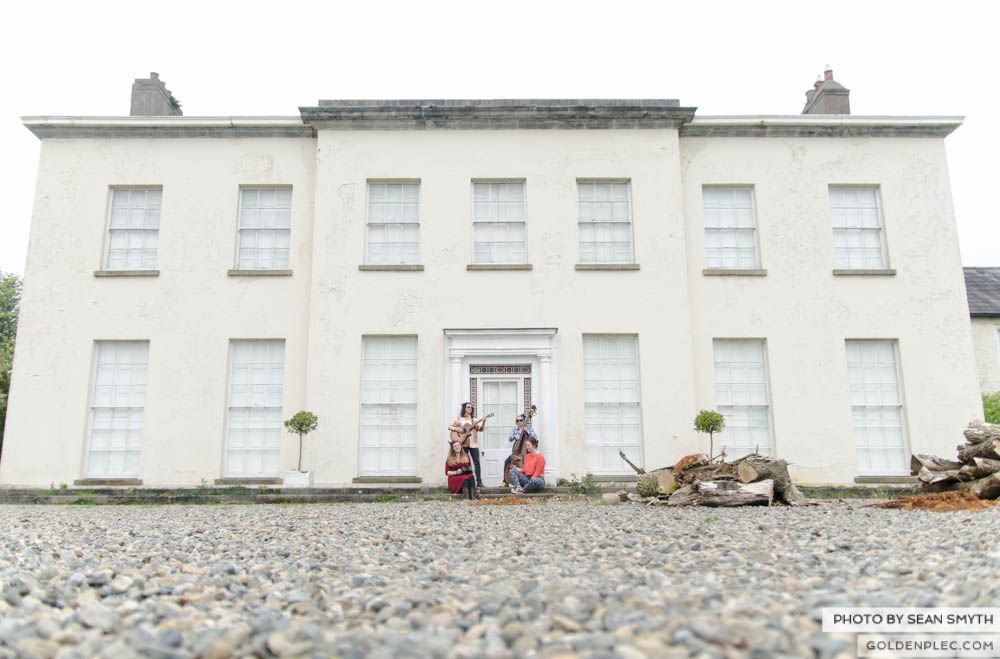 Yes, it's fair to say that we've been fawning over Mongoose for quite some time now. We first latched our elf-like ears to their rumblings at Knockanstockan on the Fairy Field stage. With little or nothing online to tide us over, we tended to constantly replay the Balcony TV version of their single The Bottom Line – over and over again.
So it was little surprise to anyone that we booked them for our second #GoldenBeck gig in the Workmans Club (see photos here).
Waking bright-eyed and bushy-tailed on the Saturday, we made our way down to Mongoose on the main stage at Vantasival – not before munching on a massive breakfast roll of course – gotta get them priorities right!
Mongoose delighted the crowd with a fabulous set, even breaking out their 'Lead Glock' player on occasion. Just before we could whisk them away, they turned the whole crowd into a smorgasbord of seafaring noises – wonderfully different.
We then positioned the ladies in front of the majestic Bellurgan House county-manor. As the girls stood dwarfed by the manor, we were treated to Woman on the Beat. A single from their upcoming debut record –  "it's coming soon" said Peter their manager, so if it doesn't come soon, we'll know who to blame! :)
The Viking Project – The Longest Day | GP Video
Ros Madigan
Jun 04 2014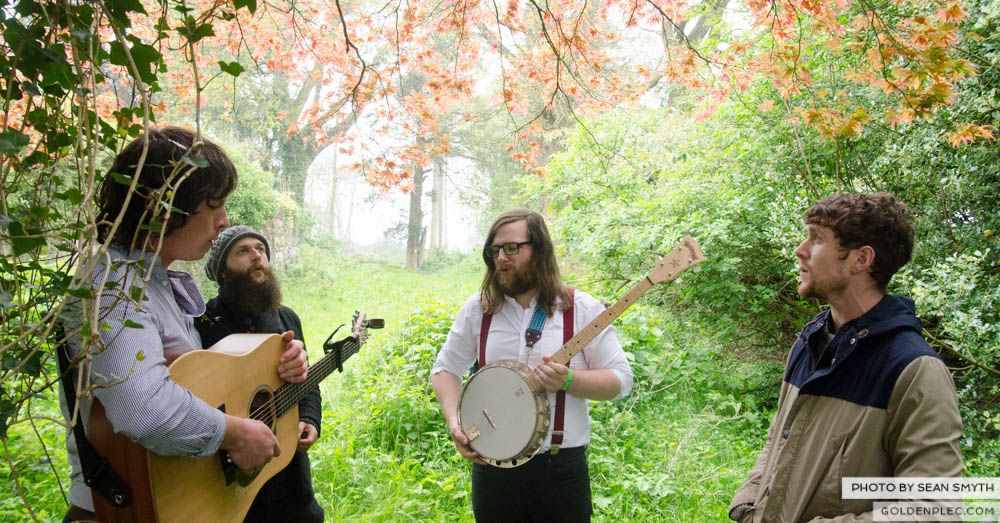 Us folk here at GoldenPlec have been wanting to get The Viking Project involved in something for many a moon. So when the opportunity arose for us to not only catch them on our GoldenPlec themed Vanhalla stage at Vantastival, but also to drag the guys behind the scenes of the beautiful Bellurgan House stately-manor for a video – we promptly jumped on the chance.
In truth, we really struggled to find the perfect location for this shoot. It was the second last shoot of our five shoots over the weekend and every location that we scouted just didn't really fit. From trampling/breaking fences, to interrupting the Vantastival crew as they ate their hard-earned lunch in a pretty walled-garden. We finally found a dusty, mucky country-trail where we gave a lost American couple directions; we thought we had it.
After calling the band to our location and giving them horrendous directions which comprised of "you know that big tree in front of the window of the house? Yea? Right, well not that." Typically enough, upon arrival of the band, the clouds began to open and a mist of downpour clothed our bodies, our equipment and most distressingly; the bands beautiful banjo. In an attempt to shelter from the damp mist, we sought refuge under a huge tree decked with pink flowers and branches (see full set of behind the scenes photos here).
"Let's do it under the Japanese Maple tree", Michael Purcell from the band declared; much to the slaggings and banter of the crew and his band members – despite him being perfectly correct. A perfect setting for a truly stunning cover of the Megafaun song 'The Longest Day'. I don't know about you guys, but we've already decided that this cover does in fact outdo its parent song.
Big thanks to Anchor House Media (Stephen Conkey, Dean Murray, Edel Kenny), Anna Job, Sean Smyth and the Vantastival crew.
Beached Whales – Cool Down | Video
Bernard O'Rourke
Nov 21 2014
Summer may be long past, but this little slice of funky summer vibes might just transport you right back to the time of warm weather and long lazy days.
Cool Down is the first video from Dundalk funk/reggae band the Beached Whales. The song features on their upcoming 'School of Fish' EP. The band launch their new release next Friday (28 November) in the Spirit Store, Dundalk.
Sunburnt Jets – Stare And Pretend/Out Of Luck – Video
Stephen Byrne
Nov 19 2014
Sunburnt Jets the moniker of Bouts lead guitarist Colin Boylan release new single Stare and Pretend following a 1234 day hiatus from releasing material. Like what you hear? If so, Stare and Pretend is available for free download from Bandcamp
Public Service Broadcasting – Gagarin | Video
Stephen Byrne
Nov 19 2014
Public Service Broadcasting get seriously funky and seriously spacey in the video for their cosmonaut-inspired track Gagarin from their new album 'The Race For Space' out February 2015.
Jape – The Heart's Desire – Video
Stephen Byrne
Nov 19 2014
Jape has dropped a deliciously colourful video for The Heart's Desire the first single from new album 'This Chemical Sea' out Jan 2015.
Jimmy Fallon – Desire (U2 cover)
Aidan Cuffe
Nov 19 2014
U2 may have been meant to do a week long stint on the Tonight Show with Jimmy Fallon, but due to an accident where Bono hurt his arm meant that U2 had to cancel last minute on the residency, however with the loss of the act, Jimmy stepped up to provide the entertainment as he covered one of the U2 legendary tracks.
How did he do?