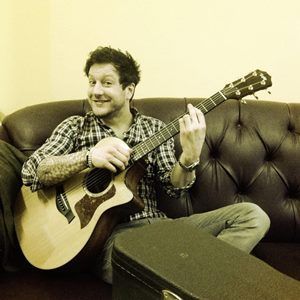 Matt Cardle in Whelan's, Dublin on 24th of April 2013
The words intimate acoustic performance would not typically be associated with a winner of the X-Factor, but Matt Cardle has always tread a fine line between mainstream pop and a more restrained sensibility. And while the sold out crowd that was packed into Whelan's may have first discovered Cardle on the reality TV show that made his name, it's also clear that they have no problem with a performer that is trying to leave those origins behind.
Throughout his stripped back, unplugged performance, Cardle emphasised his journey as a musician, tracing his career from its beginnings to its current form. He began with a series of covers (including a certain X-Factor winning single covering a certain Scottish band) before gracefully making his way through a selection of tracks from his two studio albums.
It was billed as an intimate show, and even if the main stage of Whelan's felt a little too packed out to be properly described as intimate, Cardle give the impression that he was playing to only a handful of people. He took numerous breaks between songs to explain their origin or what they meant to him, and expressed his gratitude to the audience over and over again for showing up.
In his own overly nice and slightly bashful manner, Cardle moved from the covers that defined his early career, including Alanis Morissette's Thank You and Amy Winehouse's You Know I'm No Good, before summing up the X-Factor period with When We Collide. Even stripped of the asinine post-production of the original single Cardle's watered-down cover version of the Biffy Clyro song remains a crime against music. Perhaps mercifully Cardle let the audience sing the chorus alone.
This was followed up by a bland selection of originals from Cardle's debut album 'Letters' and last year's follow-up 'The Fire'. Amazing, Millionaire and Water all embrace his falsetto ballad style, while also reflecting a conscious move towards a more mature singer/songwriter mould.
Clearly Cardle was trying to display his progression – and it is clear that he has left the manufactured reality show pop version of a singer-songwriter behind, it just isn't clear what exactly he's grown into. He certainly has the intimate performance style required to pull of an unplugged show like this one, but it's the songwriter aspect that seems a bit to struggle. Most of the material (in particular the songs from his second album) is fairly same-y, coming across like a rejected B-side from a James Morrison or Coldplay album.
As if to emphasise this point, Cardle's closing song – The First Time Ever I Saw Your Face – was another cover. Still there was something special about Cardle's tender, heartfelt rendition, and for the first time ever the high pitched squeals of girls-night-out laughter coming from somewhere in the region of the bar died away, leaving the audience absolutely silent. It was reminder of what it is Cardle is capable of doing well, but unfortunately is still struggling to capture in his own material.