Irish National Opera at Bord Gáis Energy Theatre, livestreamed on 13 March 2021
Irish National Opera continues its experimental journey as an online production company with this live-streamed performance of Puccini's opera La Bohème. Presented as an unstaged concert in an otherwise empty Bord Gáis Energy Theatre, the artists have the run of the place, ensuring social distancing and allowing viewers to sense the sweep of its architectural space, with the orchestra spread across the main stage, principal singers lined along the front, the choruses in the stalls and circle, and the Act II marching band in the side boxes. We see the core elements from which any show begins—artists and a space to perform in.
The setup is also being used for a commercial recording of the work (Irish National Opera's first, due out in 2022), so in a sense this is also a sneak preview of the release to come. The sound mix achieved does much to iron out the problematic acoustic of this theatre, with a good balance between orchestra and voices, and an impressively cohesive sense of ensemble. The short distance between principal singers and their dedicated mics does create a flattening effect at times, clearly noticeable in the recorded sound of (Rodolfo) Merunas Vitulskis's richly vibrant tenor, which needs more space around it.
The assembled cast is an interesting mix of familiar and new. The first opera staged at the Bord Gáis theatre in 2010 was a touring production of this very work given by Scottish Opera. It featured Celine Byrne as Mimì, in a glowing performance that for many redeemed an otherwise less-than-ideal staging, and eleven years on it is good to see and hear her in this role once again. Characteristically robust and direct in approach, her seamstress has an attractive immediacy, though the voice can reveal a harder edge as well. By contrast, soprano Anna Devin is not a singer normally associated with this material, and her casting as Musetta might seem a risk but, if so, it pays off handsomely. Her singing is, as ever, elegant, clear and bright, and it sets off a characterisation tartly inflected with ironic wit. She is clearly having the time of her life on stage and brings the company with her.
As is so often the case in performances of this opera, the strongest on-stage relationship is actually between Rodolfo and Marcello (David Bizic) and in these roles Vitulskis and Bizic make welcome debuts with the company, each singing with immense warmth and character. Of the other roles, Ben McAteer (as Schaunard) and John Molloy (Colline) each clearly relish the humour of their material with smart performances. The orchestra, led by Sarah Sew, is excellent, with some fine solo playing at moments given by Sew, Conor Sheil (clarinet), and other players in the ensemble, with the performance as a whole tightly-organised by conductor Sergio Alapont.
Frequently revived, in normal times La Bohème can seem a victim of its own success, but at its best this opera restores confidence in the human spirit, with its acknowledgement of suffering and the need for compassion in an unforgiving world. Small gestures in this presentation—Byrne's coughing as Mimì succumbs to TB, and even the alienating distance between the performers—somehow bring this work, again, vividly into our lived present. Is Puccini's approach to opera robust enough for the small screen? Are our under-employed artists still able to work effectively together, and make a success of this moving work? Happily, the answer to both is a resounding yes.
Tickets to view livestream available up to 22 March 2021 via Dice.fm
Programme:
Giacomo Puccini: La Bohème
Sung in Italian (libretto by Giuseppe Giacosa & Luigi Illica), with English surtitles
Concert performance produced by Irish National Opera, with Bord Gáis Energy Theatre
Conductor: Sergio Alapont; Production/Lighting Designer: Sinéad McKenna
Cast: Celine Byrne (Mimì), Merunas Vitulskis (Rodolfo), David Bizic (Marcello), Anna Devin (Musetta), John Molloy (Colline), Ben McAteer (Schaunard), Eddie Wade (Benoit/Alcindoro), INO Chorus, Children's Chorus (Independent Theatre Workshop)
INO Orchestra
Photography by Ros Kavanagh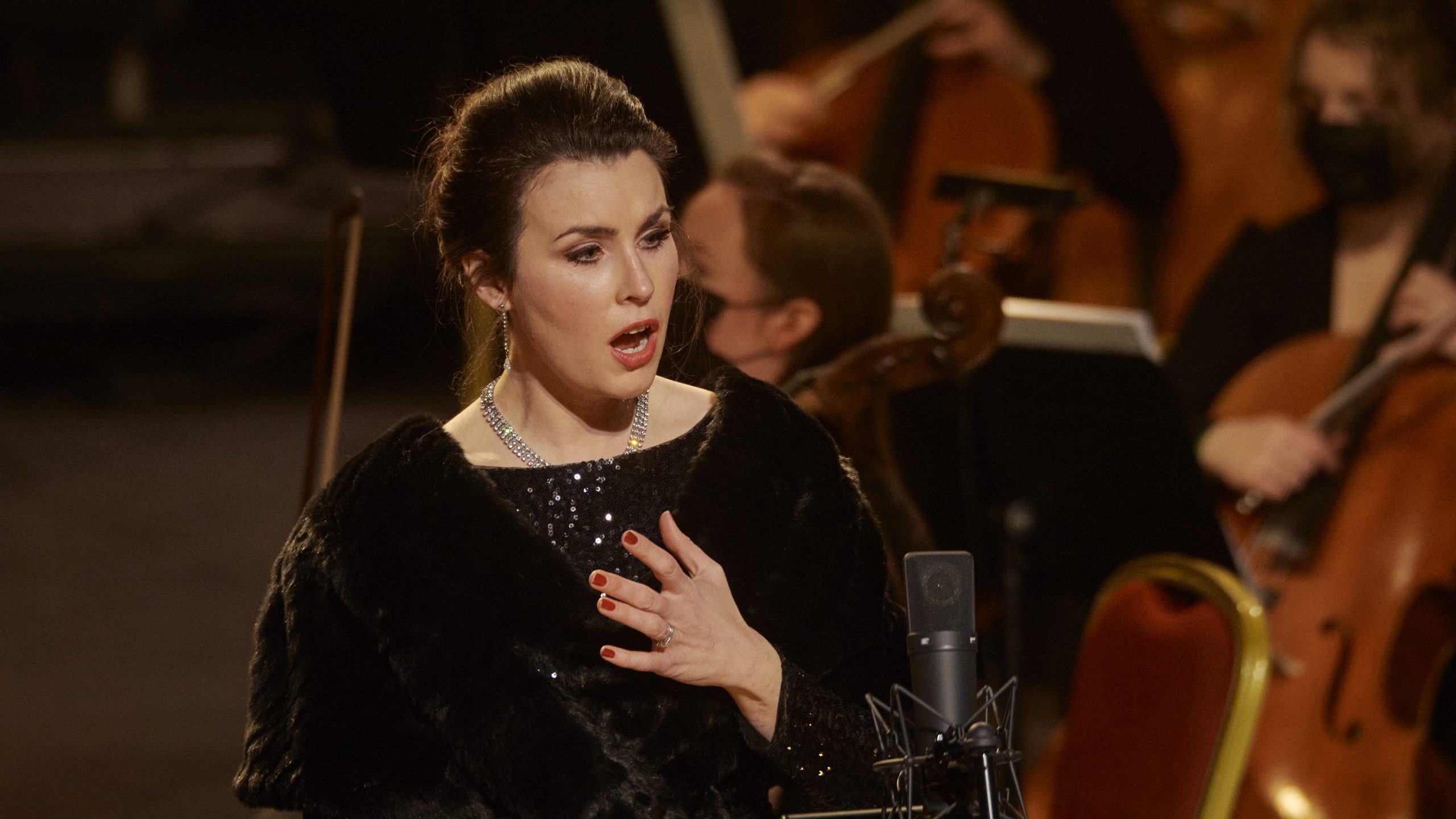 ?