"Everyone calls it «Les Trans», but the festival's name is «Rencontres Trans Musicales de Rennes»." – The description on their own website.
Les Trans is a music festival based just outside the city-centre of Rennes, France. It is one of the finest and largest city-based festivals in Europe and pays particular attention to 'new music' with no real 'headline' act per se. In its 36-year history, Les Trans has seen acts such as Nirvana, Bjork, Portishead, Daft Punk, LCD Soundsytem and many more play in their formative years. The festival bookers here pay particular attention to innovative, special and progressive talent from all over the world; resulting in a festival lineup that is widely unknown to punters and industry heads alike.
The Set-Up
The French (regional and national) government bodies involved in the festival pump a mammoth amount of money into the infrastructure of the festival. Agencies are set up to promote the French acts on show. With journalists, TV/radio stations, festival and gig bookers all invited to take in the next select batch of the world's finest upcoming talent.
With this large influx of money, festival organisers can offset a large amount of costs and keep ticket prices low for attendees which results in large-scale attendance across the 4 days of the festival. Many people we talked to didn't know many, or any, of the acts on the bill, choosing to trust the flawless reputation of Les Trans for bringing Rennes the world's finest, most interesting and innovative acts.
The Location
The festival is based is Parc D'Expo, which is a huge exhibition park with loads of warehouses side by side. Think the RDS multiplied by 9 and plopped next door to each other. Within each of these huge warehouses, lies a different stage, bar and minimal food outlets. The festival can run anywhere from 5pm to 6am.
Each hall holds anywhere from 2,000-4,000 people, with the biggest of these, Hall 9, holding around 7,000 people. A sound engineer's nightmare, the large cavernous warehouse dwellings are tall and made from tin sheets. Despite the tricky set up, the sound, stage production, lighting design and overall feel of the spaces is flawless. This is no more evident in the biggest hall, whereby the lighting set up is by far and away the most impressive we have seen. The rigs that sprawl into the crowd have hundreds of moving lights and create a spider leg structure hanging over the stage and into the crowd.
Music
Thursday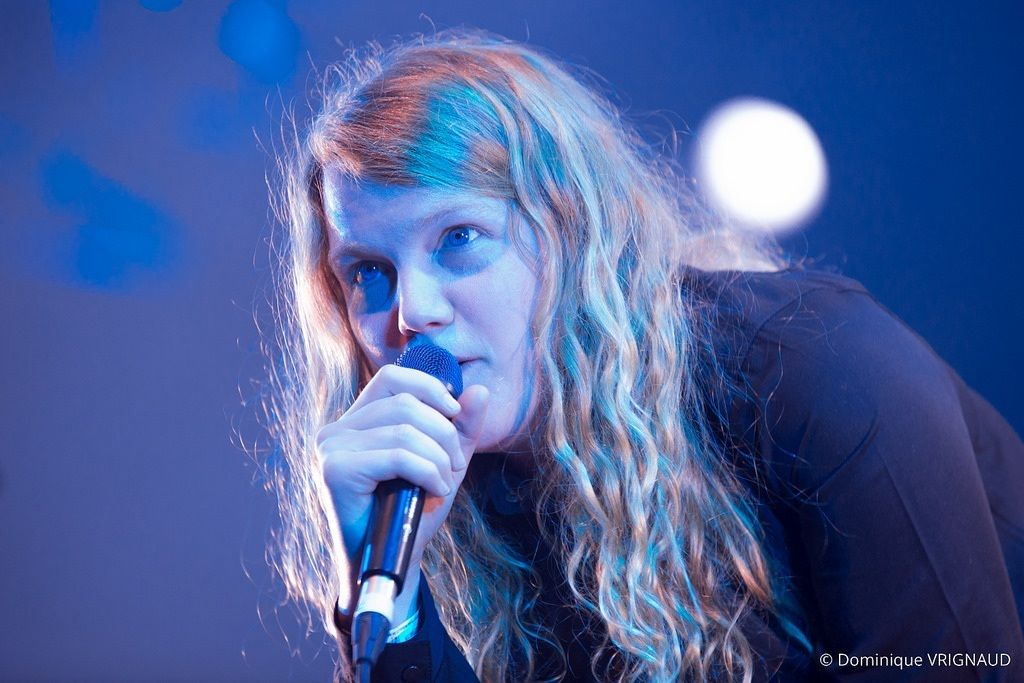 Our first act of the weekend was Clarens, a French singer known for playing bass in a band called Juveniles. Unfortunately, despite being highly tipped, his live show struggles to grab our attention. Flanked by two guys on big podiums, the slick looking outfit delivers a brand of euphoric pop with electronic rhythms. While the production is relatively on point, it's Clarens' high-pitched, non-variant vocal that causes the disconnect. This isn't helped by his poor lifeless stage presence, which never quite takes off. A poor start.
The Aussie purveyor of the DIY work ethic, Courtney Barnett, took to Hall 2 immediately engaging the crowd with her lo-fi-scuzzy brand of indie rock. Courtney and her band blend effortlessly as she uses her nonchalant 'fuck you' singing style to immaculate effect. She has everything – from her infectious elongated drone vocal, to thrashing chord guitar playing to an understated yet dominant stage presence. Her carefree attitude extends into her even not knowing about the artist she then goes on to cover. However, it's on Avant Gardener and History Eraser, her two biggest singles, that you see the glimpses of real star quality. It's more than a girl in a rock band, it's more than a scuzzy sound – keep an eye out for this lady, she is special.
Curtis Harding is someone who caught our attention before the festival with his lead single Keep on Shining from his album 'Soul Power'. But like Clarens before him, the transition into live show just doesn't take off. While vocally and musically tight, the static stage presence makes the performance somewhat forgettable. From a record with so much vibrancy, soul and life to a disappointing performance of rigid precision. If an element of fluidity can be added, Harding could develop into a more rounded live artist.
Kate Tempest, recent Mercury prize nominated artist, has had a big 2014 by all accounts. Coming off the back of a few years of small spoken-word poetry tours and her own Kate Tempest shows, she now finds herself at Les Trans on her biggest European headline tour to date. Not only that, but Hall 2 is packed out as 3,000 odd people look on and wait. Tempest bursts on to the stage with the kind of ferocity associated with a stadium-headline act. She then delivers a mostly a ccappella version of her track Marshall Law where she spits relentlessly, engaging the French crowd throughout. It's one of those "holy fuck" moments where you turn to your mate, mouth wide open.
Once the band come back in after a few rampaging verses, the production behind her voice gets a little too clever for its own good. Unlike other acts on the night, her movement on stage is captivating. As the show grows on, Tempest increasingly becomes aware of the huge turnout, and in turn, she becomes more grateful for her "biggest European show to date". It's an almost perfect show – if she can reign in the over complication on production, step away from the drums (she had an odd/poor cameo on drums) and let her lyrics and intensity do the talking; she'll be selling out huge venues sooner, rather than later.
Having just interviewed New Jackson (David Kitt) before his set at Les Trans, we found out that the first of two Irish acts of the weekend had just flown in after playing a gig with David Gray in Wales. To say it was a scramble seems like an understatement with Kitt playing "15 odd shows in 9 days" as New Jackson and in David Gray's band. Despite breaking his vocal decoder, which he uses heavily, his set gets off to a thumping start.
Performing on the Heineken Green Room stage that houses a full 360° arena with the crowd surrounding a great big podium in the middle. New Jackson bashes through electronic pitch changes, dressed in funky rhythms and topped off with some mechanical synth work. Unfortunately, his set placement on the Thursday night of Les Trans doesn't give New Jackson the teeming crowd interaction that would consistently follow on this stage for the weekend. Despite New Jackson leaving the stage on two occasions only to be told he had 15-20 minutes left to play, his set was a masterclass in live-electronic performance – pity about the slot.
Friday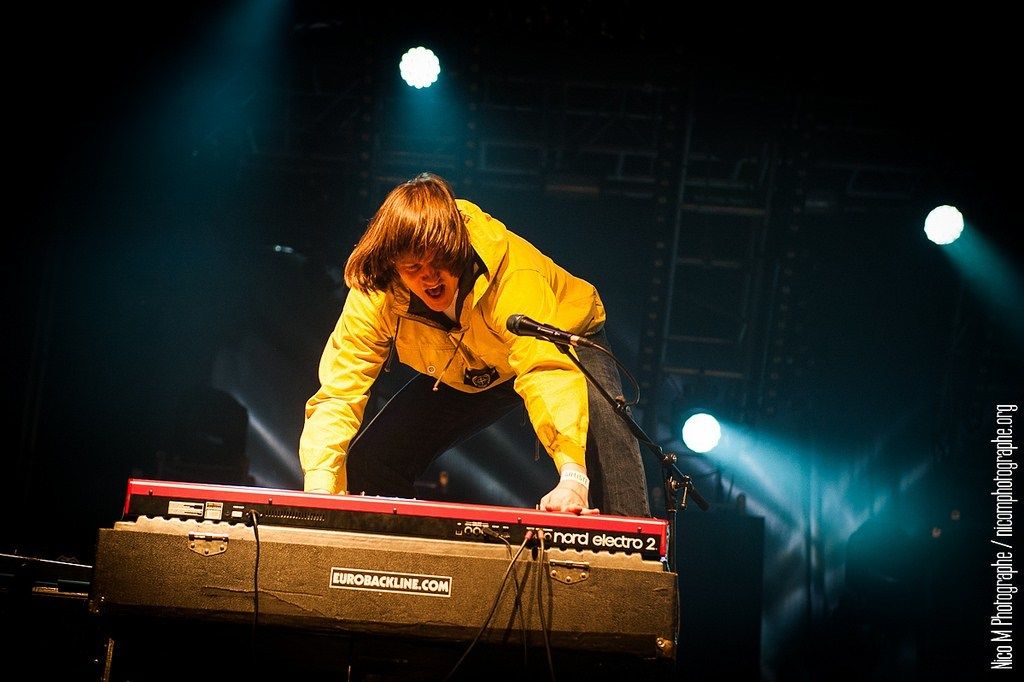 First up on Friday was the first French act to impress, Grand Blanc. Although not immediately engaging, something about Grand Blanc's attentively stylistic approach catches the attention. All clad in black with dark hair, apart from blonde synth player/singer Camille – they cut a gloomy presence on stage. Think of a very Parisian Joy Division, mixed with The xx. While both Benoit and Camille share vocals, their true edge lies when Camille leads the way.
Outlining the sheer musical diversity of the festival, Dad Rocks! were next up and played to a huge crowd. They also pick up the award for the worst name for an act all weekend. Essentially though, it's non-offensive, bubble-gum Icelandic pop. It's as if they took the folk leanings of Mumford & Sons, the accent from Of Monsters and Men, the anthemic boom of Fun and the pure bubble-gum cheese of The Jonas Brothers. While not a style we'd want to be returning to, their execution and delivery of their brand of pop is flawless – if you're into that kind of thing.
Our first introduction to Hall 9 of the weekend comes as we head along to The Avener. A vastly popular producer who lives in France who is known for his rework of the relatively unknown Phoebe Killdeer's track, The Fade Out Lines. His productions are sleek, clean with a heavy pop twist. He teases with rhythm and blues to deep house, through soul and techno – but one things for sure, this guy knows how to fill a room. While the live show needs some work, it's early doors yet. Expect to see this guy filling dancehalls all over Europe in the coming years; an exciting prospect.
Cosmo Sheldrake is the perfect example of everything that is perfect about Les Trans. Many of the London-based journalists in attendance hadn't heard of Mr.Sheldrake. Professing that he may struggle to sell out a medium to small venue back home. But here, in France, Sheldrake enjoys a very receptive 3,000-strong crowd. People are here to experience new music, to revel in the sound of something exciting. They trust this festival. And on the evidence of Cosmo Sheldrake's set, they have every right to. It's creative, it's daring, it's bizarrely layered with intricate loops, his voice sits atop and dresses the beats – it's special. Despite the obvious nerves, his set is an innovative new style mixing electronics with a pure folk sensibility. Watch this space.
Once again, another British (Newcastle to be more precise) act were up. Admittedly, Smoove & Turrell have been plying their trade for much longer but are yet to break out to widescale notoriety. One of those acts from your hometown you believe deserve the attention but just haven't made 'that jump' just quite yet. That seems to be the basis of booking at Les Trans, they don't care for much back-story or 'hype' – they just follow the good music. Smoove and Turrell, made up of 7 members create this freakishly funky brand of American big-band funk and soul. With a tight brass section, engaging keyboard player playing with his feet, catchy tunes and a full house – it's a stunning and enjoyable set. Perfectly topped off in true Geordie fashion with 3,000 people exclaiming "WHEY AYE".
Still a relatively new act, Ten Walls, comes to Les Trans with probably the biggest song of the festival. Walking with Elephants has amassed over 6 million plays on YouTube alone and was a buzz song over the summer all over Europe. In complete contrast to The Avener earlier in the night, Ten Walls set up is expansive and features a remarkable visual set up to boot. The biggest warehouse, Hall 9 soon reaches capacity and they shut the doors. The ardent French crowd lap both the expansive sound with the intricate and alluring visual show that accompanies this booming electronic set.
Saturday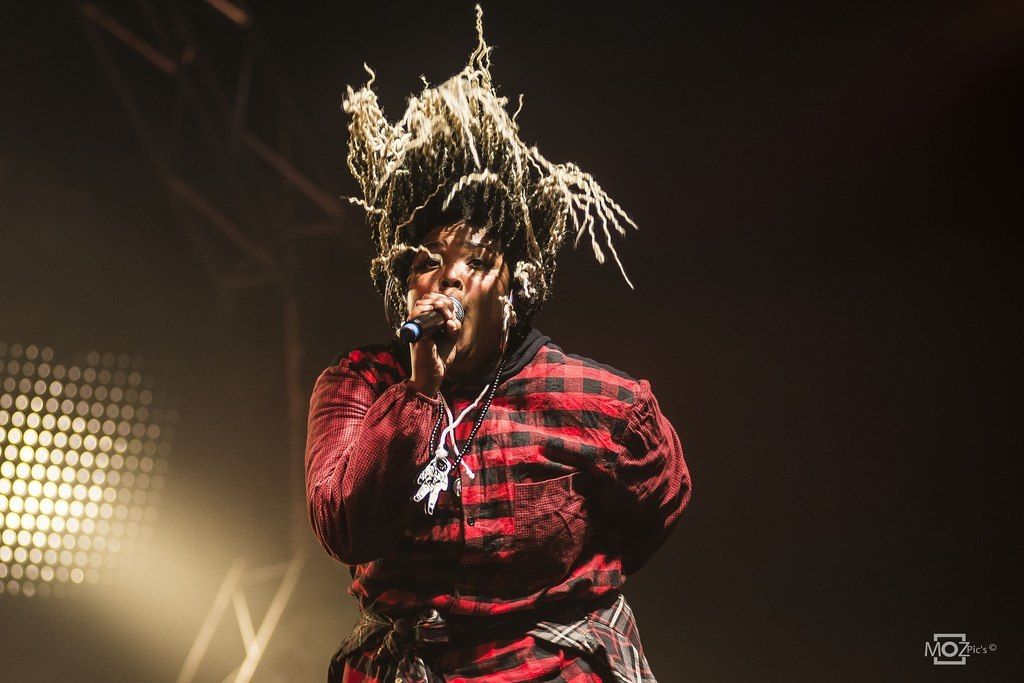 Instead of waking early on the last day of a festival, inside a tent, with a packet of skips stuck to your face. We woke from our slumber at a respectable hour, in the comfortable surroundings of a hotel. A short jaunt through the scenic streets of Rennes and we turned up at L'UBU, one of the few city-based venues of the festival. We were there to take in the second and last Irish act to be performing over the weekend, WIFE. For those of you who don't know, WIFE is James Kelly; born and bred in Cork. After quitting his successful black-metal band, he has now ventured into electronic music as a solo artist (an interesting story – full interview to follow on GP).
WIFE takes to the stage, barefoot. Once the bass levels are reprimanded by the panicking sound engineer, WIFE begins to deliver a textured, deep and dark brand of electronic drones. The music is incredibly intense and exact with each song discharging a steady bassline that ambles through. A simple screen adorns the wall behind WIFE with a very particular theme throughout all the visualistions – the human form. It becomes fitting during his track Bodies as Kelly's lofty vocals soars above the incredibly receptive, quiet and impressed French crowd. During the, albeit short, breaks between songs – the crowd while obviously enjoying the set, remain quiet out of appreciation to the stunning set.
As Les Trans takes over the city of Rennes with an estimated 62,000 punters coming through the Expo gates, Bar en Trans, a totally separate festival runs small gigs in small venues around the city center. Over the few days, we checked out some bands in these venues and the last of them was C.A.R at La Backstage. While an interesting and tiny venue, the gulf between the quality of acts between the festivals is clear. While Chloe of C.A.R certainly has something, it's unpolished and needs work.
Apart from the Irish acts on stage, no other act piqued our interest more than the Afro-Funk act Vaudou Games. From the first seconds of Lazy Train, we're hooked. The sprawling pointy guitar, the direct keys peppered with synth – straight from a William Onyeabor record. A packed hall looks on as they can only revel in the level of funk that's coming from the stage. Three songs in and he welcomes his uncle on stage, a one Roger Damawuzan – a man who has been labelled the Togolese James Brown. On first reading of such a statement, you might think "that can't be right" but as soon as Damawuzan steps up to the mic and unleashes a "woooaaahhhh" – you can hear why. It's rawness in his delivery that really impresses over the layered textures behind him – screeching and hollering like a good yolk. By the time Pas Contente comes on, the room is swaying, dancing and loving every minute. Another great thing about Les Trans that differs it from all other 'new music' festivals is that most acts are given a large set of an hour to impress – instead of the usual 20-30 minutes. This means that Vaudou Games still has time to conduct a large scale dance-off on stage which even see's uncle return once more. The sooner they reach Irish shores, the better.
Lizzo was somebody whose recorded collection didn't catch my attention before the festival. But as you do at festivals, you find yourself wandering between acts and I found myself at Hall 2 for this American performer. Within seconds of her bursting on to the stage, it's clear to see why she has attracted a huge crowd. Simply put, it's bonkers. It's part remixing, part DJ, part singing, part raping, part showcase, part dancing, part dance off, part lap-dancing, part … I've lost track. From opening track Lizzie Borden to Bitches and Cookies; it's one hell of a ride but you just can't keep your eyes off her. Whether it's her bounding around the stage, inviting a male crowd-member on-stage to strip or even just trying to keep up with her lyrical movement. One things for sure, you can't but have enjoyed it.