As part of the upcoming Dublin Bowie Fest, Tim Burgess of The Charlatans will be running one of his infamous Twitter listening parties in conjunction with the festival.
Tim will be joined by Spiders from Mars drummer Woody Woodmansey, legendary keyboardist Rick Wakeman and producer Ken Scott to celebrate 'Hunky Dory', which turns fifty this year.
"For me, it's my number one, it really is," says Burgess of the album, which is often somewhat overlooked by critics despite containing classic tracks such as Changes, Kooks and Oh! You Pretty Things.
"I love it. It's kind of a bit of a backhanded compliment in some ways but it's not meant to be. The reason I love it so much is because it sounds quite Beatles-y and I love that," continues Burgess.
"Ken Scott's production is amazing, Rick Wakeman's keyboards are amazing on it. I love Ziggy and stuff like that but this is just something that really resonated with me.
"Obviously, he really found himself during 'Aladdin Sane', 'Ziggy...' and 'Diamond Dogs', but this album kind of led him to all that and it was the only album I really enjoyed by him for a very long time. I like all of it now."
Tim's Listening parties are no stranger to covering David Bowie's back catalogue and he was happy to jump on board with the Dublin festival which was founded by Sack guitarist, John Brereton.
"I've done, I think, 7 Bowie albums with Reeves Gabrals (Thin Machine/Bowie) and Mike Garson. Mike Garson was an early supporter of the listening parties and he obviously played on 'Ziggy...' and 'Aladdin Sane' and a lot of the later ones too."
If Burgees had any qualms about some of Bowie's more difficult albums, the process of the listening parties has clearly put to rest any doubts he may have had.
"People always talk about classic Bowie and then there's always the period that people aren't sure about. Well, I'm sure people are really sure about the ones they weren't sure about now because they sound great.
They've always been really successful and 'Hunky Dory' was always missing. Woody (Woodmansey) said he was gonna get involved and then Ken Scott, who is one of my favourite producers - I love the production of 'Hunky Dory' so it gave me an excuse to do it," says Burgess, who believes 'Hunky Dory' "stands alone in a period of really progressive English rock…"
Like everybody else, Tim Burgess' 2020 didn't turn out quite how he had anticipated as all plans around the release of his sixth solo album, 'I Love The New Sky', were scuppered.
"I'm really happy with the way things have gone. It wasn't the kind of year I was expecting. I was expecting the year to be about my solo album and for that to grow and grow through playing live," explains Burgess.
"That's how I thought the year was going to pan out. I thought the album would be well received and later after people had seen it live it would be grower, but with the listening parties it's been about other people's records and the way people online can connect with them. Whether they are new or old, it's all about records.
"I think that's an amazing thing because at the beginning of the listening parties, so many people where just saying how they'd not heard an album in its entirety for years."
Although Tim Burgess was aware of falling album sales and the increased popularity of playlists, he was still quite shocked to learn that people didn't listen to albums.
"Obviously, we all love playlists but I didn't know that people didn't listen to albums and now they do, apparently."
"At the beginning, it just felt like an alternative to the ten o'clock news because originally the listening parties were at ten o'clock," says Burgess.
"You were watching the news and it was horror story after horror story. At first I think everyone thought: 'Oh, how long is this gonna last?' and then it became obvious the way it was panning out that it wasn't going to be over soon. I just think it felt like doing a very small thing to help with the reality of everything, really."
"I knew the listening parties had been enjoyable when doing Charlatans ones - so enjoyable, for me included, that I've done them about 5 times each, all 13 albums. So, it just felt like, 'well I can't really do anything but I can do a listening party for The Charlatans'".
The listening parties proved so much fun that other musician such as Alex Kapranos (Franz Ferdinand), Wendy Smith (Prefab Sprout), Bonehead (Oasis) and Dave Rowntree (Blur) were keen to host parties for their own fans.
"I do think it's been good for people's mental health just because they've been able to make friends in an environment where people are sometimes a bit nervous to go online."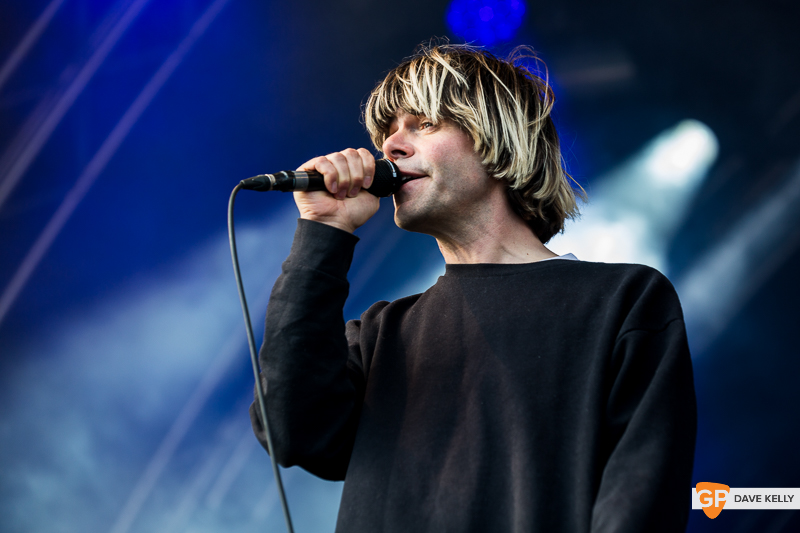 "I was doing all the booking and within a week I realised I'd booked five artists in at the same time on the same day," explains Burgess. "I was literally walking around with Post-it notes on my forehead trying to organise the calendar."
With Burgess spending 10 hours a day on listening parties, it soon became apparent that it was time to bring in the cavalry. And just as the internet had unexpectedly landed Burgess with this great responsibility of reintroducing the world to records, it also provided the help he needed to continue apace.
Two guys who both happen to be called Matt, who didn't know each other from Adam or have a prior relationship with Tim, volunteered to help him organise the parties. Burgess is amazed at their dedication and is quick to praise them for inventing the Replay Switch, which allows people who missed a party to watch the tweets in real time at a time of their choosing.
Remarkably, most of the parties come together under the steam of the adage: 'if you don't ask you don't get'.
"The amazing thing for a lot of it is I've kept it all on DMs on Twitter so it just made it really easy," explains Burgess. "…anybody whose email address I didn't have I went direct to them on Twitter and then we went through dates. That's the hardest bit really - going through the dates."
When the parties began to take off, Tim Burgess soon found himself unexpectedly planning 6-7 months in advance.
"…the more I did, the more people wanted me to do but it's been great because I got to become friends with Tim Pope who made a video for me. I became friends with Helen O'Hara through the Dexys listening parties and she now plays violin in my band. So it's been an amazing way of making friends at this time.
"The only way you could make friends like that is if you were on tour really. It has been helpful to me because I like talking to people and meeting people so it's helped my mental health a lot."
For many people, Tim's listening parties have provided a much-needed escape from the outside world. Burgess, though, is reluctant to shoulder any acclaim for their success. For him, the records and the artists are the stars; he's merely a conduit.
"The highlights have been the records, really, and the enjoyment people have been getting from them. That's been the absolute highlight.
"Some of the bonuses are meeting Tim Pope, who I've been a fan of since I was 13-years-old, and the same with Helen. That's a side bonus but it's the records and the excitement people get from, say, a Paul McCartney announcement yesterday or the excitement I got from seeing Pete Paphides do the four Needle Mythology albums on his record label. I just knew, knowing Pete, that he was in his garden shed typing way on his computer about all these bands he really loved. Those are the things I get really excited about because I know how much enjoyment is being got from a new way of looking at records."
For all the pinch yourself moments provided by booking Paul McCartney or meeting Tim Pope, the ability to connect people with new acts is just as important to Burgess
"I have a pretty wide music taste that includes Paul McCartney, without a doubt, but Aoife Nessa Frances and a band called We Are Kings and Sofie - these are artists I really like and they're new artists releasing their debut albums," explains Burgess.
"We have a ten o'clock one which would be a classic - let's use the Pogues or The The as an example - and at 7seven o'clock we'd have someone who maybe people weren't that familiar with yet, but I knew was a great record.
People would say, 'oh I've not heard this record before, I'm going to listen to it' and then they'd be like, 'but I can't wait for the 8 o'clock or 9 o'clock ones because I'm familiar with them' and it was almost like inviting people to enjoy something new. It wasn't all a nostalgia thing and it wasn't all Britpop bands. It was for everyone."
"I get exposed to new music and I'm always really interested in how new artists make records. It's important for me for the listening party not to be one thing. In my head it's like a really good magazine that showcases everything - that's what my hopes for it would be," explains Burgess, who has booked Irish artist Aoife Nessa Frances to appear on his Tim Peaks stage at Kendal Calling this summer. "I just really love the album and wanted people to hear it."
"I'm always on the lookout for new records, always, because I'm interested in new things," states Burgess, who regularly reaches out to artists of all genres.
"Korea Town Oddity - this guy Dominique (Purdy) from Los Angeles - put out an amazingly unique hip hop record that I really wanted, so I chased him up. Theophilus London the same, I really love his record. He did a track with Raekwon from Wu-Tang Clan. I've not been able to get in contact with The Wu-Tang Clan but I'm getting closer and, obviously, I asked Paul McCartney. I'm really thrilled, it's just magic.
Along with Wu-Tang Clan, the Internet-shy My Bloody Valentine are on Burgess' bucket list. "'Loveless' would be absolutely amazing if that was to happen. Kevin (Shields) knows where I am."             
Burgess won't be drawn on what his favourite party has been to date. "People always ask me who my favourite one was but there can't be one because it's the artist who puts the most into it, really," he says in statesmanlike fashion.
"An amazing one was Gary Kemp because he put a lot into it and his album 'True' is one of the biggest selling albums of all time. Dream Wife did one of the best listening parties because they put so much into it. If someone doesn't feel comfortable in doing that then I understand why they wouldn't want to do it."
However, Tim Burgess is happy to single out certain people for their contribution to the project.
"Bonehead has been the patron saint of the listening parties because he put so much into it in the beginning.  He was rallying the troops and got Brian Cannon from Microdot involved. They had all these little stories about Liam and ideas for the cover of 'Be Here Now' and dealt with it in a way that was funny, not in a guarded way. I think the listening parties allowed that to happen," says Burgess.
"You can tell he's very fond of his time in Oasis and very fond of Liam but like you say, he doesn't give a shit. A spine-tingling moment really, Bonehead's Bank Holiday (laughs), but the spine-tingling moments have been a plenty. Chemical Brothers - their first two albums - and The Pogues when they did 'Rum Sodomy and the Lash', that was just unbelievable."
When we enquire if Burgess has heard from acts that their record and merch sales have improved following a listening party he responds "all the time" and is happy to give a personal example.
"With the Charlatans' 'Telling Stories' listening party, 80 copies were sold in Piccadilly (Records in Manchester) on the day leading up to the party in the evening."
Not bad for an album that was released all the way back in 1997. With potential returns such as this from one record store alone it's easy to see that the listening parties are of financial benefit to the artists that get involved.
Multiply that across over 600 listening parties and the potential benefit to the music industry is huge in terms of both sales and finding new fans.
Tim Burgess hosts a special listening party for David Bowie's 'Hunky Dory' in association with the Dublin Bowie Festival on Sunday, 10th January 2021 at 9PM. The Party will feature guest appearances from contributing musicians Rick Wakeman and Woody Woodmansey, as well as producer Ken Scott.