Electric Picnic doesn't tend to repeat itself. While familiar Irish bands will pop up again and again, the international acts rarely make a repeat appearance. So St. Vincent must be doing something special to be back for a second year running.
Admittedly last year she wasn't alone, appearing alongside David Byrne for a performance that was, for many, the highlight of 2013's Picnic. A year later, Annie Clark has similarly positive memories, recalling how, "the crowd was just so exuberant from the get go. There wasn't that warm up period" that typically came with her shows with Byrne. This may have had something to do with the fact that it was the only festival slot the pair did after a run of fully seated theatre performances... Or maybe there really is something special about the picnic.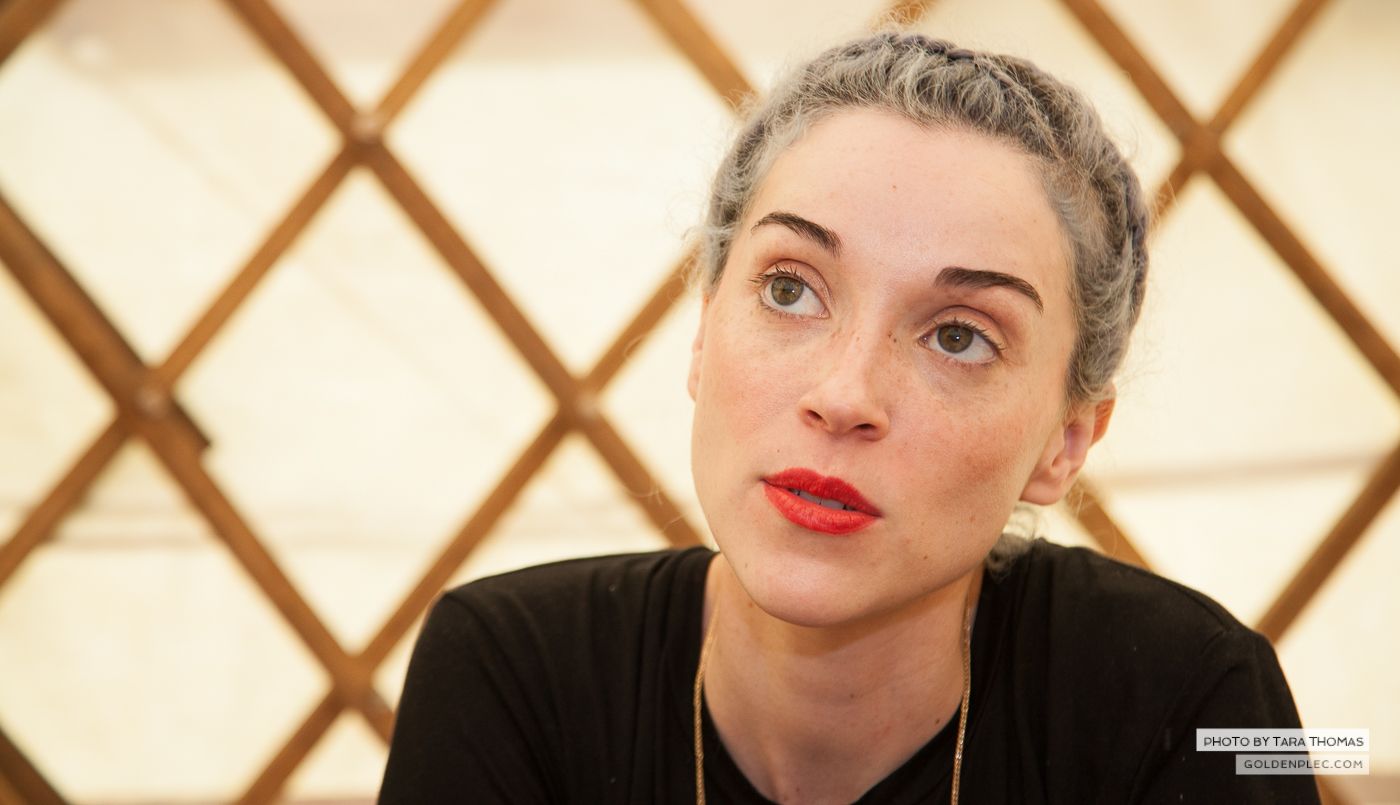 Whatever it is, Clark is delighted to be back when she sits down for a brief chat with us a few hours before she takes to the stage. Her love for the Picnic is evident from her disappointment that she didn't get more time to take in the festival. "I missed my friend Jenny Lewis who I'm sure was great," she says. "And then my lighting director's husband is in Beck's band, so I think we'll get to see maybe some of Beck."
There's a sense that Clark would much rather be off soaking in the festival atmosphere than stuck on "press stuff." Nevertheless she is in good humour, soft spoken but cheerful, frequently going tangentially off point or making jokes when asked a question.
"I have someone dressed as David Byrne," she says, when asked what fans who saw her last year can expect this time around. "He'll be doing a dance."
In truth her performance is a world away from both her 'Love This Giant' tour with Byrne and indeed her own previous albums. Anybody who made it to her Olympia Theatre performance earlier this year will already be familiar with the highly choreographed spectacle of dizzying guitar work and a ballet of mechanical onstage movement that now makes up a St Vincent show.
For Clark this chorography "gives me a structure that I can rely on every night. And also I can play and sing at the same time and so it just seemed like a challenge to layer something on top of that, you know?"
But where did it actually come from?
"I think the language of movement is something I'd never really explored in a codified way. I'd only ever just moved intuitively. But I love dance, and I love modern dance and I love ballet, whatever, so I just thought maybe I could incorporate it into what I was doing.
"And I was able to see something like that in action in the David Byrne show that we did, but I didn't get to be so much of a part of it, 'cos I was busy with, you know, singing and playing guitar. So I just thought, 'aw, that looks like fun. Maybe I can incorporate something like that into my own show.'"
This new level of performance, a combination of music and movement that few artists fully embrace, centres on the material from Clark's fourth album, 'St. Vincent'. She admits, though, that she wasn't thinking of choreography at all when she wrote it, that only came later. When writing the songs for 'St. Vincent', she was instead thinking "of groove. I was thinking about, and I've said this before, but I wanted to make a party record you could play at a funeral. I was thinking of something that had heavy groove, but also was heartfelt."
As for the self-title, that just seemed like the right thing to do once the album was written. "I was reading Miles Davis' autobiography and he was talking about how the hardest thing for a musician to do is to sound like yourself, and I felt like on this record I did that. I felt like I'd created a world that was singular and my own, so I subtitled it."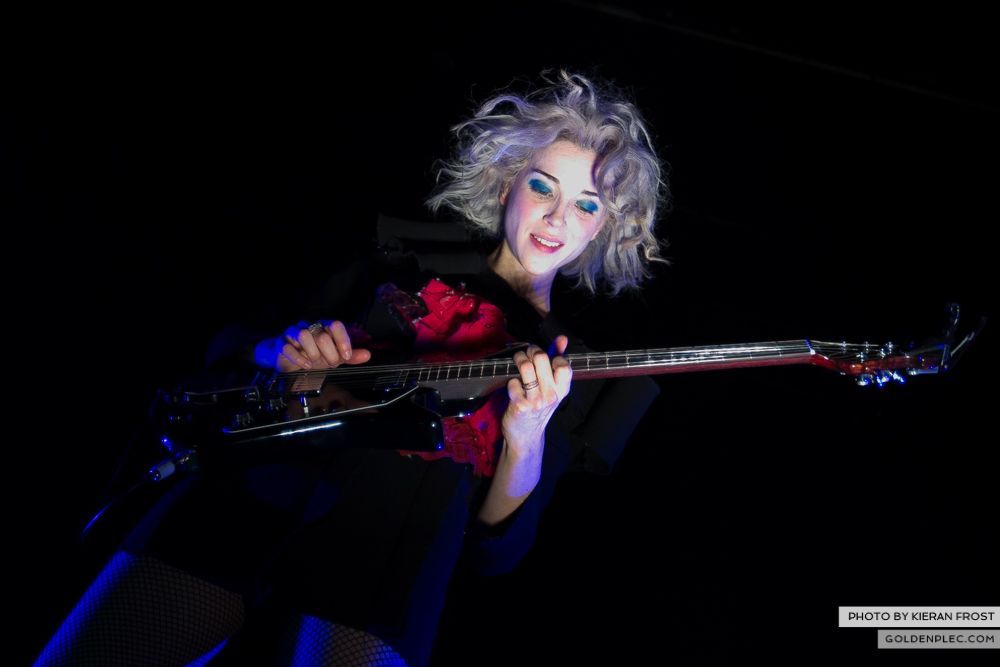 But far from resting on this singular world she's created, Clark already has an eye on driving her sound in new directions. "I've just discovered sampling and making beats, so lately that's all I do if I'm not doing press or not on stage. I'm there with my headphones in having a lot of fun with the sampler."
Is this experimentation with the capabilities of technology a way of escaping from a static definition of rock music as a genre that has more less achieved all it can and has reached a dead end?
"I don't know what rock music is. When I think of rock music I think of Led Zeppelin and Jimi Hendrix. I think of it as sort of like, the pantheons of the late sixties and early seventies. I don't know that I've thought about what rock music is or isn't, except in a very nostalgic way."
As St. Vincent, Clark seems to be striving for a form of self-expression that isn't limited by pillars of the genre like Zep or Hendrix, or indeed anybody else for that matter. "Great artists don't sound like their influences," she says emphatically. "The great ones are the ones who you can't figure out what their DNA is. 'Cos there are so many artists I can listen to and – just because I've listened to a lot of music – I can say, okay, that's referencing that, and this is referencing this.
"That's all cool, but for some reason it doesn't quite add up to anything new. It's sort of like a Tumblr version of making music. I like this photo, and I like this photo, and I like this photo, so I put them together. But without any grace or skill."
In her own music, Clark admits that she tries to put things together in such a way that the current of her own identity is what the listener perceives, not all the influences that have fed into it. "I learned by imitating everyone, at some point. But eventually you have to cobble that all together and find your own voice within that. So it's just like learning a new language or learning how to speak."
Clark is a little reluctant to actually talk us through the DNA about one of her songs. When asked about Bring Me Your Loves, from the new album, as an example, all she says at first is, "It's pretty weird, huh?"
But eventually she relents, and explains that the song is, in one way, "a real heartfelt letter to Pantera. 'Cos I'm from Dallas, Texas, so I grew up listening to Pantera and I love them. And then there's also this like little nod to New Orleans funeral march, you know, The Meters, that sort of thing.
"Then the other part of it was, like, you know, asking: how do you sing something that doesn't land on a beat that you think it's going to land on? I was listening to this Turkish artist and the timing and the fluidity of the voice was so satisfying, but it's a delayed gratification. And so I put some of those things together somehow, and then that's the song."
It's not hard to imagine that every other track on the album has a similarly diverse and complex DNA, but there isn't time to go into it.
So instead we ask her about a recent collaboration with another musical influence – Nirvana. In April of this year St. Vincent (along with Kim Gordon, Joan Jett and Lorde) appeared alongside the surviving members of Nirvana for a performance at their induction into the Rock and Roll Hall of Fame.
Six months on, Clark still, "Can't believe that happened."
"I didn't walk into it with an arrogant spirit. I walked into it thinking, all I want to do is to try and do this right. There's no doing it justice, I mean obviously no one could do it like Kurt could. So I just walked into it with the spirit of, 'well they've give me so much over the course of my life, you know in terms of the music and the artistic legacy and the political legacy and everything, it would be very cowardly not to try and say thank you for that.'"
And with that time's up. Clark runs off for another appointment. "Enjoy the last vestiges of your summer," she says as she leaves.