Somebody's Child are gearing up for the release of their new EP '20-Something' on 7th August. It's a coming of age affair, for both lead singer and principal songwriter Cian Godfrey and the band itself.
"This is the first time we're hitting our stride. This is the first time it feels like we're getting somewhere," he says confidently of the group's 5-track EP. Its singles We Could Start A War and Hold Me Like You Wanna have collected over half a million streams to date.
"I've never felt more comfortable releasing music, but never more vulnerable and I think that's a really good place to be. I hope that people will connect with it because I've given more to this than I've given to anything before."
For Cian, '20-Something' is the culmination of years of work and personal struggles to find the perfect vehicle as a songwriter.
"I've been writing since I was 16 so from a writing perspective, I think it's ever-changing because I've gone from having a band, to no band, to having a band again and I'm delighted with what we have now. It's a much different dynamic from writing on your own."
Cian is a prolific songwriter with a clear vision of what he wants Somebody's Child to be. However, this has sometimes led to unhelpful clashes with management in regards to what to release or not.
"I have tonnes of songs that I don't think are the right fit. I've been told to release them but I just don't think they suit what I'm trying to do with Somebody's Child but these ones are."
This vision, coupled with the self-awareness that the group is only just hitting its stride and isn't fully formed as yet is the reason the group is releasing an EP rather than an album right now and Cian is happy to mark the group's evolution until he feels ready.
Perhaps a sign of this new confidence is reflected in Cian's decision to step out of the shadows and into the role of the traditional frontman, following a period where he tried to keep his identity a secret.
"Initially, I think I was kind of nervous about putting music out on my own," he reflects. "The name Somebody's Child gave me that anonymity and I liked that it wasn't suggestive of male or female or a band or a solo act. I guess it gave me a little separation from my own personality in that I didn't have to write in a particular genre or be anything to anyone."
"The anonymity thing seemed to work as well. I was really not looking forward to having to buy into the vanity associated with the music industry so it was something that just kind of felt right at the time and after a while, it became pretty obvious that we were losing out on opportunities because of it. Instagram story takeovers and the like - which I wouldn't be that fond of anyway - so it really didn't bother me at the time but it came to the point were I had to do something about it."
The decision to step into the spotlight finally came following a meeting with a record industry executive.
"He said, 'I like to talk about personal and political situations in certain songs and if you have a barrier between you and the listener they can't connect with you on the same level' and that resonated with me. Here I am, preaching about my own personal problems but I won't even show the listener who I am and there should be a connection between yourself and whoever is listening and that just isn't there when you're hiding it from them."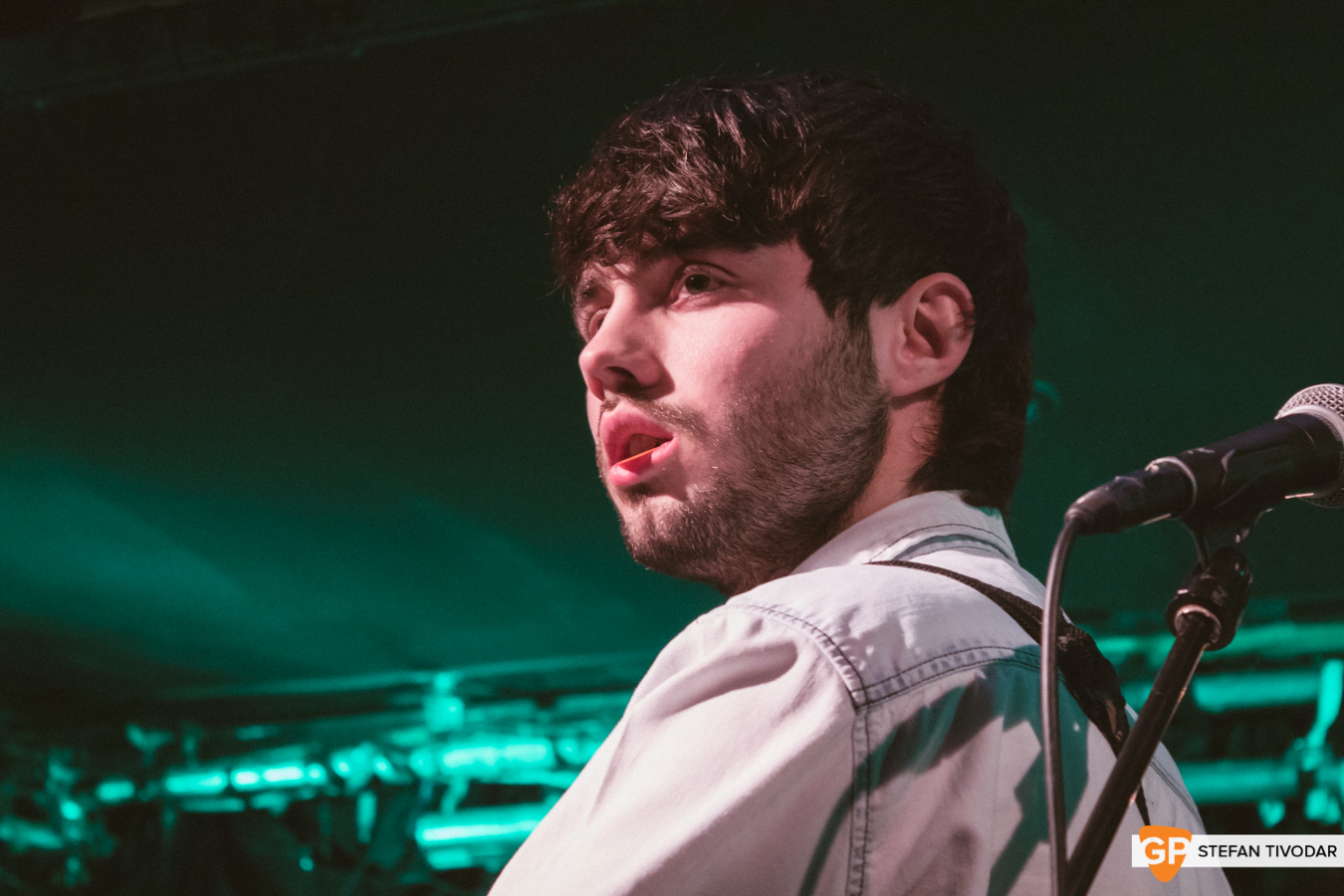 Losing his anonymity also forced the issue of whether Somebody's Child was a solo act or a group into the spotlight.
"For all intents and purposes, it's a band for live. I like having the band always with me. I don't like changing people around but in a similar way to Villagers, it is myself doing photo-shoots and interviews." says Cian. "It's hard enough to get five people in a room to practice, never mind for a photo-shoot. I think it works better from that side of things."
However, Cian is quick to note that he isn't a dictator and that the group started out life as a solo entity. "I didn't have a band when I released the first record, so the music has always been my brainchild, but now I have these amazing musicians around me and they have their own input into the songs." Cian also notes that he'd be "completely ignorant not to take their musicality on board because they have armfuls and I don't." 
While Cian credits himself with the songwriting he says his guitar lines are often akin to "shitty Joy Division" while he describes his band mates in glowing terms. "Paddy is amazing with his pedals and stuff. Shay's a phenomenal rocky guitarist. Dan's an amazing free-flowing drummer - I never have to tell him do anything he just picks it up - and Jessie is an amazing bassist as well. It's something I'm delighted to have around me as a support structure, but as a system it works in a different sense than in the traditional band method."
Despite recent misgivings about Irish radio's willingness to give young bands a chance, it took to Somebody's Child who have well in excess of 22 million impacts (that's a fancy PR way of saying listeners, folks) on Irish radio to date.
"We definitely got picked up pretty early, which is amazing. It definitely brings the music out to a different group." Says Cian gratefully. "Our biggest listeners are still in Ireland. Getting on Spotify playlists, you'd expect to be gaining listeners elsewhere but radio has really hit home and put our music out to a huge amount of people which is phenomenal and that's all I can ask for here."
However, Cian does recognise that radio has not been as supportive to some of his peers, especially his female ones, as it has been to him.
"Being a man, it's kind of ignorant of me not to have realised it before. I'm glad that it's being brought to attention and I think things do need to change and when these things come out, it's like 'finally something is being done about it' and that song - the Dreams cover - is phenomenal and it's doing incredibly. It's a really great movement that I'd be proud to support. I think as men, we've got to realise that we're all a little bit to blame. We're part of that culture as well but it's maybe not our generation but the one from before that affected this."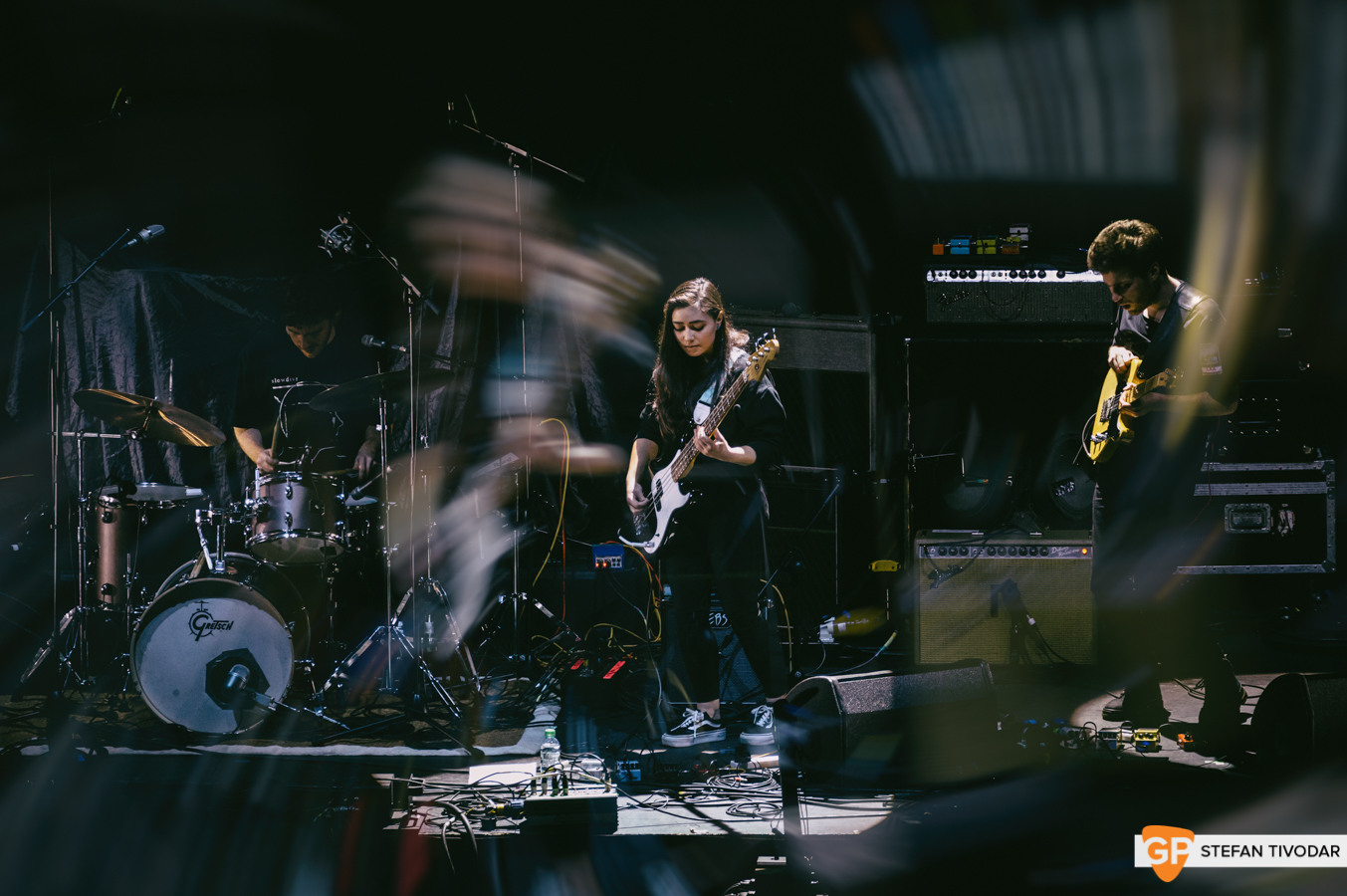 "It sounds like a love song but maybe it isn't. I like to leave that up to the listener but to me it's more of a love song between friends," says Cian of recent hit single Hold Me like You Wanna. "When I listen to it, it's a friend that you haven't seen in a long time that you've lost a connection with but you know if they're having a hard time or you're having a hard time that there's always somebody to rely on in that sense."
In many ways, Hold Me Like You Wanna says goodbye to the innocence of childhood and early adulthood and steps into the age of responsibility in life.
"You just aren't the same friends as you were with people that could've been your best friend at some point, and it's a weird thing to think that your lives grow apart, but at the same time you'll always have that connection. You turn around and you're 50 and you're having a mid-life crisis; that person will always be there, no matter what. It's just about that growing up period losing your friends but being able to keep that connection forever."
Cian notes that while the song has a bittersweet quality, it is also a salute to his friends following their dreams. "You don't want to lose them but everyone goes in their own direction and you realise that that's just life. People grow up and do their own thing, but there's definitely a being happy for them part in the song."
The influences behind the feel of the EP may take some people by surprise. "Hold Me Like You Wanna definitely has a Joy Division, Cure style instrumentally. I'm listening to Song Exploder, the podcast. I think it's phenomenal. I always wonder how other people write music and it's quite comforting to realise the process is much the same.
"This EP is heavily influenced by '80s music, which I had never previously delved into. I thought it was interesting that we were gravitating towards this type of music that had never been something that we naturally listened to. One of the Song Exploder episodes that I found really interesting was Phoenix; about how they changed DAW on each album so they have that teenage 'we don't really know what we're doing' thing going on and that kind of resonated with me because I was thinking about the fact that we were trying to almost imitate this type of music that we didn't know anything about, which was really exciting and inspiring at the time."
Cian is slightly perturbed when we comment that such influences are at odds with the way Somebody's Child is perceived as being a peer to the likes of Kodaline.
"I don't associate myself in that vein. It's just not where I see myself as a songwriter. I write in those styles as well but I don't see it as this band. I think this is something different. You try and portray the type of person you'd like to see as a musician or performer and that to me is less on the pop side and more on the indie side. Whoever's lumping us in there, just give them a dig," he says laughing.
"From my perspective, I've always seen the band as an indie band. I've always written songs in different styles and this goes back to why I chose the name - I didn't want to be confined to one particular genre. I think the last 5 songs have all been so different in style - some people say they are similar because they have that constant of the voice and instrumentation behind it, but to me they are all very different in style and I do like to explore that as much as possible, but I think we've come to a point where there was this collection of songs and we were writing in a particular style and it was way more towards the things that I'd listen to myself."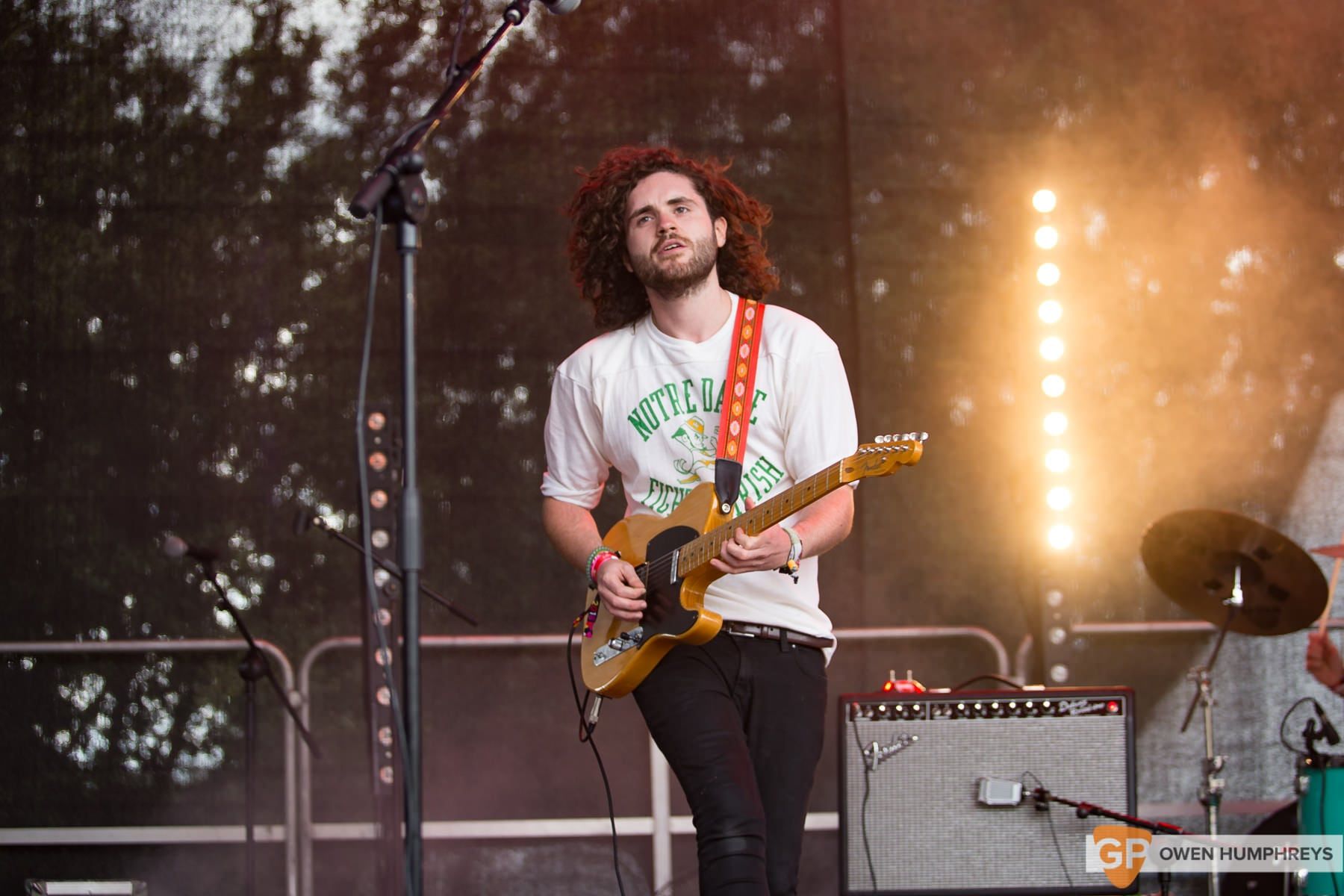 Having seen Somebody's Child live several times in the last 18 months including the Sound House and at Lost Lane as part of Ireland Music Week, we note that the band has clearly made strides in a live setting too.
"I'd never really performed that much before. I did Dublin's acoustic scene and I really didn't like it, it almost turned me off music altogether," says Cian, reflecting on his limited live performance experience prior to Somebody's Child.
"I finally found a band that gave me the confidence to love performing again, but it was a difficult thing to get back to and I've definitely learned to appreciate it more and my stage presence has grown. Live is something I'm putting a lot of focus on. I think it's how the music should be heard, so it's really important to me that that side of it is going as strong as the releases and the radio-play, possibly even more so, because I think it's so crucial."
While Somebody's Child is the perfect outlet for a specific vein of Cian's songwriting, he is open to releasing music under different names or giving songs to other people if the right scenario arises
"If I go too long without writing a song, I feel like I need to ground myself. Some people do meditation, I write songs - it's kind of my therapeutic outlet to ground myself" he says, explaining how his need to create music goes beyond the normal parameters.
"I went to central America a couple of summers ago and they just listen to reggaeton music all day long. I just don't understand that, because if you wake up in the morning you want to listen to some nice acoustic or cinematic music and all of this different music resonates with me in different ways so I feel like I should have a band for all of them..."
For now, at least, Cian is focused on the release of '20-something', before moving move on to the band's next EP and he wasn't going to let the pandemic slow him down.
"We were told to press pause by everyone. All of the people that are on my team were telling me to press pause, but I felt fair enough if you're signed to a major label and there's a plan for when you're going to peak, but we're not there yet and we still have a lot of work to do to be there."
However, the release does not come without  trepidation. "There's definitely a fear. Are we doing the right thing? It's a shame that we can't tour and be in people's faces all the time so we are just doing our best to use this time wisely, you can't really obsess over the negatives, it's been tough on everyone."
Perhaps Cian's pragmatic approach to the pandemic is in part down to being assaulted prior to Christmas and winding up in hospital with severe injuries.
"You can't really stop these things from happening. it's a bit of a shit one" says Cian, reflecting on the unprovoked incident which left him with a broken jaw in 3 places. "It doesn't seem as bad now that all the gigs are cancelled, but we had to cancel some at the time. I'm glad it's over, it's just a shame."
Thankfully, Cian recovered in time for his headline show in February a month which also saw them playing support to the Kaiser Chiefs in the 3Arena.
Somebody's Child's debut EP '20-Something' is out now