Sitting outside Bunsen with my girlfriend after a nice day out in Howth last summer, I give away one of my more annoying habits. The one where my ears prick mid-sentence and I trail off and say "I love this song" instead of finishing whatever it was I was saying at the time. I was probably talking shite but the song that distracted me from expressing my incomplete thoughts was Just What I Needed by The Cars.
I was introduced to The Cars by my dad. In a meaningful way, at least. I think the first time I ever heard The Cars was when a snippet of their hit song Drive was included in one of those infomercials where they try to flog a compilation of songs from a particular decade to people, playing to the nostalgic nature of people. You know the ones that get aired during ad breaks on channels that are completely irrelevant to those advertisements, like seeing Proactiv Solution ads starring Jessica Simpson on Nickelodeon and all? One of them.
Needless to say, it didn't make a lasting impression on me – I just wanted to watch SpongeBob SquarePants – but eventually, with the purchase of a PC and broadband service at the family home we were catching up with the 21st century and using it to catch up with the 1980s.
My dad and I share music a lot. He gave me a pretty good foundation, to be fair. Punk rock, 2 Tone ska, Thin Lizzy, Rory Gallagher, all that good stuff. He doesn't rate much of the stuff I send his way as highly but sure look, pick your battles. Anyway, one thing we used to do back then and still do to this day is binge watch YouTube videos of songs we both enjoy.
It was here that he showed me the magic of The Cars. It wasn't either of the songs I've already mentioned; both sung by bassist Benjamin Orr. It was My Best Friends Girl, sung by Ric Ocasek, who wrote all of the songs I've mentioned so far and who wrote the lion's share of the band's material.
Ric was born in Baltimore, Maryland (shout out to The Wire) on 23rd March 1944 (maybe), and relocated to Cleveland, Ohio when he was 16. It was here that he met Orr, first spotting him playing with his band – the terribly named Grasshoppers – on a local musical variety show. The reconnected a few years later in Columbus, Ohio and, in 1968 and formed an embryonic version of The Cars named ID Nirvana, cutting their teeth by booking shows in and around the Ohio State University area.
These formative years would see the pair relocate to Boston to form a short-lived folk rock band called Milkwood. They released one album in 1973 called 'How's The Weather'. It sold horribly but it did provide another fellow traveller in Greg Hawkes, who played keyboards on the album. The trio would form another short lived band, Richard and the Rabbits, while Ocasek and Orr performed as an acoustic duo on the side, writing some early versions of The Cars' songs. Eventually, with the recruitment of lead guitarist Elliot Easton and David Robinson, ex-Modern Lovers drummer – The Cars was born.
I think what drew me to The Cars in that one song was how deceptively simple it was and how familiar it sounded. Stacy's Mom by Fountains of Wayne was everywhere when I was a kid and looking back at it now, it just seems like the biggest rip-off ever, what with its low guitar register, hand claps and stabs of keys and totally relatable content (the only difference being that one guy coveted his best friends girlfriend that used to be his, while the other coveted his classmate's mammy).
But Best Friend's Girl is quite frankly and quite simply a perfectly crafted pop song. After five bars of an eight bar intro, the hand claps come in, making way for Ric Ocasek's distinctive cartoonish, throaty, jumpy vocal. Organs come in on the first chorus, which is followed by a rockabilly guitar lick. Verse-chorus-verse, layers upon layers. It's cracking stuff.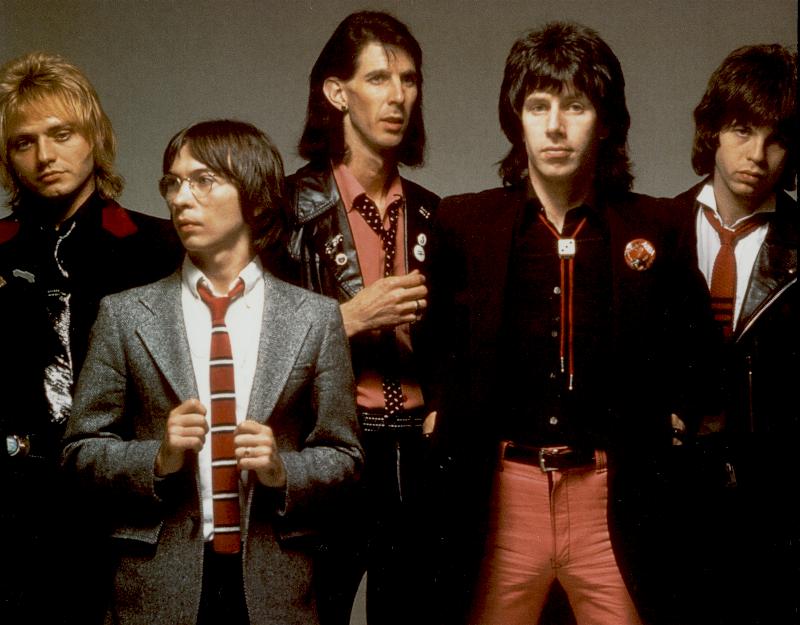 The whole self-titled debut album is chock-full of little power pop bangers like that. While Orr sang on Just What I Needed, the song was all Ocasek's and like so many of his others was soaked in sarcasm, and ridiculously fun to listen to. Ric barely praises the apple of his eye ("I don't mind you standing here/And wasting all my time/Cause when you're standing oh so near/I kind of lose my mind") and later gets a bit sick with it ("I guess you're just what I needed/I needed someone to bleed"). But the melodies are way too rich to resist.
Interestingly enough, despite how youthful and energetic The Cars' sound was on their self-titled debut, Ocasek was already way into his 30's by the time of its release. And despite its hooky, glossy, poppy feel; Ocasek was more influenced by the likes of Velvet Underground and Captain Beefheart than say Cheap Trick or Big Star or even The Beatles. I guess if anything this speaks to his genius as a song craftsman. Songs like those mentioned already were rife with irony, gloomy imagery, vacant vocal delivery from both Ocasek and Orr, and references to European culture. That kind of subversion in a pretty package is often lightning in a bottle – think Pumped Up Kicks or Hey Ya, those happy-at face-value but depressing when you look deeper songs. That was what Ric Ocasek was all about. Those good times detailed in Good Times Roll don't sound all that appealing past the gorgeous harmonies.
On a more personal level, I didn't realise until my dad's recommendation that I'd been touched by Ocasek's work before I even knew who he was but as an overseer. Not content to be the American new wave figurehead, Ric would also produce New York electronic iconoclasts Suicide's sophomore album, and hardcore punk/reggae-fusion legends Bad Brains' second album. In a sort of mantle-passing move, he would also notably produce Weezer's 'The Blue Album' debut album; an album I played to death in my teens. He would collaborate with the band again in 2001 on their 'Green Album' and it's fair to say that his influence on the band was undeniable.
His songs would also get endorsements through cover versions by other iconic and some contemporary bands. Nirvana played My Best Friend's Girl at their last ever concert in Berlin on 1st March, 1994. John Lennon would express his appreciation for Touch and Go and its '50s sound in his last interview. Deftones would cover Drive. Smashing Pumpkins played You're All I've Got Tonight. Jarvis Cocker of Pulp fame would join The Strokes for a rendition of Just What I Needed.
But more importantly than the music, more than the wide scope of its reach and influence; there was a man, a husband, a father. If there's any testament to make that sums up the sort that Ric Ocasek was it's this: Drive (sung by Orr) was the band's biggest hit and produced one of the early MTV era's standout music videos. It would later be used as background music to footage of the Ethiopian famine shown at Live Aid – The Cars were on the bill on the day, too. In a grand gesture, Ocasek would donate his royalties for the song to the Band Aid Trust.
The Cars' sound was timeless – especially on their self-titled debut. Ocasek's songs were infectious, snappy, and tuneful with plenty of smart moments of inspired musicianship. In stark contrast to the stadium bands of their era, The Cars were one of a kind, and so was Ric.