Like all good punk bands, M(h)aol emerged far more from a desire to play the music they wanted to hear, rather than an overabundance of virtuoso talent. In other words, they've got more attitude than ability, and a politically conscious message is an essential element of the music.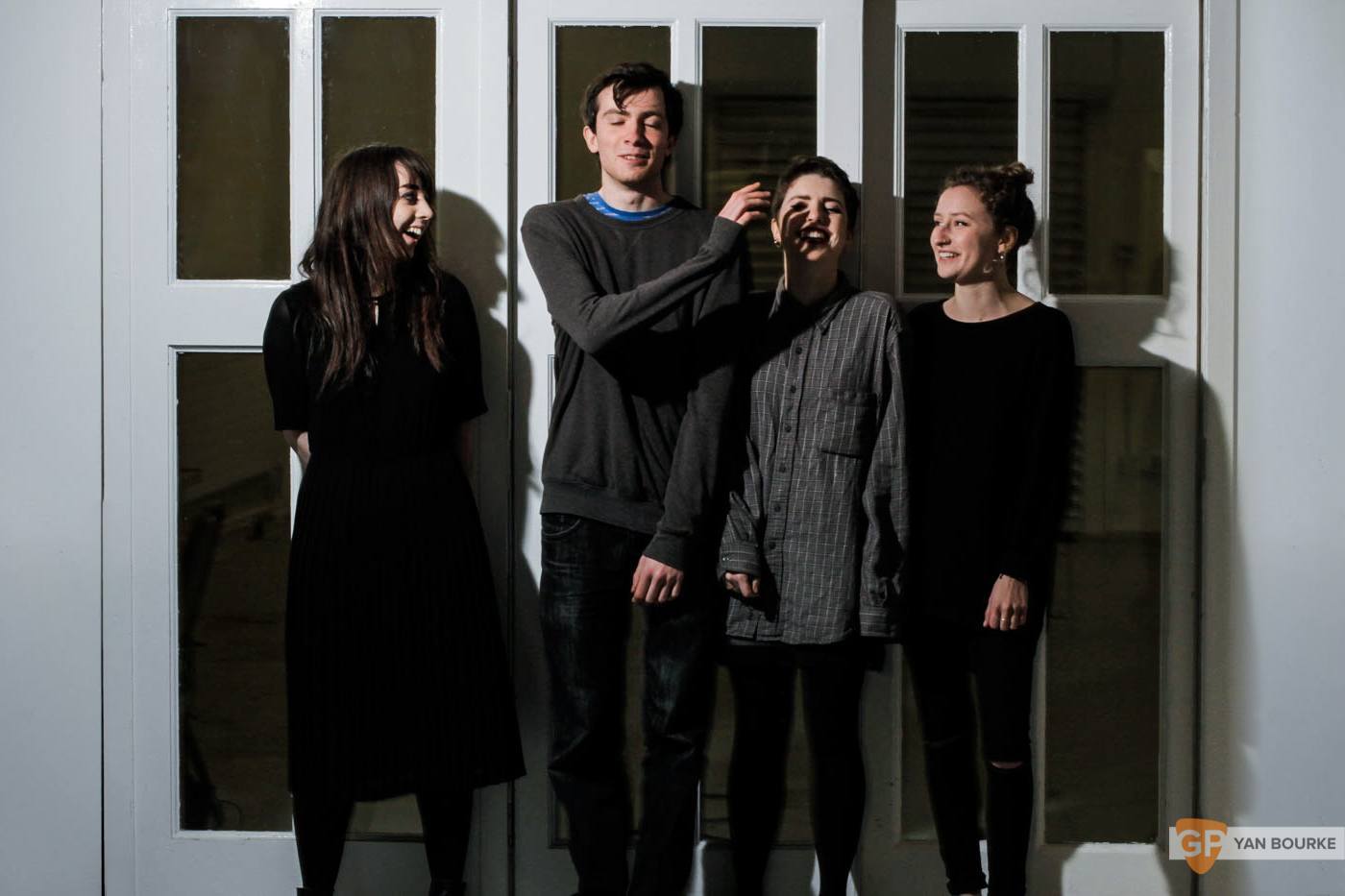 The young Dublin four piece are in their early days yet, but their feminist message has already made it as far as RTE news, who featured the video for their suffragette-inspired no wave noise-rock song Clementine on the Six One News back in December (after the band was mentioned at a National Women's Council Conference). Despite limited experience and some self-confessed musical "limitations", M(h)aol are making waves.
Going Bald
It all started with a haircut.
When Roisin Nic Ghearailt asked Constance Keane to help her shave off all her hair for charity, Keane knew this was the origin story of the band she'd been thinking about. After shaving Nic Ghearilt's head, the first thing Keane said was, "cool, but now you have to be in my punk band."
Keane (on drums) and Nic Ghearailt (vocals; "Call me Bono 2.0" she says) were soon joined by Sean Nolan on guitar, and Zoe Greenway on bass. "I could barely play the guitar," confesses Nolan. "So we were just doing whatever we could with limited capabilities."
That didn't matter. What did was writing songs with a political message (and also songs about dogs, another recurring theme in M(h)aol's music).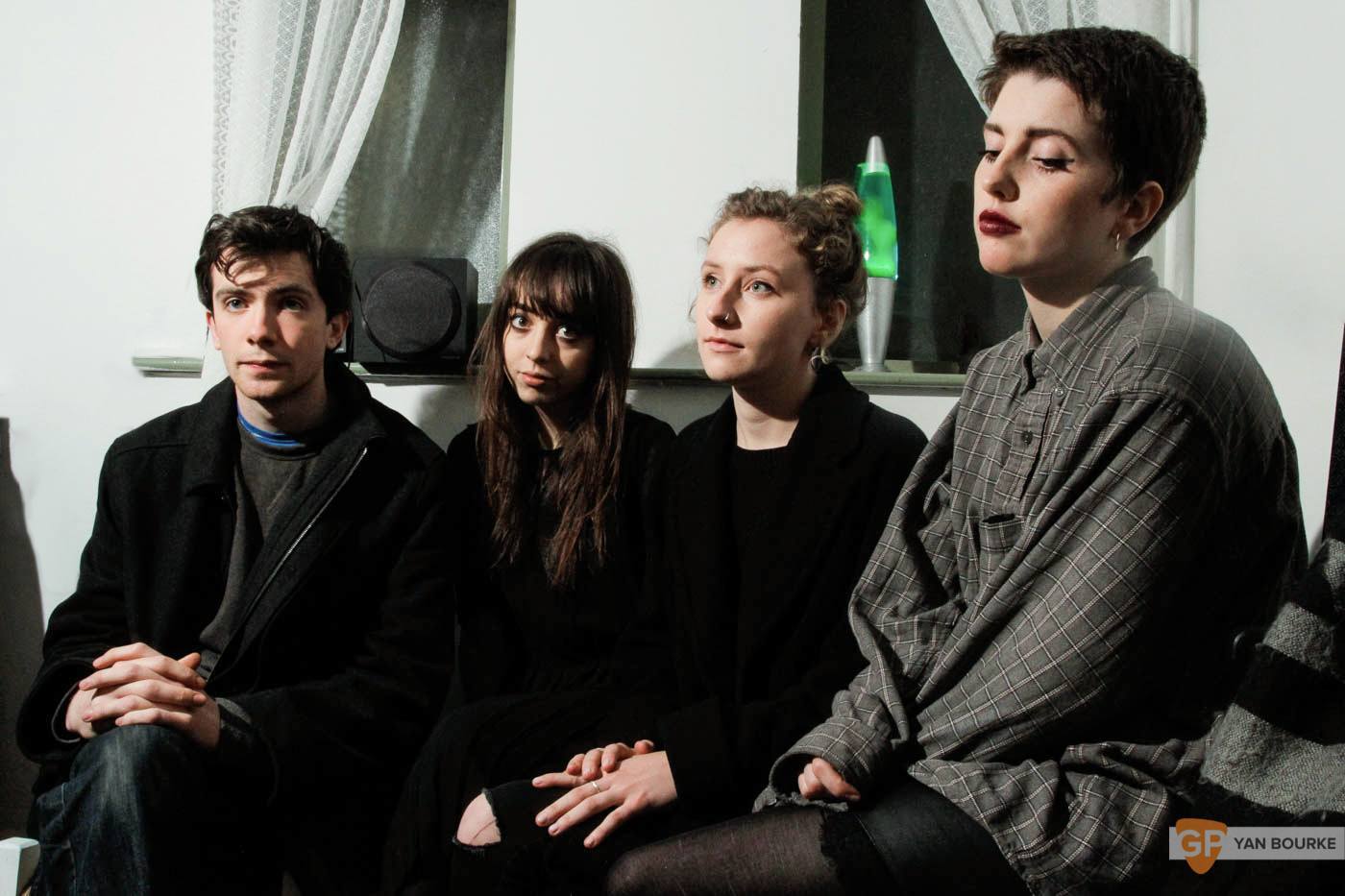 "Every music enforces a certain ideology," says Nolan. "Regardless of whether or not it is explicitly political, it's going to reinforce some ideas through the lyrical content, and even thought the way it's structured."
The rest of the band are quick to nod in agreement at this. For M(h)aol, Nolan explains, "the ideology is foreground. We're not trying to hide anything. We're making it explicit." The idea is to get a discussion going. To challenge people, if necessary. To talk about the things that don't usually get discussed in music. Like dogs, for example.
Take their song Kim is a Punk Type Dog, written about Keane's dog Kim. "She's like the punkest dog you'll ever meet," says Keane. "She's fifteen and a half, and she's deaf, and she's incontinent, and she has a leg deformity. But she still has this fantastic, inspiring attitude."
But even here, there's a real message about animal welfare.  "Like, if you get a dog that's an actual responsibility. Don't mess with the dog. Take it really, really seriously."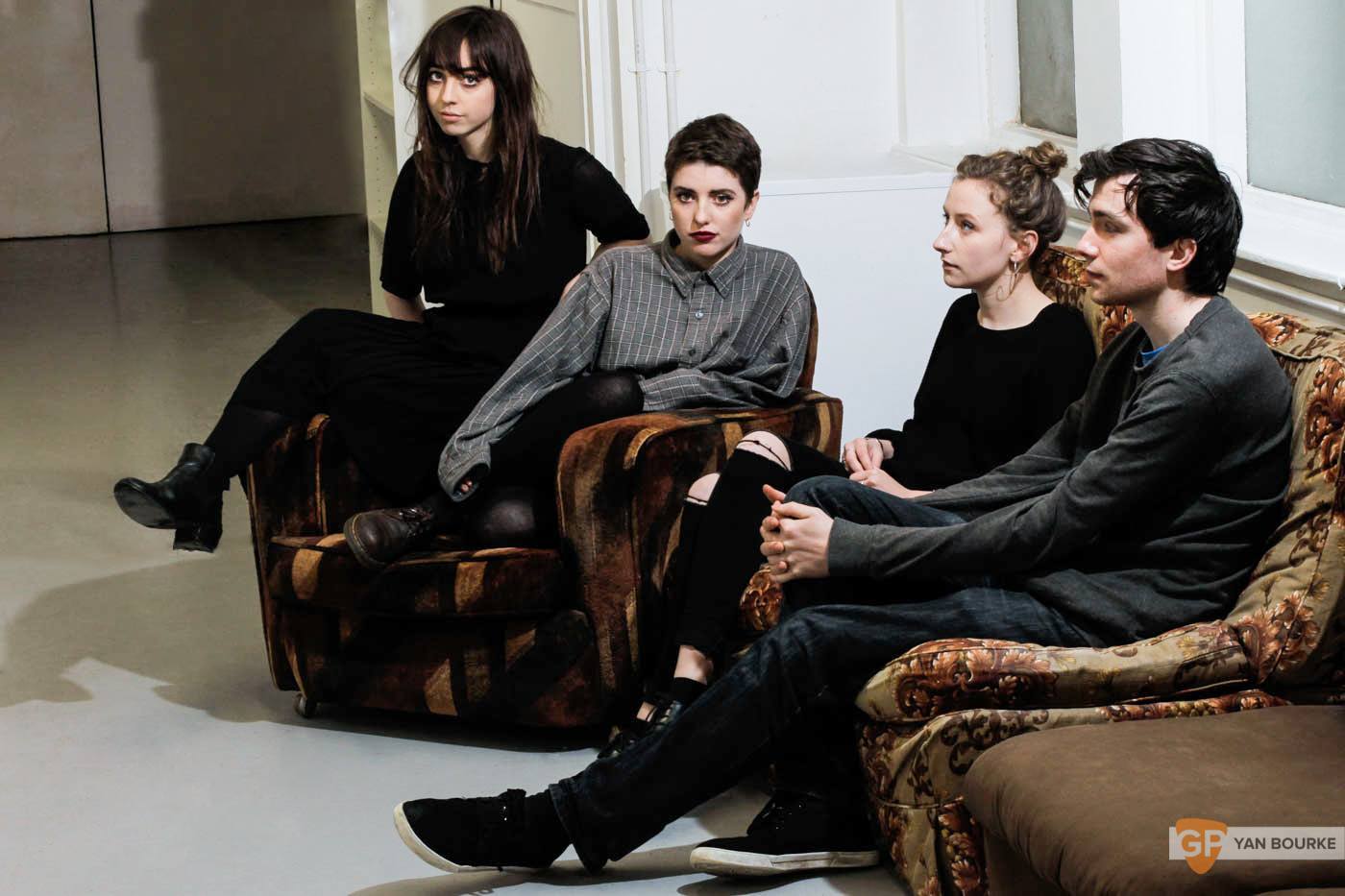 The band name – like much of M(h)aol's attitude – is both a wry attempt at poking fun at convention, while also carrying within itself a serious message. A majority female band pronounced "male" is basically a response to how the music press treats musicians who are female. "There's basically like an order," says Keane. "You're seen as a female musician, then as a female, then as a musician." The label 'girl band' gets thrown around a lot when describing female alternative and punk acts, as if they're being 'girls' is somehow the key descriptor of the music. "So yeah," explains Keane. "It's basically like a pissed off response to how musicians who are female get treated. just being judged first and foremost on the fact that they are female. It just does not happen for male musicians. It's not a thing. So it's like, we'll literally call ourselves male and see what's gonna happen."
The spelling meanwhile, comes from the Irish word for bald (another possible nod to the haircut which started it all), associated with pirate queen Gráinne O'Malley, "cos she was a badass," says Keane.
Intersectional Punk
M(h)aol are a different kind of feminist punk. "We address issues that aren't necessarily addressed by other bands," says Nic Ghearailt. This takes them on a journey from songs about their own dogs to declarations on animal rights, and from individual instances of inequality to explorations of intersectional feminism. "It's not just like we're women and these are issues we deal with in our day to day, it's like we're more wide view of what feminism is."
This attitude is typified by the band's song Clementine. It was inspired by an anonymous satirical letter written to the Times in 1913 by Clementine Churchill in response to vocal anti-suffrage campaigner Almroth Wright. In response to Wight's supposedly scientific claims that women were unfit to vote, Clementine expanded the argument to its ridiculous ends, asking, why not just get rid of women entirely? Isn't there a way for the population to continue without them?
M(h)aol's Clementine ramps up the satire even further, personifying the patriarchy through Nic Ghearailt's vocal, which rises from a dead-pan, almost machine-like drone, to a full on scream. This is laid down over grinding guitars and pneumatic drums that draw from Keane's interest in electronic music. The song also features guest vocals from Girl Band's Dara Kiely – whose chaotic babbling gives the song an even harder edge.
"We met Dara at a party and had a good chat about feminist punk – Bikini Kill, Bratmobile, that kinda stuff," says Keane. "And we were like, 'ah, it'd be good craic to do a song together'". But apart from this there isn't a huge overlap in the type of music M(h)aol and Girl Band are making, or the reasoning behind it. Like Girl Band, M(h)aol approach song writing with the idea of "not being constrained to a particular structure," but as Keane explains, "this due to what we can play," rather than a specific sensibility or influence. But for M(h)aol, the music is far more reliant on the subject matter. In tackling a voice of virulent misogyny, the intense, distortion-fuelled, wall of noise approach came naturally.
In this sense it would probably be wrong to nail down too specifically what it that M(h)aol actually are just yet. There sound is still in motion, and their subject matter a result of continued exploration, rather than an existing preconceived notion.
What we do know is that the next few months should see the release of a few more tracks, some more gigging, and hopefully more instances of their music starting necessary conversations. Keep an eye out for M(h)aol: even we aren't sure what they'll do next, but the young punks are bound to be rattle a few cages.
M(h)aol on Bandcamp: https://mhaol.bandcamp.com/