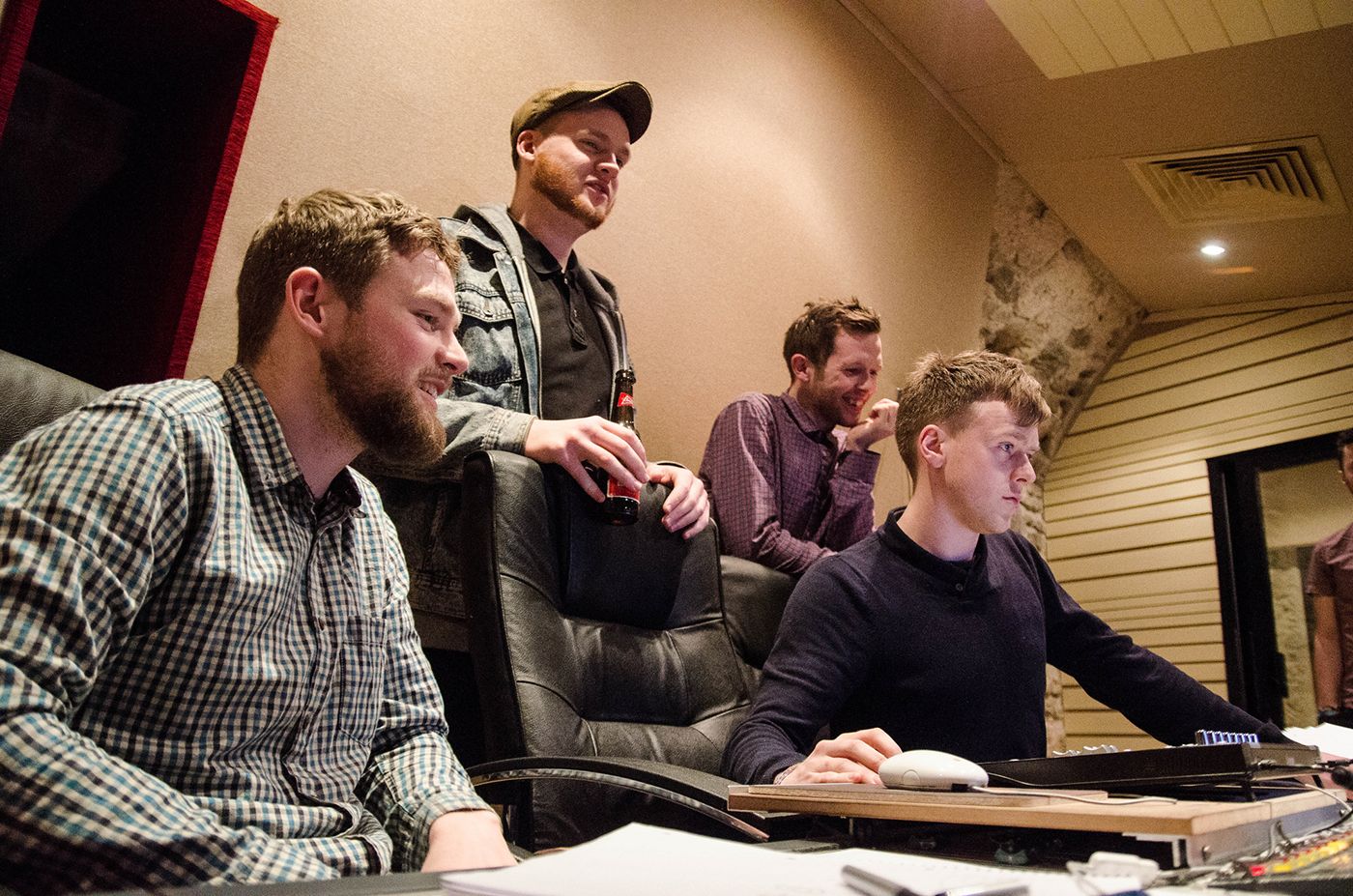 On a deathly-cold night in Dublin city, we found ourselves crouched under the arches outside College Green avoiding the lashings of rain as we waited for our chauffeur for the night. After a few minutes, we were greeted by Raglans' manager and our driver for the night, one of the band members' Dads. After the usual "ah jaysus, isn't the weather only awful", "Christ, isn't that a horrible hure of a day", "The wind'd skin a brass monkey" and all the other colloquialisms that we frequent; we set off for our destination.
Luckily enough, as we ventured deep into the Dublin mountains, the fear that this was eerily becoming a bad horror-film plot soon subsided as we landed at the barn-door of Hellfire Studios. We had received an invitation from Raglans to have a sneaky-peak behind-the-scenes listen at the recording of the new upcoming single 'Natives'. Upon arrival, we were greeted warmly with a handshake for one hand and a beer for the other - always a good start.
As the lads meticulously laid down the harmonies for the chorus of the song, we asked them about what exactly was going on in studio. "We're in the middle of recording a song called 'Natives', which we are going to put on our next release. We just wanted to get back in the studio and then we found this place and met Joe (the sound engineer) who runs it and came up and checked it out and thought it was amazing. So we have decamped here all week. It's going really well so we're hopefully going to do more stuff here and get something out ASAP."
Spending any amount of time with the band will reveal that these guys above all else, seem to be good mates with a good sense of humor. Even when things aren't going exactly to plan with the backing vocals; humor - well slagging with a touch of encouragement seems to get the guys through with a smile on all their faces.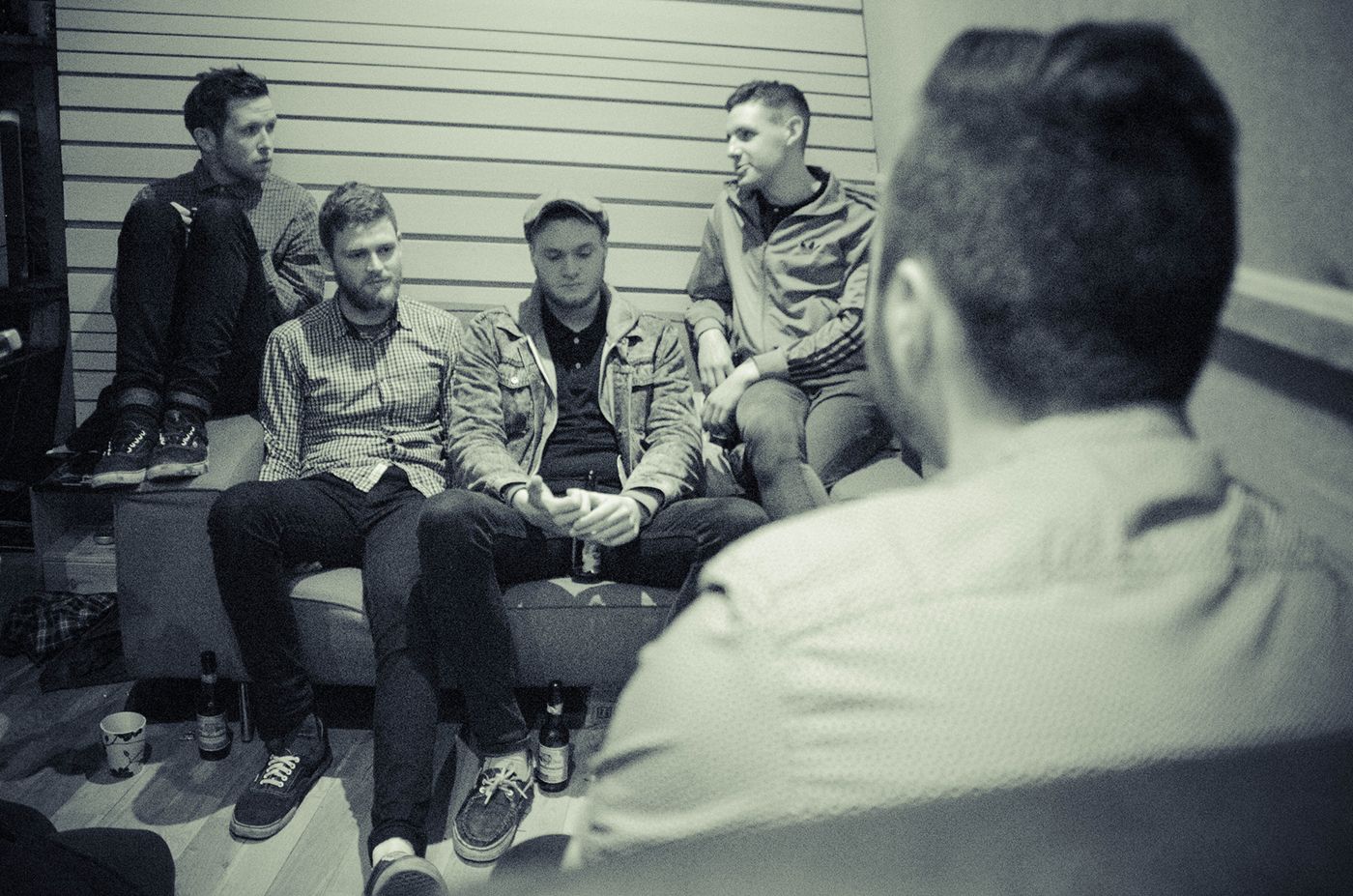 As they recall the bands first meeting with each other, Stephen (lead singer) explains meeting in a tent at a festival: "It's pretty foggy now to be honest, it was pretty late. I had seen Rhos and Liam in their former band and thought they were deadly and I heard they were breaking up so I targeted Rhos in the campsite after, not in a creepy way. I was probably hustling and scooting up beside him. It was really late, big tent, everybody singing, drinking. It was in one of those big dome tents, everyone having a good time." The new addition to the band and silent but deadly, Sean O'Brien, then chimes in with - "Sounds a bit Brokeback Mountain to me." A roar of laughter is let off as Stephen takes control again, "Ahhh it wasn't. I was like 'so do you want to do something?' and he said 'no'. I was like a girl, I went in for the kill and was shot down. I then just stalked him after and really creeped on him until he was mine." More laughter. "This answer has gone very awry hasn't it?"
Returning to the music swiftly, the guys talked about a very busy 2012 and how they took it "step by step, playing bottom of the bill and then you kind of move up; we're still working our way up now". Over this time they have become known for their instantly catchy live performances on-stage; I wondered if this was something they immediately aimed to achieve while producing a new song in the studio? "I don't know, personally, when I was growing up I loved being at parties and when someone whacked out a guitar and everyone would sing along; that's what I kind of liked. So when we all came together, we shared that. So hopefully there is a bit more substance to it and people can enjoy it and the musicality side of it as well; not just the sing along choruses." Bassist Rhos then brings it back to how they produce in the studio: "It wouldn't really be a conscious thing – 'let's make this a sing-along' – it's literally just what we write and you just know when a song works and how you deliver it."
We posed the question on whether their approach in the studio has changed since their last record? "We definitely approached this one far more meticulously than before - now we're really fine-combing things. I just think that in regard to the EP and the albums tracks, we just have blind faith that we are going to continue writing good tunes. We just want everything we put out to be brilliant and for people to love it... hopefully."
From hearing the track in it's most rawest form, straight from the desk, it's easy to spot a different and more elaborate sound coming from the band. Was this small detour in sound a conscious decision? "No, it's just a natural progression I suppose. These are just the songs that came out. It's strange though because we did a demo of it a couple of months ago and the difference between what we are doing now with it, with a few days in the studio and time to really nail down the parts, I think it has given the whole song a different kind of life. I think we view it in a different light than we did maybe this time last week and that's cool."
So obviously progression is something that the band are looking for then? "Well what I think scared us a bit about the last EP, without slamming them, was that we were under such time constraints to do them. So at times we thought it lacked a bit of identity and I think now that we are having a bit more time; some of the identity that we want to come across in the songs is finally coming across - it's about time really."
What does the rest of the year hold for Raglans then? "Just practicing, writing new songs, recording and playing gigs and festivals. We can't wait to start playing gigs again". This wish has already come true as the band are booked to play many festivals over the summer with even a small UK tour announced for later in the year.
Just as were leaving, the lads had one final thing to say to us: "We want to let everyone know that we're back."