Every year the GoldenPlec community of writers and photographers get together for a natter about which artists we expect to explode on the music scene in the year ahead. We have selected our 'Plec Picks' for 2015 and the list encompasses a wide range of artists, highlighting some of the best bands and solo artists currently active in Ireland.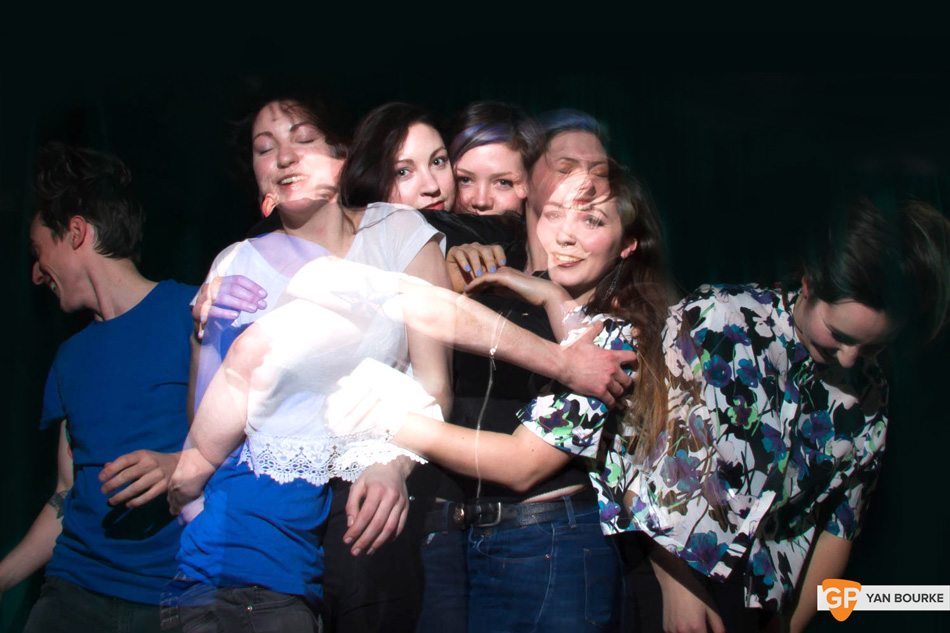 With an unforgettable name and a sound so heavy it could cause earthquakes, Bitch Falcon were always bound to make a big impact.
The four-piece have only been gigging in their current form for about a year, but they've already turned plenty of heads with their monstrous riffs and huge, furious vocals. We first caught them at a 3am slot in the Oxjam tent at last year's Electric Picnic, playing a wildly vibrant set of super fuzzy noise-rock that drew in plenty of curious passers-by, ourselves included.
Six-months on the band still recall the gig as one of their favourite so far, possibly because of its "late night raucous vibe."
Bitch Falcon built its origins when both the bands guitarists were hanging out in one their houses, playing guitar. This led to a few early gigs around Dublin as a three-piece, before being joined by the current line-up of Naomi MacLeod on bass and Nigel Kenny on Drums.
"Our sound is still nascent really, we're still developing it." But the Bitch Falcon sound is already something very much their own: pulsating with punk attitude, drenched in wave after wave of feedback, and anchored around some super catchy riffs.
Part of the ongoing development around their sound may have something to do with the band's range of musical tastes. For lead-singer Fitzpatrick, "My biggest influences would be The Knife, Bjork, St Vincent and PJ Harvey." For the rhythm section – Macleod and Kenny – it's more about metal and industrial music, with a bit of electro and hip-hop thrown in for good measure. "There's a lot of cross over really. Like I'm big into Bjork and St Vincent too, but equally big into the likes of Adebisi Shank, Young Fathers - post-rock, grunge, alternative, all that stuff."
This range of influences "could be seen as a negative or a positive," explains Fitzpatrick. "If we write one particular riff, we can create different songs out of it, as long as we give each other a voice to do so. I think with a lot of different influences you can create something that doesn't just appeal to one type of audience."
The stamp of grunge is one influence that's particularly evident, both in the music and the furiously energetic, unashamedly-heavy live performances. But Bitch Falcon's music is, "not necessarily grunge," says Fitzpatrick. "I think there's elements of grunge in it, but you know, it's got more too. I wouldn't describe our music as a throwback to anything." The range of influences – and what these four are doing with them – are too extensive for such a narrow classification.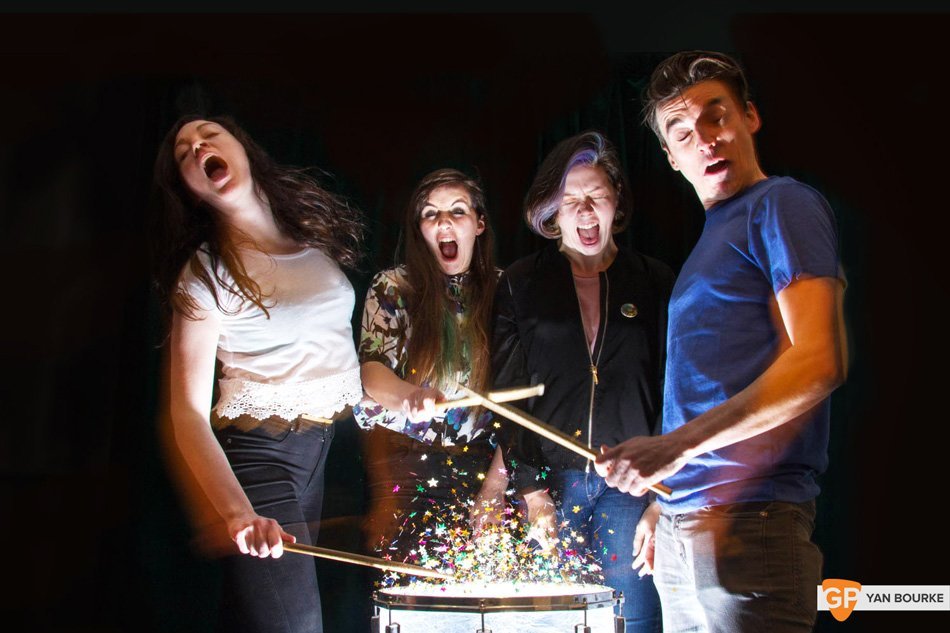 Alongside the likes of Girl Band, Val Normal and New Secret Weapon, Bitch Falcon have already begun to carve out their own niche at the heavier end of Irish music scene. "I think people are looking for something to jump around to. People are definitely looking for heavy music. I think there will always be that urge to go mental in a tiny sweaty room."
While 2014 was primarily about getting themselves out there by playing gigs; 2015 will see Bitch Falcon release their first proper recording. While everyone else was nursing a hangover and contemplating those dreaded new year's resolutions, the Falcon's spent the first few days of the year in the studio prepping their first official recording: Wolfstooth (check it out below - it's a stomper!).
Then later this month they'll be joining up with producer Marc Carolan (moonlighting on his duties as a sound engineer for Muse) to work on another, more official, single.
Which is not to say that they're gigging schedule will be reduced in anyway. If anything those are on the increase too, with gigs in Dublin, Galway and Cork this month alone.
Watch this space, because 2015 could just be the year of the Falcon.