Bitch Falcon have long been regarded as one of Ireland's best bands, straddling the line between hard rock and metal with a mainstream melodic sensibility.
Fronted by one of Ireland's finest ever guitarists, Lizzie Fitzpatrick, whose ethereal bellow has drawn comparisons to the likes of Bjork and Elizabeth Fraser. But for whatever reason, faith has always seemed to conspire against Bitch Falcon. Several line-up changes and many years on, their debut album 'Staring At Clocks' finally arrived on November 6th via Small Pond records.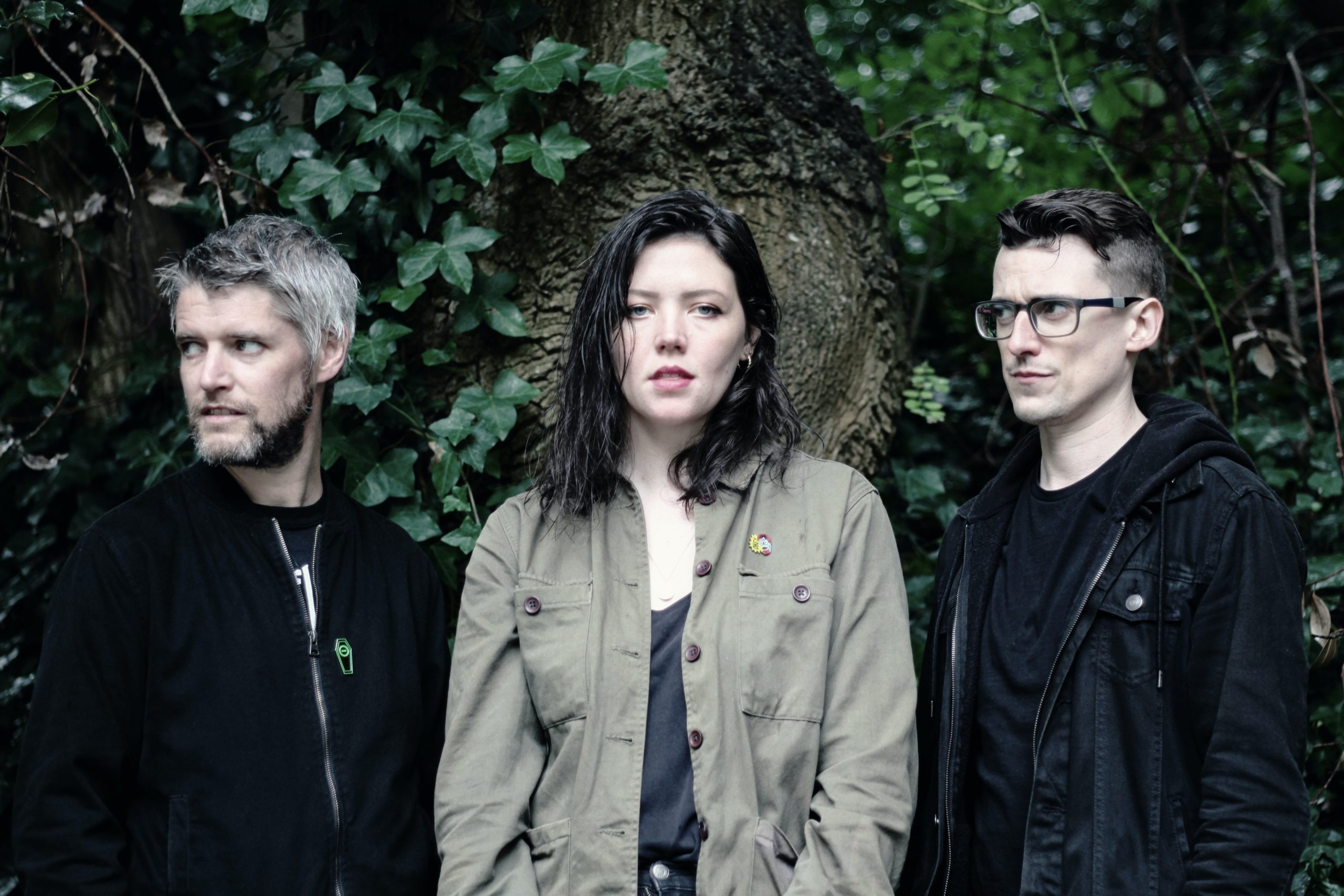 Ironically, for a band that have made us wait the best part of a decade for their debut album, it took them less than two weeks to capture everything on tape.
"The basis of the record - everything as we wrote it in the room - was done in the Meadow in about six days and then we had about four days to thinker and explore," says drummer Nigel, who clearly savoured the experience of recording the album.
In order to capture the many layers of Bitch Falcon accurately, the trio drafted in the help of a stellar line-up of sound wranglers to produce and mix the album: The Deaf Brothers - Rian Trench and Afganiscan produced the album in their studio The Meadow in Wexford, their varied musical backgrounds (Solar Bears, Leo Dresden, Thumper) making them the perfect duo to realise Bitch Falcon's vision before the recordings were passed on to Grammy Award-nominated mixer/producer Alex Newport who worked on Death Cab For Cutie's 'Narrow Stairs'.
"I wanted to work with Rian in terms of his sense of melody and sounds. I had written a lot of the songs with that in mind - Solar Bears, Leo Dresden - that element I wanted which is a softer side, but heavy as well. I think it was a good call of Nigel's to suggest Rian." explains Lizzie, who had previously worked with Trench when she provided vocals on Ergot from Bats 2019 album 'Alter Nature', an experience which enticed the band to work with the duo.
"You came back and said "those guys work quick!" It's easy and it's fun, so we went to meet the lads and have a chat about it and then we had a heap of pints," says Nigel, jokingly, but he can't speak highly enough about the duo given the chance.
"It was a safe-space for creativity; very fast paced in terms of tracking which allowed for extra time, and if we didn't have that extra time the album probably would've sounded very different," explains Nigel, adding "they were really good facilitators. it was interesting to watch Scan (Robert Watson). The man was just running constantly, pulling pedals and cables out of things and patching them while Lizzie was doing guitar, and she'd be in her own world doing crazy shit with her guitar. It was lot of fun to watch."
Lizzie Fitzpatrick adds that the Deaf Brothers brought "lots of interesting ideas" to the table, including putting her guitar and vocals through a Lesley (rotary speaker). "We played around a lot with feedback and distortion. I had a wall that I could just play with, I really enjoyed that… and just kind of reusing loads and loads of sounds over and over again to create that dirty washed sound, which I really like."
'Staring at Clocks' is an expansive album that feels at once both claustrophobic and cinematic, with rich, stacked vocals and guitar tracks - something the band readily admit will be difficult to reproduce in a live setting but believe will keep live shows interesting for them and their fans.
"I think if we did a bigger show, we'd probably bring a person on to play some of that stuff but we don't know when that's gonna happen now," says Nigel, adding. "We played some of the singles live without those elements and it still sounds fucking huge, so I think it really depends on the situation. We can adapt it to work either way."
Lizzie meanwhile is looking forward to bringing 'Staring At Clocks' to intimate venues. "If it was a small show I don't think I'd bother with tracks, I kind of like a live versions that's more in your face."
Despite a back catalogue dating back as far as 2015, Bitch Falcon have opted not to include any of their early material on 'Staring At Clocks'.
"We wanted to put out an album with all three of us on it," explains Lizzie, noting. "I prefer when an album is just that point in time, rather than a collection of all the old favourites," before adding, "I think there's a lot of stuff that would be on it that just wouldn't have any place on it because the writing is so different today."
"The EP was the end of a chapter and everything that is to come is the three people that are involved now," adds Nigel. "It got to the point where we'd been writing the album over the course of 18 months and Barry (bass) was such a huge part of its development, there was a natural progression and when it got to the point where we had the songs that are on that album we made a decision that, this is it, this is the album, we're not doing any more. They were ten songs that just sounded of a time and just really worked together instinctively."
"I think it would've been cheeky to put something like 'TMJ' on it, that's song's six years old," says Lizzie, before Nigel adds, "Wheeling it out on a wheelchair," with comedic aplomb.
However, Nigel can understand why some bands overload their debut albums with previously released material. "I think those bands are being told that's what to do… you have people saying this is the right move, people in a new market won't know those songs, don't worry about what the people at home think, but there has to be a point where you say people at home put me where I am, and putting six songs on there that they've heard for the last two years doesn't serve them or you well."
And releasing 'Staring At Clocks' on their own terms is one of the most satisfying aspects about finally releasing an album for Nigel.
"There's just something really nice about us putting something out that people hadn't heard before because up until this point, we were always chasing ourselves. Everything was always happening way too quick, even though it was happening over several years… but now we're putting out an album where nobody's gonna hear the songs beforehand. Everything's fresh and new."
The running order of the album was extremely important to the band, who carefully plotted it to yield maximum impact. The plan on paper is easy.
"Making a statement with the start (I'm Ready Now) and at the end of Side A - to go out big (Staring At Clocks) and start Side B with a banger (Damp Breath) and then to go out with a big one at the end (Harvester)," explains Lizzie. "We wanted you to know that this is the end of Side A and Side B that there couldn't be another song after this."
I'm Ready Now is the oldest song on the record dating back to mid-2018, explains Lizzie. "We aimed to do the album in chunks but we didn't really buzz of that (process) in the end, but that was one of the songs that we really liked, that and Turn To Gold. We had a couple of songs that we scrapped after that that were supposed to go on an album but then we said: actually, no."
Fitzpatrick and Kenny are keen to praise the contribution of their bandmate Barry O'Sullivan and explain how integral he was to shaping the songs on 'Staring At Clocks'.
"Barry has a very different style and background to anybody else that's played bass in this band," explains Nigel, who notes that Barry had never played bass in a band before joining Bitch Falcon. "I'd played in a band with Barry in Galway called Them Martyrs that's how I knew him. He'd seen us play Hard Working Class Heroes, loved it, a week later he said: I learnt all those songs you were playing the other night… so when Naomi left and we needed someone, Lizzie said "why don't you ask Barry?" and I hadn't thought about him because he wasn't a bass player. When I asked him, he was well up for it."
"So, he's actually a guitarist," explains Nigel, alluding to his bandmate's previous outings playing guitar in Altar of Plagues and Cork grindcore duo I'll Eat Your Face. "I think he plays the bass like he plays grindcore guitar - it's a lead instrument," adding, "The songs were kind of lead by that and I really liked it because I think Lizzie treats the guitar differently to everyone else - maybe in the world - in that she almost plays it like a synth. And when Barry joined that opened up so many possibilities and space because there was so much heft and percussiveness coming off of the bass leaving this huge canvas for Lizzie to just develop."
"I think a lot of the songs were written with Barry leading," adds Lizzie Fitzpatrick. "It was really fun to have that way of writing because I had a huge opportunity to fill loads of space. I didn't have to be heavy all of the time, I didn't have to play power-chords or anything like that, I could just do a lot of other things - so yeah, he did kind of take up a rhythm guitar role, sonically he filled those frequencies. If you had a rhythm guitarist they'd probably be lost."
Speaking of guitarists when we allude to the similarities between her fretwork and Adrien Belew's (David Bowie, Talking Heads, King Crimson), Fitzpatrick becomes quite bashful, in typical Irish fashion, struggling to accept a compliment.
"I'd be big into Bowie's guitarists, Carlos Alomar, I love that really chorusy, dissonant '80s sounding guitar. I was listening to a lot of that, Cocteau Twins, Beach House, maybe taking some of the sadness from there and some of the weirdness from some of those '80s things - the Berlin Trilogy would be a big influence for me."
Fitzpatrick's love of Cocteau Twins spills over into her ethereal vocal delivery which has been compared to Bjork. It's often difficult to pick out exactly what lyrics Fitzpatrick is singing due to the long notes and interweaving vocal harmonies, but for Fitzpatrick it's more important to convey the emotion of the track accurately.
"I do enjoy using my voice as an instrument rather than just being a normal singer," says Lizzie. "If it was better that the word couldn't be heard and I could get a timbre in my voice that was more interesting to listen to I'd prefer that…I didn't want my vocal to be too shouty. I want to have that melancholy in the expression of it."
Achieving that sonic blend often meant layers upwards of ten vocal tracks together. "There's 11-15 vocal tracks on Gaslight, all that harmony stuff, Harvester had a lot of layering. All the main vocals are layered and there's so many far away vocals, but I think I achieved what I set out to do." says Lizzie.
"Trying to get the lads to sing was so hard, they were all for it, but it was hard to actually get yiz to do it." before explaining that Nigel sings on several tracks including Turn To Gold, I'm Ready Now, though he notes "I don't remember any of that."
"I have a 40-minute video of us recording vocals late at nigh," says Nigel admitting, "I haven't been able to look at it because I haven't been able to deal with the fear that will come after I watch that video."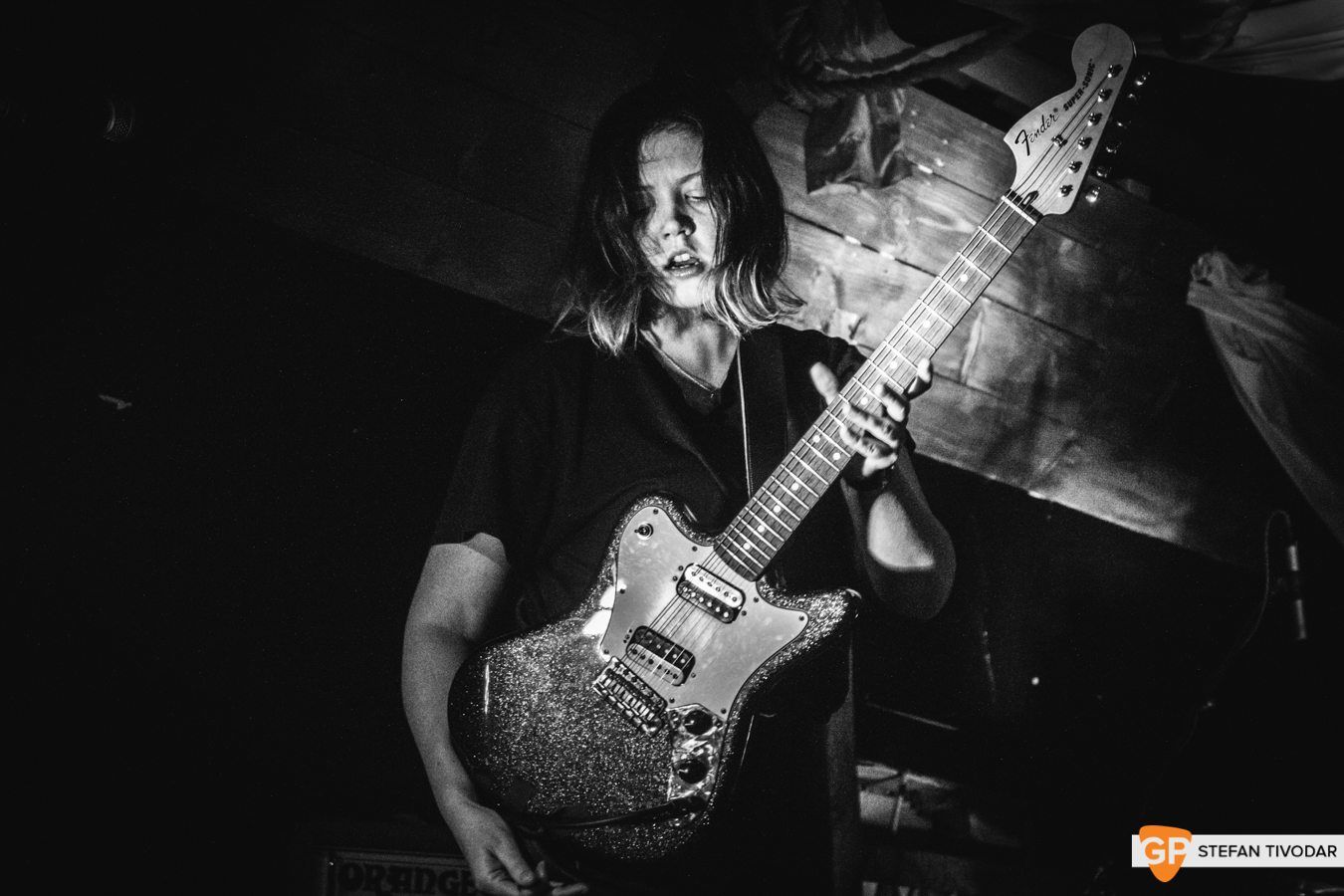 Fitzpatrick's favourite song on the album is the title-track partly because it encapsulates the individual and collect perseverance of being in Bitch Falcon.
"I love Staring At Clocks, I think it's my favourite song I think it captures exactly the vibe that I wanted... I get really excited and a little bit scared," she says referring to the riff in the middle section, "but I really enjoy the intensity of it."
"It was a hard song to write, it took ages, I couldn't write a melody. I actually recorded the vocal at home because I wasn't able to get it ready in time for the studio, so I had to take a mic and a pre-amp home and it really took a long time to get it right. I just really wanted to do the song justice, so I was proud of it when I got it down."
"I think it sums up a lot of the feelings that are expressed on the album," says Fitzpatrick, explaining the tracks lynchpin effect on the album. "A lot of it is me dealing with a lot of anxiety and depression… dealing with that numbness, so I felt it stood out to me as a title because it's just that moment in your life where you're just doing nothing and staring."
One question which Bitch Falcon knew they would not be able to avoid would be the grotesque amount of time it's taken them to produce this album.
"It's taken so long, it's ridiculous," says Lizzie, frankly, when we broach the subject, while Nigel is happy to outline the reasons why.
"Every time you start playing with people it takes a while to get momentum and when Fia left and we went from a four-piece to a three-piece, you had to learn how to adjust. And then we started making some momentum with writing and then Naomi left and we had to find a bass player and figure out how to play together and write together and every time we started to get momentum it was removed from us a little bit and that really added to the fact that it took so long to put this (debut album) out."
Clearly in an ideal world, Bitch Falcon would've like to have delivered 'Staring at Clocks' much sooner, but they are taking the pragmatic approach and viewing it as the culmination of one journey and the start of another.
"I'm glad that this is the debut album because it's the best stuff we've ever written," states Nigel before noting that after making fans wait so long, "It would be handy if people liked it."
The album's cover presents a strange array of dishevelled desserts. "I hope it inspires a new generation to eat jelly," says Lizzie, who made the artwork in her flat in Dublin. The cover as she explains was inspired by "those jelly salads that were weirdly popular in the '40/'50s… they looked so strange and mundane."
The process of making the cover sounds just as unhinged as it looks. "I boiled up lots of gelatin and put loads of ink in it." explains Lizzie. "I had to take everything out of my fridge because I had to set loads of jelly"
Like all bands, Bitch Falcon have lost out on many shows because of Covid but the one that hurts the most is not getting to open for Deftones in Ireland this summer at Sunstroke. A festival which they hope will proceed in the future.
"It's a really good idea," says Nigel. "an alternative festival for heft in Ireland is so badly needed, you look at the metal events around the country and they sell well, so, having a 10,000 capacity event with some crazy bands makes sense. You'd hope it'll go ahead."
While Bitch Falcon are sad that they have lost so many shows, for Lizzie in particular, as a nurse there are far more important things going on than music.
"Of course I'm disappointed but also, I don't want to be minding people in their last days again when they shouldn't be dying," she says.
"It was tough in hospital and I just have a different standpoint. I know it's very important, but I don't want to read about it (music). It's so many people's livelihoods and it's such a huge part of my life and everyone's life, but I can't. My balance is off on it. I've seen the horrible side of Covid and when people are giving out about small things on Twitter, sometimes I'm just like shut up - there's so many people that don't know what they are talking about."
Fitzpatrick is visibly passionate about the subject but also quite hesitant to speak on it and is keen for the media round the release of the album to not focus too much on the fact that she is a nurse.
"It's hard to put across what I actually feel about the pandemic in words and what I've experienced."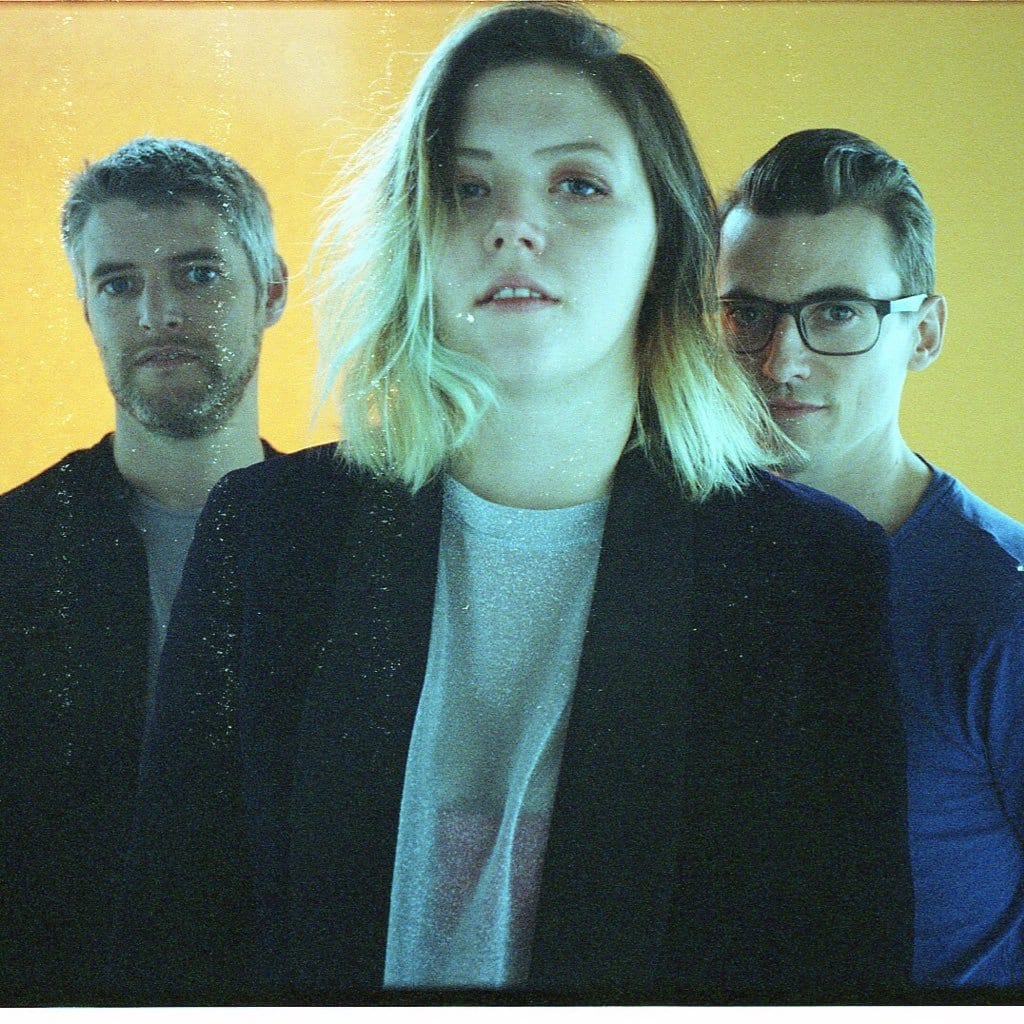 Once the album was recorded, Bitch Falcon realised that they had a conundrum on their hands: how to make it all work?
"You were listening to it going, "how is everything going to be heard?"" says Nigel, "because there's so much stuff on it. Lizzie has so many guitar tracks, synth tracks, vocal tracks. It became so dense that we worried if you were going to be able to hear everything on this."
The man tasked with making everything heard was Grammy Award-nominated producer/mixer Alex Newport.
"We'd gotten a few mixes from different people and I think the litmus test for everyone who mixed it was how good they could make Gaslight sound, because it was such a tricky song to get mixed properly," explains Nigel. "Lizzie is doing some wild shit on the guitar for that, the main thing for Gaslight is this crazy effect, it's so minimal in ways and yet so massive in others... Alex was the person who did that the best out of everyone and when we got that back it was if he can do that he can make the rest of them sound good."
What exactly was it about Newport's mix that elevated it above the others? "I remember one thing that popped out was Gaslight sounded the spookiest in Alex's mix and that was probably what did it for me."
Despite Newport's track record and success with mixing Gaslight, it wasn't without some trepidation that Bitch Falcon sent the multi-tracks for Staring At Clocks to America.
As Nigel recalls there was a sensation of "Fuck, is this going to be the guy who helps paint the picture for us and does it justice so you can hear all of the work that went into it?"
"It's hard to do things remotely," notes Lizzie. "He (Newport) does everything analogue, so he sends everything through actual preamps rather than plug-ins, so I think you could hear that, it sounded very definite, the bass sounded great. We've always had trouble with that from the conception of the band, we've always wanted to have the bass sound a certain way and I think it did."
It may have taken 6 years or so for Bitch Falcon to produce their debut but it was certainly worth the wait as it is without a doubt one of the finest hard rock records ever recorded by an Irish group.
Bitch Falcon's debut album 'Staring at Clocks is out now on Small Pond records – read our review here.
Join the band on Friday November 13th for a special listening party hosted by Irish music legend May Kay at 8pm live from The Living Room in Dublin's Dean Arts Studio - register for free here Expect interviews and very special guests.