In the midst of a global pandemic, a climate emergency, and ongoing political crises, nostalgia has become more valuable than ever. It is both reactionary and hopeful; a melancholic response to feelings of displacement and a desire for something better.
The nostalgia of bedroom pop has resonated with global audiences as we have been confined to the boredom and loneliness of our bedrooms. Where once we may have been nostalgic for the 80s or 90s, we now find ourselves nostalgic for going out with friends or spending Christmas with our families.
As such the vulnerability of this music has connected with listeners and continued to grow in popularity: and out of her Mullingar bedroom has emerged amy michelle.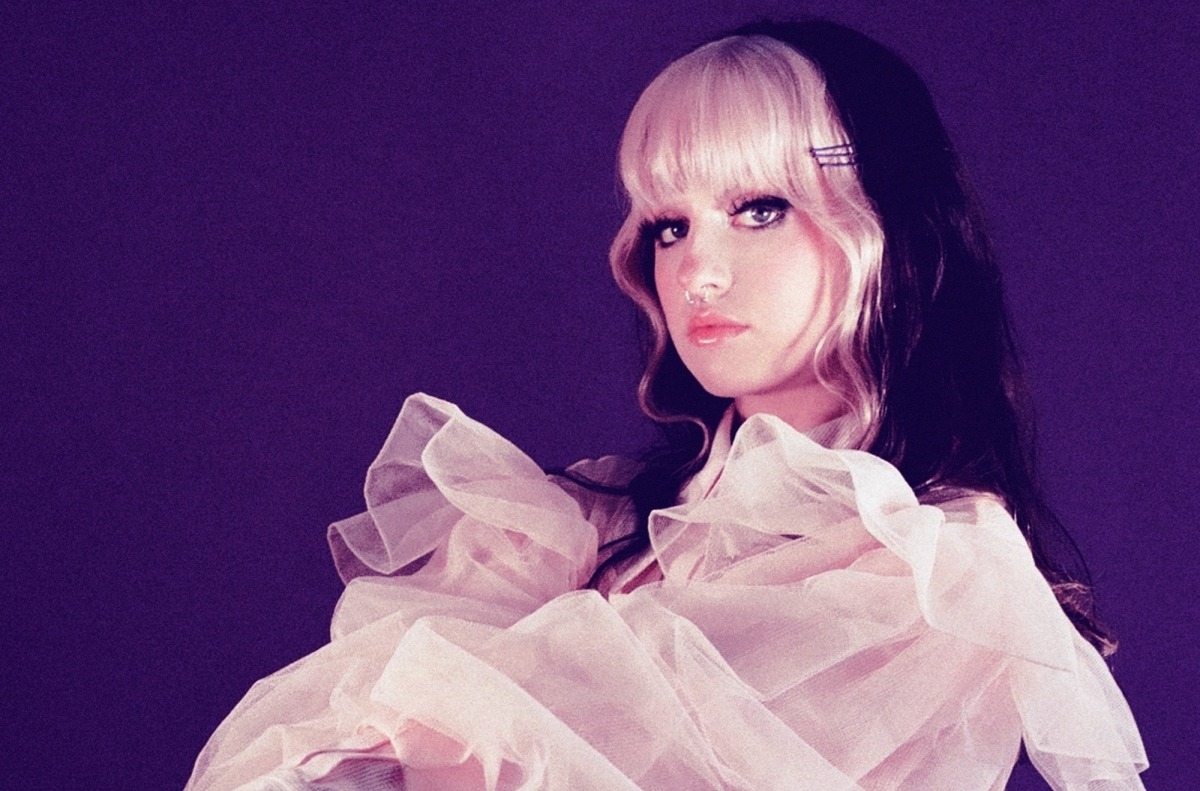 While 2021 may have been amy's most fruitful year as a singer-songwriter yet, her relationship with music as a tool of self-expression began in early childhood, encouraged by a musical father.
"I've always been drawn to music, it mostly comes from my dad because he's been playing guitar and showing me different bands since I can remember. I started picking up instruments at a young age – I had a wonderful piano teacher who inspired me a lot from the age of seven; it was just something I understood more than anything else growing up."
Drawing on her knowledge of piano and guitar, amy began writing and uploading demos and covers online from the comfort of her bedroom.
Before long, her compelling lo-fi brand of dreamy pop landed her a record deal with Method Records, who have released music from slowthai, Disclosure, and Sam Smith. Completed with additional production from amy and Rich Cooper (Rina Sawayama, Dua Lipa), demo 'the bottom of the well' became amy's official debut single.
While penned just before the pandemic, the single perfectly captured the claustrophobia and isolation of lockdown, speaking to a wider sense of anxiety and displacement. amy's soft, lullaby-like delivery heightens the emotional immediacy of the track, akin to contemporaries Phoebe Bridgers and Daughter.
"I wrote [the bottom of the well] at a time when I was struggling with insomnia, dealing with intrusive thoughts and nightmares and feeling pretty trapped in my own skin." amy explains.
"I used to deal with this a lot as a kid but the only way I could articulate how I felt was feeling stuck at the bottom of a well, seeing there was some sort of light but being unable to find the strength to reach it.
"I hadn't yet found songwriting as an outlet at that age, so I guess there was a lot built up in these lyrics, they flowed very quickly. I used this metaphor as an umbrella for my fears and insecurities, feeling of entrapment and heartbreak at the time, all wrapped up in a reflective nostalgia."
"...I see myself as purple, so I applied that to the visual aesthetic of this project, because it's my honest current depiction of me."
Nostalgia – originating from the Greek nostos (return home) and algos (pain) – has been a predominant theme in amy's work thus far, not just sonically but visually too.
The demo for 'the bottom of the well' and more recent demo 'the book on how to be happy' were both accompanied by compilations of amy's childhood home movies, a personal touch which proved surprisingly poignant. amy explains how nostalgia can serve as a mechanism for injecting the joy and innocence we traditionally associate with youth back into our adult lives.
"The theme of my [upcoming] EP sort of turned into an homage to my younger self. I try to view parts of everyday life and approach certain tasks through the lens of a child, or the child I once was. There's a vital aspect of innocence and creativity that wears away as we grow up, it's inevitable, but I like to search for those parts of myself and apply them to my art."
Unfiltered honesty is one of childhood's most endearing qualities – and it is the powerful emotional intimacy of 'the bottom of the well' that has resonated with listeners – so as an adult amy is embracing the inherent vulnerability that comes with sharing your own music with a wider audience.
"Sharing my original material with anyone is still a very new thing for me, but being so transparent with my lyricism is not something I'm really afraid of. For some reason it's easier for me to share my vulnerabilities with the world in the form of a song, than it is with my therapist between four walls …" amy admits.
"The freedom of expression and honesty in writing is a privilege, if I begin to warp that and try to paint myself as something I'm not, then I don't see the point in anything."
Honesty is not always as straightforward and accessible as one may think; before being honest with your listeners you need to be honest with yourself, and the process of songwriting can itself be a tool of self-reflection to do exactly that.
"When it comes to lyrics", amy explains, "I sometimes write complete gibberish in a poetic structure and make sense of it after, because I find a lot of my feelings and experiences are buried in my subconscious and it takes a while for them to reach the surface, so the process of songwriting is more so the process of trying to identify those feelings and dig them out."
amy always writes in her bedroom, usually starting with a chord progression on guitar or piano, but notes it's important to embrace the spontaneity with which inspiration can strike. "Sometimes I wake up with a melody in my head, or ideas spark from going through old voice memos and notes […] it can be rooted in a conversation or another form of art I feel inspired by."
Having covered a number of Phoebe Bridgers songs on her socials over the past few years, her work is now a clear influence on amy's original material, sharing the same emotional immediacy and dreamlike quality. "I admire Phoebe Bridgers so much as a writer, producer and as a woman dominating the music industry right now" amy confirms. "She continuously inspires me."
Other prominent influences include alternative/indie rock band Sparklehorse and iconic singer-songwriter Elliot Smith, both widely recognised for documenting their tumultuous journeys with heartbreaking poetry and sensitivity.
"I've been heavily influenced by Elliott Smith, not only sonically, lyrically and recording wise, but even just by his life and his person […] When I discovered Sparklehorse, they quickly inspired the experimental side of my production. They give me a similar feeling to Elliott Smith, a beautifully sort of haunting feeling." Contemporary influences include Bon Iver, Declan McKenna, and Samia.  
"For some reason it's easier for me to share my vulnerabilities with the world in the form of a song, than it is with my therapist between four walls"
Visual identity is a critical component of amy's work. Having already crafted a cohesive and recognisable aesthetic across her artwork, videos, photoshoots, personal style, and online presence, amy is filtered through a purple haze, a colour that balances the richness of red and calming of blue.
"Imagery is a big part of my writing, and I've always been a visual learner. I tend to envision the colours and visual ideas surrounding songs when I write them, and how I want them to look in a live setting."
Whereas certain emotions have established colour associations (for example red and yellow with anger and happiness), nostalgia is at once both happy and sad, and thus purple – a colour with a myriad of associations – seems fitting for amy's dreamy pop debut. This commitment to aesthetic will continue to play an important role in her identity as an artist going forward.
"It's really important to me to co-direct and edit my videos and artwork. I trust the concepts to come when they're ready, and I do my best to capture them. I associate people with colours too. I guess I see myself as purple, so I applied that to the visual aesthetic of this project, because it's my honest current depiction of me."
The visual playbook is a way of inviting audiences to immerse themselves in your storytelling, and two of the biggest bands in recent years – The 1975 and twenty one pilots – have employed this with great success, now boasting large and dedicated fandoms. The sense of community these fandoms provide is one that amy holds in high esteem.
"The 1975 and twenty one pilots have always been my main crutches. They've taught me the importance of visuals and live shows, creating a world around the music. Their shows were the first time I really felt a part of something special. That sense of belonging is something I hope to give to others."
As live music begins to regain its footing in 2022, amy will finally have a chance to connect with live audiences of her own, her first two headline shows lined up for April. With a debut EP soon to be released, and a move to London on the horizon to work on her next project, plans are finally being set in motion.
"2021 was a dream that brought a lot of change, growth, and wonderful opportunities surrounding music. I continued to write and record my songs in my room learning more about production, and I was fortunate enough to make a few trips to London to meet some amazing people and sign a record deal. Releasing my first song was a perfect end to the year too. Forever grateful."
No doubt amy will be reflecting on 2022 just as fondly.