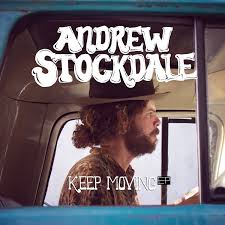 Irreconcilable personal and musical differences were blamed for the demise of Wolfmother (stop me if you think you've heard this one before) in 2011. It was hardly a surprise though; the release of the Australian '70s rock revivalists third album had strayed unnaturally over the horizon, as lead singer Andrew  Stockdale attempted to traverse lineup changes and infighting. Fast-forward to 2013 and the overly gestated 'Keep moving' – an amalgamation of Wolfmother's third LP and Stockdale's solo impetus – finally sees the light of day. The result is an ambitious début of seventeen tracks, sadly though, with limited reinvention. You can't help but feel The Joker And The Thief are screaming for something a little more progressive.
The album starts off with a belter in the form of Long Way To Go, immediately luring you in with thundering riffs. It is not lyrically astounding or particularly exceptional, but it is illustrative of the first part of this album. It acts as a propeller that throws you onto an ascending elevator, carrying you by sheer energy and exertion. From the get-go the album has a liveliness and vivacity you don't question. Somebody's Calling and Keep Holding continue the trend with biting riffs and steaming drums. The formula continues until Ghetto but by then you are washed with exhaustion. It's all just  too much off the same, with the lone wolf seemingly chasing his tail. Suitcase, in contrast, strays from the bombast usually associated with Stockdale. It's a gradual acoustic number with his vocals at their most poignant, melding tattered rock with cool acoustics. It's a change in the soundscape no doubt, but his attempts at folk rock don't quite stand up.
While undoubtedly an exploratory album, to some extent 'Keep Moving' harbours the embers of Wolfmother trying to keep old fans happy whilst gaining notoriety with pull away tracks such as Suitcase. While stimulating riffs and drum induced frenzies are at the core of 'Keep Moving', it simply lacks the ingenuity required to fix the listener's attention throughout 17 tracks and in the end neither pie is perfected.  Perhaps it would have been more constructive to cull half of 'Keep Moving' leaving a more startling effect on the listener.
If you like Andrew Stockdale you may also like Adela and The Meanits, an exciting Irish Band who recently played Electric Picnic.