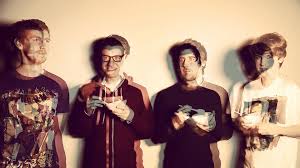 Tandem Felix describe themselves as "Four gentlemen, playing polite and intriguing music for themselves and their friends." However, it is safe to say that after receiving noteworthy reviews in the Irish Times for their performances in festivals such as Hard Working Class Heroes and after playing gigs in almost every venue in Dublin, the four gentlemen are no longer merely playing gigs just for their mates but are succeeding in attracting a much wider audience.
On Sunday evening we met with Tandem Felix drummer Fiachra Kinder, to talk about their latest EP 'Popcorn' and to learn a little more about one of Dublin's up and coming bands.
Almost eight years ago, the band Tandem Felix was born in a secondary school French class. David Tapley (vocals and piano) turned to Evan Keogh and proclaimed "learn to play the bass, I want to start a band". Kinder and Tapley were neighbours who had experimented with various musical projects, one of which morphed into the early stages of Tandem Felix. The three piece later became four with the arrival of Conor Muldowney. "We had played school Battle of the Bands, but only really started to take it seriously when Conor joined".
At this point the band made a concious effort to gain experience and they immersed themselves in the Dublin gig scene. Since then Tandem Felix have supported and played with bands such as O Emporor, Enemies, Spies and Girl Band. Kinder was eager to stress that "Tandem always comes first", but band members do maintain side projects that run parellel. Kinder plays in the Nova Collective and with singer songwriter Andrew Hozier Byrne. Tapley and Kinder have both played with the Trinity Orchestra and with Morgan MacIntyre. It is perhaps due in part to the experience gained with these outside endeavours, that 'Popcorn' evolved into a much bigger, ambitious production.
David Tapley, according to Kinder is "the brains behind the operation. He writes the songs and puts them together in demo form before he brings them to us, it just ends up making practice more efficient. It means we have to trust him, which we do."
'Popcorn' was recorded in ten sessions in Windmill Lane Studios. "We were lucky enough to record there. We spent three months recording through the night, in the middle of the college year, which in hindsight may not have been the best plan" says Kinder and laughs. On discussing the fact that 'Popcorn' is a much more daring production than their first release 'Tweedledee', Fiachra explains that they strove for a much larger arrangement, which involved calling on several friends for favours. "We had a trumpet player, a string quartet, a double bass player and there are even uilleann pipes on the album. Stephen Dunne, Gary White and Dave spent a lot of time mixing everything to the point of insanity."
When asked how an EP with so many players external to the band would translate into a live show. Kinder explains that they have adapted the sound to fit different gig formats. "We did manage to include some extra players in the launch, which was good. Mr Brainbox (Tapley) came up with the idea for the soundbites for example, which also made it into the live performance but sometimes it can be difficult. If we can get the message of the song across without extra players or equipment we will."
The months of recording, mixing and live performances have payed off for the band. 'Popcorn' is an ambitious offering; it verges on Radiohead in style, contains traces of mellower moments of The Shins and in some parts it is reminiscent of certain hazy, hypnotic elements of Pink Floyd's 'Dark Side of the Moon'. The comparisons are an indication of the direction 'Popcorn' has taken. The EP has set a promising tone for Tandem Felix and at Goldenplec we're excited hear what their first full studio recording will sound like. When this is happening though, is unclear, says Kinder. "We don't want to rush it but we have spoken about it".
On being an independent band in Dublin, Kinder notes that their autonomy has allowed the band to remain flexible and see the freedom as an opportunity to experiment with their live shows. The band is refraining from simply knocking out their EP as recorded, show after show; instead they are striving to curate performances that incorporate different arrangements and players based on their original material. This attitude is illustrated by their two gigs for the 10 Days in Dublin festival. For the first, on Thursday 4th of July, David Tapley will take to the stage in 4 Dame Lane to perform on piano accompanied by a string quartet. For their second gig on Saturday 6th of July, the band will open for the Trinity Orchestra in Vicar Street.
Their new single Ryan Hoguet will be released on Trout Records at the end of the summer. Tandem Felix will also play Knockanstockan Festival on the 26th -28th of July.