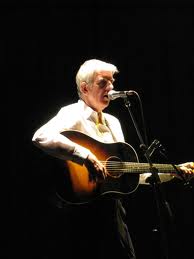 Elder statesman of New Wave Nick Lowe finished up his brief European tour in Vicar Street on Wednesday night. Drawing largely from his older material and choice gems as well as some songs from his most recent album, "The Old Magic", Lowe rolled back the years and turned in a performance with plenty of wit, charm, and heartfelt emotion.
The show was opened by Geraint Watkins, Lowe's keyboard player and a noted musician in his own right. He showcased astonishing instrumental ability over the course of a forty-odd minute set, evenly split between piano ballads and good old fashioned rock n' roll numbers. He didn't seem to have a setlist or plan, leaving gaps between songs, though he did use his great sense of humour to fill these gaps.
Lowe, backed by four musicians including Watkins arrived on stage at 9:30 and eased into a set that mixed old and new classics such as "Cruel to Be Kind" and "Heart" with "Lately I've Let things Slide" and "What Lack of Love Has Done". Sticking mainly to the roots and country music that has been his primary focus since the mid 1980's, Lowe also pulled out some songs from his latest album "The Old Magic" including three in a row which showed that he's still as strong a songwriter as ever.
Following a rollicking blast through "I Knew the Bride When She Used to Rock and Roll", Lowe and the band left the stage at 10:30 before he and Watkins came back out to do "Only a Rose", one of Watkins' compositions. After that they were joined by the rest of the band for a further four songs including "(What's So Funny 'Bout) Peace, Love and Understanding", famously covered by Lowe's protégé Elvis Costello. After leaving the stage for a second time, Lowe returned with just his acoustic guitar for a wonderful tender version of "Alison", from Costello's first album "My Aim is True" which he produced. A great end to a great night's entertainment.