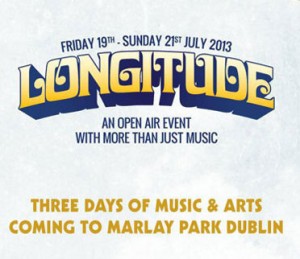 Longitude's highly anticipated inaugural slot at Marlay Park is this weekend. MCD have managed to pull together quite an impressive line up for the three day non camping festival. Some of the biggest international and Irish acts will be descending upon the greater Rathfarnham area. Those flying in include Phoenix, Foals, Django Django, Jessie Ware, Jake Bugg, Vampire Weekend, The Macabees, Kraftwerk, Yeah Yeah Yeahs and Hot Chip, to name but a few. There's also a wealth of homegrown talent including Villagers, The Cast of Cheers, MMoths, SOAK, White Collar Boy, Young Wonder, Le Galaxie, Kodaline, The Minutes and Leaders of Men.  You can find the day by day breakdown, site map and all other info on our Longitude 2013 lineup page. Stage times should be released very soon.There's also lots of other aspects to check out including the Phantom Green, The Dirty Old Town Speakeasy and even a children's area.
If you can make the difficult decision of picking your favorite day to go, a ticket will cost you €54.50. If like Team GP you can't make up your mind and need to catch each and every band, weekend tickets are a fairly reasonable €149.50. Tickets are still available but if this summer heatwave continues, meaning an Irish festival without wellies, it's likely to sell out.
The Boss is back for his annual Irish holiday. Bruce Springsteen plays Thomand Park in Limerick on Tuesday, Cork on Thursday and Belfast on Saturday. Unsurprisingly all tickets are sold out.
New Zealand's dub, funk, afrobeat soulsters The Black Seeds are stopping by Whelan's on Wednesday. Tickets are still available and are €20.
The fabulous Amanda Palmer is back in The Academy on Thursday. Tickets are still available and are €20.
It's another week of stellar gigs in the Iveagh Gardens. Grizzly Bear kick things off on Thursday. Josh Ritter plays Friday. Beach House take over on Saturday. Wrapping up the weekend is Glen Hansard with support from Sam Amidon & Lisa O'Neill on Sunday. Tickets for all gigs are still available and start from €33.
This Club play The Workman's Club on Saturday night, and as always tickets are a bargain at a tenner a pop.
| Date | Artist | Venue | Price | Link |
| --- | --- | --- | --- | --- |
| 2013-07-16 | Bruce Springsteen & The E Street Band | Thomond Park Stadium | €90 – 100 | Ticketmaster |
| 2013-07-17 | Paddy Keenan | The Pavilion | €From EUR 0.00 – 50.00 | |
| 2013-07-17 | The Black Seeds | Whelan's | €20.50 | |
| 2013-07-18 | Altar Of Plagues | Whelan's | €12.00 | |
| 2013-07-18 | Amanda Palmer | The Academy | €20 | Ticketmaster |
| 2013-07-18 | Bruce Springsteen & The E Street Band | Pairc Ui Chaoimh | €90 – 100 | Ticketmaster |
| 2013-07-18 | Dan Ewing (Heath Braxton) | Lar Corbetts @ Coppingers | €17.50 | |
| 2013-07-18 | Foster & Allen | Whites of Wexford | €33.00 | |
| 2013-07-18 | Grizzly Bear | Iveagh Gardens | €25 | Ticketmaster |
| 2013-07-18 | Iveagh Garden Ticket Bundle – Grizzly Bear & Beach House | Iveagh Gardens | €50 | Ticketmaster |
| 2013-07-18 | Jeffrey Lewis & The Rain | The Grand Social | €12.00 | |
| 2013-07-18 | Josh Ritter | The Big Top | €31.5 | Ticketmaster |
| 2013-07-18 | July Festival – Ladies Day | Killarney Racecourse | €From EUR 12.00 – 80.00 | |
| 2013-07-18 | Leopardstown Live – Hot House Flowers | Leopardstown Racecourse | €17.65 | Ticketmaster |
| 2013-07-18 | Pierce Turner | De Barra's | €12.00 | |
| 2013-07-18 | The Foster & Allen Show | Whites Hotel | €33.5 | Ticketmaster |
| 2013-07-18 | WoodSongs featuring Paul Brady and Mary Black | The Convention Centre Dublin | €11.75 | Ticketmaster |
| 2013-07-19 | Foster & Allen | Knightsbrook Hotel | €33.00 | |
| 2013-07-19 | Grizzly Bear | Festival Big Top | €36.5 | Ticketmaster |
| 2013-07-19 | Iveagh Gardens Ticket Bundle – Josh Ritter & Glen Hansard | Iveagh Gardens | €55 | Ticketmaster |
| 2013-07-19 | Josh Ritter and the Royal City Band | Iveagh Gardens | €33 | Ticketmaster |
| 2013-07-19 | Kowton & Suprise Guest | The Twisted Pepper | €11.95 | Ticketmaster |
| 2013-07-19 | Longitude – Phoenix | Marlay Park | €54.5 | Ticketmaster |
| 2013-07-19 | Lords Of Strut | Cyprus Avenue | €11.75 | Ticketmaster |
| 2013-07-19 | Midlands National & Best Dressed Ladies Competition | Kilbeggan Races | €From EUR 10.00 – 20.00 | |
| 2013-07-19 | Residence | Savoy | €22.9 | Ticketmaster |
| 2013-07-19 | Ronan Collins – Sings The Songs Of Joe Dolan | INEC – Gleneagle Hotel | €30 | Ticketmaster |
| 2013-07-19 | Shelbourne FC v Limerick FC | Tolka Park | €From EUR 0.00 – 15.00 | |
| 2013-07-19 | Sounds Of The City | The Academy | €14 | Ticketmaster |
| 2013-07-19 | The Cabin Collective | Kelly's Bar & Lounge | €13 | Ticketmaster |
| 2013-07-19 | The Foster & Allen Show | Knightsbrook Hotel | €33.5 | Ticketmaster |
| 2013-07-19 | The Olllam | Monroes Live | €19.1 | Ticketmaster |
| 2013-07-19 | W&W & Feenixpawl | The Village | €17.35 | Ticketmaster |
| 2013-07-19 | `Michael Bublé – To Be Loved`Album | Ticketmaster IE | €15 | Ticketmaster |
| 2013-07-20 | American Wrestling Roadshow | Earthcore Festival Marquee | €12.00 | |
| 2013-07-20 | Beach House | Iveagh Gardens | €25 | Ticketmaster |
| 2013-07-20 | Black Stalks | Cyprus Avenue | €7.00 | |
| 2013-07-20 | Bruce Springsteen & The E Street Band | Kings Hall Complex | €79 | Ticketmaster |
| 2013-07-20 | Crow Black Chicken | Whelan's | €12.50 | |
| 2013-07-20 | Fossett's Circus – Ballinglen (Near Tinahely) | Fossett's Circus | €From EUR 10.00 – 18.00 | |
| 2013-07-20 | Fred Cooke/ Ross Browne plus guests | City Limits Comedy Club | €From EUR 0.00 – 50.00 | |
| 2013-07-20 | Heath (Home + Away) | Time Venue | €20.9 | Ticketmaster |
| 2013-07-20 | Heidi | The Stiff Kitten | €10 | Ticketmaster |
| 2013-07-20 | Josh Ritter | Festival Big Top | €36.5 | Ticketmaster |
| 2013-07-20 | Longitude – Vampire Weekend | Marlay Park | €54.5 | Ticketmaster |
| 2013-07-20 | Sharon Shannon & Big Band | INEC – Gleneagle Hotel | €22.65 | Ticketmaster |
| 2013-07-20 | Shelbourne FC v Aberdeen | Tolka Park | €From EUR 0.00 – 10.00 | |
| 2013-07-20 | SPACE DIMENSION CONTROLLER | The Twisted Pepper | €13.95 | Ticketmaster |
| 2013-07-20 | The Black Stalks | Cyprus Avenue | €8.3 | Ticketmaster |
| 2013-07-20 | The Bon Jovi Experience | Empire Music Hall | €12 | Ticketmaster |
| 2013-07-20 | This Club | The Workmans Club | €10 | Ticketmaster |
| 2013-07-20 | Wintersun | The Limelight 2 | €16 | Ticketmaster |
| 2013-07-21 | Attitude Discover | The Wright Venue | €11.95 | Ticketmaster |
| 2013-07-21 | Fossett's Circus – Ballinglen (Near Tinahely) | Fossett's Circus | €From EUR 10.00 – 18.00 | |
| 2013-07-21 | Glen Hansard with Sam Amidon & Lisa O'Neill | Iveagh Gardens | €35 | Ticketmaster |
| 2013-07-21 | Jason Byrne | Abbey Tavern | €22.50 | |
| 2013-07-21 | Longitude – 3 Day Ticket – No Camping | Marlay Park | €149.5 | Ticketmaster |
| 2013-07-21 | Longitude – Kraftwerk | Marlay Park | €54.5 | Ticketmaster |
| 2013-07-21 | Wintersun | The Pint | €21.5 | Ticketmaster |