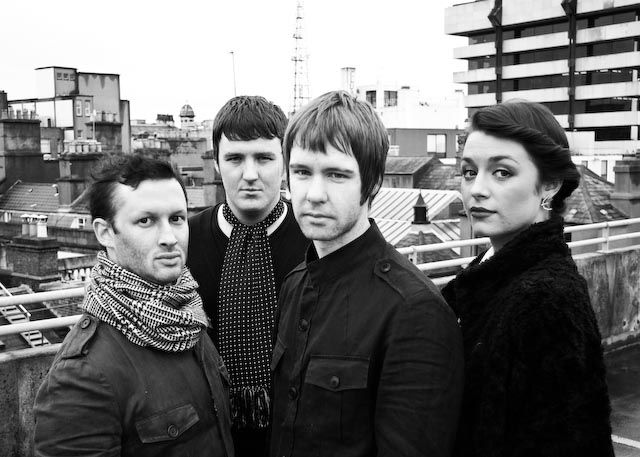 The Statics live Upstairs at Whelan's November 9, 2012
We first came across The Statics at our charity event 'Coast To Coast Tea and Toast' earlier in the year. We were impressed with the timeless quality of their songs; so much so that we've kept an eye on them ever since. And they haven't disappointed with the release of their début single Holiday. Its chorus of "You stop and you listen" is apt, because that's exactly what you do when you hear it, thanks to its memorable, uptempo, modern take on beat music. It would seem that The Statics have acquired an avid fanbase since last we saw them, as the upper saloon of Whelan's is heaving with eager punters as the band take to the stage.
Liam Gardner (Vocals, Guitars) quickly establishes his singing and songwriting credentials with the jaunty don't get in my way themed People Talk. Gardner splits time between acoustic and electric guitar. The acoustic songs such as Tomorrow are influenced by the likes of Ray Davies and Lee Mavers and this is reflected both musically and lyrically with the songs bouncing between sunshine melodies and darker lyrical scenarios. The heavier electric songs continue to reflect the aforementioned influences, but with grittier modern influences such as Milburn and Arctic Monkeys coming to the fore.
Much of the bands pizzazz comes from its powerful rhythm section of Jacqueline Campion (Drums) and Thomas Nugent (Bass). Nugent's walking basslines add warmth to compositions such as Easy To Forget which hang on his melodic lines. Potential single Down gets the crowd, gleefully, singing along to its one word chorus of "Down, down, down." The upbeat radio friendly feel continues on the Simon and Garfunkel tinged Had It Too which has the potential to be a major stepping stone in the bands quest for success, such is its infectious nature.. Hidden Pidgeon is also a delight; and probably The Statics's finest rock composition. When Daragh O'Connell (Lead Guitar, Vocals) gets the chance to deliver a big riff he certainly seizes it; however, much of his work is subtle,accentuating the song ahead of his ego.
Potential is a word which is bounded about in music reviews to the point of tedium, but The Statics have it and so much more. They just need a record company to take a chance on them and let them do what they do, write damn fine pop songs.