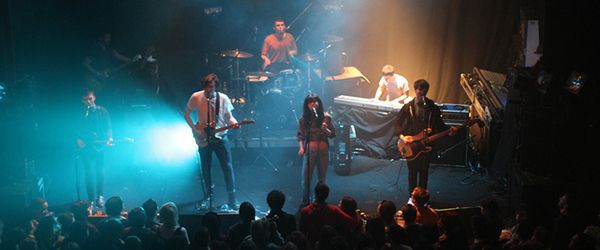 Little Green Cars at The Button Factory on March 8th 2013
Fresh from their UK tour, Little Green Cars made a welcome return home to Dublin on Friday night. Their current tour follows the release of the 4-track 'Harper Lee EP', one that along with their début single The John Wayne has already earned them a massive following.
Stepping on-stage to the Beach Boys' God Only Knows, everybody in the sold-out venue had their eyes on the talented 5-piece. They kicked-off with the a cappella rendition of Red and there wasn't a whisper to be heard. They have the ability to strip their music right back to the bare bones but can also deliver those big, punchy songs like Harper Lee which went down a storm with the audience on the night. How can they do both, yet still maintain that same appeal? It may be down to their skilled  song-writing and those powerful harmonies, and the fact they all can sing beautifully.
They really have honed their craft in the last year; the songs are immaculately arranged.  In 10 O' Clock Stevie commands the stage with his flawless vocals and magnetic charisma taking the lead comfortably. The real 'wow' moment comes during Them and it seemed to be a mutual favourite among the audience too; it's full of texture and charged with emotion. My Love Took Me Down To The River took on a moody, Sonic Youth feel this time and they finish on a high-note with The John Wayne to massive applause.
There's no doubt about it, the band are growing from strength to strength and don't plan to slow down anytime soon. They're about to embark on an American tour, which includes an appearance at SXSW, before returning home in time for their album release and another tour. Looks like big things for Little Green Cars in the coming months, and well-deserved too.
Little Green Cars Photo Gallery
Photos: Mark Earley
One response to "Little Green Cars at The Button Factory | Review"