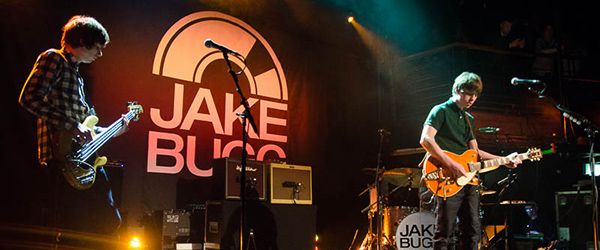 Jake Bugg at The Academy, Dublin on February 10th 2013
There is plenty of excitement around Jake Bugg these days  after having a number one album, touring with huge names and he played to a jam-packed Academy on a rainy Sunday night.  Hudson Taylor were the support act, and they impressed with their intelligent arrangements, and their pleasant harmonies. The band have a fresh and exciting sound and are definitely a band to watch.
Mr. Bugg himself took to the stage and immediately launched into a very impressive set. The opening tunes were thrilling rock n' roll tracks, with Trouble Town being the most impressive with its powerful bassline,  strong beat, and an overall energy that was infectious. Bugg raced through these opening songs, and before you knew it, he was five songs into his set. It was at this point that Bugg swapped out the electric guitar for an acoustic one, and embarked on his slower more tender songs, such as the irresistible Someone Told Me.  These proved to be just as captivating as his more aggressive tunes, with Bugg's expressive vocals and gentle accompaniment proving to be a wonderful combination.
Towards the end of the show Bugg really hit his stride, and the crowd perked up accordingly. The Ballad Of Mr. Jones was a powerful performance, and was probably the best song of the night. Followed quickly with his liveliest and best-known songs, Two Fingers, Taste It and Lightning Bolt. The crowd really got behind him at this point, singing along as best they could to Bugg's rapid delivery. Again excellent basslines and steady drumbeat gave great structure to the tunes, and they served as a perfect background to Bugg's guitar and vocals.
There is no doubt that Bugg's music is top quality, but his interaction with the crowd leaves much to be desired. Although he looks assured while playing the songs, his interaction with the crowd is practically non-existent. Occasionally he will inaudibly mumble the name of the song he's about to perform, and towards the end of the show he does give a few sentences on how he's happy to be here, but overall he appears somewhat cold and distant. Bugg relies on his tunes to do the talking, and with his distinctive voice and masterful guitar playing, they are well capable of doing just that
Jake Bugg Photo Gallery
Photos: Sean Smyth