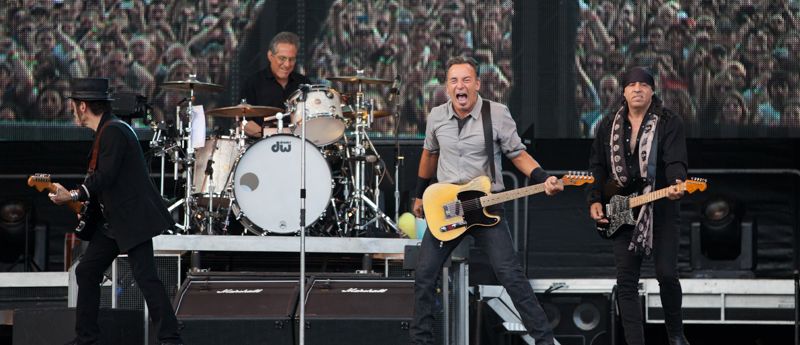 "Being here today is the highlight of my life." – The statement uttered by Delorentos frontman Ronan Yourell as they played the last song of a very well received set to kick things off on a changeable Sunday afternoon in Kilkenny. Rest assured that by the end of the evening, that same statement held true for many of those in attendance. Seeing Bruce Springsteen is an experience, it's the only way to describe it. Those who have seen him can't explain it, those who haven't would never understand anyway.
A damp day at the Cats' home ground was made even more damp as news filtered through that the locals' beloved hurlers had fallen to rivals Cork in the All Ireland Quarter Final. Alas, if there's anyone on this earth that can pick up your spirits after a demoralising moment like that, it's the Boss. But first, Delorentos, LAPD and Imelda May were charged with brightening the spirits of those in attendance.
It was the Delorentos lads that drew the short straw as their set coincided with the game in Thurles but they didn't let that affect them and played an energy-laden whirlwind ten song set, the majority of which consisted of material from their award-winning Little Sparks album. LAPD for those that aren't familiar are Liam O'Flynn, Andy Irvine, Paddy Glackin and Donal Lunny. All undoubtedly masters of their trade but did they fit the bill as a support act for one of the kings of rock'n'roll? Sadly not. Of course it's natural to want to showcase Irish culture at an event of this scale but unfortunately for the trad supergroup, their set fell flat with many using it as an opportunity to hit the food stalls. They returned just in time for the vociferous Imelda May who brought her tried and tested yet totally unique formula and blew those in attendance away.
Arriving on stage a little later than expected, the Boss wasted little time in getting the singalongs going  as he and his band burst into a rambunctious rendition of This Little Light Of Mine. The pace didn't let up for during the opening six songs as Springsteen jumped from era to era delighting young and old alike with particular attention paid to Badlands and the politically charged Death To My Hometown. American Skin (41 Shots) may not be one of Bruce's more well-known songs but it has an unnerving ability to send shivers down your spine, it's lyrics are cold and chilling and are delivered as such.
During a particularly lengthy intro into Spirit Of The Night, Springsteen uttered the words all those in attendance had been longing to hear; "We'll be back and we'll be back and we'll be back," he proclaimed. Alas, not one to dwell on sentiment, the show carried on. The usual routine of collecting song requests sprawled on various pieces of cardboard took a slight detour as Bruce paid off some debts to a few of the hardcore fans. The trio of Wild Billy's Circus Story, Man At The Top and When You Walk In The Room delighted and confused fans in equal measures as it became clear who the true fans really were as opposed to the so-called "blow-ins" as a particularly peeved fan sat nearby muttered among a few other choice words.

We were then treated to a special dedication to Jimmy Iovine who Bruce first met when Jimmy was 14 years old. As Jimmy was in attendance Bruce announced to deafening roars that they'd play Born To Run from start to finish. Thunder Road had the couples swaying before Born To Run got those in the stands up to their feet for the first time. Young Jake Clemons has had big shoes to fill since the death of his uncle Clarence yet despite all the pressure, it's been a seamless transition. It's hard to believe that the man who had played sessions in Whelan's only four years ago was now expertly blasting out the unmistakably beautiful Jungleland saxophone solo.
Perhaps the most unexpected moment of the evening was the decision to axe Waitin' On A Sunny Day from the set for the first time in almost five years. Did anyone notice? Not in the slightest. A fist pumping, foot stomping, vein popping rendition of Born In The USA was quickly followed by the least Springsteen of all Springsteen songs Dancing In The Dark, alas by this time everyone was having too much fun to care. In particular two members of the audience, one of whom was plucked from the front row to Irish dance with The Boss, having dyed her hair blue to get his attention. The one who stole the show was the young yet apparently far too experienced fella who was given the opportunity not only to strum alongside his idol but Bruce, obviously seeing something in the kid decided to give the stunned youth his guitar, not before retrieving a beloved capo first though. There are some things you can't let go of.
That's the moral of tonight's story. After closing the curtains on another E-Street Tour, Bruce returned to the stage alone to thank those in attendance and to play one last song, This Hard Land, the same song which started the tour 129 shows ago. Next July he'll be doing this 50 years he says. "The older I get, the more it means" he says and he repeats. He's not letting go anytime soon, and neither are we. See you soon, Boss.
Bruce Springsteen Photo Gallery
Photos: Michelle Geraghty