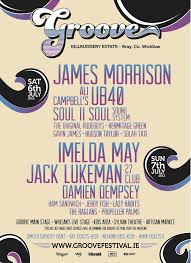 Nestled between Bray & Greystones, Groove Festival is a brand spanking new addition to the Irish summer's musical weekenders. As well as headliners Imelda May and James Morrison, there are a host of Irish acts – as well as international – spread over the two stages in this scenic County Wicklow location. We've chosen a few things from the two-day line-up that we think you might enjoy…
The Cujo Family
Sunday – Main Stage – 2.40pm
The Wicklow band recently released their second album 'Stories Of Ruin', a fine blend of country, soul, funk, blues and trad that the band themselves call Hardfolk. We here at Goldenplec thought it was the business, and something tells us that this gig could be one to note in your diaries. In other words, get your highlighter pen and timetable out, and get in early on Sunday afternoon.
Raglans
Sunday – Whelan's Live Stage – 7.40pm
Dublin quartet Raglans had 'em moving at the Goldenplec Coast To Coast finale gig, and proved a highlight of the final day of this year's Vantasival festival. They're a tight, kinetic folk-pop unit, and a perfect way to welcome in the dusk on a Sunday evening.
Ali Campbell's UB40
Saturday – Main Stage – 7.20pm
Ali Campbell jumped ship from UB40 in 2008, citing the usual bad business practises and mismanagement woes that plague bands. After a few solo endeavours it seems he's here to take back his founding member's birthright, with the band UB40 could have been. Or something. We're intrigued to see how this will pan out – will the original band be missed? Will some chap who isn't Astro do the toasting in the middle of Red Red Wine? Will anyone care? Saturday night can't come soon enough.
The Bray Gospel Choir
Sunday – Whelan's Live Stage – 3.10pm
Okay, who's missing mass this Sunday to go drinking and listening to The Divil's music? Worry not, because The Bray Gospel Choir is on hand to vanquish your hangover, and any other bad vibes, with some wonderful, cathartic gospel music. Treat yo' self.

Soul II Soul Sound System
Saturday – Main Stage – 5.50pm
Soul II Soul may be most well-known for the single Back To Life (However Do You Want Me), but Jazzie B and Daddae have been spinning since they were kids. This should loosen the limbs nicely before Ali Campbell takes to the stage.

O Emperor
Saturday – Whelan's Live Stage – 7.40pm
This Waterford quintet impressed us with their performance in Whelan's last month, where they showcased new songs from their recently released second album, 'Vitreous'. Expect some atmospheric, psychedelic sounds to spill from the Whelan's Live Stage on Saturday evening.

Big September
Sunday – Whelan's Live Stage – 5.40pm
The name alone conjures up images of Big Star, and that's enough to entice us along to check them out. It's a hometown gig for these hometown boys, a Bray five-piece whose album is baking in the oven as we speak.

Propellor Palms
Sunday – Main Stage – 3.30pm
There are loads of them – you can count them on two palms, in fact – and they're playing two gigs on two stages on Sunday. If you see a large squad of musician-y looking types walking around purposefully, that's probably them. A ten-piece band, a brass section, some Palmettes on backing vocals and some uplifting, soulful blues rock. This one sells itself.

Swords
Sunday – Whelan's Live Stage  – 4.50pm
This electro indie trio have been doing the rounds for a while – including a stint at last year's Electric Picnic and a contribution to Other Voices – and recently released their debut album 'Lions & Gold'. Catch them on Sunday to see how their mix of organic and synthetic sounds translates live.

Ham Sandwich
Sunday – Whelan's Live Stage – 9.00pm
The Meath band is renowned for its out-there live performances, and has just supported none other than Jon Bon Jovi at Slane. Where do you go from there? To the headline slot of the main stage at Killruddery Estate, that's where. Ain't no better way to round off the weekend.