A Winged Victory For The Sullen: Music To Transcend Borders, Genres And Space
Traveling fast is not the only way to cover a lot of ground. Over the last 10 years, the lush, slow-motion music of A Winged Victory For the Sullen has effortlessly integrated influences from the electronic and classical past and present, recalling everything from early Tangerine Dream to Satie or even Chopin.
It's deeply felt work that expertly marshals both sound and emotion. But then again, its composers - Adam Wiltzie and Dustin O'Halloran - know what they're doing by now. Wiltzie's Stars Of The Lid side project has been producing genre-defining post-rock and drone music for over 20 years, while O'Halloran's scoring work has included writing the soundtrack for Sofia Coppola's 'Marie Antoinette' and winning an Emmy for his work on the theme music for 'Transparent'.
The duo's 2015 show at the Barbican is probably the most laidback Boiler Room set you'll ever see, but since then they've worked separately on other projects. They reconvened late last year to release 'The Undivided Five', their first album on Ninja Tune, and I spoke to them as they prepared for a tour that will take them from Europe through the UK and Ireland, then on to the US and back again.
It's an unusual interview: when we talk on Skype, O'Halloran's on video, sipping his morning coffee in LA; Wiltzie's dialling in from Brussels; I'm downing an evening beer in Dublin. But it's unsurprising they're not fazed by it. Since meeting in Italy over 10 years ago, their many collaborations - two albums,  a series of pieces for choreographer Wayne McGregor, and most recently a soundtrack - have taken place without them ever being based in the same country. O'Halloran's always split his time between Berlin and LA and recently moved to Iceland after the birth of his daughter; Wiltzie's still based in Belgium.
We chat about how the gentrification of Berlin is displacing creatives there in the same way the boom has in Dublin. That leads to talk of the many places in which 'The Undivided Five' was recorded. O'Halloran lists a few: "we did the strings in Budapest, and the piano in Berlin, with Francesco Donadello, who we've always worked with. We choose locations for a particular sound or player - like, the reverb in a church near where Adam lives, or the fact that we could work with [bassist] Skúli Sverrisson in Iceland. We had the luxury of time on this album, which we didn't have on our last one, so we used it to our advantage.  But we always want to work together in person, and not just share files. Writing is all about the journey. We've spent so much time meeting in restaurants in Brussels that people probably think I live there."
That freeranging attitude to time and space is reflected in the way the music of 'The Undivided Five' inhabits an even grander soundscape than their previous works. There's the same orchestral dialogue of piano and strings that featured on their last standalone album 'Atomos', but now the string sections seem bigger, the reverbs more cavernous. And with that attention to space comes a greater focus on texture, on the specificity of sounds. It produces some remarkable moments, like the way the slowly cycling minor chords of A Minor Fifth Is Made Of Phantoms seem to gradually coalesce from the shimmering background noise at the start of the piece.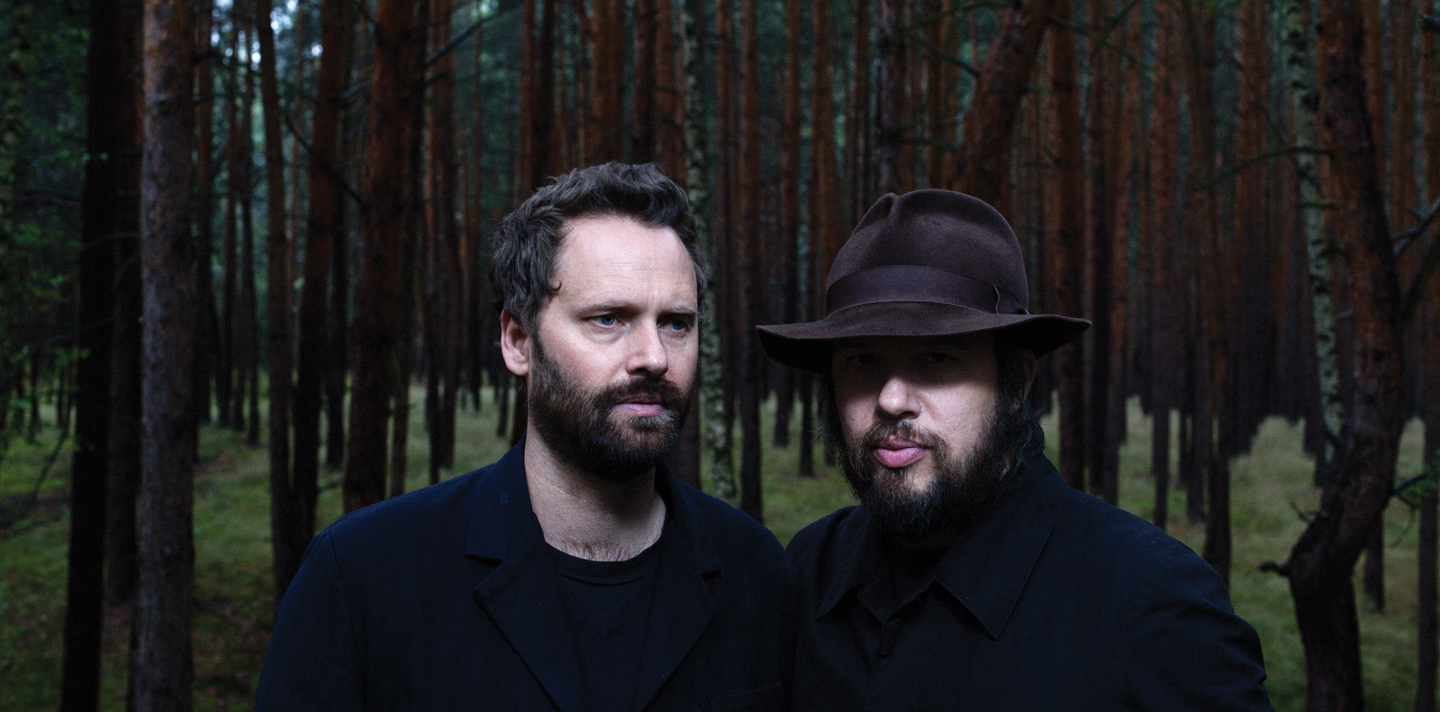 Despite that, the album has still been tagged with two reductive terms that have been used problematically throughout the duo's career - "ambient" and "filmic". Ambient as conceived by Brian Eno is deliberately unemotive music that avoids narrative development. In contrast, AWVFTS's work is deeply emotive, and it would take a very dull sensibility to listen to the aching orchestral swells of music like Sullen Sonata and remain unmoved or unaware of its movement.
Nevertheless, O'Halloran seems unworried by being pigeonholed as an ambient musician. "I don't have strong feelings about it. Journalists make up genres and you're associated with them. We've also been called neoclassical, and we used to get called post-rock, just because of the Stars Of The Lid connection. We never thought of ourselves as a genre, but we ended up as one, maybe because we were on Erased Tapes. But being on Ninja Tune liberates us from all that." 
However, he readily agrees with the argument that describing AWVFTS's music as "filmic" is a lazy way of not fully engaging with it. In fact, given how extensively both musicians have worked on soundtracks, it's remarkable when he says that "for me, music is most fully lived without imagery. That's the reason why for a long time we never made videos. Though Adam's just done our first ever one, for Aqualung, Motherfucker". 
O'Halloran is much more enthused by a comparison to composer John Luther Adams's piece Become Ocean, which had its Irish premiere in the very space they'll be playing in Dublin next month. I mention that I was also reminded of Adams's 4000 Holes when listening to Our Lord Debussy from 'The Undivided Five'. Adams's piece samples and extends the last chord from 'A Day In The Life'; AWVFTS have taken a similar approach to Debussy, picking a short measure and unravelling it at great length.
"That came from when we worked on a remix for [soundtrack composer] Jóhann Jóhannsson. We got stems of a quartet that had been recorded in a church, and Adam got a program to dissect them and spit out parts for us to reassemble. We took the same approach to Debussy, getting into its DNA, going back to those periods of music that were written in times of no distraction. The idea that we're creating something new is mistaken in a way. We're part of a chain in which there's always something new, whether it's us or the music of the 19th or 20th century. If we're associated with the long thread of tradition, that's great. But I'm amazed that there are so many other genres that are off the radar these days. Maybe it's that we live in a time when there are so many people in the world, but music nowadays is so eclectic. Noone's fighting against anything any more."
'The Undivided Five' was recorded during a time of big life events for AWVFTS, including Jóhannsson's death and O'Halloran becoming a father. I wonder whether it's easier to incorporate those big themes in instrumental music than it is within the more straightforward but limited scope of rock. Wiltzie disagrees: "I feel an emotional connection to music in general, and I don't distinguish between vocal and instrumental. People point to music as an influence, but life and paintings and conversation inform what we do as well".
O'Halloran takes the point further: "In fact silence is as much a part of it - not trying to fill up every space with music. We work on a lot of commercial stuff, like soundtracks, but you can get burned out by that. So when Adam and I are making music, we seek out a bit of space. And what it's felt like with this new record is that people have been drawn to that sense of space. Like, I was at a Japanese zen garden last week, one of those ones that doesn't have much in it, that's all about the simplicity of how the gravel is combed around the rocks. In contrast, this is a particular time in history when we're all barraged with stuff. Our world nowadays is about filling every space, and we're creating something that allows you to have space."
As to how the spaces of the album will be reproduced live, well, they're coy. "2015 was the last time we played live, and it felt like an ending. This time round there'll be 8 people on stage - us, a string section, a brass section, and Francesco playing modular synth" says O'Halloran, with Wiltzie adding the intriguing promise that it'll be "a psychedelic piano concert". Both seem to be looking forward to it: "we love playing Dublin - I mean, the last time, when we went through customs, the customs agent ended up coming to the show."
A Winged Victory For The Sullen play the National Concert Hall in Dublin on March 3. 'The Undivided Five' is out now on Ninja Tune.