West Country family band Wildwood Kin have been winning rave reviews and comparisons to Fleetwood Mac for their self-titled second album. Sisters Emillie and Beth Key and cousin Meghann Loney are in high demand thanks to their luscious harmonies which have led to them working with Damien Dempsey, Seth Lakeman, Ed Harcourt and other well-known artists in recent times.
Wildwood Kin try and bring hope to the world with their music by tackling subjects such as mental health, global warming and sustainability and offering encouragement and connectivity, rather than doom and gloom.
We caught up with Wildwood Kin ahead of their appearance in Lost Lane this weekend.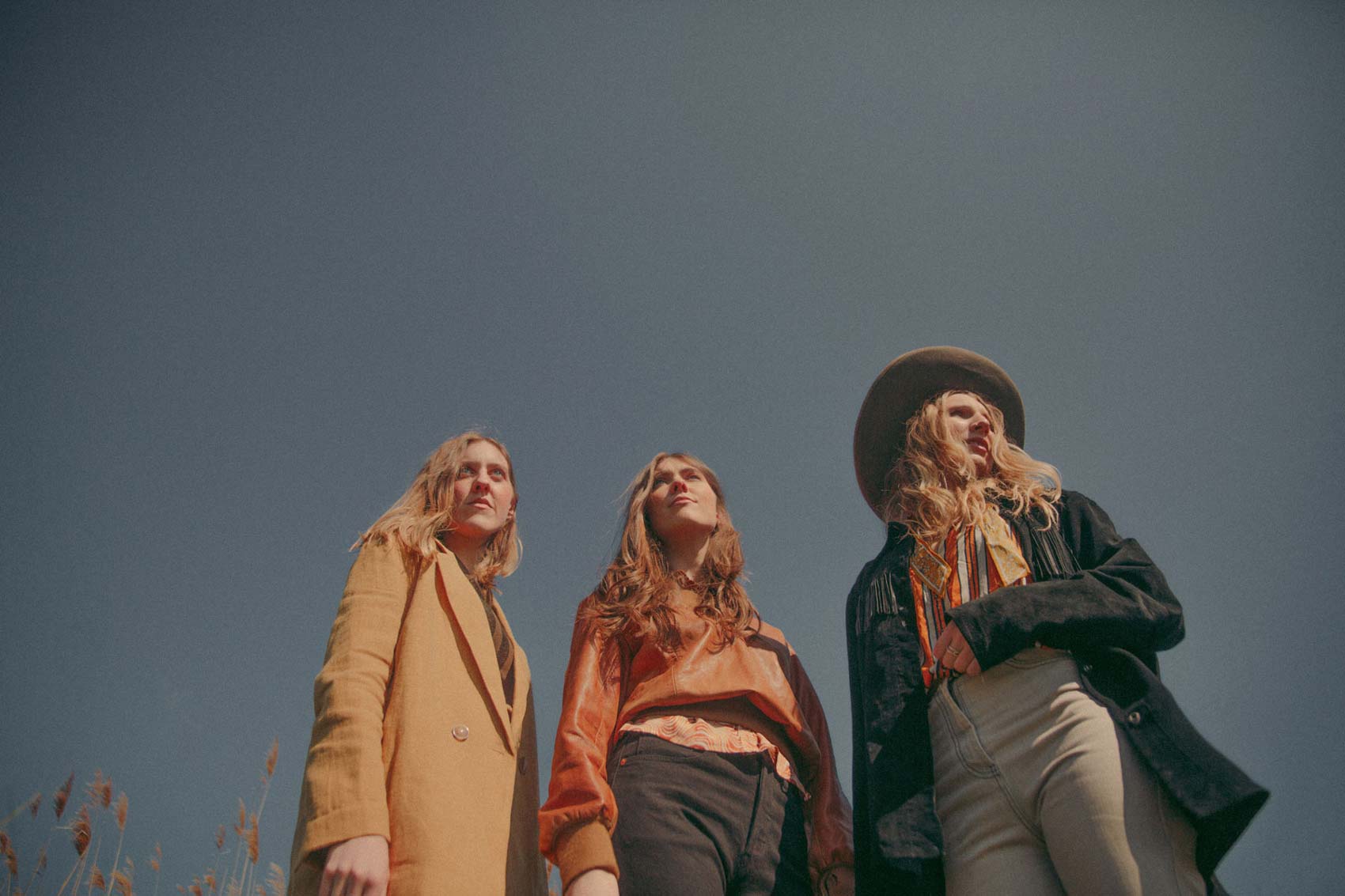 Although you guys are best-known for your single Hold On, in Ireland you are perhaps best-known for your collaboration with Damien Dempsey on his greatest hits album. How did that come about? It must have been both intimidating and inspirational when you saw the list of other acts set to appear on that record?
We were recommended by a mutual co-worker who manages Damien and suggested to him that we add harmonies to his beautiful track  "Apple of my eye", we were of course blown away when he agreed and we were given the opportunity. Damien's songs are so moving and heartfelt and it was such a privilege to feature on such a beautiful album alongside other amazing artists. We also supported Damien at his London Roundhouse headline show last year for St Patrick's day; we're all of Irish descent, so for us it was an amazing experience to be on the line-up to celebrate! 
How did your collaborative project with Seth Lakeman come about?

We've always been a big fan of Seth's work, growing up we listened to a lot of Seth and to our surprise we found an email from him asking if we would like to collaborate on his new album; we of course accepted and couldn't wait to hear his ideas and add some harmonies and arrangements. Again, it was a mutual friend that recommended us to Seth so it was one of those weird divine intervention things that we could never have planned ourselves. We loved singing on the album and touring with Seth and his band and it was a really amazing experience for us to grow as musicians and we learnt a lot from Seth which we are really grateful for. 
Which song(s) do you feel you had the most positive impact upon?

Our favourite song we performed with Seth was probably 'The Stranger', it was the first song we were introduced to by him. 
You co-wrote Never Alone with Ed Harcourt. Was it good to have an outside perspective on such a deeply personal topic? 

It was great working with Ed. He really facilitated a space for us to be honest and was just as passionate about mental health as we were. Ed's style of music and taste really complimented the song and the way he produced it allowed for us to delve deeper and darker which we hadn't really done before. We felt it was right for the song to set the scene that way and to really connect from that perspective. It felt like the easiest co-write because it really flowed from honesty and from personal life experiences that we'd all been through and Ed was totally up for visiting that place with us lyrically and then helping us to match that with the vibe instrumentally.
Despite much of the album dealing with bleak topics it's a quite positive record. How important was it for you to tell people to keep going?
We always feel that our platform as musicians is to bring hope and light. Music for us is so important for healing and processing and there's a lot of dark stuff happening in the world; we feel that lyrically we always want to make our aim to bring a new perspective and for listeners to find identity and meaning in who they are as loved and unique individuals no matter what you've been through. Singing songs of honesty and hope in a powerful way really is a privilege for us and we believe that those truths can change atmospheres which is why we do what we do and what excites us in the writing process and performing them live.
Beauty in Your Brokenness was inspired by the Japanese art of 'Kintsugi' an unusual muse to be sure. Can you explain a little bit about the concept and how it inspired you? 
Kintsugi is where broken pieces of pottery or ornaments are put back together with glue inlayed with gold. It creates a beautiful masterpiece, made up of broken parts which would never have been created if it hadn't have been damaged in the first place. It's a metaphor for our lives when we feel that our broken pieces are the ugly, shameful parts of us. The art form reminds us that actually those parts of us make us more beautiful and unique, they tell a story of hope, courage and redemption in our lives and we felt that that was a great metaphor for moving forward and knowing that all those seasons and parts of us all work together to make something more beautiful in the end. 
How do you guys feel you have progressed from 'Turning Tides' to 'Wildwood Kin' as musicians and songwriters?

Turning Tides was an amalgamation of songs we'd written early on in our musical journeys and songs that were a bit more contemporary and developed instrumentally; it was an experimental album and a platform for us to find our own sound and voices and to learn through the process. Since then we have really developed as musicians in our taste and our instrumentation and now we feel that this album represents us in a more authentic and confident way. We always strive to be better and to grow as every year comes and so we decided to self-title the album for that very reason because we felt it was a more cohesive representation of where we're at now.
You guys have been quite vocal about climate change and the need for sustainable living. How do you balance that with your touring commitments? 

It's very hard to balance sustainable living and touring. It's a lot easier to be more intentional with reducing plastic waste and finding eco-friendly alternatives whilst you're living at home and can bring those things into your daily routine. The difficulty with touring is that you're always eating on the go, stopping at service stations when you don't often have time to sit and "eat in", which does mean buying food that's often packaged but we do bring reusable water bottles and eco cups for hot drinks.  We have actually decided to stop asking for green room 'rider' for backstage snacks and drinks because we were conscious that every night we would come away with packaged food that would often go to waste because we couldn't eat it all or keep it in a fridge. Now we just have to find the time in our schedule to go and eat out before a show, as difficult as that can be most of the time.
For anybody who is interested in sustainability, but doesn't know where to start. Where would you recommend that they turn to for guidance?
Easy changes can be: Buying keep cups, reusable water bottles and food containers, it'll save you money in the long run and help you cut down on single use plastic waste. Buy soap and shampoo bars instead of plastic bottled shampoos or find products that have a re-fill system; there are lots of brands that offer this service. Georganics and Lush are great brands for eco-friendly toiletry products!
Cut down on buying brand new clothes, we're still learning to make this a priority and instead find second hand or vintage stores to buy from instead. When you shop bring a shopping bag with you, and a few little bags or containers for groceries. You can find loose veg and fruit in supermarkets instead of plastic packed ones, so go shopping prepared!
That's just a few little ideas to start with.
You guys are often compared to Fleetwood Mac especially in relation to songs such as Time Has Come. Do you find such comparisons flattering or distracting or a mixture of both?  
It's always a compliment for us being compared to Fleetwood Mac in particular because they're a great example of a band who break the genre boundaries. We never know how to categorise our music and we appreciate that same comparison with Fleetwood Mac! We really don't mind and it encourages us to keep doing what we do in our own unique way.
What can people expect from a Wildwood Kin live show?

We like to keep our live shows personable and real and enjoy engaging with the audience when we can but the sound for us is all about the lyrics and harmonies being heard with lots of ambient vocals and heavy drums.
wildwood Kin play Lost Lane on November 23rd. Tickets €15.00