"My sister got me this book for Christmas" Wild Youth's singer David Whelan explains, disappearing momentarily from the camera's view. When he returns, he begins leafing through the pages of the international bestseller The Boy, The Horse, The Fox And The Mole, written and illustrated by British artist Charlie Mackesy.
"While the whole thing is an overriding story, you could open up any random page and it would connect with you in some way". "I'm a very visual person, I get attracted to visuals a lot" he adds, still leafing through the pages."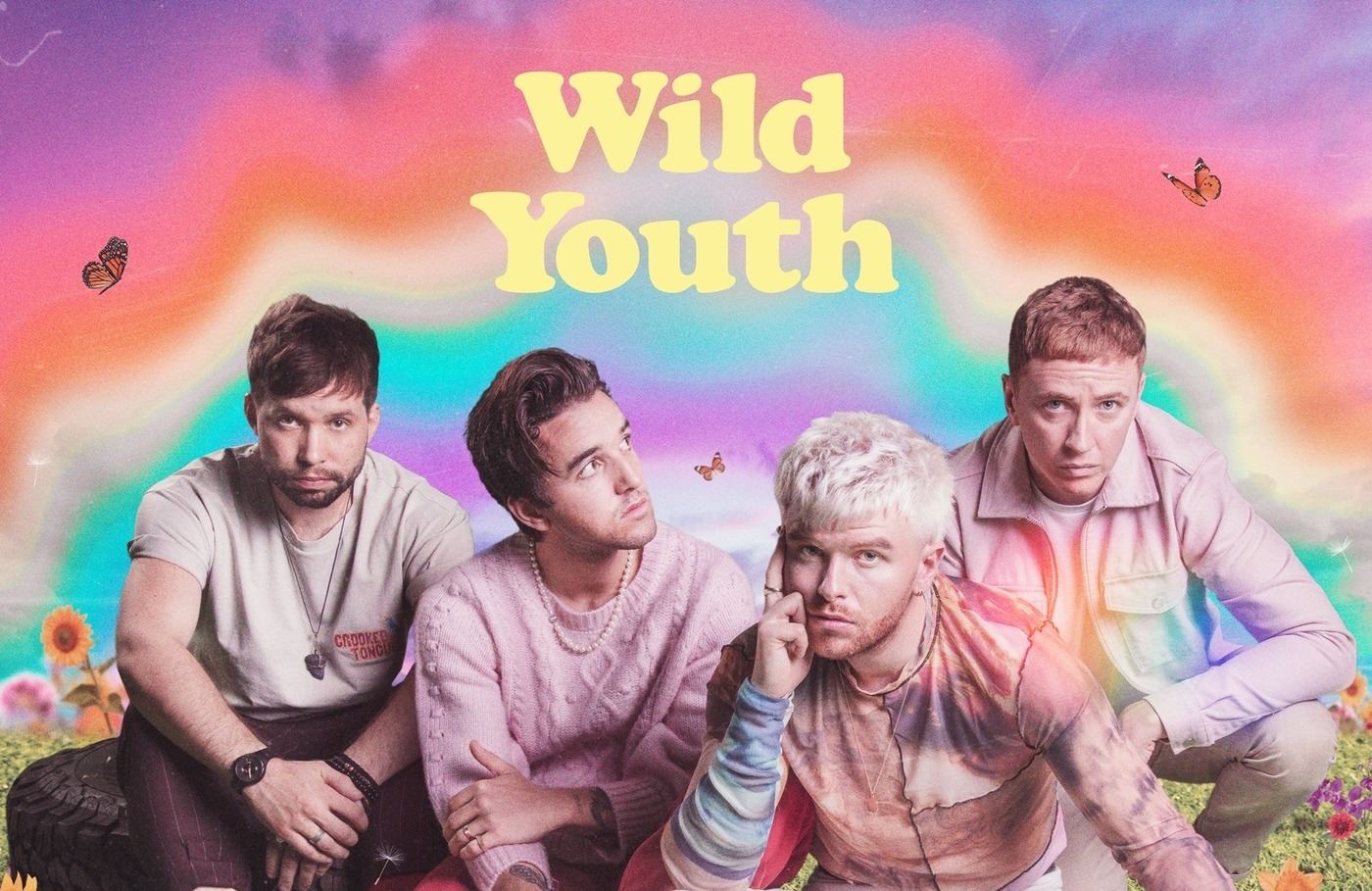 Sat at home in Dublin, discussing their latest single Champagne Butterflies, it's clear that Whelan and his band's songwriter and multi-instrumentalist Conor O'Donoghue are excited to release their latest creation out into the world. The track was one of the first the band wrote following the release of their debut EP 'The Last Goodbye' in 2019.
"We played it on our tour in 2019," O'Donoghue adds of the track's long history. "We always used to write songs then play them live, because the fans at the shows are the most important people for us and them liking a song is so important to us. This song was getting reactions that were even better than the songs people knew," he says, reminiscing on times spent playing shows to fans across the world.
The track tells the story of the feelings of unbridled joy and excitement of being in a person's presence that comes with the early stages of a relationship.
"It's all about the celebratory butterflies you feel when you start to fall in love with someone," O'Donoghue notes, before expounding on the point by adding: "That amazing feeling when you're talking to someone that anything could be going on around you and they are the only one you want to talk to, and when you get a text you get those butterflies in your stomach". 
Whelan and O'Donoghue were the two founding members of Wild Youth, the pair met in school later adding the final two members of the band, Ed Porter (lead guitar) and Callum McAdam (drummer), the band spent a year rehearsing and writing before releasing music in order to perfect their sound.
When they did finally release their debut single All Or Nothing in 2017, things skyrocketed and the band quickly became one of the country's most popular pop outfits becoming one of the first bands to ever sell out The Academy without releasing a project of any kind. Over the past number of years, the band have supported the likes of Kodaline and The Script across Europe and have slowly been building their fanbase abroad, aided by the success of their 2019 debut EP 'The Last Goodbye'. 
Then came 2020, and everything ground to a halt. Since the pandemic kicked in, the band have released two singles, Next To You and Through The Phone and have spent the last few months writing music, shooting music videos and chatting to fans on Instagram live.
"We're just trying to make the best of a bad situation, trying to write and record music to release as soon as possible" Conor replies, when asked how the past few months have been spent with their newfound free time.
"We just have to try to control what we can control and to focus on what we need to do every day to get music out and stay busy until we can eventually get back on stage" he adds. 
One upside of the pandemic, however, is that it's given the band a greater opportunity to develop an even closer relationship with their fans. The band take it in turns to go live on Instagram, answering fans questions and chatting about anything the viewers deem of interest.
"It's really fun," Whelan notes. "It's very easy for us to be moaning and complaining about not being able to do shows but then when you hear what other people have been through you realise it's not been easy on anyone and that everyone has been struggling in their own way". 
The question then turns to their songwriting process, and how the added time spent indoors has impacted the band's motivation or inspiration to write songs.
"There's inspiration in everything," Conor explains. "There's always something to be inspired by and I don't think being in lockdown or anything will ever stop you being inspired". Songwriting sessions over Zoom, however, have not been as easy, and the band are quick to explain the importance of having written with the person prior to the pandemic.
"Once you're writing with people you've written with before and you have a good relationship with then it's slightly more casual" O'Donoghue replies, before adding "it's easier to make fun and that's the way I find easiest to write".