Two years after the release of their debut EP 'The Last Goodbye', Dublin four-piece Wild Youth are back with their brand new project 'Forever Girl'. The six-track EP jumps from genre to genre, highlighting a band unwilling to be tied down by genres or expectations.
"Our first EP was called 'The Last Goodbye' and that was about getting over heartbreak and everything that comes with that, then this EP is almost like keeping a journal of getting through that heartbreak through to falling in love again with someone you find incredibly special," vocalist, Dave Whelan explains of the project's premise, "It's a diary and a journal of finding the person you want to spend the rest of your life with".
Prior to the EP's release, Whelan and bandmate Conor O'Donoghue sat down with Goldenplec to breakdown the project and discuss some of the track's intricacies and inspirations.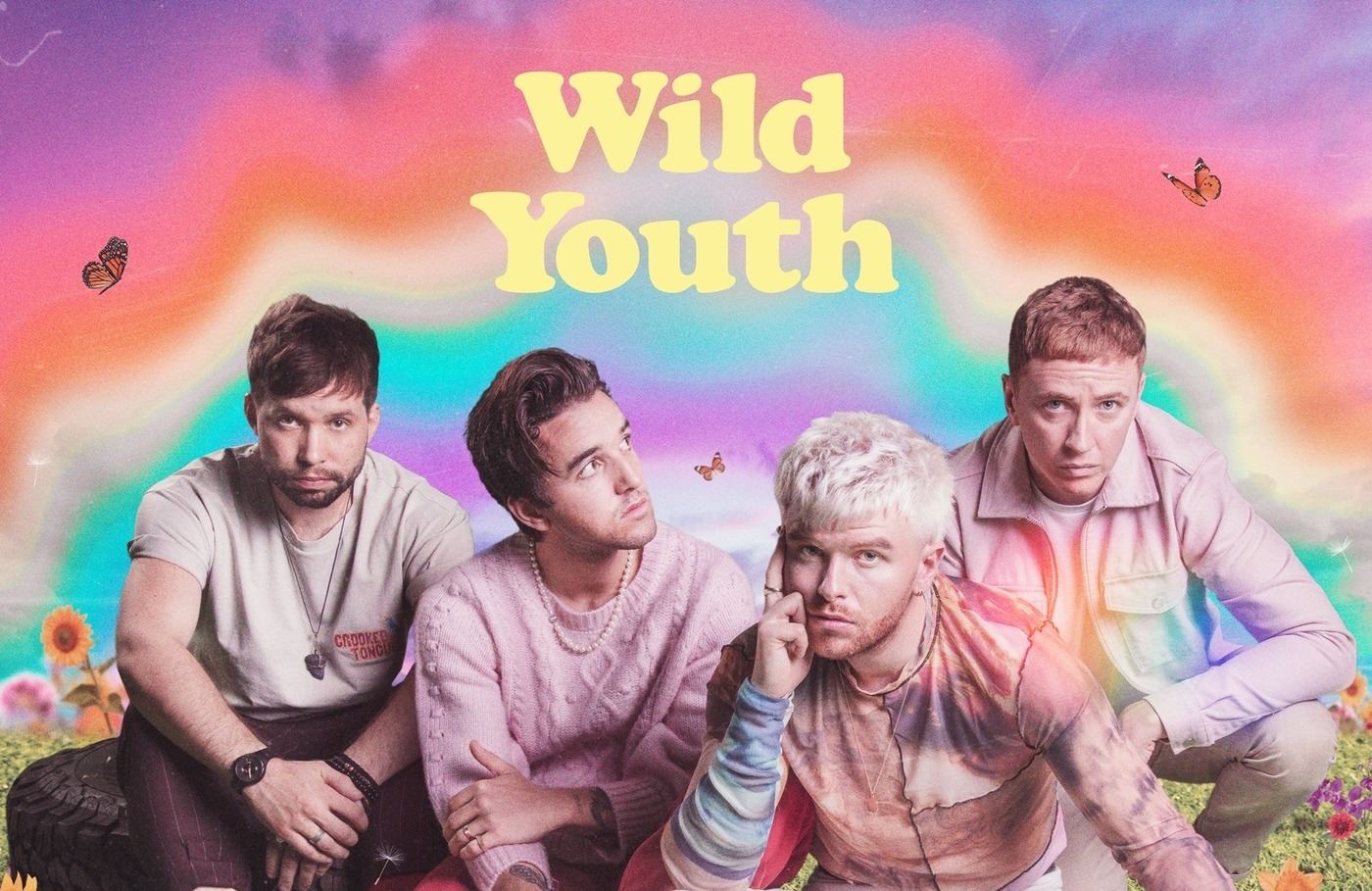 Weekend Rockstar
The EP kicks off with the anthemic, 808-inspired 'Weekend Rockstar'. "It was written in LA and I was listening to a lot of hip-hop stuff, Travis Scott and people like that," Whelan explains, of the track's origins.
 "I loved the autotune on his vocals and I loved how hip-hop was almost sounding rock-y while also having this really modern production and that's what we wanted to achieve".
The track began life as a drum groove before the melody was built around it, by which point the band had realised that it was destined to be the opener to the EP.
"I don't think any other song could have opened the EP like 'Weekend Rockstar'. Even when I wrote it, I knew it had to be the show opener, it was never even a question" Whelan adds, smiling before O'Donoghue adds that when the band were in the studio, they were always discussing how the show would open.
"We were thinking of ways of how we could start the show-off and do different things with that song, seeing the chaos in front of us, I'm dying to just get to do that song live," O'Donoghue explains.
Can't Say No


"A lot of inspiration behind this song came from 'Black Skinhead,'" Whelan says of 'Can't Say No'. "That groove at the chorus. Everytime I heard the song I thought 'that groove is so cool' and we wanted to write something like that".
'Can't Say No' was a song that came together quite seamlessly for the band. "It's the quickest we've ever written a song for Wild Youth" O'Donoghue adds, "it was like two hours. It literally just came from a guitar riff being played, and it was like the rest of the melody and the lyrics just came out straight away and it was put down as it was, and that's the way it's stayed.
"Obviously as we got deeper into the production we wanted the bass to sound a very specific way and for the groove of the drums to match the bass and really give that galloping theme at the chorus, but the song itself, once we had that guitar, it came together pretty quickly"
Next To You
The coded vocals of 'Next To You' make the song one of the standout moments of the entire project, although its addition was more of convenience at the demo stage of songwriting that anything else, the band explained. 
"It started off as rough chorus for like a year and a half before we recorded it and it had that vocal coder on it from then, when it was demoed up," O'Donoghue explains.
Before Whelan jumps in adding, "I remember when we did it, in the early stages, and the effect had come down and we had to raise it back up because it shifted the whole song, it changed the dynamic of it that was there from the beginning and needed to stay".
"Sometimes you find magic in the mistake of a demo," O'Donoghue admits, "It was just meant to be."
Champagne Butterflies
'Champagne Butterflies' was the single directly preceding the album, and was met with much acclaim and support upon its release in January. Mixing funk grooves and synth, combined with a soaring chorus, the track showcases the band's knack for pop songwriting.
"It's all about the celebratory butterflies you feel when you start to fall in love with someone," O'Donoghue notes, before expanding on the point adding: "That amazing feeling when you're talking to someone that anything could be going on around you and they are the only one you want to talk to, and when you get a text you get those butterflies in your stomach".
"We played it on our tour in 2019. We always used to write songs then play them live, because the fans at the shows are the most important people for us and them liking a song is so important to us".
Wasted Without You
One of the two new songs on the EP (the first being 'Weekend Rockstar'), 'Wasted Without You' details the feeling of wanting to spend all your time with someone special, and how every moment not shared with them is a moment wasted.
"It's the story of really falling for someone and you could be anywhere in the world, doing anything but everything is wasted unless you're with that person" Whelan explains, "Everything you thought you wanted in your life you only want if it's with that person, all the superficial stuff doesn't really matter because the core of what's making you happy is being with that person".
Sonically, it was a new departure for the band, and while there was some deliberation between the band on what tracks would make the EP, Wasted Without You's position was never in doubt. "For some reason, was always on the EP and it never came into question. It also shows off a different side and a different style of the band. We love big choruses and I think it just kind of fit with the whole EP sonically," O'Donoghue admits.
"There was one track in particular that I was gutted didn't make the cut, I absolutely love it and we just decided we'd put it on the next project because it's so good it needs to be heard. So once this comes out we're going to go straight to the studio and record a third EP and put it out as soon as possible"
Through The Phone
The final track on the EP is 'Through The Phone', a track directly inspired by COVID and having to love someone through the phone due to the vast distances between you.
"It was important for me that it was on it because it was something I was going through with my girlfriend and I just wanted to write about it, but we also thought it was just a nice note for the EP to finish on, " Whelan explains. "We can all overcomes these really hard times and make it through it, because there's better days ahead".
When asked if they were ever worried about releasing a track with such strong links to COVID, they note the importance of speaking out about how you feel in the moment.
"It's history, it's going to be written in history forever. I don't think we should be afraid to talk about it. Why should you be afraid to talk about something you've experienced? You should be able to express and openly speak about to try to prevent it in the future".  
Listen to Forever Girl by Wild Youth in full below.