Every year the GoldenPlec community of writers and photographers get together for a natter about which artists we expect to explode on the music scene in the year ahead. We have selected our 'Plec Picks' for 2015 and the list encompasses a wide range of artists, highlighting some of the best bands and solo artists currently active in Ireland.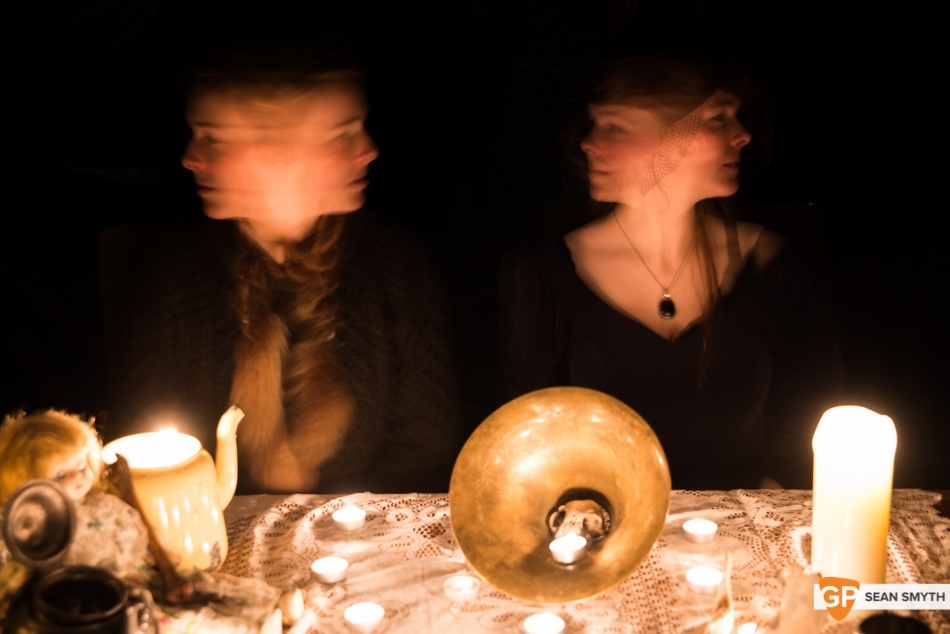 Who are these collectors of bones and strange noises; instrument builders and conjurers of ethereal sounds and otherworldly realms? Branwen and Julie are their earthly names; sisters named fantastically for the bane of "lumberjacks or treesnazzlers" and protector of the forest - Twin Headed Wolf.
The Lahinch duo have come a long way from the fledgling days of Branwen's singer/songwriter sojourns into performance art, smashing clay statues of her own head, or Julie's teenage loop pedal experiments with space rock band Psycostacia. This animal that traverses our musical landscape today, "howling and snarling, and calling all the spirits of the Air and Earth" is more refined, fully realised.
The Company Of Wolves
Their songs and shows reference Irish folklore and the fairy folk but also Classical mythology, among many other things, with the band in turn taking influence from a variety of sources. From yarns from family members to folk songs sung by friends, youthful introductions to Nick Drake and Leonard Cohen, through to Tom Waits ("I save his albums for times when I need to be inspired" - Branwen) or George Higgs, their upbringing has been varied and fruitful. Julie also notes that "I never saw music as a male dominated art form" with female fronted artists given as much consideration as the aforementioned.
Their own methodology for creating music may at first appear conventional, guitar and voice, until Branwen informs us that "It's a thing that happens and it's different all the time. Mostly it involves a quiet room and an instrument, but sometimes neither of those things are present.  Once I thought a room was haunted and sang all night because filling the space with sound made it less scary, that's where our song Take a Hammer comes from."
Seven sets at Glastonbury last year is testament to the fact that that their singular style is not confined to Irish shores, with the band successfully subsumed by the Somerset hills. "The venue was essentially a huge hole dug into the side of a hill. The stage was cut into the earth and there were sculptures crafted into the clay. They based the structure on an Anglo-Saxon theatre, so the stage was up very high and there was tiered seating. There was a Rogues Gallery and a Royal box and a shovel chandelier! The whole venue was candlelit and there was no amplification except for an enormous gramophone horn hanging over the stage …"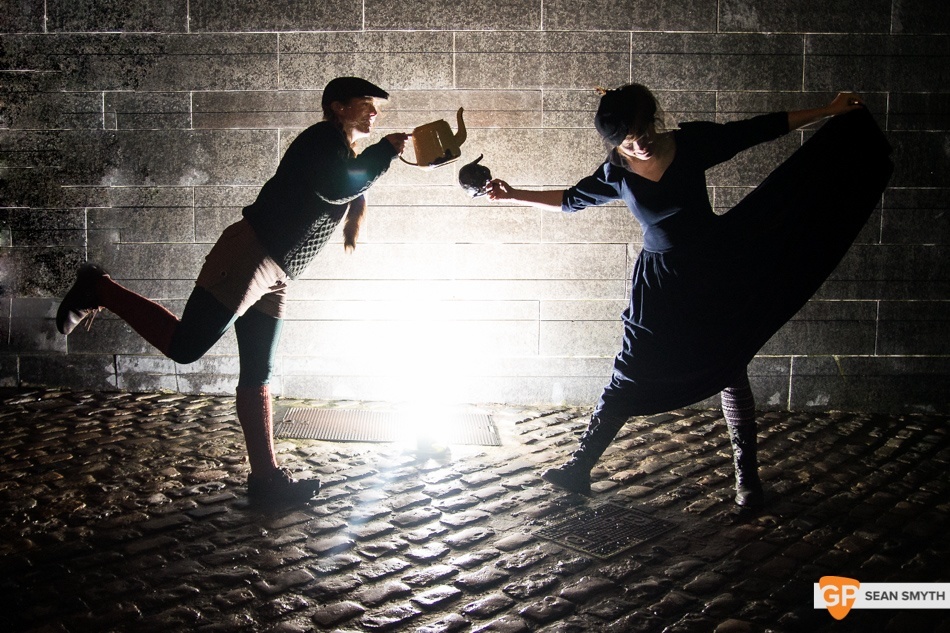 The Presence Of The Muses
It is in the live setting where Twin Headed Wolf most successfully translate their music, their shows a mix of imagined realities, delicate melodic phrases, and weird and wonderful anthropomorphic elements. Live is the favoured approach to experiencing music, as "seeing a live show gives you direct contact with the people and their energies, which is really special because you see the music travelling through the person, or the muses!" For the band, the venue serves best in trying to create an atmosphere, the festival when you want to add to or be part of one.
Objects that most people would consider 'non-musical' are incorporated into the band's live act, adapted to mesmerising effect – Julie singing into a teapot or a truncated trumpet horn, or the skull and 'dolly' that duet in their place while the sisters conduct from behind a veil. "Branwen collects objects because she likes them and they are useful for her art. Julie is very good at finding out what they are good at doing on stage. Petrol cans from WW1 are still waiting in the wings."
The former's sonic experimentation took a slightly more sinister/ utilitarian slant - depending on your point of view – after a chance encounter by a friend in the science room of a derelict school.  "I had spoken with a flute maker about what bones would good to make a flute out of and he named a couple of animals and then said human bones would be good!" Branwen informs us. "This was a joke, I learned, but at the time I took him seriously and appeared at his workshop with the human bones and was delighted with myself!
I was very determined to use them well, especially as this person had donated their body to science. I thought art was just as noble a cause, so we brought them to gigs and people reacted either very badly or very well to them! I found this alarming as all of us have bones in our bodies, but the bones stopped coming to our shows and were put on the single [Shrines & Ceremonies] as simple percussion."
The Whole World Sings
Their debut album is currently approaching the mastering stages, and the twins seem no less at home and inspired in the studio than they are on stage "Recording is an opportunity to make a piece of art that cannot exist on stage because some people would need eight arms or the ability to be in three places at once. It's an opportunity to collaborate with people whose music we love. It is a true reflection of the worlds of the songs and their potential coming to life in a permanent space."
Says Branwen of Tom Waits, "I admire anyone who is brave enough to invent the road they follow through life and who do what feels right to them rather than what the feel they ought to do." Twin Headed Wolf's path is sure to lead them somewhere special, but not before a busy year of gigs at home and abroad, as well as a few festival stages and a few bonfires too, we suspect.
"The whole world sings" they tell us, "why not understand all of it as music?" There is no response that makes any more sense.