Six Fancy Men, Five Potatoes and A Shed: Now That's What I Call A Redneck Manifesto
We catch up with Richie Egan of The Redneck Manifesto ahead of rehearsals for their 20th Anniversary Show in Vicar Street. Egan is relieved to have made it into the country from Sweden, arriving just before Dublin Airport was closed due to radar issues ahead of a hectic week of rehearsals, but Egan assures us that they'll be a "well-oiled machine" by the time the gig rolls around on November 30th.
"We're usually pretty bad for the first rehearsal and then the muscle memory kicks in," jokes Egan. "We're gonna play some songs that we haven't played in a long time. It'll be weird trying to work them out, but they usually come back pretty easy after a couple of run overs."
These rehearsals are taking place in "the shed", The Redneck Manifesto's Crumlin base and spiritual home, which Egan is looking forward to "getting back to". The shed has played a pivotal role in the development of the band over the years. "If you're in a band and you are paying for rehearsal rooms and it's not flowing well it can feel like you've wasted an evening, but when we got the shed, we were able to rehearse and if stuff isn't going well you can just have a cup of tea, there's no pressure. That shed has been integral in our ability to write and stay together as a band. It's what you might call a fancy shed. It's fancier than your average shed."
Using one of their parents' sheds as a base has allowed the Redneck Manifesto to ground themselves and retain their youthful innocence creatively. "We don't have the pressure on us to put food on the table from the Rednecks. That's never been an issue for us," says Egan. "The Rednecks has always been pure, a joyful thing, playing together for the purity of hearing what each other is going to play. I think a lot of bands lose that because they have to make money, but with the Rednecks even after twenty years we still feel that purity that we felt when we first played together. I think that might be rare and we feel very lucky to have that."
Egan fondly remembers the era of formation of the Redneck Manifesto as being the last days of sharing tapes and sending away for records from ads in the back of magazines. "I was very lucky (in school) because suddenly we were all the weirdos that were into music, so people left us alone and we just swapped tapes all the time. A tape was magical back then," says Egan. "Your formative musical years are so important; if you're into music they shape you. The world of Black Flag, Minor Threat, The Dead Kennedys felt like the most magical thing you can imagine. You couldn't imagine it living in Dublin, that these bands were able to tour around the west coast of America."
Egan enthusiastically notes the importance of acts such as Fugazi and NOFX in the same breath as Willy Nelson. "I think the key with the Rednecks is we've always listened to everything. We all love music: Glenn Branca, Steve Reich, Tortoise, but also Willy Nelson," says Egan. "We came along when the internet wasn't really a thing. I used to send away for records from labels like Alternative Tentacles. You'd get records in the post and you wouldn't know what it was gonna sound like before you put it on. We were all the same and that fed into our sound."
Back in 1998, the four initial members of Redneck Manifesto were playing in local bands such as Jackbeast, Hylton Weir, The Waltons and Black Belt Jones. "Maybe everyone was looking for a break from singing," ponders Egan, on the group's decision not to have a singer. "I find when I'm only playing bass and I don't have to sing that I can enjoy the gig a lot more because I can focus on playing my parts and listening to the others."

"We had no conception of how it was gonna be, it just evolved. We actually had a few songs with vocals but for some reason it just never felt right," says Egan, noting that guitarist Niall was originally playing trumpet in the early jams.
Egan rejects the idea that the Redneck Manifesto are the grandfathers of Irish post rock. "There were a lot of bands around that are not as well documented, brilliant bands that were forerunners to us. When I was about 14, I went to a Tension gig and it blew my mind in the same way that hearing Nirvana blew my mind. The idea of a post rock band, it was probably unusual to people who hadn't been going to punk gigs, but for us it was just completely natural, it stemmed from that world that we were all steeped in"
"We tend to get inspired by each other rather than saying let's sound like this," says Egan, on the group's creative process. "Niall has such a unique way of playing guitar, so does Matthew. When I hear them playing, I hear something in my head - maybe there's a subconscious influence - but we've never said let's sound like this band...we jam and at a certain point somebody will look up and say 'Oh this is pretty cool we can keep this.'"
"For me, it was In Hindsight. It's a very beautiful piece of music. I remember when recorded that thinking 'Jesus, that's pretty good', and people from outside our pals started to get into that and then the other bands started to naturally fall to by wayside," says Egan, on the moment he realised that the Redneck Manifesto was much more than a side-project. "Everything grew very naturally and before you know it people know who you are and you're touring around. For us it was a very natural, we've done this we should probably do this next. We're useless at plans"
"It's a democracy, it works well because we love each other," says Egan, dismissing any suggestions that he's the frontman. "If somebody tells you your riff is shit, they're not doing it because they want you to feel bad, they are saying it because they think it's shit and you (have to) trust them enough to go 'okay'. That meeting of minds, arguing for the service of the songs is really good mentally, it helps you solve problems in a non-egotistical way. That's something that helps me as a human being; being in the Rednecks, you're not always number one."   
"The four of us that were in the band originally in the band Mervyn, Matthew, Niall and me, we are lucky we don't step on each other's toes. We find the space between what the other person has done, and I think that's the secret to why it's lasted so long, we complement each other so well. Matthew and Niall have two very different styles of guitar playing, but they are very good in their own way and they combine to make something that's very interesting to listen to. Neil and Glen are like the condiment on the sandwich in a way, they flesh it out, reinforce certain riffs. So, even with six people involved it never gets too bloated. When we're in a room together it's always brilliant that's why I'm looking forward to rehearsing and the gig is gonna be great"
Unlike normal groups where side-projects often signal the demise of the group, Egan believes that they are vital to the longevity of the Redneck Manifesto. "As a musician, you're always learning, you're constantly on a trajectory where you're learning and if you're just doing the same thing, there comes a point when the learning plateaus, but if you're exploring it feeds back into your musicianship," says Egan. "The Rednecks tend to go away from each other for a while and when we come back, we have new things to offer and when those ideas meet, they are more than the sum of their parts."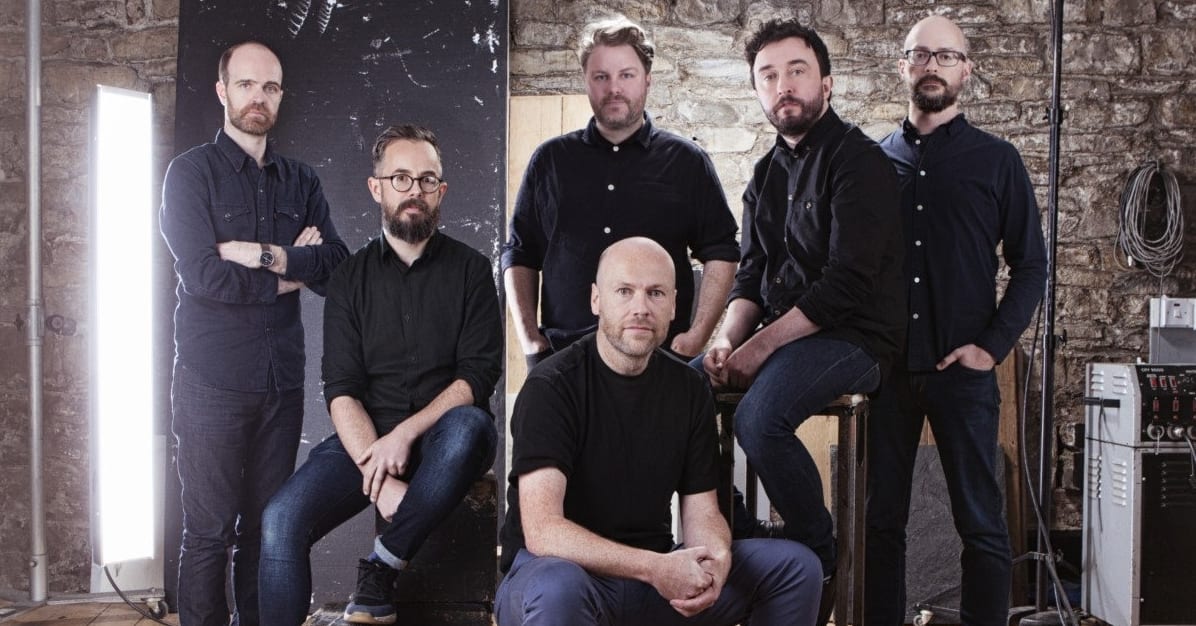 That is not to say that everything has been plain sailing for twenty years. "The one little blip we had was when me and Matthew moved to Sweden and we tried to write together via email, sending each other riffs, and that didn't work so well," says Egan. "There was never a chance that we would split up but we were trying to work out how are we going to keep this going. We eventually came to the realisation that we are at our best when we are all together.  It's all about the chemistry in the room. We needed to come back to Dublin, to jam with the guys, because that's how we write best. When we're in the room together there are times when you're playing, and somebody will play something and you're like 'Holy fuck, that's incredible.'"
"We have little fights about names," says Egan, laughing. "The naming process is probably the most difficult part in being in the Rednecks. Sometimes we'll be talking to each other in practice and we'll say something that makes us laugh. There's a song on our first album called You Owe Me Five Potatoes. Matthew and his brother were having a fight on the phone their parents were away and they were fighting over food. If it makes us laugh it tends to get in there somehow."
So why did a band that's always looking to improve and develop opt to do a retrospective 20th anniversary show?  "I think it probably had something to do with the fact that we wanted to release an album and we needed a fixed point in the future to work towards," says Egan. "It's really cool, to be playing together for twenty years, but we wanted to make sure that it wasn't just looking back, that we had to have something new to look forward as well."
"I think I would be happy with most of it," says Egan when we ask him to hypothesize on how Egan in 1998 would view the band's career to date. "I wish we would've been...more productive, but overall, I feel we've stayed true to ourselves and everything we've put our name on we've believed in."
"We are gonna do more in the next while then we have in the last say five years. I think we all realised how much we need each other, playing together ticks a box mentally for us all and soothes our live in a way I don't think we (previously) understood."
"It's a classy affair, it sounds a little bit puzzling in a good way. Little treats for your ear," says Egan, on the group's new album 'The How', their first in 8 years. "The new album almost feels like classical music, little suites, little sections of moods. One thing I really like is the guitar tone of Matthew - we spent a lot of time working with David Odlum up in Attica Audio on tones in general."
Another lesson The Redneck Manifesto learnt along the way is that silence is just as important as noise when it comes to making music. "Restraint, that's the thing, everybody can't be a fancy man," says Egan. "You have to have a couple of gentlemen and a couple of fancy men. And we take turns at being a fancy man. You can't have six fancy men in a band."     
The Redneck Manifesto play Dublin's Vicar Street on November 30th. Tickets €30.40.