Every year the GoldenPlec community of writers and photographers (50+) come together to vote on their ones to watch for the upcoming year. After pulling the votes together, we selected our 'Plec Picks' for 2019. We have classical artists alongside rap, jazz, pop, electronic, punk and anything in between. Our list strives to encompass a broad spectrum of Irish music in order to highlight the thriving and evolving music scene that exists in Ireland.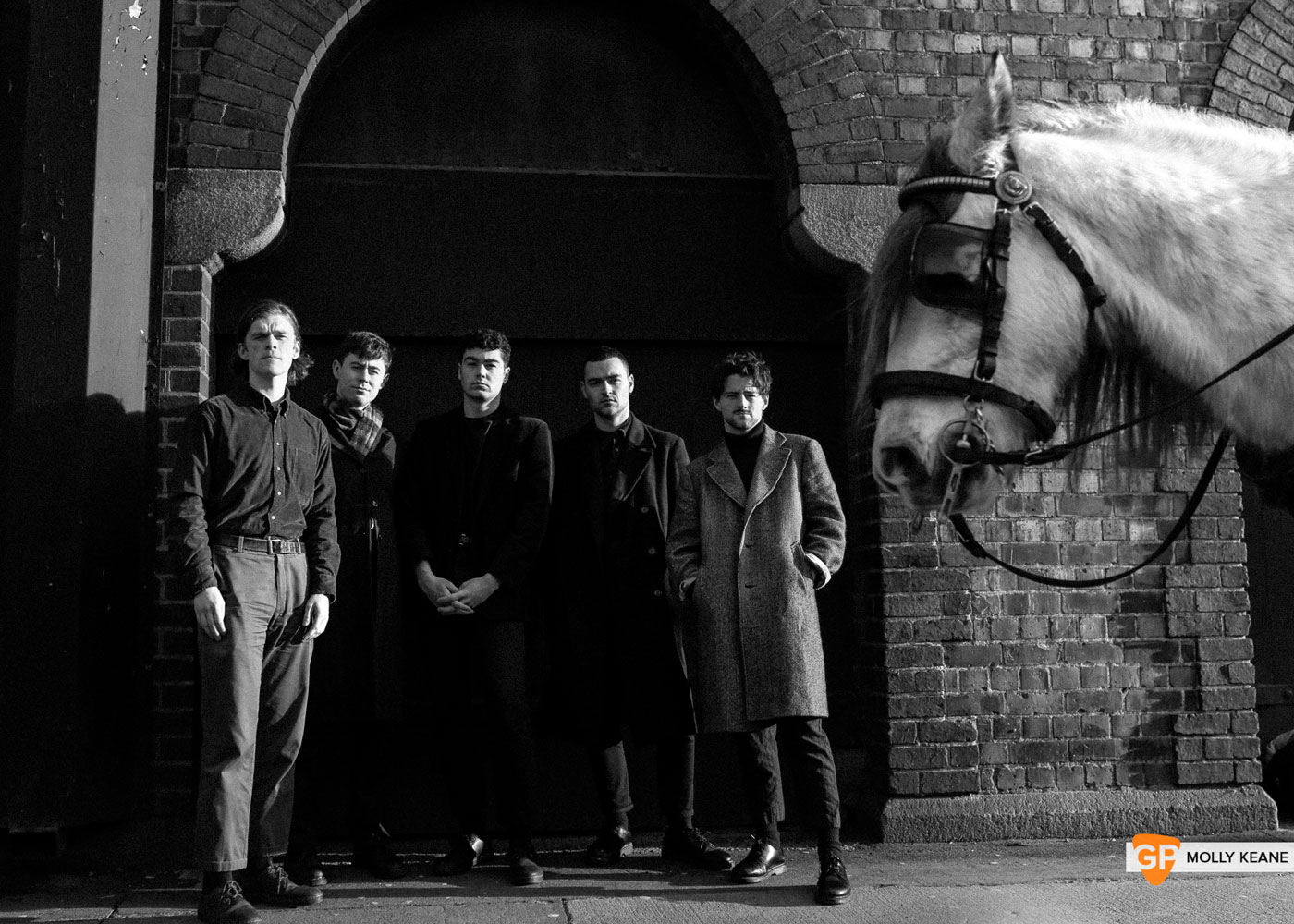 The Murder Capital is James McGovern (vocals), Damien Tuit (guitar), Cathal Roper (guitar), Gabriel Paschal Blake (bass), and Diarmuid Brennan (drums); arguably the hardest working, fastest (and still) rising band in Dublin's fair city. 2018 saw them tour extensively, including headlining shows in Whelan's and The Workman's Club, two separate slots at Electric Picnic and opening a sold-out Tivoli Theatre alongside their best friends Fontaines D.C. and Shame.
"That Tivoli gig I think was indulgent for all 15 of us… just 15 mates playing a show in a building that's about to be gentrified into a hotel" James dryly remarks of the night in question.
We meet James, Cathal, and Damien in Kehoe's Pub in Dublin City; its Victorian style mahogany furnishing and stained glass partitions a strangely apt setting for a conversation with a band with an already fierce reputation for their raw, authentic sound, their uncompromising stage presence and old-school, working class punk image. When broached on the subject, James leaves it up to debate as to whether the latter is a conscious choice the band has made collectively or not.
"I think we're just us. If that comes across really cohesive, that's great. To me, the aesthetic is the band, the music we create, it's the type of live show we've created, our work that will start coming out with releases. As far as style, things like that, we all dress how we want to. We're all definitely influenced by each other's styles. We're aware of style being used to make you feel a certain way or to react a certain way to surroundings or interactions day to day. It's just something we enjoy."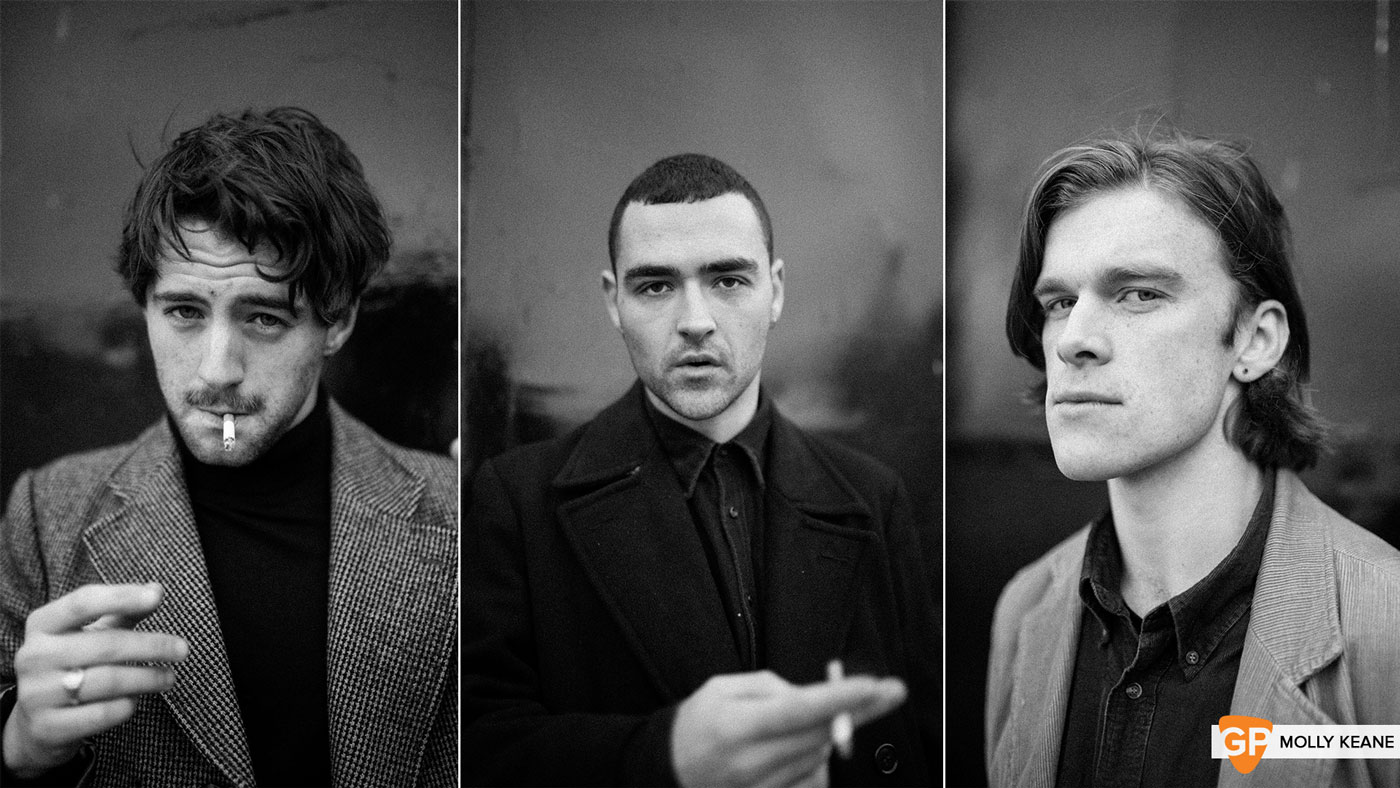 If you'd seen The Murder Capital live, you would assume from their music and live show that they'd been together for years. The musical interplay places tightly wound grooves and interlocking, sharp guitar riffs while the band throw themselves about with reckless abandon, somehow keeping it all together and providing enough space for James' confrontational, ballsy vocal delivery and encapsulating thousand yard stare.
However, surprisingly, we learn that having formed in college where Cathal played in the music class house band and having bonded with James, Damien, and former members Morgan Wilson and Matt Wilson over a shared taste in music; the band's current incarnation has only been together since August of this year. Despite, or perhaps even in spite of this, the band showcase a strong sense of fraternity and chemistry; Diarmuid admitting that meeting his bandmates had been the highlight of the year for him. "I'd been looking for an original band to play with for ages". James jokingly pats his friend on the lap, laughing. "We love you too" he says, before commenting on the year 2018 himself.
"It's been one large highlight, you know, when you look back with rose tinted glasses on. There's been hard times, there's been good times, sort of overshadowed by a certain level of achievement. We're really just looking forward."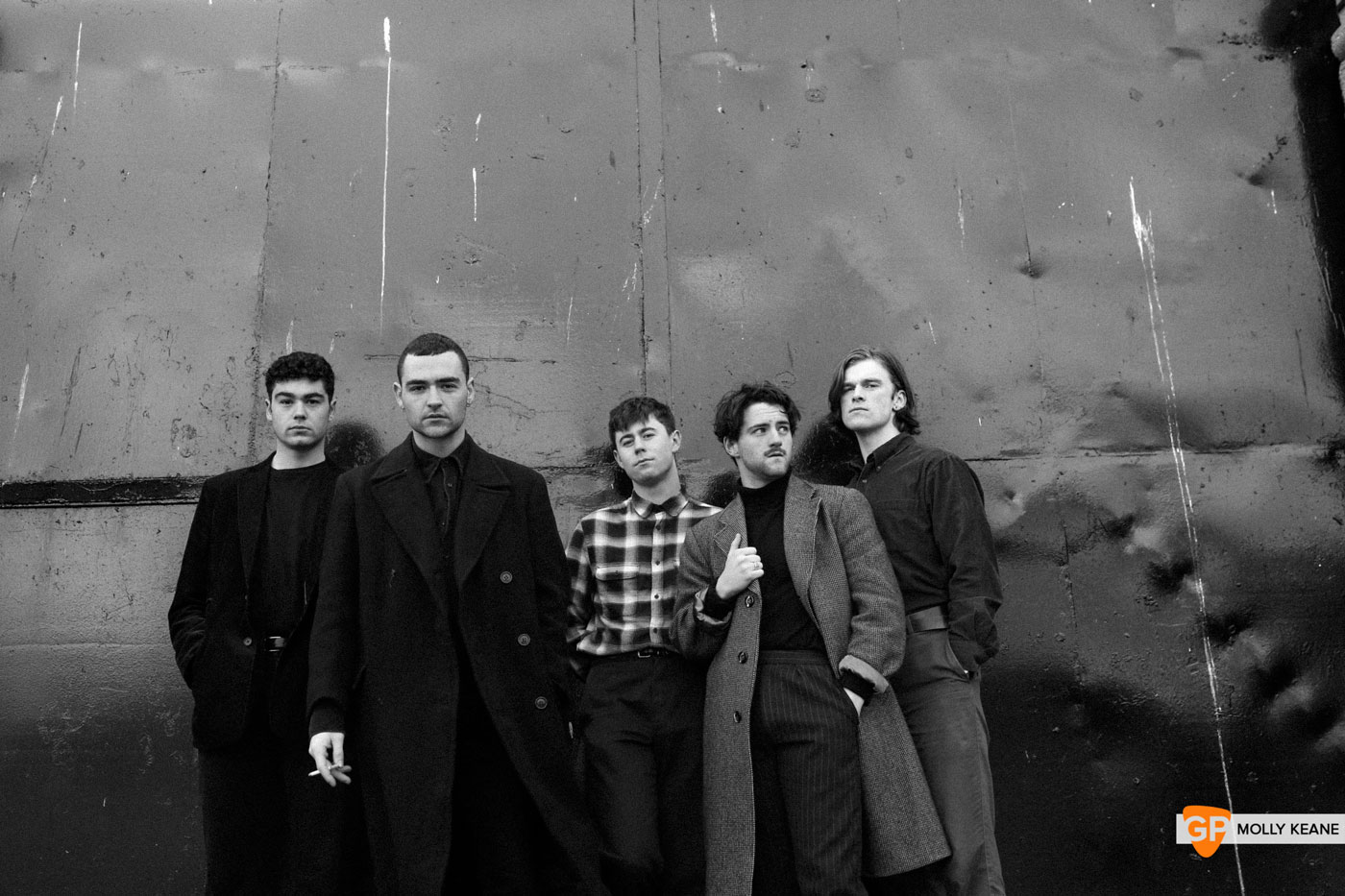 What is important to The Murder Capital in terms of their performance more than their obvious energy and chemistry is the trust between all five members and the emotional response they seek to elicit from their audience. It is this trust in each other that drives their confidence as a cohesive force says Cathal.
"There's no messing up on stage, and if there is something that happens like a string breaks or a pedal's messing up, you trust that the other four people are going to cover for you. The set can be moved or an atmosphere created for a moment to save somebody or bring it back. We're not worried on stage, really, ever."
James' concern is not whether the band are revered or reviled, but rather that the observer is moved in any way, shape or form.
"It's going to work, and people are either going to love us or hate us. Anything in between is in that world where you're maybe not creating great art. Art should be sort of divisive, you know what I mean? We just want to make people feel something."
As exhilarating as a Murder Capital show can be, there are more tender and even touching moments. Prior to a slower number in the band's repertoire at both the Tivoli Theatre and Workman's Clubs shows, James advises his audience to "keep your friends close". This song clearly holds particular significance for the band, bassist Gabriel being moved close to tears while performing at the latter venue. In a tender moment, James embraces his bandmate and kisses him on the forehead while the melodic, driving bass-chord progression that opens the song also closes it out.
"It was written in the summertime, but my best friend took his own life in February," James reveals. "It took a long time to write about that and when I did, I tried to express whatever the fuck that is, and people have their own personal struggles in the band. It's just that kind of song, I guess. I don't know if I've managed to touch on something there. It's not the first time someone's written about it, but it's just the way I wrote about it."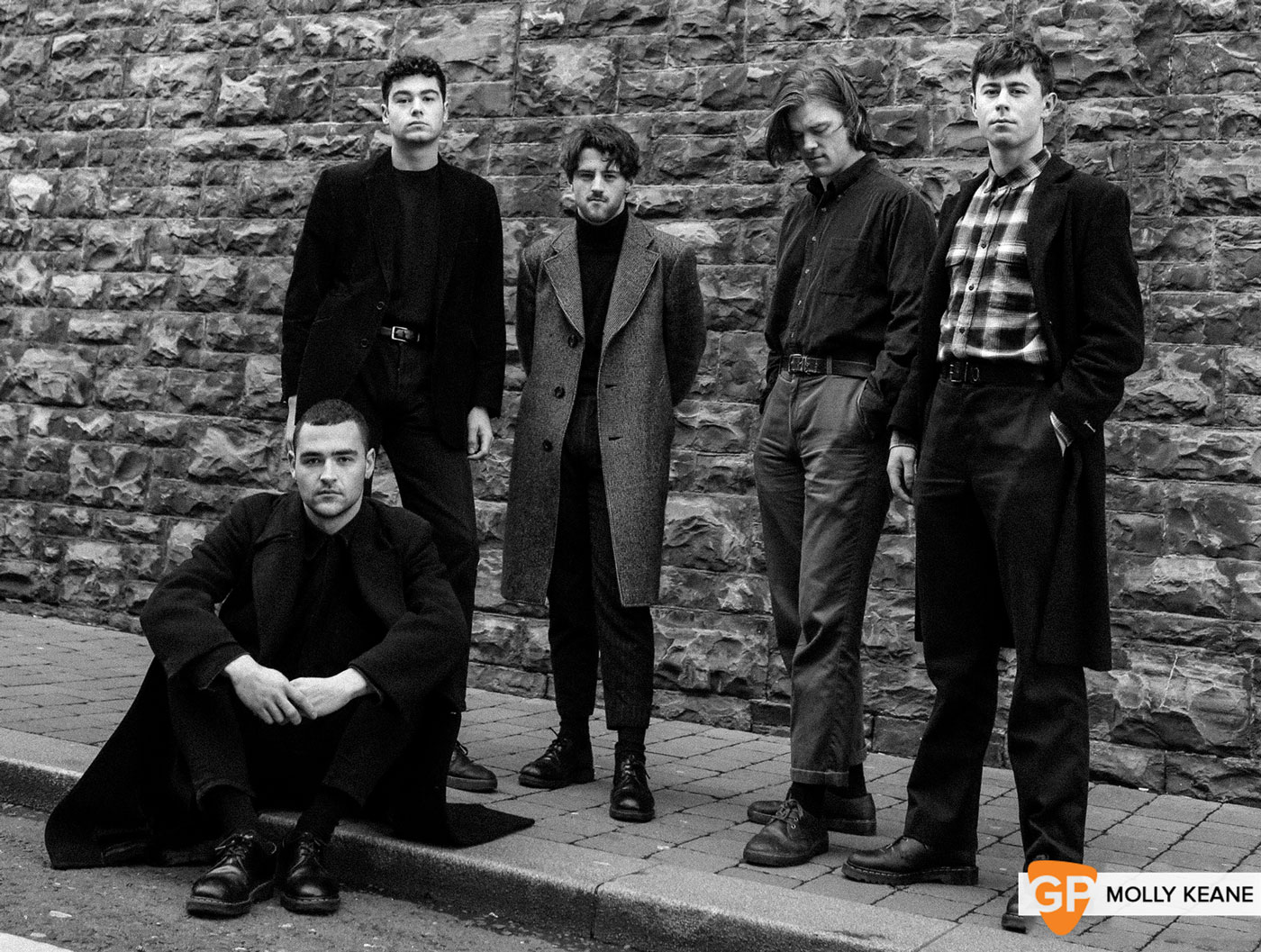 The wider topic of mental health issues in Ireland are of particular importance to the band, even inspiring the group's name, as the conversation opens up; "I guess it's sort of a reflection of the obvious neglect towards mental health in our country and... We don't want to tell people exactly what it means because it can be different to everyone, but as far as the stigma towards and the overlooked, grandiose nature of the alcoholism in our country is an obvious point. I know people who feel their friends or family have died because they weren't able to get the help they need".
Diarmuid joins in "it's a kickass name. It is just that thing that there's a problem when people talk about mental health. There's a certain amount of stigma that's been around but at the same time, there's great carers but people just can't afford it."  James agrees. "Even the idea of being an Irish male allows you maybe to push a lot of things to the bottom, hold a lot of things in. I'm not saying that we have the answers because we don't. It's more that the more we converse about it the more we can untangle the years of neglect."
Though much has been made of the band's evasive nature already (up until the release of Feeling Fades this week their only consumable content being a live session recording for O'Hara's x SOMA), we are very excited about what may come in 2019 from The Murder Capital. With a UK tour and opening slot with IDLES in April already confirmed, we hear from James "We're gonna play a lot of shows, we're gonna release music, and we're going to just keep working hard. That's it. Everything you've come to expect from us but levelled up. We're gonna do what we're gonna do."
There you have it. Stay tuned. Keep your friends close.