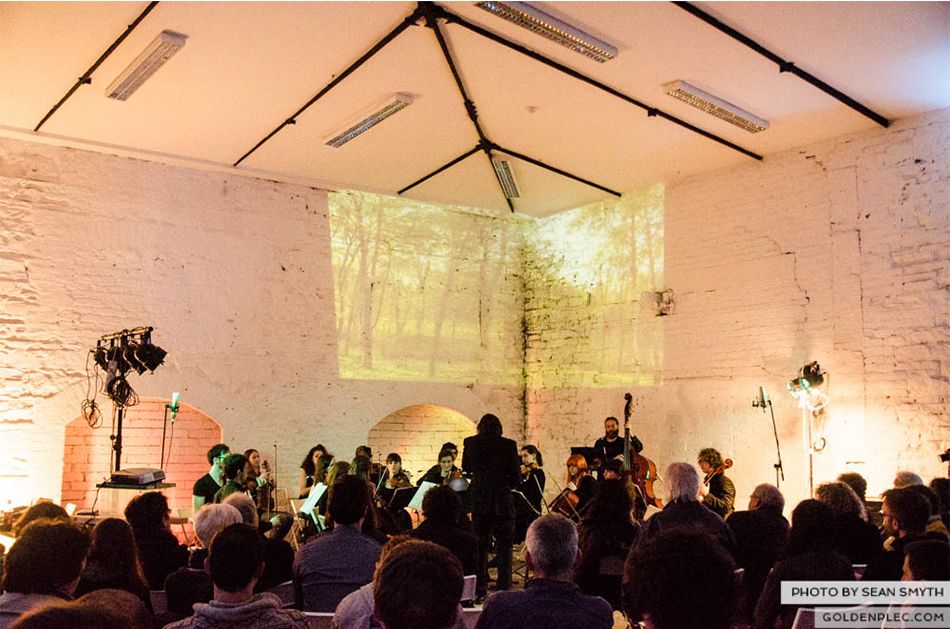 Téada is Dublin's newest orchestra; formed to combat the notion that classical music is elitist, exclusive and unfashionable for young people. The group was initiated by Music graduates and Trinity Orchestra alumni Matt Rafter, Anna Clifford and Tim Doyle. Following a sold out debut, pre-Christmas performance in the Back Loft, Téada returned for a Springtime concert in South Circular Studios.
GoldenPlec sat down with Anna Clifford and Matt Rafter in a stairwell of South Studios, on the eve of their Springtime concert to learn a little more about the initiative.
Téada first came to fruition in rehearsals for Anna Clifford's piece Celestial, which was showcased at the music and art festival See | Hear in July 2013. "It was the summer we all finished University. There was a void of opportunities to play orchestral music after college, or for me to compose and Matt wanted to conduct. There was just a lack of options to do these things regularly in a creative way," Anna said.
The project was born almost accidentally, out of a want and need for young composers and conductors to work together on original pieces. Originally a concert was not even on the cards and the main goal was to provide an outlet to rehearse music together. "At first we just wanted to play music and experiment with different ways in which a string orchestra could work together. Then everyone wanted to do a gig, so we did a gig. Now we're on gig number two," Anna said.
While Téada is led by Matt, Anna and Tim the group also works on a collective basis. They first "contacted every string player they knew" with their mission statement and asked if they would like to get involved, this provided them with a solid core group of members. "It's a mixture of people we knew before and new people" Anna said. In terms of working on a collective basis the group is very much open to submissions from young composers and Matt elaborated a little about what appeals to him as well as the scope for collaboration.
"If you take tonight's gig as an example, I got involved because I wanted to conduct but after this there might be someone else conducting. Elliott Murphy, a cello player in Téada wrote one piece that is being played this evening. It has a solo violin part so that really suits another player Tim who is a traditional fiddle player."
"We try to run the rehearsals a bit differently than usual classical rehearsals are run and make the process a little more democratic," Anna added.
Speaking on the difficulties many people encounter in getting involved with the Irish classical music scene either as a player, composer or conductor Anna had the following to say:
"The professional classical music world can be very insular and inaccessible. There's a certain amount of elitism. People might think classical music is inaccessible but we believe there's an appeal to it. We would like to present it in a way that's inviting and as entertaining as any gig of any other genre."
"One of our main goals is to get away from the stuffy insular scene that exists and that's also part of the mission statement of Rob Farhat's and Rob Kearns' new endeavor. They've really helped us with this gig," Matt said.



Rob Farhat (previously Artistic Director & Marketing at the Web Summit) and Rob Kearns (previously Music Coordinator for Heartbeat of Home by the producers of Riverdance) have founded a new project to assist young Irish musicians, with a focus on working with those coming from a classical music background. They are currently assisting Téada with various PR, production and coordination elements.
"They were involved with a certain amount of the production in the last one but came in late in the day whereas with this one they've helped from the start. Rob Farhat is so good at promoting gigs and getting it seen in the right places and Rob Kearns is just the ideal person to have doing production for a gig," Matt said.
"Yeah, I love planning gigs, creating a programme and rehearsing the music but in terms of promoting and producing a gig they would just do it so much better than we could ever manage," Anna said.
The Trinity Orchestra is something Matt, Anna and Tim all have in common and is well known in Ireland for orchestral covers of Daft Punk and Pink Floyd, but in terms of classical music, what did the trio learn from their experience in the hundred piece orchestra?
"Yeah, it taught us a lot of things about putting on good music but it also taught us some of the stuff that we'd like to stay away from. Like, we love that this is a smaller group," Matt explained.
"I also helped run a show called NODE in my final year in Trinity," Anna said. "What I learned is the most important player is one who really wants to be there in any setting and play anything. If they're willing to be there and work at things they need to work at that's really important and valuable."
The programme for the Springtime Concert included Celestial by Anna Clifford, Ar Na Coillte San Fhomhair by Elliot Murphy and excerpts from Grieg and Bartok. "We thought a bit about the programme and the last one was quite Christmassy, so for this one we thought about Spring. The idea of darkness to light. We wanted people to have an experience," Anna said.
"This programme isn't a million miles away from the last one. We're looking at future gigs and maybe incorporating to a greater degree other elements that exist within the group such as trad and improvisation. We'd love to do things with film and trad," Matt added.
Film and visuals is something they have already experimented with. For the Spring concert the rustic setting of the Laundry Room in South Studios was kitted out with multi-coloured lighting. A times lapse video of a springtime scene was projected onto the walls and roof above the Orchestra.
"What's even more fitting is the sun is out today," Anna said.
"Yeah this morning when I woke up and drew back the curtains I just thought there's definitely a twitter post in this but we stayed away from doing a cheesy post," Matt said.
"There's still time though" Anna laughed.
As we wrap up the interview Anna and Matt return to the evening's soundcheck and rehearsals before welcoming ticket holders into the venue with a Springtime cocktail.
Check out our review of the concert here and follow Teada on Facebook and Twitter for updates on their next performance.