Swimming Tapes are a London based quintet peddling sun-soaked, daydream melodies in the tradition of Real Estate. Four of team Swimming Tapes come from Northern Ireland, with drummer Andrew Evans hailing from England.
The Northern Irish cohort of Robbie Reid, Jason Hawthorne, Louis Price, and Paddy Conn, had played together in previously in acts such as Kowalski, but when they all found themselves bandless in London for various reasons, it seemed only right and proper that they would play together.
Things came together quickly for the quintet who were creatively reinvigorated by their new venture, releasing the 'Souvenirs' EP, produced by another Northern Irishman and former bandmate Paddy Baird (Two Door Cinema Club, Warm Digits).
A subsequent EP ('Soft Sea Blue') and 13 million plays on Spotify later, Swimming Tapes are set to release their debut album 'Morningside', due 24th May via London indie label Hand In Hive. 'Morningside' was mixed by Tom Schick (Wilco, Nora Jones, Glen Hansard) at Wilco's Chicago studio 'The Loft'.
We caught up with the band ahead of their Dublin live debut in Whelan's on April 5th to talk about their journey from NI to London, and why they walk on the sunny side of the street.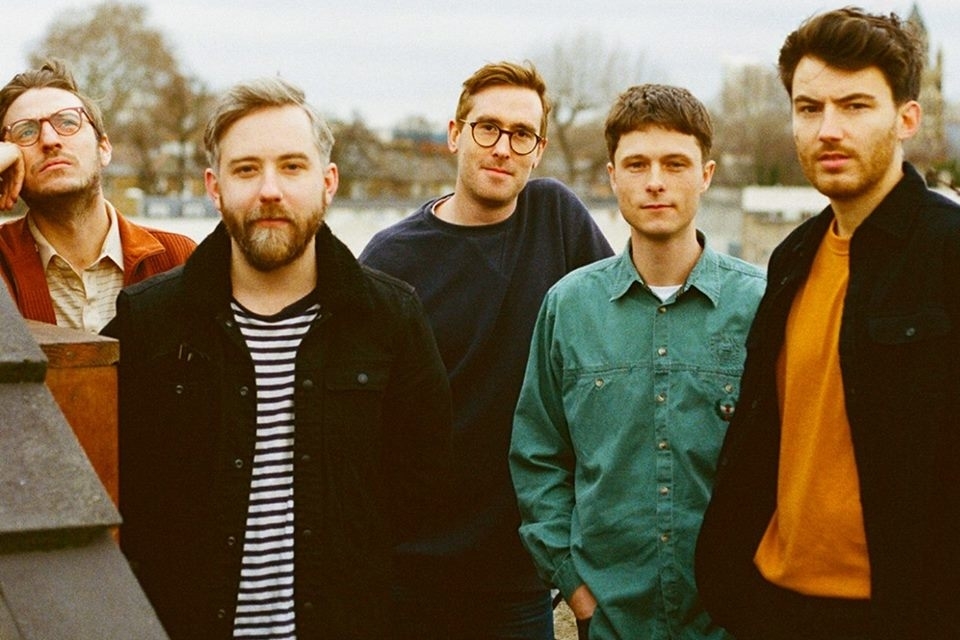 Why did you decide to make the move from Northern Ireland to London?
Jason Hawthorne: "Robbie and I initially moved to London for work and Lou and Paddy moved over to work on Kowalski. When that fizzled out, I had the idea to start a band with everyone as we had all been in bands together in some capacity in the past. And who doesn't want to be in a band with their close mates - it was the perfect scenario."
Does your affinity for sun-soaked melodies stem from the lack actual summers in NI?
Jason Hawthorne: "Being from Northern Ireland summers aren't the best, especially where I am from in Armagh - more of a concrete jungle vibe. Lou, Paddy and Robbie are from Bangor and I think naturally with them hailing from a sea side town really influenced their sun-soaked creative juices."
You've been in London a few years now. How has being away from home changed your perception of Northern Ireland?
Jason Hawthorne: "I think being away from home for so long has sparked a  very nostalgic note with my memories of NI. The longer you're away the more you reminisce about the fun memories and less about the bad. Ireland as whole is a pretty beautiful place. You also realise how crazy busy London is and how peaceful NI is."
Following 2 EPs your debut album 'Morningside' is set for release later this year why did you chose ex-Kowalski man Paddy Baird as producer?
Jason Hawthorne: "It was a bit of a no-brainier really when it came to getting Paddy Baird on board as he worked on our first EP too. Paddy has been a close friend of ours for years and working with him is a really chilled and fun time - plus he's a super talented old goat. He's available for Bar Mitzvah's and weddings."
Where does the title 'Morningside' stem from?
Louis Price: "So it's actually a street just around the corner from where Paddy used to live in Bangor, one of our friends (Cree) lived on it. It's just a nice combo of words really, that we felt summed up the vibe of the album well. A few lyrics on the record are influenced by our memories of growing up around there and getting up to various mischief so it was nice to tie it together like that."
Pyrenees is the first taste of 'Morningside' - why did you feel it was the perfect taster to introduce the album to people?
Louis Price: "Well we wanted to try something a bit different and thought it was a cool vibey way to introduce people to Swimming Tapes: 'the album'. It sort of covers most areas that we like about the record except squashed down into a little two and a half minute blip. It's certainly not the most upbeat song on there but it's just a nice simple guitar pop song, hopefully people dig it."
You guys signed to Sub Pop Publishing last March. How did that come about and how has the backing of such an institution helped your career?
Paddy Conn: "Well it was a big surprise really. It was so surreal signing on the dotted line as it really is a dream label. It's been great as it helped us record the album and get it mixed by someone whose work we really admire."
Your record sleeves to date have a lovely vibe and some of your songs such as Tides make nautical references, but how careful are you not to drown Swimming Tapes' output in water references?
Paddy Conn: "I can speak for the artwork as I actually do our designs. That vibe you mention is probably me just trying to translate visually the mood of the music. That escapism feeling it gives me is important to the artwork. Three of us grew up by the seaside so it will appear as a theme sometimes subconsciously. Those nautical themes are born out of those memories, not just the band name. The art concepts are mostly interpreted from song meanings and lyrics. The designs usually depict a feeling of space and a pause for reflection."
If you guys could collaborate with a guest vocalist or musician who would it be and why?
Andrew Evans: "Literally today Younghusband have released their first song in about four years, so I'm really vibing on that today. Their last record was flawless and it seems that they self-produced their new one in a barn they have in London. So I'm gonna say we'd happily collaborate with them on album number two, if they'd have us. I'm sure it would be fun to work with them."
You guys are coming to Dublin soon for a gig. what can people expect from your current live show?
Andrew Evans: "We've actually never played in Dublin before, so it's something we have been looking forward to for a while. The live show on this upcoming tour is gonna be a really fun. With an album coming out with 11 new songs on it, plus the 9 we've released already we suddenly feel like have a lot of songs to choose from. It's gonna be a nice mix of old and new."
Tom Schick mixes the album at Wilco's Chicago studio 'The Loft' - did you guys head to Chicago for that process or did you just have to trust his expertise?
Robbie Reid: "No, we couldn't afford to go to Chicago! Initially we chatted to Tom on Skype about what we wanted. When he started mixing he would send us a track via email, we would all listen, make notes and send feedback. As he was mixing it all on an analogue desk, we had to do one track at a time, it would go back and forth across the web until it felt done. Thankfully the time difference worked in our favour because we would be finished our day jobs and were home while he was working in the studio, which meant we could keep dialogue going while he was mixing."
What songs are you most excited for people to hear on the album and why?
Robbie Reid: "Tough one to answer, I like a lot of the songs for different reasons. I Really like Passing Ships, possibly because we only finished it before we started recording and it felt very fresh. In the studio we were still working out parts, though on record it's turned out one of the songs we were happiest with. Silhouette has this upbeat pop verse with a lovely vocal melody from Lou, but the guitars in the chorus bring something I haven't heard from us before, a bit of a different flavour which I like."
Swimming Tapes will bring 'Morningside' to Whelan's for an intimate show upstairs on April 5th. Tickets €13.00.
'Morningside' is available to pre-order here.