Every year the GoldenPlec community of writers and photographers get together for a natter about which artists we expect to explode on the music scene in the year ahead. We have selected our 'Plec Picks' for 2015 and the list encompasses a wide range of artists, highlighting some of the best bands and solo artists currently active in Ireland.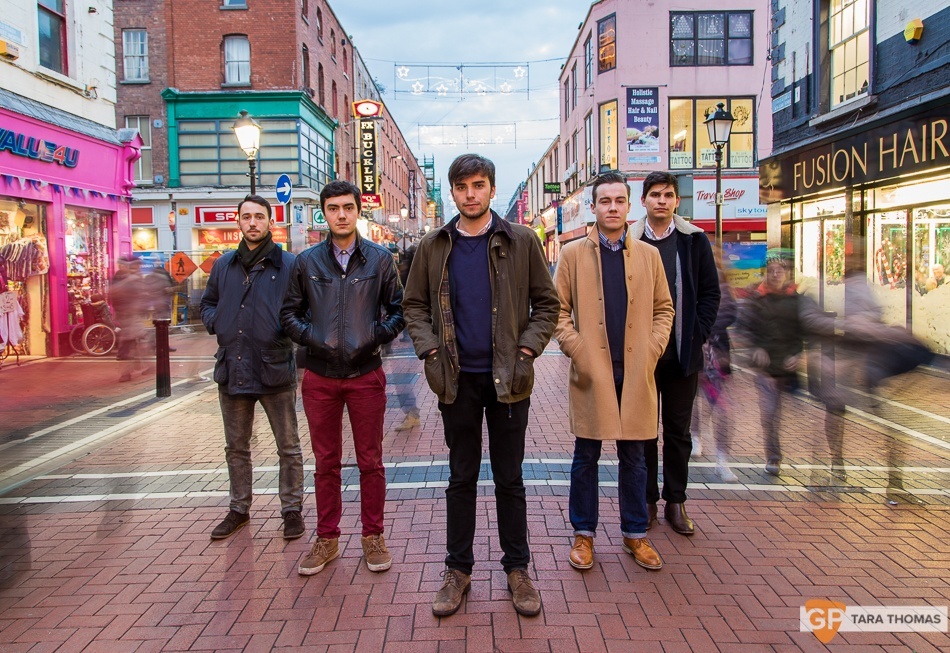 In the world of indie rock - the gaping abyss of guitar music - it's pretty damn hard to make a name for yourself. Resisting the temptation to resort to gimmicks or to follow any number of rock band formulas is certainly a struggle. It really is an achievement to stand out from the masses, and few know this better than Irish band SPIES.
Taking a fresh approach to their genre, SPIES combine a calculated haze of guitar, feverish drumbeats and a controlling baseline. Tack onto that some booming vocals of artisan lyrics and you've got the SPIES package. These five talented, down-to-earth Dublin lads make a perfect Plec Pick for 2015.
Get The Gang Together
As a five-piece, the band have a lot of different ideas and opinions floating around when it comes to songwriting. "Neil works on the melodic bass side of things, Jeffrey would try and take a step back and hear the drums in his head, Hugh [guitar] would be with Neil more so... and then I don't play anything for ages and just come in with the cherry- the sparkle!", guitarist Conor explains. "Oh, and then I think Michael [lead vocals] says a few things?."
The bands history together reaches back to their childhood. Jeff and Michael were in a boys choir that Neil's father ran, and Conor met Neil in church at the age of 8, "so a lot of religious backgrounds for some weird reason". And does that religious grounding filter into the bands work today?- we ask sarcastically. "I think Michael probably has some sort of religious thing in the lyrics and stuff", they joke, "like a lot of Lord of the Rings, he loves Lord of the Rings".
The process of becoming the songwriters they are today took time. The guys tell of how they each play the principal songwriter role, "but within our own instruments".  What started out as "a lot of noise" improved as they learned to let the initial song idea ferment, which has led to a change of sound over the years. "The earlier stuff was so easy to relate to bands at the time like Editors and stuff. As we've developed, it's always trying to get away from that, while still keeping some of the elements of that kind of 2005, indie, English kind of thing".
Dublin Life
When the band started a few years back, the five were all still students. The "college bubble" helped them get off the ground. "We ended up having loads of people coming to our shows – friends and that sort of thing". But now effectively out of that bubble (with only Michael and Hugh left in final year), they are still experiencing growth. Neil explains - "There seem to be people I don't know that like my music, and that's great!".
This could possibly be one of the advantages of belonging to a music scene in a relatively small capital city, the band seem to agree - "it's definitely easier to be an Irish band, than to be, say in London or New York". The limited size affords many opportunities, "You can quite easily cut your teeth, you can get on the radio, get on sites like GoldenPlec, get photos taken, learn from all those things because it's a smaller pool", stressing how supportive the industry here is of Irish-grown talent.
More important again is the issue of motive. "In other cities, the industry is structured differently. People are more in it for the right reasons over here." Jeffrey breaks it down for us - "nobody over here knows they're going to make it. So there's no worry about vested interest, being 'in it for the money'- There is no money!".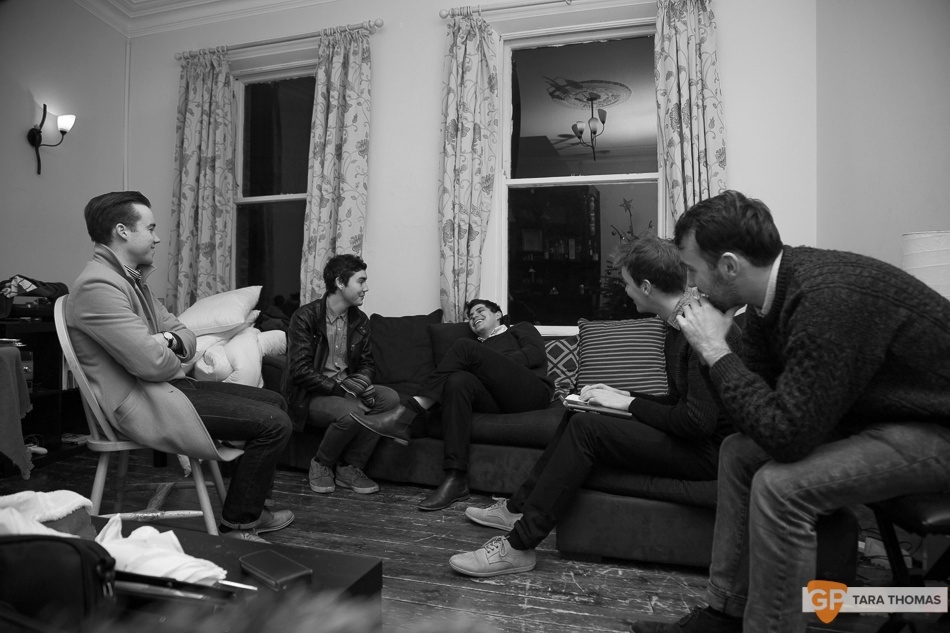 A Fresh Start
Being musicians while trying to concentrate on college is tough for Hugh and Michael, but it's equally tough for the rest of the guys who work nine-to-five. "You kind of lead a double life, in many respects"- like a Superhero? "[laughs] you could say that. You just really have to be able to split your mind between two different places".  Getting time off work for gigs and co-ordinating time to practice can be tricky, but as Jeffrey says, "it's never a chore because I always think; what the fuck else would I be doing when I come home after work everyday?"
Setting themselves up for a busy 2015, the guys have an EP launching in February. "We shot the first video a few weeks ago, for 'Quincy Morris', and then we've got another video coming out for the lead single- Sea Creatures."
On top of this, we're told the lads are also working towards a debut album release next year. "We're all really excited about it, about working towards it."
But before they get that far there's some touring to be done. "I'd like to do a tour say March/April. For me, that's what I'm most excited about", Conor announces. "When the guys finish college, that's it- clean slate. Play as many shows as possible."