When we catch up with SOAK for a brief chat about her debut album, she's between flights. She's just gotten back from appearing on Jools Holland alongside Lianne La Havas, Father John Misty and Paul Weller the night before, and is about to jet off to The Great Escape Festival in Brighton later that same day. After that she's got a couple of tours coming up. Then festival season. Then another tour.
With a new album set for release next week, SOAK is all go. She's booked up with gigging and promo-ing her first LP 'Before We Forgot How to Dream' "…till January."
"It's intense," she says, but she loves it. Her first appearance on Jools Holland (a show she's been a fan of for years), was a real "dream come true type of thing."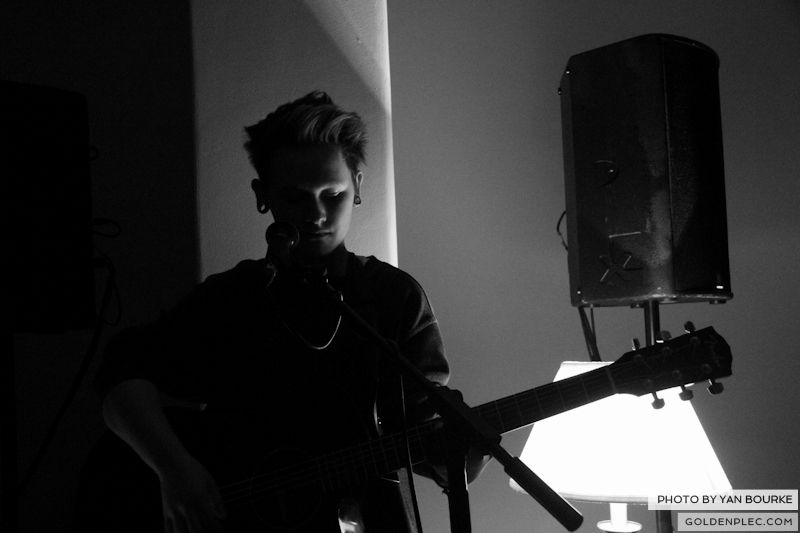 It's been a "surreal" few years for the singer-songwriter from Derry, who turned 19 in April. Bridie Monds-Watson got her first guitar when she was 13. Her big brother had asked for a drum set for Christmas, but received a guitar instead. He "learned one song and gave up," says SOAK, "so I was like, 'sweet, I'll take that'."
Her Dad taught her how to play, and pretty soon she was writing her own material. "I'd always been writing creatively, from quite a young age, and I guess when I started playing guitar, songwriting just came naturally. The things that I'd been writing on paper, I just started singing. And then I continued to do that."
Those things she'd been writing on paper became the searingly honest and emotive stream of consciousness lyrics that have been evident from SOAK's first tentative releases. "It's all about me," she says, "It's all about my experiences, stuff that I see. That's what I write about."
SOAK describes her writing as confessional, explaining how she "writes whenever I feel I have to explain those things to myself, or other people. And that's the easiest way for me to talk about things, is to do that."
Fast forward six years later to right now, she's signed to Rough Trade Records, about to release her first album and making waves on both sides of the Atlantic. For 'Before We Forgot How to Dream' (produced by Villagers guitarist Tom McLaughlin in his studio in "the middle of nowhere" in Donegal), found herself going back to SOAK some of her earliest releases.
Sea Creatures was the first 'hit', a melancholy tale of bullying and isolation that struck a chord with young and old alike, but SOAK admits she was "never happy with the original recorded version… I thought it was pretty shit." She'd "grown fed up with the song after playing with it for so long", and was reluctant to include it at all. However at her manager's encouragement, and with McLaughlin's help, she made an attempt at rearranging the song, ultimately producing a new version which SOAK says she loves. "It gives off everything that I wanted it to sound like."
The important thing about revisiting songs written at the other end of her teenage years, was to "stay true to the moment they were written in… so I didn't try to change anything too drastically. But I wanted to make instruments a lot more interesting for me personally, and for an audience who might have heard some of the songs before."
"Anyway," she admits, "it wouldn't be my debut record without them. So I had to have Sea Creatures there, or Blud or B a noBody, they kind of had to be there. Just because those songs have done so much to bring me out to an audience. And they're at the start of the record because they are sort of introductory… they're the easiest put across. I think people get those a little easier… like a lot of the songs they'd have to listen to a few times to get… so I think the first couple of songs in it are grasping things…"
But 'Before We Forgot How to Dream' isn't all looking backward. There's more new stuff than old stuff. Dive a little deeper into the album and you'll find as yet undiscovered layers of significance, as sharp and affecting as anything SOAK's released to date. With the album ready to hit shelves next week, SOAK admits that, "everything's just fallen into place."
She may be making new fans with every passing second at this point, but that doesn't mean SOAK is ready to give up the personal touch just yet.  She's passionate about the fact that she does her own social media accounts, and, more importantly, that the SOAK people see on Twitter and Instagram is the real Bridie Monds-Watson. "I think the interaction is cool," she says, "to actually be able to talk to fans and stuff like that." It's also just "fun to mess around with. It's just another stream of consciousness thing, in a way."
Anyway, she adds, "nobody buys magazines anymore. Nobody cares about tour posters and magazines… people find out all about that stuff online. In the modern day it is necessary for all bands to have an online presence. Because that's where people get their information from. So many frickin band accounts are so obviously run by their label… it's ridiculous. But then they'll say that they write it, and you're like 'no they don't, cos nobody talks like that!' It's really weird that social media departments [for some artists] will be like 'hey guys! Here's a really impersonal post! The end!' It's like the messages are all already pre-written up with 'put band name in here'."
So of course I end up posting "gig photos and real career-wise things, but I'll also post things that are just stupid and funny… because they're stupid and funny."
Given this passion for genuine fan interaction, we asked SOAK if she'd mind answering a few questions some of her fans had tweeted to us.
"Okay," she says, laughing. This is apparently a bit of a break from what she's used to in interviews.
@guyserious what's Soak's favourite kind if cheese?

— Rich Hurst (@richhurst600) May 12, 2015
"Gouda. That's kind of boring, I'm sorry. I really like smoky cheese. With the amount of travel I've done, I haven't actually got a chance to try that many cheeses, but I will taste some more and I will get back to you."  
@guyserious @Soakofficial Favorite venue you've ever played at? and best thing a fan has ever gave you — woah (@justpolaroids) May 12, 2015
"Probably the Olympia in Dublin. Cos I went there like a few times before I played there. I saw Foals there one time and I was like, imagine playing here. That'd be mental. Then a couple of months later I played there with Chvrches. So I'd love to go back there and do my own show."
"I've gotten some weird stuff. In Berlin I did a show and guy gave me a printout, and it's just this one photo of a car number plate that says SOAK and it's just this one sheet of paper with a really shit photo on it, and he gave me it in a folder, and I was like, did you just go and get one photo printed, fair play to you! I've been given sweets, bowties, necklaces. But that photo, it was really cool, but it was strange."
And finally, a fan who's since disappeared from Twitter asked: "Where did the cover art on your album come from?"
"We did a photoshoot, me and a guy called Joshua Halling… he shot a lot of stuff, all my press photos are done by him. Actually he shoots on old cameras and on film… I don't think anything we've done together has been on digital cameras. I really like that idea… if you look really closely you can see the grain, which is cool. And I'm obsessed with the whole black and white thing."
'Before We Forgot How to Dream' is released on Rough Trade Records on 1 June. You can pre-order the album here. SOAK plays The Empire Music Hall, Belfast on 10 June, the Pepper Canister Church, Dublin on 11 June, The Rosin Dubh, Galway on 12 June and Triskel in Cork on 13 June.