The last time we saw Slowthai, he was stripped to the waist and centre-stage at The Academy, his glistening, tattooed torso reflecting the backdrop of bright red flashing LEDs. A sign of the times, we find him in a much less glamorous environment this time around, coming to us via Zoom from his lock-up. Behind him, a shelving unit stacked with shoeboxes and other miscellaneous items.
The man himself, this time dressed in a rather comfy looking blue and yellow hoodie, is in flying form despite the day he's had. It's international press day, and he's got an album to promote, so he's got a busy few days ahead of him.
It's hard to believe that show was almost a year and a half ago; a night on which Slowthai told his audience "It's good to be home". He takes a moment to reflect on his own personal connections to Ireland.
"It's my Dad's side, innit? The heritage runs from that side. I've always just been in touch with it. My stepdad, his Dad was Irish but his family have kind of lost it but I know my roots and I know it's right there so."
While he's no doubt been at it all day, 25-year-old Slowthai's charm bursts through the screen. He grins cheekily all the way through our conversation. The Northampton rapper got his moniker from his now signature slow, almost slurred speech pattern. His wit, however, is sharp and quick. He's incredibly easy to speak to. Wind him up and watch him go.
Our conversation is mostly centred on his upcoming album, 'TYRON' but we do wander off topic occasionally. While lockdown has, fortunately, been a busy time for him, we talk briefly about how his interest in motocross has been affected by social distancing requirements.
"At the beginning, we took the bike out but then I didn't go for a week and then [my friends] all went and the police came, they had a helicopter so I haven't been [since]. I ain't trying to get my bike took.
"I love a chase but I don't want that to be the news: 'Northampton rapper caught in a high speed chase around Northampton'. It'd be funny as fuck, I'd probably have a video where I'm like 'fuck off' [pumps a fist fixed in a middle finger salute] but I'm trying to be good."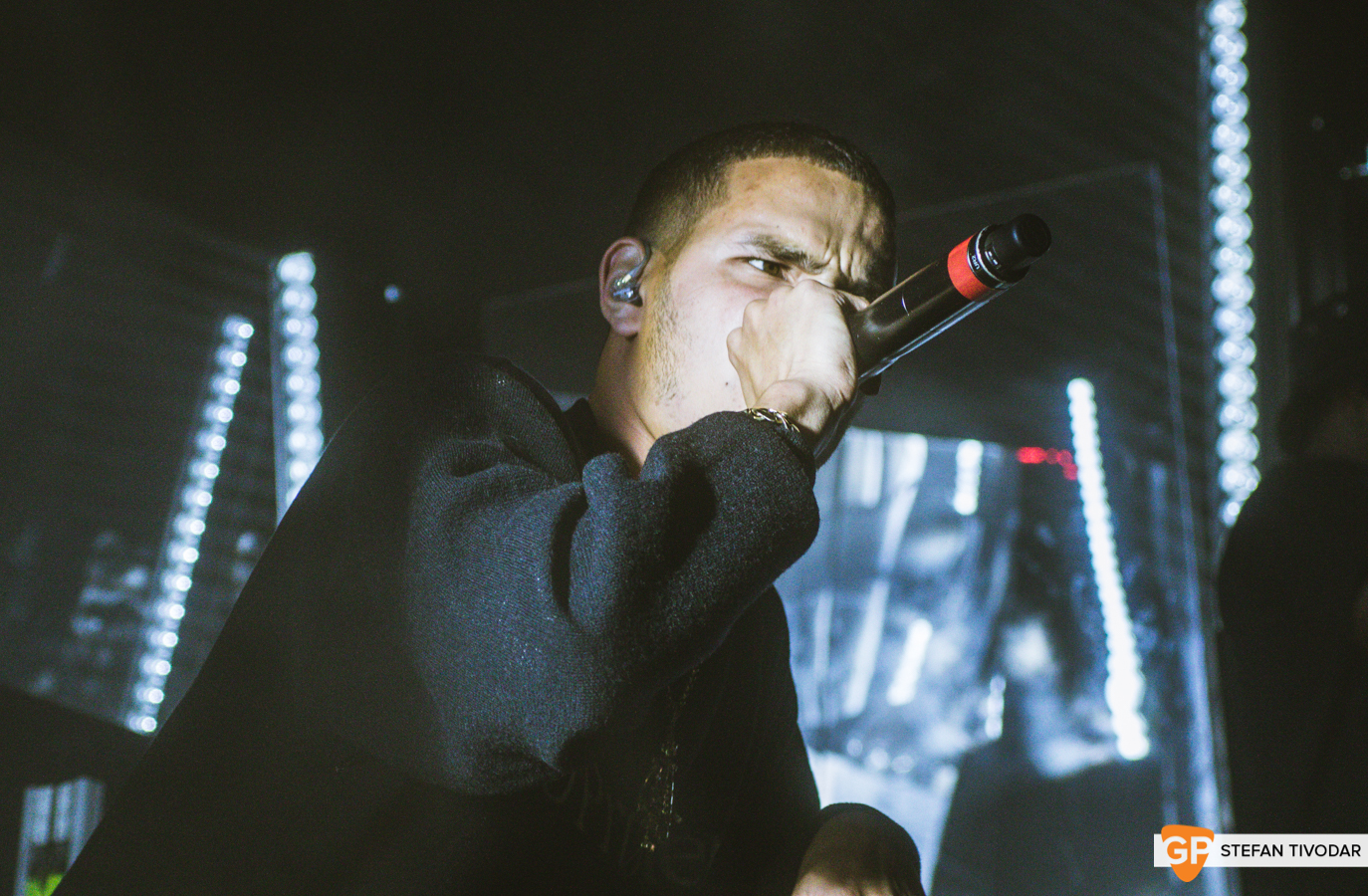 Being good all the time isn't easy. Slowthai knows this all too well. If you know him for reasons other than his music, your impression of him is likely a negative one. His character can, and sometimes has, overshadowed his talent. His debut album 'Nothing Great About Britain' melded grime with punk rock in all the right places, earning him a nomination for last year's Mercury Prize.
Performing at the awards ceremony, he waved around a sculpture of Boris Johnson's severed head. Dubbed a 'sick stunt' by the usual tabloids was all well and good but it was another awards show incident that almost broke him. Winning Hero of the Year at the typically messy NME Awards, his performance was high octane as ever; mooning the audience and crowd surfing. However, when accepting his award, a joke between him and comedienne Katherine Ryan went horribly wrong, taking a turn for the sleazy. Some in attendance threw items at him, he dove in to confront them.
The ensuing social media frenzy was damning. Slowthai was slammed for his aggression, but was also labelled a sexist and a misogynist by a jury of his own peers. He apologised, had his award delivered to Katherine Ryan, who handled the situation with much grace and dignity, stating that she was not uncomfortable and that they were both in character.
There isn't much to say about the whole affair that hasn't already been. Slowthai spoke candidly in conversation with Vice about the perils of cancel culture, stating "we live in a world where these things actually happen and hurt people and leave people feeling repressed and suppressed or pushed down".
Recently, he told The Guardian "I can understand how it can be presumed insensitive and I've learned from that. But if she's initiated the joke and she can find humour in it, I don't understand how so many people can say: 'Oh she's just saying that.' You're eradicating any value in what she says."
It's come up in his music, too. Last May saw the release of the standalone track ENEMY, putting the detractors on blast ("Keep my name out your dirty mouth / Fightin', don't know what you keep on cryin' 'bout") and now on 'TYRON', we have the inflammatory CANCELLED featuring "big bro" Skepta ("How you gonna cancel me? / twenty awards on the mantelpiece / Pyramid Stage at Glastonbury").
But the album sees a pensive take on the backlash, too. On i tried, he laments "If hell is meant for sinners, heaven's never been for me", while on push he is accepting: "same ones that'll praise you up be the same that'll say you're done it's all love"
The album is a testament to the duality of humanity. Like his life biopic as we know it, there are two sides to the story of 'TYRON'. Side A is all hyped and aggressive, like the Slowthai we're familiar with. While Side B is more personal and self-reflective, offering a first-time glimpse into the complexities of his being.
"It's mad because last year was such a write-off, I keep thinking it's still the year before that," Slowthai laughs, as we get into the recording process for 'TYRON' "So it was like towards the end of the year before last and then all throughout lockdown and I think we finished by June."
The album was recorded across several locations, Slowthai reveals. New York, Los Angeles, London, his own home studio in Northampton. "That's a mad leap, innit? Electric Ladyland, where Jimi Hendrix lived, and then back in my Mum's basement."
The idea of splitting the album into two halves came after the songs were recorded. "I think it just made more sense. It kind of sounded like we had two separate projects and a lot of the songs flowed better together than a lot of the other songs.
"We just wanted to change the format so it's not: hype song, soft song, two hype songs, two soft songs, two hype songs, another soft song... It kind of allows people to go to what half they gravitate to more."
'TYRON' was admittedly not supposed to see the light of day until a later date, with Slowthai having already planned an album he described as being "more about the irony of life".
However, having taken the time to reflect during lockdown, he decided that this album made more sense to release. "It's been very eye-opening but refreshing. It's good to take a bit of a chill sometimes, you know? Because of the time we're in. I feel like everyone's mental health's being tested more than ever. Mine definitely was."
feel away, the first single taken from the album, was released at the end of last summer. Featuring guest vocals from James Blake, and production from Mount Kimbie, it was a sneak preview to the more introspective, reflective side of Slowthai. The track was recorded remotely, with Slowthai working with Mount Kimbie in Los Angeles and James Blake recording his additional parts separately in New York.
Support and praise for the track went far and wide, it still being on rotation on the BBC Radio 1 B list. This, however, came as no surprise to Slowthai.
"You know when something is good, being someone who listens to music quite a lot. I was just like 'that's just a slapper, I don't give a fuck'; even if it's mellow and really chilled out, it's probably one of my favourite songs. I'd already done my bit and it was like the day after, we sent it to James.
He was in New York and he was instantly like "aw, this is sick". Next day, he had it back to us done, with an extra bit on it. Dom [Dominic Maker of Mount Kimbie] came and he played it and everyone was like 'aw, shit!'."
The album track-list features a who's who of guest spots. Slowthai is of course no stranger to collaboration. Old sparring partners Denzel Curry and Skepta reappear on the album, the latter of whom he tells us "I felt like we needed a part two, innit? There's gonna be a trilogy. The final boss, you know what I'm sayin'?"
From talking about his collaborators, we get the impression that Slowthai wouldn't have asked them to appear if they weren't already friends. "I was working with Mount Kimbie when I was making 'Nothing Great About Britain'.
I'm pretty close with the boys. James, there's been always been talk. I was working in LA with Dom and I was like "James would be perfect for this". It just ended up happening. I wouldn't like to put people on the album I ain't really spent that much time with. It'd seem weird."
Other features come from A$AP Rocky on teaser track MAZZA and the up-and-coming singer-songwriter Deb Never, who Slowthai describes as "Like my twin. honestly. She's like the female version of me. Me and her just clicked like, we just sat around smoking hella cigarettes just talkin' shit. Listenin' to my problems, she's telling me hers. We just became really good friends."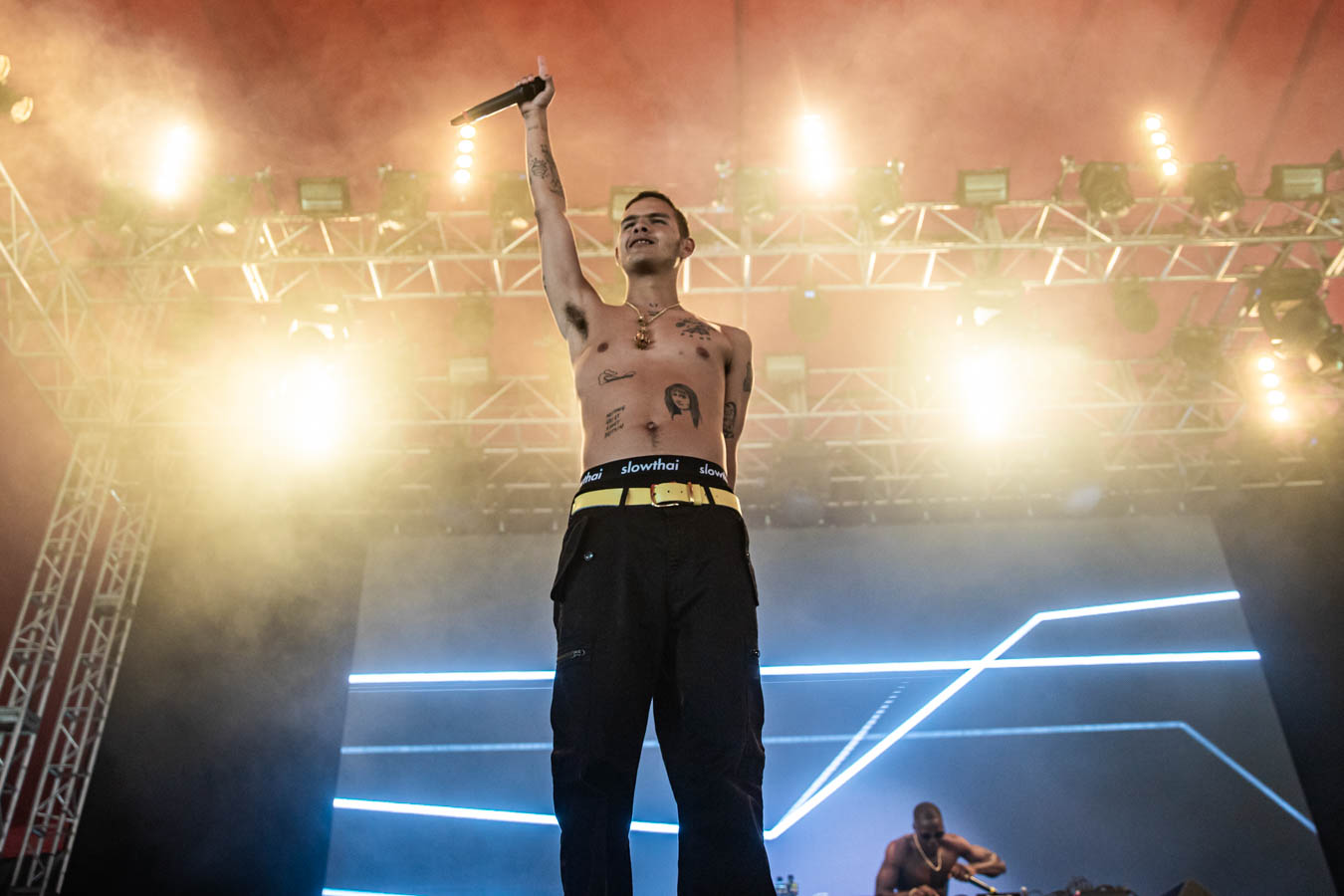 We turn our attention to the more recent single nhs. Seemingly an ode to the United Kingdom's most important institution, the track goes much deeper. Slowthai is no stranger to political rap, but having had the time to reflect during the global pandemic, he seems to have a renewed sense of gratitude.
"The people that work in the NHS need to be appreciated for the generations of work they've done to help all of us. It shouldn't be like just one day of applause. These are people that are saving lives. So it's just that point. Appreciate what you have, rather than listen to these twats that think they're in power of us.
That's why I go on to list so many things in the song and ask so many rhetorical questions ("what's a rapper without jewellery? A real person surely") Gratitude is the biggest thing."
This perspective is refreshing. While the song nhs is probably the best introduction to the album 'TYRON', it's clear throughout that what we hear are the innermost thoughts of a man who is struggling with how he's perceived, who he is, who he has been and who he wants to be.
Tracks like focus speak of self-reliance, while the album closer adhd includes a phonecall from Slowthai to a close friend, simply to tell him he misses him. The ideas in title alone are self-contradictory, let alone their subject matters. And while he accepts his fate on I tried, on adhd he pleads "touch me tenderly / heaven, let me in".
Most refreshing is that Slowthai doesn't hide from any of it – the hype, the backlash, the self-contradictions. He makes peace with it, and encourages us to make peace with our own bullshit, too. In his own words, "It's OK to be yourself. Love the world for its flaws, you'll never be disappointed."
Read our review of 'TYRON' - here
'TYRON' is out 12th February 2021 via Method Records.