Shakey Graves AKA Alejandro Rose-Garcia is a musician and actor hailing from Texas, who has been beguiled by both stage and screen over the course of his unusual career. It's one which has seen him star in several Robert Rodriguez movies, including the upcoming Red 11, to being the official busker on Mumford and Sons' Railroad Revival Tour, to appearing in seminal teen drama Friday Night Lights. The hallmarks of that show's never say die catchphrase "clear eyes, full hearts, can't lose," are written all over Rose-Garcia's career.
This is no more evident than in the Austin native's solution to not being able to afford to pay other musicians early on in his career; becoming a one-man band with a single suitcase providing the answer to the majority of his problems.
"Originally, I had seen someone use a suitcase in the subways of New York - it was a smaller briefcase and they just had a kick pedal, but it got me thinking about the problem I had which was basically just not being able to find a drummer and not making enough money at a show to pay somebody else to do it, let alone try and teach somebody these songs that I was only figuring out anyway. I had seen some people do one-man band set-ups and it had crossed my mind that I could pull something like that off."
Matters came to a head one night in LA, where Rose-Garcia had a residency in Tommy's Loft, a speakeasy in the garment district.
"One night the act before me was a five-piece band and everybody was really in the mood to dance, and I knew that if I went up there and played an acoustic guitar it would just get lost. So, I asked the drummer if I could use his kick drum and sort of just went for it and people started dancing. It changed the way I played some of the songs and proved to me that it could be done, but the problem was that I didn't really have a car or any way to transport a drum kit. So, I started conceptualising this suitcase that I could pack everything into, so I could just walk around with a guitar and that and make as much noise as I could."
Now for the small matter of funding the suitcase, and as luck would have it, Shakey Graves was about to get booked to provide hobo vibes for alternative country heavy-hitters including Mumford and Sons.
"They were touring around the US in a train and I got asked be the official busker of the tour because they wanted to give a hobo feel to the show - they had somebody playing at the front gate when you came in. I think it was like 200 bucks a night and so I used that money to get one of my friends to make me a first version of the suitcase drum. That was its first test run, there's photo of me sitting on it wearing a little hat. That was the first time I'd played that thing in front of people and it worked, so I started coming up with new ways to take that around and mic it up and it just kept evolving from there."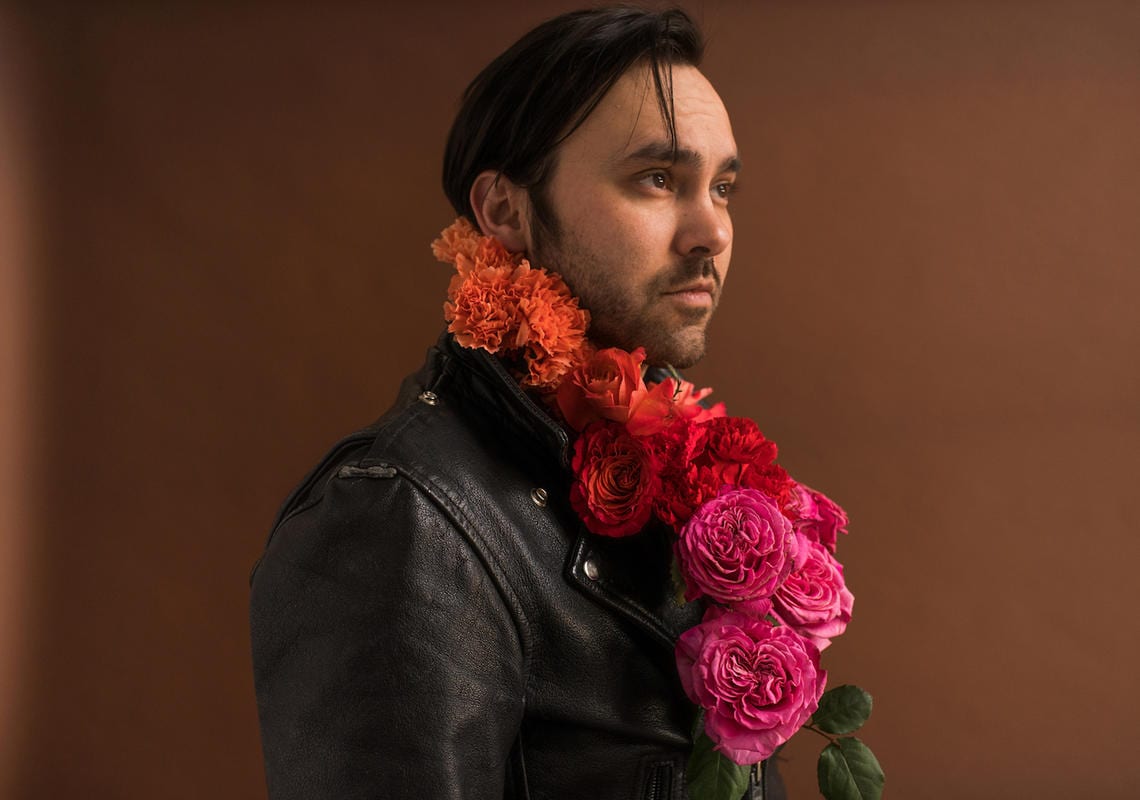 And evolve it did, so much so that Austin, Texas declared February 9th 2012 "Shakey Graves Day", an honour which saw Rose-Garcia's music archived in City Hall. However, where some people may let such things go to their heads, Rose-Garcia used the accolade to challenge himself to be worthy of it.
"Every year since I've thrown a show on that day. I'll put my music up pay-what-you-want online, I'll release something, a b-side compilation or I'll drop a record and I give half the profits from everything to charity. I try to give back a little bit and raise some awareness about some things, but also challenge myself to put some new music out, it's fun."
It is easy to see the constant ebb and flow of development within Shakey Graves' music, and his latest release 'Can't Wake Up' is no different in this regard. The older and wiser Rose-Garcia is no longer the innocent carefree man-child sat on a suitcase playing the part of the welcome wagon. Just like the characters in the Sin City Hollywood sequel he appeared in in 2014, he spies a starker vista.
"What I was writing about in the past were my own personal woes. I'm not a very sad person and my woes at the time were kind of me worrying; am I living my life the way I should be, and girls, and young man stuff, and there was a certain playfulness I wanted to have in that. I've always talked about death and spooky imagery because I'm fascinated with esoteric things, the mysteries of life, but I've always tried to pair that with a bit of young stupid humour. The sort of young, dumb and full of cum world-view of 'it's you vs me, fuck this man!' which I think is hilarious and kind of universal, everybody feels like that at some point, but this record is a reflection of me being older and my problems aren't those problems any more.
"I wanted to have a deep conversation about things that seem to be bothering everyone that I know, myself included, that sort of continuous 'so you don't run Amazon, you're not a billionaire, you're you and you're gonna keep being you and what's that like?"
This is especially noticeable on tracks such as Kids These Days and Dine Alone, where Rose-Garcia is clearly questioning his previous behaviour and considering settling down.
"I didn't need it to be a record like 'Shakey Graves is on tour and it might kill him' he jokes. "I wanted songs to speak to you personally as the listener. I wanted the lyrics to be about you, not me," although in hindsight Rose-Garcia admits that in many ways it didn't quite work out like that. "It's funny, a lot of these songs or the lyrics I went for weren't supposed to be very confessional, but as things kind of turn out, magically speaking, is that there are times when I'm singing some of these songs and it really sounds like what's going through my life that day and it's like 'oh, I wrote this a year ago and it seems to just be relevant to me right now'.
"The one true line is that the happiest I've been is when I've made music that I like to listen to and then just let all the chips fall where they may.  So, part of me was like 'maybe I should just get down to the suitcase and do that thing', but it felt a little fake. I knew if I had to tour stuff that felt fake to me for a couple more years that I would go crazy, slowly or quickly.
"Not that I don't love rootsier things, when those records were made - especially 'And The War Came' - some of those songs were maybe 7, 8 years old. So, I consider myself a pretty different person, my horizons hadn't been opened as much."
There is a palpable sense of darkness to the fore on 'Can't Wake Up', as if the title alludes to some sort of nightmare or collective spiritual crisis, and Rose-Garcia agrees.
"I certainly didn't mean for them to have such a spiritual overtone, but when you say the word God in front of someone, they are like 'woah, he must be going through something'...and it's like I kind of am, but I think everybody is. I think there's spiritual crisis, a disconnect between morality and spirituality right now that is very confusing for everybody. How can someone claim to be so spiritual and actively be so insensible at times? How am I supposed to connect the idea of God to the world as it looks to me right now? How does this all fit together? I don't know, but I know I'm not the only person who finds it a little funny or incongruous."
When we enquire if Trump is the head of the snake, Rose-Garcia doesn't hold back.
"It probably looks bad from where you are, but from here it's so much worse because it almost feels like you don't know who's a spy. I'm almost afraid to talk about shit publicly, because I'm afraid somebody is gonna be like 'Fuck You, Man.' I loathe conflict, but there's little of my being that believes or enjoys or supports our president. I can't help but see such a gross, manipulative, mean man. You're a fucking dick, you're an absolute dick, but the more troubling and heart-breaking and important thing to look at is that he wouldn't exist if there wasn't an audience for him and that's the most frightening part - it's not his fault, he's really speaking to people who have been waiting for someone to do this…
"I love America and I truly, truly do, I think it's a beautiful place, but there's something right underneath the skin that you can sense, and it's never had such a voice before in my lifetime and sure enough in no time there it is: 'You know what? I fucking hate black people' and you're like what? What do you mean? What are you talking about? It's mental, and at times physically painful or exhausting. It's a riot, so there's a lot of looting. While he's in there corporations and people who have really dark political interests like privatising prisons are passing all this wild shit, because we are too busy worrying about what this asshole is tweeting on his phone."
If we take a step back and look at Shakey Graves previous release 'And The War Came', there are warning signs that the songwriter was going to abandon his rootsier origins in favour of a fuller sound, and on the track Family and Genus in particular lays the building blocks for what's to come.
"That song is kind of a tone, if I could have I would've wished at the time that all of 'And The War Came' sounded like that, but that was done in a different recording session and I ended up linking that one to the other material, which is sort of how I've pieced albums together in the past - whatever the best recordings I had, I just kind of lumped together and tried to weave narrative through it, which both works and doesn't work.
"Even with the new record it didn't feel like I was stepping off of a cliff into something totally unknown. Those sorts of sounds are the kind of music that I like… If you listen to Roll The Bones, and imagine that you had more money and instruments behind it, Roll The Bones would've sounded like Can't Wake Up, if I could have, just a little different."
Having finally achieved a record with a realised narrative, it was important for Rose-Garcia to introduce his new lush sound to the world, but he had to fight his record company to achieve his artistic vision when it came to Counting Sheep.
"That was the one that felt like if there's a narrative to the record it has to start with that song. It didn't really seem to fit anywhere else, it was kind of a bleak closer. There was just something about it being very simple, but very dreamy and then the album getting thicker and more lush as it goes along.
"Initially, that was the first song I wanted to put out, the label wanted to put Kids These Days out. I just wanted to put Counting Sheep out without Kids These Days, but they wouldn't let me do that so we settled on doing both. I didn't want people to hear Kids These Days without Counting Sheep as context. It just seems like with the two of them you'd get an idea of what you are in for with the record, but just Kids These Days, I don't think it represents the whole album."
One of the biggest influences on Rose-Garcia's creative life outside of music is Hollywood director Robert Rodriguez. Rose Garcia has been cast in several of his movies including Spy Kids 3, Sin City: A Dame To Kill For and Rodriquez's upcoming feature Red 11 which saw Rodriquez challenge himself to make a movie under the same rules as the reality film making series he is making. When Alejandro Rose-Garcia got the call he jumped at the chance to appear in the low budget slasher movie, but it wasn't long before Rodriguez had a profound influence on 'Can't Wake Up'.
"I was finishing the record when we were working on Red 11 - it was a really fun film to work on. Basically the 25th anniversary of El Mariachi. He made that movie for 7,000 dollars. He has a television show coming out where he got teams of young filmmakers together and gave them two weeks to make a short film with 7,000 dollars and the same amount of people that he had which was only the actors and director and a camera operator. That was the challenge, and then just for shits and giggle he decided to do the same thing. So, he called me up and a few other people and it was back to the way that everyone's always wanted to shoot a movie with him.
"It was just him and his son he had to do all the camera work, they redid this script that he had written when he was like 25 about medical trials, a sci-fi horror movie, and we just shot it in his offices. For dolly shots he'd be in a wheelchair and his son would be running him around. For special effects we were tying fish line to things and moving things with our minds it was a blast, so instead of doing a short he decided to turn it into an entire feature. In almost no time we shot a whole rag-tag feature and it was really fun.
"The loophole that he could use is that he already owns millions of dollars of camera equipment, He'd just shot Alita: Battle Angel - which is the most expensive movie he's ever done - with James Cameron, so he's like in the same year I've done the cheapest movie I've done since El Mariachi and the most expensive movie I've ever done."
"He's a very inspiring person. I was trying to come up with the concept for the cover, I was gonna draw. But I didn't know how to do it and I was kind of hoping he'd be like 'oh you can use my sets or my green screen.' I was trying to bait him into helping me and instead I posed him the question I had of how to build this surreal city and he said 'well why don't you use miniatures: and I was like I never would've thought of that. So, I came up with that cover based on that."
One of the other people Rodriquez called up was fellow Friday Night Lights alumnus Katherine Willis, an experience which Rose-Garcia remembers fondly. "I love that show," he says at the mention of it. But the question on everyone's lips is has the world forgiven him for splitting Julie Taylor and Matt Saracen? Laughing, he assures us it hasn't. "…more so than that for years people gave me grief implying that me being The Swede allowed me to have a musical career. And these are mostly people who have probably never seen the show because I'm not in it very much  - if you're a big fan you'll know who I am. It kind of became an arbitrary talking point because it has nothing to do with me playing music in front of you, and if anything I was a pretty deplorable person in that show. Nobody would wanna go and see The Swede play," he says laughing, before adding "my girlfriend of almost four years is the bass player in Crucifictorious" – the fictional band from the show featuring Jessie Plemons (Breaking Bad/Fargo) and the aforementioned Stephanie Hunt on bass.
Shakey Graves plays Vicar Street on November 16th. Tickets €25.00 on sale now.