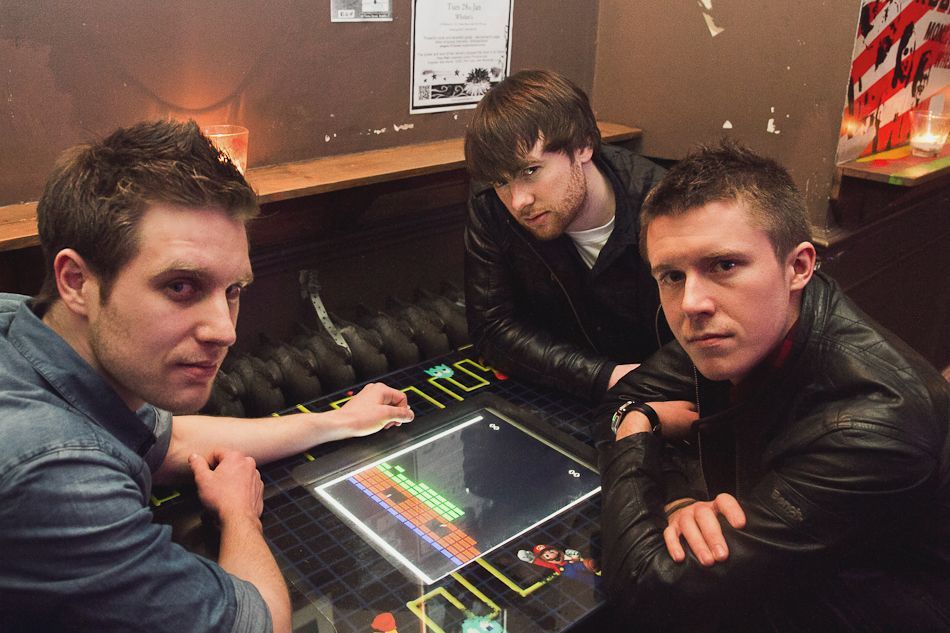 Editors Note: Shadowplay have now become 'The Rain'.
Somehow, Irish melodic-rock outfit Shadowplay manage to make it all look easy. Sitting down and talking to them we'll find that Eoghan, Emmet and Andy are quick to downplay their achievements rather than harp on about the big names that they've collaborated with or the accolades they've achieved. But beyond a humble, unassuming demeanour, there is a deep passion for the music they play, which Goldenplec found out when we spoke them about their career to date.
Start a Band
Eoghan Johnson (guitar), Emmet Farrell (drummer/backing vocalist) and Andrew Dempsey (bassist, keyboardist and lead singer) became friends while studying in NUI Maynooth, and the idea to form a band was a pretty natural progression. "The natural thing was to have little jam sessions with friends between lectures or on nights out, and everyone would kind of know everyone else's strengths and styles. The whole thing really came together so easily."
Right from the start Shadowplay were writing songs they now describe as, "the sound of our formative years. Relationships, aspirations, break-ups, regrets and everything that affects you as a young adult. When you think of it like that [the band's forthcoming debut album] has been years and years in the making."
Learn the Ropes
Shadowplay may have hit it off right away, but their distinctive sound was far from an immediate thing. The group took a conscious decision to focus initially on playing as many gigs as possible – road-testing their material as they were working on it, as well as playing around with a few covers from their influences (songs from The Temper Trap, ELO and Thin Lizzy all made regular appearances in these early live shows). "Initially this was more to do with honing our songwriting skills, and maybe a bit of perfectionism. We spent a while fleshing out ideas, and didn't want to release anything until we had our own sound."
This approach led to a strong fan following and even more importantly led to Shadowplay winning the Hot Press Lift Off competition in February 2012. This in turn, led to the signing of an international record deal with Shamrock/Universal. Almost immediately Shadowplay went from jamming in a bedroom in Maynooth to playing with some very familiar names to fans of classic rock.
"Bobby Kimball from Toto became involved in a company we used to work for and came over for a gig in 2010. We stayed good friends after that. The following year we pitched the idea of us doing a tour with him in Ireland. He really liked the idea because Toto has never toured over here. We had such a blast with him, he's a professional and a real gentleman."
"We bumped into Chris Slade [former drummer with AC/DC and The Firm, a supergroup featuring Paul Rodgers and Jimmy Page] in California at a show in January 2012, and he showed some interest in coming over to Dublin to play some gigs. He's a real music lover – any chance to play and he's there. The following month we were rocking through Thunderstruck at the Music Show in the RDS." Record an Album
Following their signing with Universal, Shadowplay decided that the time had finally come to hit the studio and get the debut album down. The financial safety net of a record deal allowed the band the do things how they wanted, working with a number of different producers in different studios – an approach chosen to reflect the range of the band and capture a wide range of sound from track to track. This approach "helped us discover more about our sound and bring out a more dynamic finish to the album. We've strived for a big, colourful, tasty sound that's at times hard-edged and meaty and at times a bit softer and gentler but always musically rich and melodic, and we just really hope it connects with people."
Despite plenty of live experience, Shadowplay's first taste of the recording process was a real learning experience. "Obviously you need to be 100% happy with what you're about to lay down. So many bands have rushed their releases and ended up getting slated, so there's a fine line between making a great record and an OK one." "At the end of the day, you're only as good as your last record so we can't risk rushing into the studio when we think songs could potentially get better with more work. Luckily everyone is on the same page with this. That being said, most of the songs are nearly written so then it will just be a case of booking the studio or studios and getting in there and nailing it."
Make a Few Mistakes Along the Way
The first recording sessions for the album took place in France; working with producer Dave Odlum (who's worked with The Frames, Kila and Gemma Hayes), but the results were less than the perfection that Shadowplay's musical education left them striving for. "I think the first recording session in France with Dave Odlum caught us off guard slightly, if we're honest. I think we'd all admit that although we were delighted with the results, they could have been achieved quicker. We all could have been better prepared individually. There was also the fact that it's such an amazing studio, in a beautiful setting with a Grammy Award winning producer. All of that forced us into a state of sweat and nerves for the first day or so which I think we could be excused for."
With an educational experience under their belt, Shadowplay hit the studio again this time in Cauldron Studios in Dublin, under the watchful eye of Chris Kimsey (The Rolling Stones, INXS, Yes). This time the boys knew both to expect from the studio but we also knew what was expected from them in return. The experience of a producer with Kimsey's level of experience on board was a big plus too. "He was almost like the father figure who gave advice and steered us in the right direction. Of course, we still had those hours where you felt worn out and drained mentally and physically as there can be a lot of stress while recording, so sometimes the best thing can be to go for a walk and come back and go again."
Looking back on the experience now, Shadowplay are full of praise for both producers. "They're both great producers with incredible track records and are going to play a major role in the sound of our debut album. Dave has a great pedigree with Irish acts that influence our style, like The Frames. Chris on the other hand, has that knowledge of bands like The Rolling Stones and Rory Gallagher – the man whose song we named the band after, so it was a natural fit with both of them."
Take Over the World (Hopefully)
The album may not be fully finished yet, but Shadowplay are quick to reassure their fans; "we can guarantee you that you will hear some music from us this year. We're hopeful of getting the album fully recorded by June, in time to give festival goers a sneak preview. We definitely want some material out by the start of summer as we think most of our songs will suit the sunshine and the feel good attitude that comes with it."
And the band are full of big ambitions for what they want to achieve. "People connect so much with music nowadays that when you pop in your headphones, you almost feel alone in the world, but we want you to feel as though you're there with us when you're listening to this album, not like it's just three lads in a recording studio. Half way through, we think we're onto something." After that, all they can do is hit the road once more to promote the finished album.
Shadowplay assure us that they have "some big gigs coming up," in 2014, "but nothing we can talk too much about." Watch this space for more information as soon as we get it.