Pom Poko are a Norwegian quartet formed on a whim for a hastily arranged appearance at a Literature festival. However, what was initially meant to be a once off 'for the craic' event turned into a fully fledged project when the quartet of Trondheim Music Conservatory students realised they had something special on their hands.
Ragnhild Fangel (vocals), Martin Miguel Tonne (guitar), Jonas Krøvel (bass), and Ola Djupvik (drums) had one rehearsal and played a twenty-minute set of songs they had written the day before. The experience was so satisfying that they returned to the rehearsal space that very night and recorded rough demos of the tracks they had written and set about booking gigs.
Pom Poko was born and quickly generated label interest thanks to their intriguing, spiky and colourful brand of avant-pop, and soon signed for UK record label Bella Union, releasing a series of singles before releasing their debut album 'Birthday' this February.
Pom Poko embark on a European tour this April including, sold-out dates in Manchester and London, but you can catch them live in Whelan's on April 6th.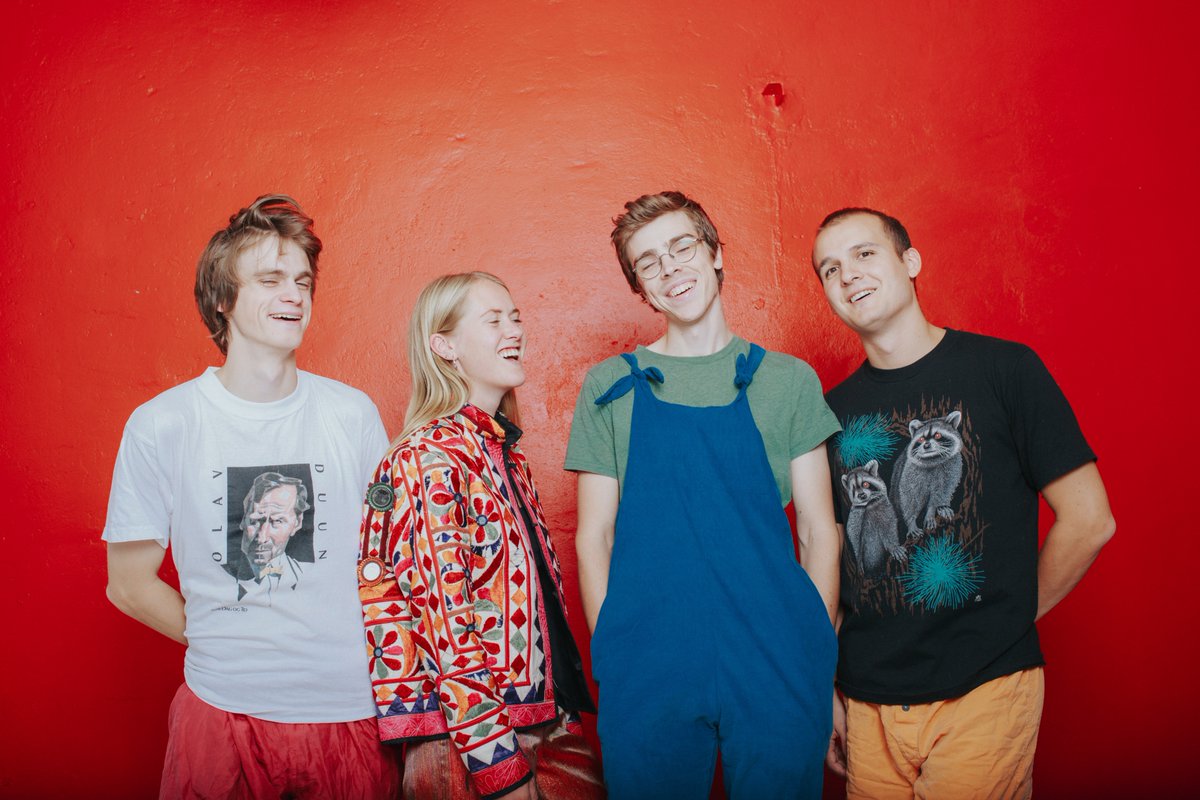 You guys are named after a Studio Ghibli character and your music videos all feature some sort of animation. Why have cartoons had such a big influence on Pom Poko?
Its quite random actually, we didn't have a lot of time when we decided our band name.  For some reason we checked the Wikipedia site for Studio Ghibli movies and liked the title Pom Poko - none of us had seen the movie at the time, but now we have and it's really great.
Can you tell us about the concept behind the rather disconcerting video for Crazy Energy Night?
The music video is made by an art collective called Narves1biblioteket, we just gave them the song and they made the video. I think the idea comes from a part of the lyrics in the song, "slowly turning mad man into saviour".
You guys studied jazz at Trondheim Music Conservatory. Why do you think so many aspects of jazz are permeating rock and hip hop currently?
Hmm, hard to say. Jazz music is in general inspired by a lot of different music styles. I think it's natural that all genres mix and add things to each other, it has always been like that. Maybe it's just the right time to mix jazz and other genres.
We read that Pom Poko formed for a show at a literature festival - who are your favourite authors and how have they influenced your music?
We all like to read, but I don't think we're inspired by any authors in particular, mostly by different kinds of music.
Do any of those hastily-written tracks for your first performance remain in your set?
Yes! Three of the songs we wrote on our first rehearsal is on the album. If U Want Me 2 Stay, Daytripper and also the album track Birthday were all written the first time we played together.
With all of the interest in you why did you decide to sign for Bella Union?
Bella Union was always our first choice, we met Simon Raymonde (the founder of BU) at the By:Larm festival in Oslo when we had just existed for a couple of months and we really liked him. Also they have some great bands that we really admire on their roster, so we were very happy when they wanted to sign us.
Why did you decide to call the album 'Birthday'?
One of the first songs we ever made is the song called Birthday on the album, when we had made that song we were all quite surprised about what we had made, and I think we kind of found our "sound" for the first time. And also we didn't know what else to call it.
Why did you opt to omit your first 3 singles from your album Birthday?
We wanted to make an album with only new songs, that we hadn't released earlier, that's the only reason.
Your songs have a lot of ideas in them. How conscious are you of not putting too much into one song?
In the beginning we weren't conscious at all, but when we write new stuff now we try to limit the ideas a bit more. We always try to challenge ourselves when we make new material and not go for the same solution every time.
Crazy Energy Night has a bit of a Yeah Yeah Yeahs vibe to it. Are they a big influence on you guys?
Not really, some of us has listened to it, but I would say that there are other bands we are more inspired by. For instance Deerhoof.
My Blood was an obvious single from the album, tell us about the track?
My blood was made when we all lived together in Trondheim, I don't really remember what part came first, but I think it was the guitar riff in the beginning of the song. The lyrics is in some way about being fascinated and appreciating that your body is working as it should.
Norwegian music seems to be having a bit of a purple patch currently. Why is it so good at the moment?
I find that the Norwegian musicians in our generation are quiet open-minded, and also we are a very small country with lots of different things happening at the same time, so it's possible to get an overview of what's happening inside the different genres and inspire one another. We are also very lucky as musicians and artists in Norway to have the chance to get financial support from our government, so we can keep on doing what we do.
What can we expect from your upcoming show in Whelan's?
Expect a lot of energy and fun, weird moves and sweet crazy vibes.
Pom Poko play Upstairs at Whelan's on April 6th. Tickets €13.00.