Every year the GoldenPlec community of writers and photographers (50+) come together to vote on their ones to watch for the upcoming year. After pulling the votes together, we selected our 'Plec Picks' for 2018. We have classical artists alongside rap, jazz, funk, operatic, soul and anything in between. Our list strives to encompass a broad spectrum of music in order to highlight the thriving and evolving music scene that exists in Ireland.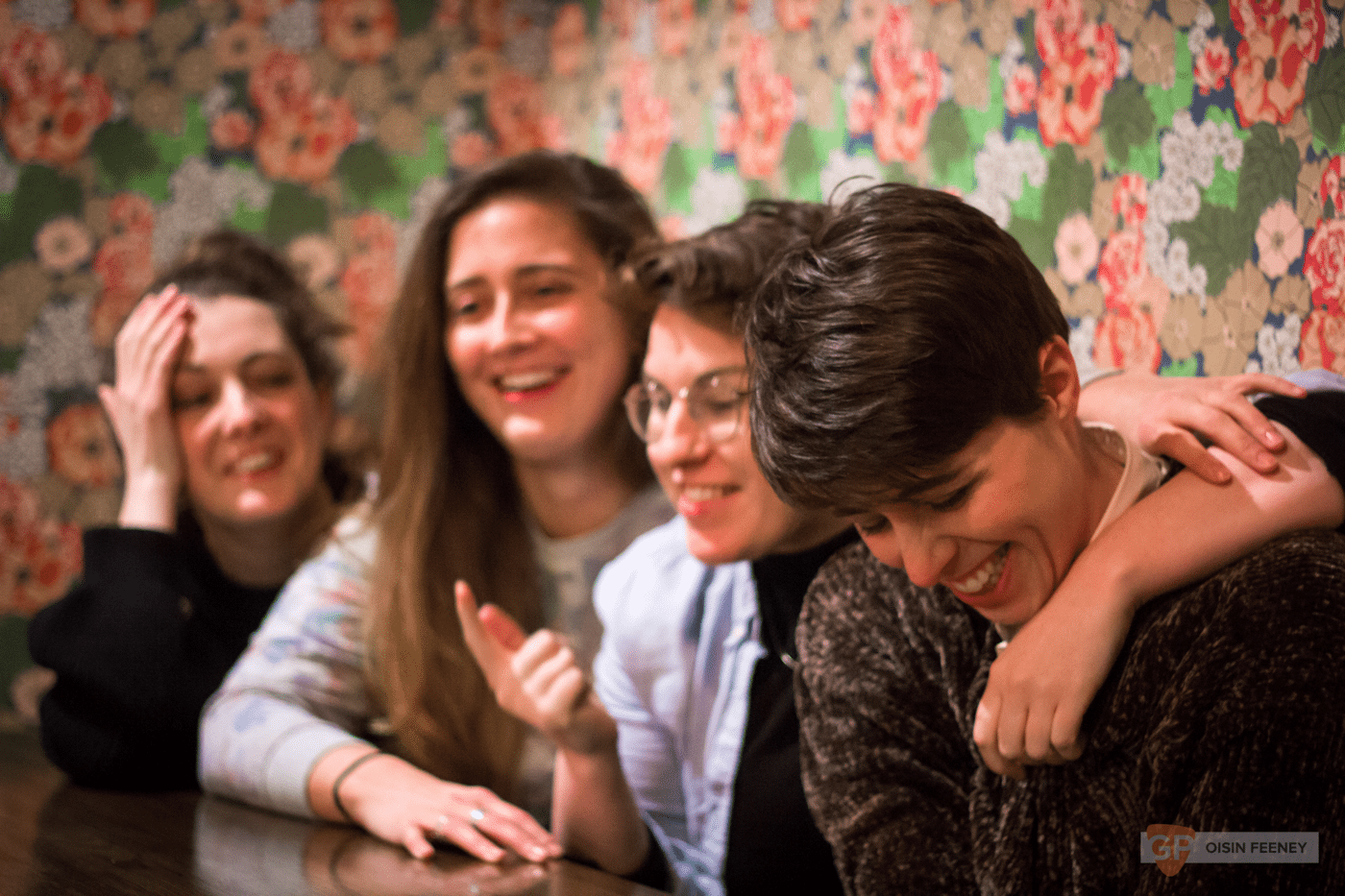 Pillow Queens have been at this band thing for just over a year now, but they've already managed to make plenty of noise. The four-piece alternative band formed in November 2016, when a few impromptu jam sessions between four friends from Dublin's underground music scene – Pamela, Cathy, Rachel and Sarah – crystallised almost instantly into a new group.
Pillow Queens announced their arrival with a self-released three track EP titled 'Calm Girls', and quickly followed this up with a debut live gig in the Bello Bar, Portobello. Right from the start, the band burned with an energy to get things done.
Fuelled by a punkish 'if-you-want-something-right-do-it-yourself' attitude, Pillow Queens launched themselves into a UK tour. They played eights shows in 12 days. "We had no business doing it," says Sarah, "it was hilarious." But the ambition paid off. Their single Rats had just gotten a spin on BBC Radio 6, and so the band encountered audiences who already knew the name Pillow Queens.
"People kept coming up to us like, we heard you on the BBC." Sarah explains. "We were like 'cool, we're famous in England'."
They've been getting places fast back home too, with a string of gigs across 2017 – including Electric Picnic and Other Voices, as well as a support slot for Pussy Riot in the Button Factory.
The band's live shows are bursting with a rich wave of aggressive energy, perfectly tempered by light and popish vocal harmonies that counterpoint the punk-leaning instrumentals and produces a kind of sweet-sounding alternative rock that flows along easily, but has a switchblade concealed in its boot.
There's a real jam session feel to things. Pamela and Sarah alternate lead vocals from song to song, as well as swapping between guitar and bass. The songs are driven by punchy riffs with a full helping of distortion, while the choruses are sharp and hook driven, often featuring all four members lending vocals from the harmonies.  
"It might sound punk," says Rachel, "but we've manipulated it to sound that way."
"We wouldn't want to put out anything that was shit," says Pamela.
"I think we're professional in that sense," adds Cathy. "I don't think any of us would be happy to play an unfinished song or like a half-assed song."
Talking to the four bands members together, it is immediately clear that the band form not only a cohesive musical unit, but are four good friends who play off each other as people.
They are constantly interrupting each other, telling stories as a group and cracking jokes. A year's worth of gigging probably has something to do with this, but there's something deeper than that at work too. These guys just click.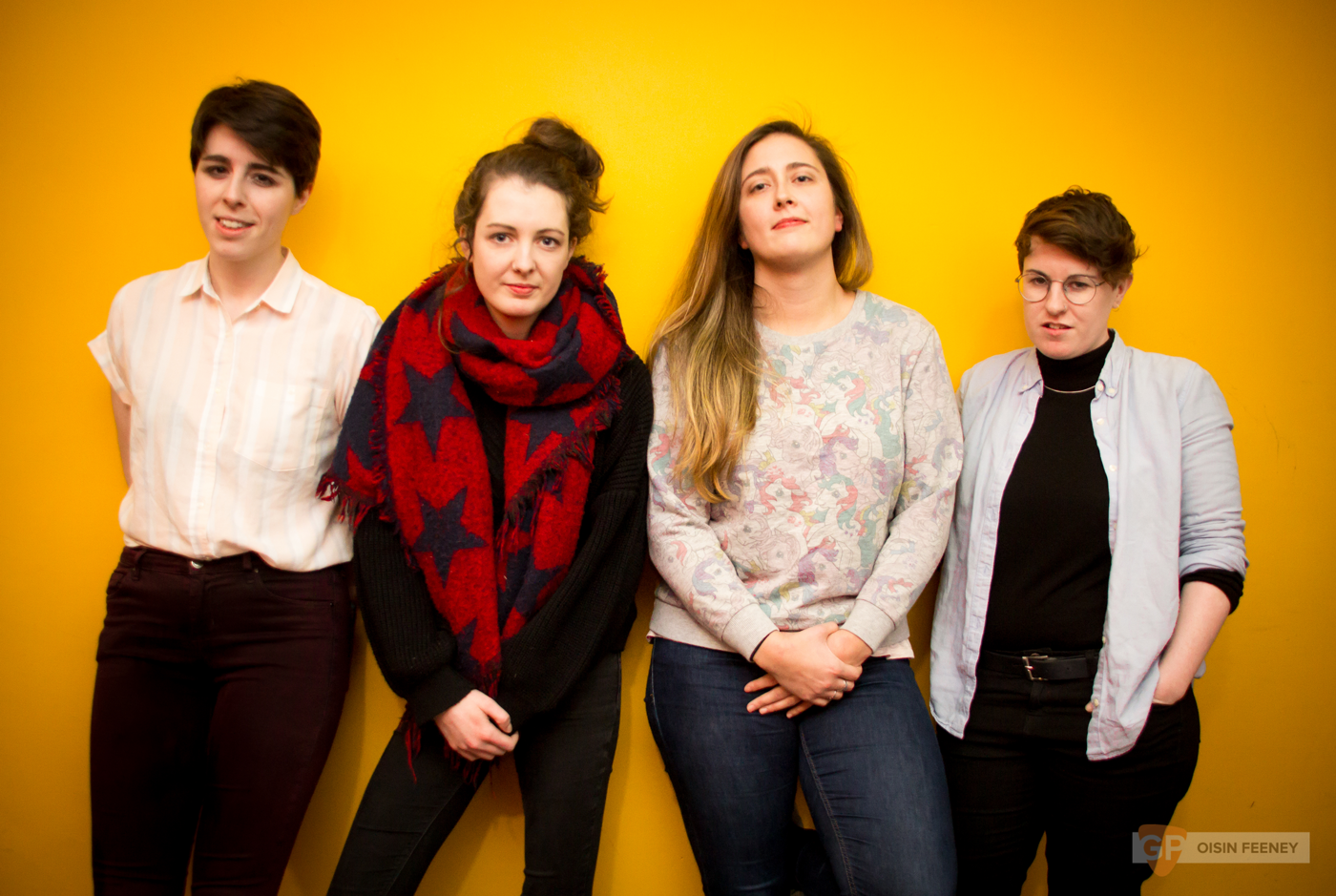 "We absolutely hate each other," jokes Sarah, before going on to tell a story from there UK tour, when a journalist they spoke to wrote: "There's such sisterly love between them."
"That was the Finsbury guy," says Cathy.
"We've just been laughing about that," says Sarah.
The four band members all break into song, serenading us with a four-part harmony of: "Sisterly looove/ for-evv-errr."
"Yeah," says Sarah, when they've finished, "We're all besties."
This lead into a discussion of the group's first music video – Rats. The video is a colourful blast of fiendish satire, featuring sock puppets and a drag queen presenting a surreal children's TV show drenched in left-wing imagery.
In a sort of parody of RTE's The Den, the presenters hold up a children's drawing of a cartoon pig in a Garda uniform. In the background are placards with messages written in crayon proclaiming "Jobstown not guilty", "Eat the rich" alongside a picture of the Cookie Monster from Sesame Street, and a picture of Bosco accompanied by the words "Asexual icon".  
"That was a fever dream," says Pamela, "which I had to explain to [the others] several times."
"We still don't understand it," says Rachel. 
"Like I get bits of it," says Sarah, "and I really like the bits that I get, but some of it I'm like, I have no idea what's going on..." 
"I just kept on sending pictures of big huge cardboard signs I'd made, being like, 'gettit?'" says Pamela.
"And nobody would respond," says Rachel.
"I've spent two days on this!" shouts Pamela, mimicking her own playful indignation.
"We love your artistic flare," says Rachel, "but we don't know what you're talking about."
"It was so weird but I love it," says Cathy. "Really twisted and demented, but in a good way."
With the band's DIY ethos at play here as well – the whole thing was shot in one evening in Pamela's sitting room – there were limitations to extent to which she could realise the full extent of her vision. "We would have loved to get the actual Don Conroy," says Pamela, but unfortunately this was not to be.
"I tweeted him," says Sarah, "but he never replied..."
This leads into a discussion of the band's dream video project – which would require appearances from Mattress Mick, Jedward and Ryan Tubrity. We'll omit the details in the hope Pillow Queens actually get around to making this dream come true at some point.
Before that though, Pillow Queens are looking to build on everything they've worked up in their first year of existence. Much of the material they toured this year was based around that debut EP, and material that the band's members brought into those first impromptu jam sessions. What they've got coming up next should reflect more of the band's character as whole.
And after that?
"World domination," says Pamela.
"Fame and fortune," says Sarah.
"I want Hozier money," says Rachel. 
"I want to be on those late-night talk shows in America," says Sarah.
"I want to be on Jools Holland," says Pamela
"Yeah," says Sarah, "but that's only like across the water. I want to go on a holiday." 
"I just want to play shit dive bars for the rest of my life," says Cathy, "but also be able to afford like a Japanese Telecaster."
"You're going to be a while playing dive bars for that," says Sarah. 
"A '62," says Cathy. 
"What," says Sarah, "your age when you get a Japanese Telecaster?"
The band laugh.
"In the next year," says Pamela, "I want somebody who doesn't know us personally, to be like, 'Oh. Pillow Queens, I know them'."
"That happened at Other Voices," says Cathy.
"That happened me the other night," says Rachel.
"That happens all the time Pamela," says Sarah. "We were on the BBC. We don't even get that here!"
"I want to be on the radio," says Pamela
"We were on the radio!" says Sarah
"Okay, well I guess I'm a star already," says Pamela
The band all laugh together again.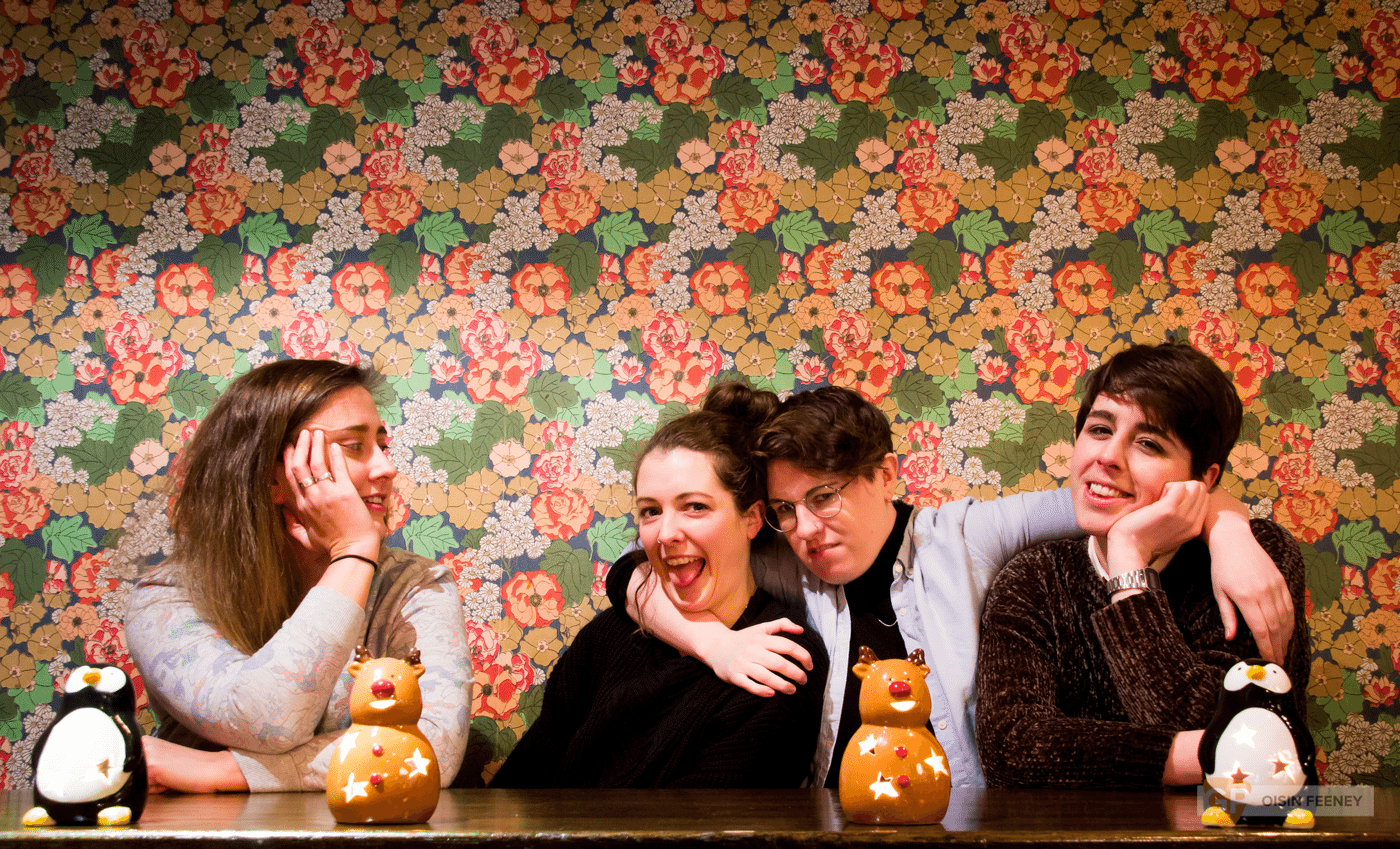 "I'd like…" says Pamela, before pausing to think about what it is she's trying to say. She starts again, a little bit more seriously this time. "I mean, I'd say it's a bit of a pipe dream, but I'd like that it might be tangible to make a basic income from making music."
After all the fanciful ambitions for the future, it's a bit of a downer that this may – for any band at this level – prove to be one of the harder ones to realise. But Pillow Queens aren't daunted. All four are glad that this is what their time and energy is going into. "There's nothing else I'd rather be doing," says Pamela.  
Whether the band start making 'Hozier money' in the coming year, or even just basic income money, you can be sure you'll hear a lot more noise out of Pillow Queens in 2018.
Their next release is a new single and video, coming later this month. The band aren't sharing any more details ahead of the release, except for the fact that the video hangs on the band member's mutual love of dogs.
"If you like dogs, you'll like our music video," says Sarah. "If you don't, unfriend us."