Every year the GoldenPlec community of writers and photographers (50+) come together to vote on their ones to watch for the upcoming year. After pulling the votes together, we select our 'Plec Picks' for 2017. We have classical artists alongside rap, jazz, funk, grunge and anything in between. Our list strives to encompass a broad spectrum of music in order to highlight the thriving music scene that exists in Ireland.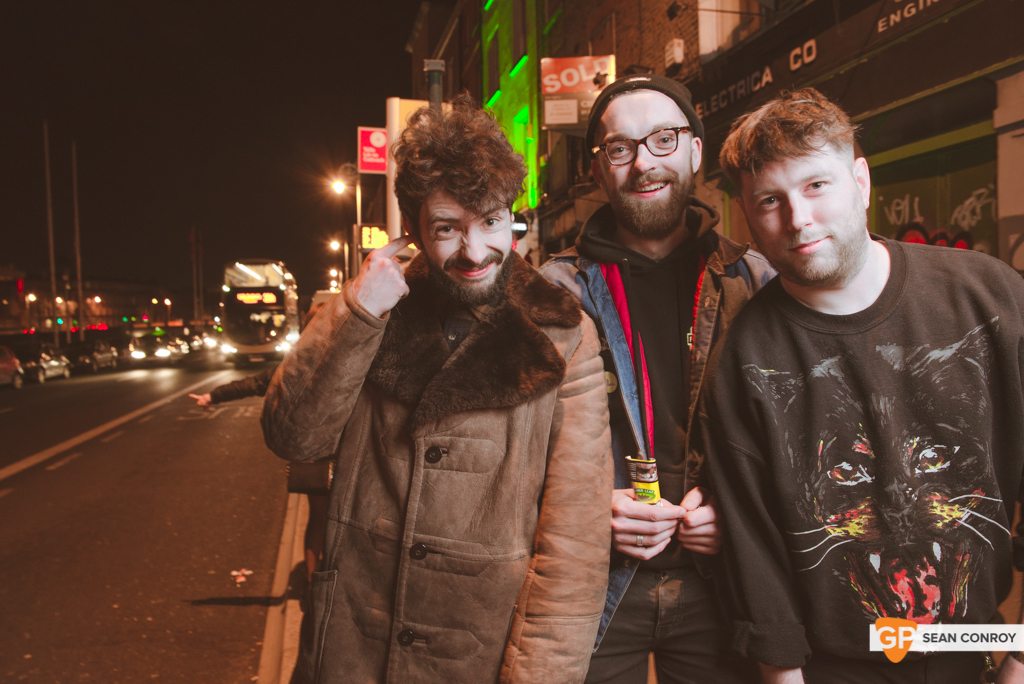 It was at Hard Working Class Heroes festival 2015 that this writer first had a glimpse of Oh Boland in 3D. There's something about a three-piece band, something about the power of a trio firing off one another that you just don't find with any other combination of players; getting the maximum effect with the bare basics of rock's foundations – guitar, bass, drums, and a set of lungs.
There's nowhere to hide in a three-piece – every snare crack and neck wring counts, and Oh Boland held that Hangar stage with a chaotic, playful rout through their set, cementing what we already knew from their recorded output.
The 'Oh!' and 'Ho!' EPs tumbled out in 2013, monosyllabically elbowing their way into our headphones with their effervescent contents belying the succinct monikers. Power pop, new wave, punk, garage rock, and ol' fashioned scuzz rock'n'roll collided, tempered with an overarching West Coast jangle, just that of an Atlantic-facing persuasion instead of the North Pacific. Guitar slinger, singer and songwriter Niall Murphy surmises: "Flying Nun bands, '70s power pop, The Replacements, Big Star, GG Allin…all the hits." At last, the glorious marriage of GG Allin and Alex Chilton…they said it would never work, but here we are.
Murphy, bassist Eanna MacDonnchadha, and drummer Simon McDonagh hail from Tuam, long-time friends whose circumstances led them towards that fabled birthplace of many a fine outfit…someone's garage.
"We've known each other to varying extents since we were teenyboppers. I played in punk bands in school, and Simon played guitar in another group which eventually evolved into a group called Young Kodiaks which had Eanna on bass. I dropped out of college in 2012, moved home and decided I would get a band together for these songs I'd been working on. The lads' band had just broken up so we started hanging out at the weekends in Simon's garage, which eventually ended up mutating into a band." It seems almost as unintentional and inevitable as Withnail going on holiday by mistake.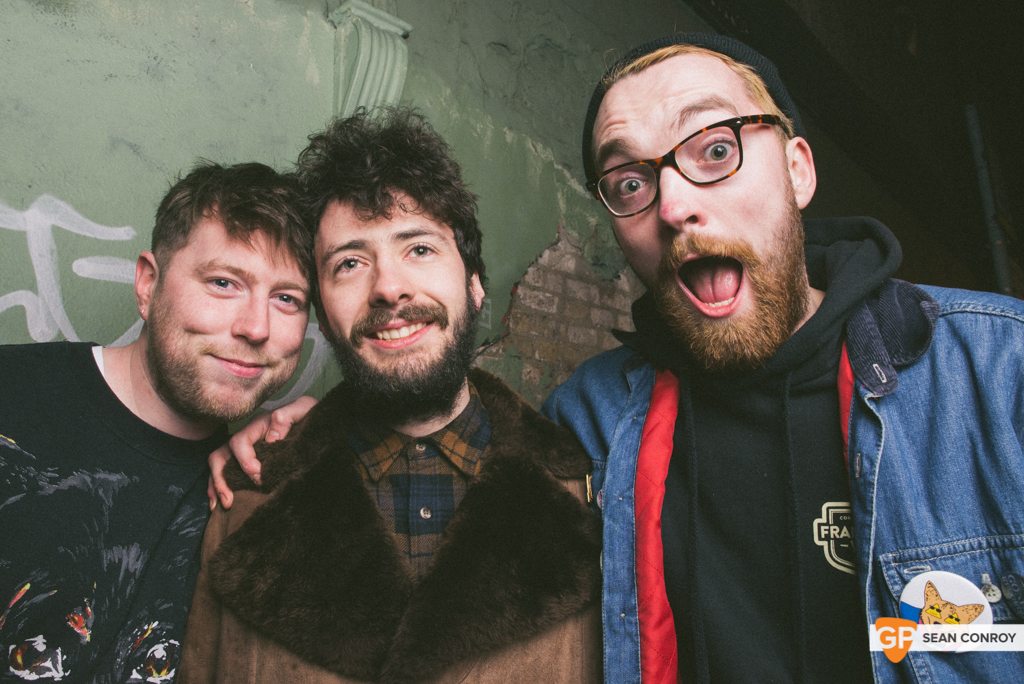 With Murphy now established as the band's songwriter, the as-yet unnamed band migrated from the garage to the live stage courtesy of another musician friend. "David Boland [New Pope], as well as being a stellar songwriter, has been running a night in Galway for years called Citóg. He gave us our first shows and had us on for our first show when we eventually got together", Murphy recalls. "Despite having been together for several months we were still floundering for a name, so partly out of laziness but mostly out of adoration we became Oh Boland."
The band released the aforementioned EPs with the help of So Cow's Brian Kelly - recorded live in a rehearsal room with no overdubs, amps pushed into the corners, buttressed in with coats and whatever else came to hand. The ensuing split 'Delphi' tape with Westport's Me And My Dog saw them tighten up the process. "We did everything in a few hours. Then when we did 'Delphi' with Mark Chester in Dublin, we took a little bit more time and started doing overdubbed guitar solos."
As the releases and shows progressed, so too did the techniques and consideration that went into the compositions, a raft of experience that eventually led to their most fully-realised release to date, the infectious, hook-laden debut album, 'Spilt Milk'. "I guess we've started thinking about things more on a song-by-song basis. We might look at one song and do it live, mainly the noisier punkier end of things. Other songs might be fleshed out a bit more. One thing that hasn't changed too much is time. We like to do things as quickly as possible, it's cheaper."
'Spilt Milk' crackles with all the energy of a set played out in a packed room, recalling The Reatards one minute and Fat White Family the next, melodically side-winding from fuzz garage into the unexpected. "We're not the tightest bunch, but we can gurgle our way through a tune and that's fine by us," Murphy modestly notes. "It makes it more thrilling when we nail something. It's us struggling to cram melody and noise-clatters erratically into three-minute country songs." Murphy's are songs with universal application. You would be hard pressed to pin Oh Boland's sonic palette to a particular locale, even if Mutton Island's refrain of "Take me back to modern Ireland" is a dead giveaway. "I've spent the last five years working in a rural pub in northeast Galway, so there've been plenty of encounters with boredom - amongst many other things - which has probably been the biggest incentive to write. Most of our tunes arise as a coping mechanism for it."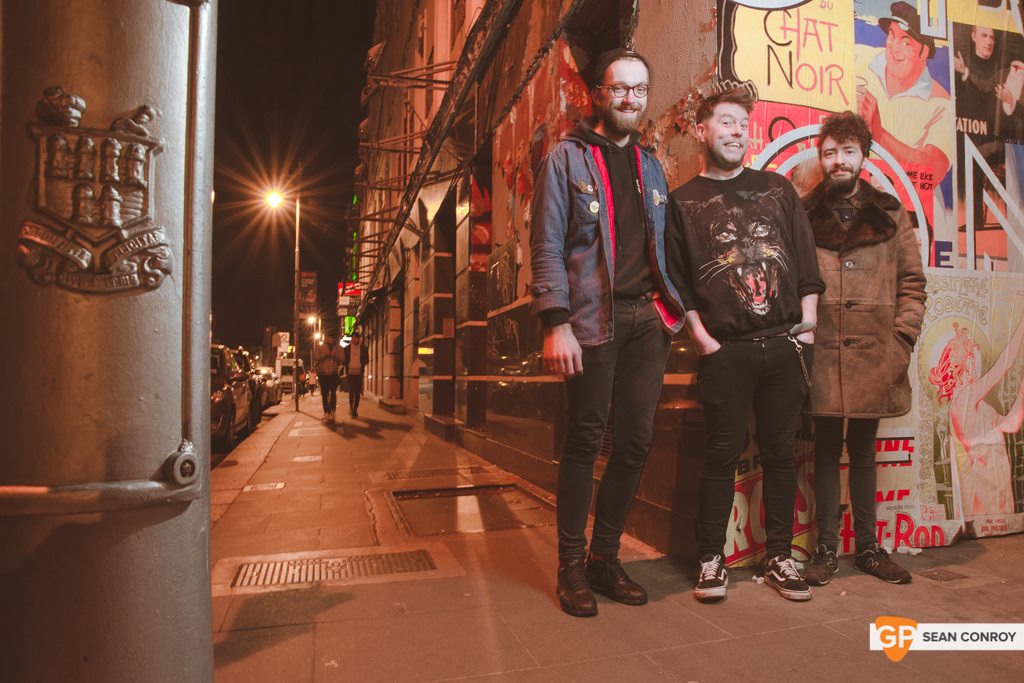 They've managed to counter that boredom since starting Oh Boland; supporting the likes of the legendary Sonics and signing with San Diego label Voltar Records, as well as touring the States in support of 'Spilt Milk'. "Touring's great but it's incredibly intense. Heaving nine-hour sweat box drives surrounded by wet air and crippled water bottles with your guitar jammed between your legs…sounds great doesn't it?"
It's the age-old band challenge, a group of distinct personalities thrown together in condensed space…trying even for the closest of friends. Murphy, MacDonnchadha and McDonagh, though, have the bigger picture in mind to temper the tensions. "It's a weird psychological minefield; you'll get on each other's nerves over the smallest things but in order to make it to the gig and to do well you just have to let it slide, which rarely comes easy. But when you're seeing all these different places, meeting bizarre and wonderful people and playing music ever night you get on with it.
It's something you really should get to experience in a venue…this trio plying their trade. They've just finished their second album, 'Cheap Things', which is due out later in 2017, but in the meantime more shows are cued up for February promoting their debut, and not just this side of the pond - the US beckons once more. It's not a bad transition from Simon's garage.
Catch Oh Boland at The Bello Bar, Dublin, on February 25th for the Irish launch of  'Spilt Milk', with support on the night from Lie Ins and No Monster Club.