Lindsey French, AKA Negative Gemini, is an American underground electronic songwriter.
Across two albums and several EPs French has explored the darker side of trance, drawing inspiration from the unlikely bedfellows of Britney Spears and My Bloody Valentine.
French also runs her own label '100% Electronica' with her partner and fellow artist George Clanton. French and Clanton started the label in order to cut out the middleman when releasing their own music but have since become middlemen themselves with a roster of nine additional acts.
The label line-up up is mostly US based, but includes several international acts including artists from Germany and New Zealand, but they are also responsible for the vinyl reissue of an album by a most familiar name on these shores, Cork's Microdisney.
Negative Gemini plays The Grand Social on October 17th.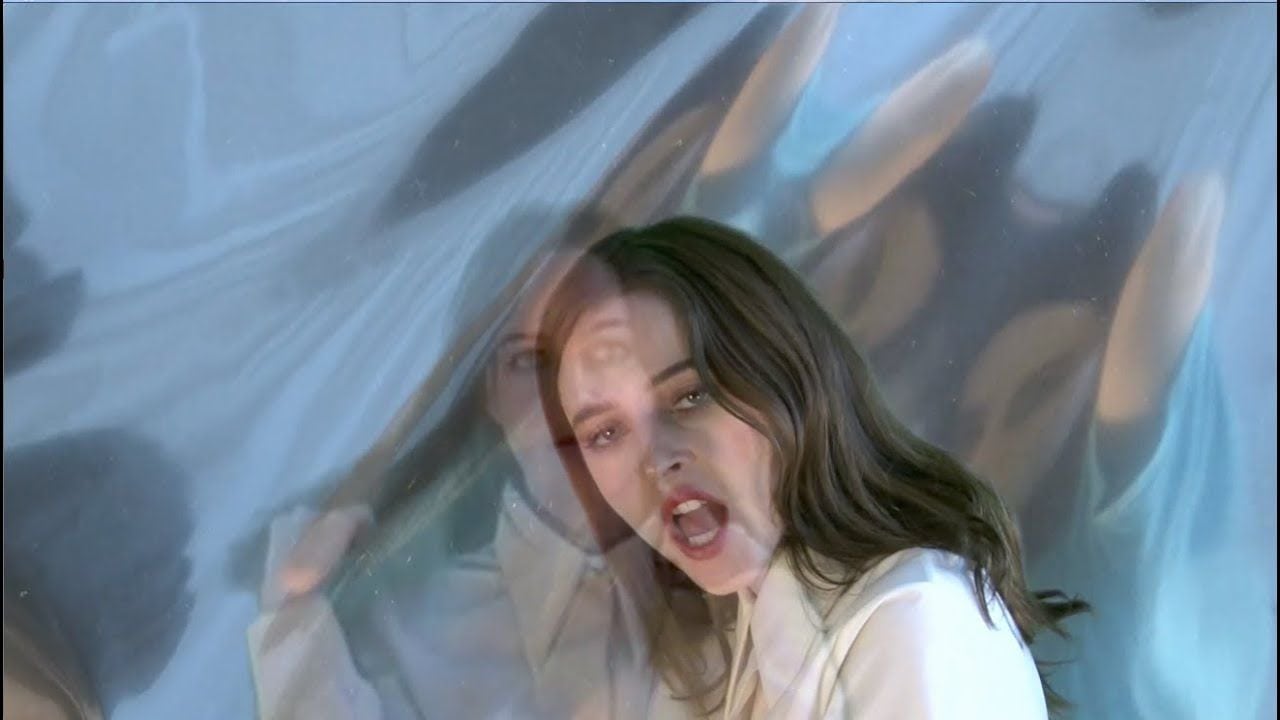 <<GP:>> Growing up, what were the electro records that made you say "that's what I wanna do with my life"?
For my eleventh birthday I got 'The Fat of the Land" by The Prodigy which I was super into. It wasn't so much electronic music but music in general that attracted me. I had 'Tragic Kingdom' by No Doubt, 'Jagged Little Pill' by Alanis Morissette, 'Tidal' by Fiona Apple, some really inspiring women for me. I wanted to be just like them - they're all very cutting, clever, eloquent.
<<GP:>> What was your formative musical output like?
When I was 14 I started guitar lessons and played in a few bands with my friends. I was writing very wordy, very angsty, (very embarrassing) songs and recording them at a music studio for teens in my home-town.
Some poor 20- something patiently recorded and produced a whole EP for me there. My parents were nice enough to send me to a summer camp for writers and I learned a lot and had some very dedicated mentors there to teach me and guide my songwriting.
<<GP:>> Why did you decide to go under the moniker Negative Gemini instead of your given name? Is the persona of Negative Gemini different from your own?
I think I didn't think my real name was cool sounding at the time? Lindsey French
I just like having a band name, it's like inventing something brand new. New associations for words you've heard a thousand times. So it's not a different persona than my own, just me by another name.
<<GP:>> What prompted you to set up your label '100% Electronica'? Was it something you'd always wanted to do or had you a bad experience with another label?
My partner and I started it in 2015 because at the time, in each of our careers, our only other option was to be on someone else's home-grown independent label and have them take a percentage of our livelihood while not necessarily reaping the benefits associated with being signed to a major record label.
We've always done everything DIY, our recording, design, press, so that was just the next step. We're not anti major label, we just weren't in that world at all.
<<GP:>> You've previously stated that Irish band My Bloody Valentine is an influence. What is it about them that floats your boat?
Yes! When I first heard 'Loveless' I couldn't believe it. I'd never heard anything quite like it. I listened to it for like a year straight when I first moved to New York and was writing 'Body Work'.
It's incredibly intimate sounding and insular. I like the way it's produced, it's like rock music but it's layered with so many interesting manipulated sounds. That's what attracts me to producing, starting with the basic guitar or whatever and being able to put a unique stamp on what might otherwise just sound like anyone else playing bass, guitar, and drums.
<<GP:>> If you could remix one MVB song or utilise one element of their music what would it be and what would you do?
I haven't thought to sample them, but when I sing You Never Knew at my shows I sometimes sing a little bit of 'Blown a Wish' in the intro.
But I love the chords or textures they seem to make with the vocals or the flute'ish stuff, it's just a wash. That's a big big thing for me now in my music.
<<GP:>> Your EP 'Bad Baby' was dedicated to and inspired by your sister following her murder. Was the stylistic change towards more pop-orientated music your way of paying homage to her own musical tastes?
'Bad Baby' was written before and after she unfortunately passed. It wasn't really that so much as it was just the direction I was headed, although her own musical tastes absolutely formed my own. It's been a devastating time, I just had a whole lot to say and I think pop music lends itself to that mission of creating a message.
I've got a lot of people in my life that I'm not able to communicate with because they're dead or gone, so songs are like letters that I write and never send. It's like my version of talking to a wall essentially, just saying what I have to say. Also, I think pop-oriented music is something enjoyable, and I like taking my ugly misfortunes and wrapping them into something seemingly pretty to give to the world, at least make something good come from all of this terrible shit.
<<GP:>> You are on record saying that creating pop music is harder for you than the trancy instrumentals you are known for. Do you feel that pop is unfairly regarded in music circles as the equivalent of the romance novel in literature when if it was easy there wouldn't be a bad pop song?
Yes, I will always think so. I think the bad shit gets a bad rap, like straight up bubble gum Jonas Brothers, made for 12 year olds. But pop-minded music to me is just strong with the melody and the message. And it makes for timeless work!
<<GP:>> Is this move to pop one of the reasons you decided to do a deluxe version of your album 'Body Work'?
I never want to abandon where I came from musically. It was more just some extra stuff to put on this cassette I was making for 'Body Work', because I had some demos and stuff that I thought might never see the light of day, if not for the Deluxe version.
<<GP:>> With these too distinct strains of music, how do incorporate them both into your live sets? And what should Irish fans expect?
I guess it depends on the show, sometimes I play a few more trancy songs, but mostly I just like to sing a lot during my set, because I want to connect with people on a real level, show myself, and that's my way of doing that.
Negative Gemini plays The Grand Social, Dublin on October 17th. Tickets €16.00.