Naoise Roo is set to return with her brand new EP 'Sick Girlfriend' this Friday, featuring the title-track and Black Hole. The EP is Roo's first significant release since her debut album 'Lilith' in 2015 and sees her reinvent herself sonically with a brand of alternative synth pop which is much closer to the mainstream than anything we have witnessed from Roo previously. However, Naoise Roo has not betrayed her roots - attacking her demons with gut-wrenchingly intimate lyrics remains her modus operandi and her message benefits greatly from being delivered with less claustrophobic overtones. Hopefully, 'Sick Girlfriend' is just the beginning of Naoise Roo finding her stride.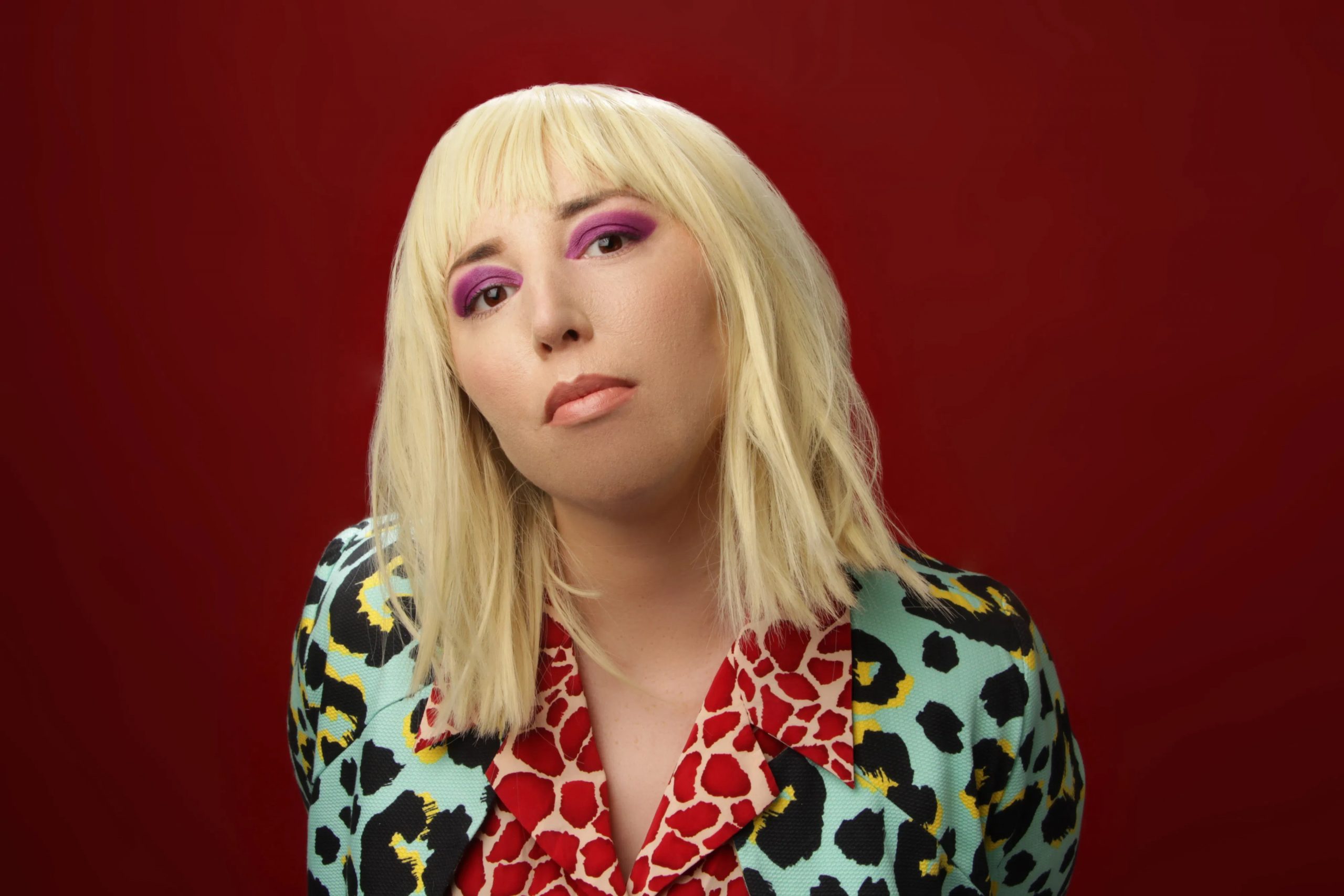 It's five years since your debut album 'Lilith' was released. It's a luscious but deeply personal record. Were you emotionally spent after the process?
I think making the record was a really exciting experience. I've never felt so creatively engaged as when I'm recording with my producer and musicians I love. Writing was a long process, some writers are great at creating work based on external inspiration which I think is probably a very healthy creative attitude. So far my experience in writing has all been pretty autobiographical. Maybe once or twice I haven't written something directly about myself but its rare, so I'd say the writing process expended a lot of emotional energy but it came in dribs and drabs. What spent me the most was probably the experience of being an independent musician and trying to spin so many plates.
Given that you put yourself under the microscope in so many of your songs, how difficult was it to have the added anxiety of external criticism added on top of that with the release of 'Lilith'?
I was very lucky with 'Lilith' that I didn't really get any written criticism. Nothing that stung anyway. I think if you have a solid amount of imposter syndrome, which many of us in this industry have, you are always waiting for someone to reaffirm why you shouldn't be doing this. I was definitely anxious about it. I've received my fair share of criticism since, privately about various things, but I was very proud of that record. I really put my flag behind it. Weirdly, I had this intense fear that I wasn't the right fit for my music, that it probably belonged with someone who was stronger mentally, a more expressive performer, more physically attractive. I think I always waited for someone to point that out. So far they haven't, which is nice.
The video for Whore was striking but quite controversial. Was that your concept? How did you feel when you seen the finished version for the first time?
I am a huge fan of Bob Gallagher and lucky that through this process we became friends. I met him in Acapulco for lunch on Georges St. and he pitched me the idea. I'd had something vague in mind but when he told me his idea I knew it was perfect. Originally it was 'Imagine a priest that is so dedicated and in love with Jesus he wants to become Mary Magdelene'. I always felt that song was about a sense of intense devotion, a dance between submission and dominance and clandestine love. Bob created something so beautiful and powerful that totally encapsulated the themes. I guess it is controversial, we definitely had a tough time finding a church! When I first saw it I just thought it was gorgeous and intense and Aron Hegarty had given such an amazing performance. I was excited. I definitely have some family who did not like it but I guess at the end of the day art is meant to provoke thought and feeling, so I class it a success in that regard.
Was there a moment when you realised you were ready to put yourself through that level of extreme personal scrutiny again?
I had gone through three years of intense anxiety and heath issues. I didn't really know if I was going to go back to music. Then I fell badly when in Berlin and fucked myself up. Something was wrong with my heart and they never fully figured it out. For months I could barely get out of bed without my heart going a million miles a minute. I still have some issues but am mostly recovered. I'd written some songs but they hadn't been finished and I felt like if anything was going to happen to me, or if my health got worse, I wanted to put out this batch of songs. I knew it was going to be difficult to play live again and to do the whole social media thing, but I really wanted to work with these musicians and get these songs that meant a lot to me out there.
The palette surrounding 'Lilith' was quite dark whereas the palette around 'Sick Girlfriend' is quite bright. What prompted this reinvention?
Its funny cause the subject matter in the EP is a lot darker than 'Lilith'. It was written when dealing with a lot of dark thoughts, so when it came to arranging them it felt right to create something sonically diverse. Each song really directed itself and transformed into its final form quite naturally. We didn't do a lot of prep before going into the studio, we wanted it to be spontaneous. My references have also changed and influenced the sound. I was listening to more electronic and pop. I think that definitely seeped in there. I like the idea of really dark and morose feelings hiding in brighter music. Black Hole definitely was that.
The evolution of imagery is mirrored by the evolution of sound. What prompted this shift towards more upbeat electronic soundscapes?
With regards the imagery, I worked with Bob again on the shoot for this. I wanted to portray a sense of the synthetic and performative side of being a musician. We always search for this sense of realness and authenticity but it's very hard to be vulnerable all the time and with everyone. Sooner or later no-one seems to know what's real. I made a very vulnerable record for me, even if it might not sound like what we think vulnerable sounds like. I wanted the imagery to counter that. To make somewhat of a farce of it. To be more surreal.
With music I specifically wanted a lot more synths on this record. Rian Trench who plays drums is not only a great drummer but a phenomenal electronic artist. He really added so much to the songs. I'd been listening to a lot of Sharon Van Etten and had got really obsessed with the song Jupiter 4 and wanted to layer the record with sounds that were dark and dreamy. With Black Hole I wanted something out of my comfort zone and it felt good to make something people could move to.
That said, Falling Stars and Ocean hark back to the darker sound of 'Lilith'. Do these songs represent a bridge between the two periods?
Ocean was the first song written for the EP so its definitely a bridge between. I think it really feels reminiscent of 'Lilith' for sure. Ocean was written during a particularly bad depressive period.
You assembled a crack team of Irish musicians to help you realise your vision. What did Dan and Rian bring to the table?
I was phenomenally lucky to have amazing musicians on this record. I am a huge fan of Daniel Fox as a musician and a producer. He can literally do anything, his musical instincts are so intuitive. The same goes for Rian Trench who is also an insane musician. I was so in awe of them that even though we know each other I was still nervous to ask them to play. Thank god they said yes, they really made the record what it is.
I also worked with the same producer as 'Lilith', Liam Mulvaney who is one of the best producers going...working in the studio with Liam is a joy. I also got to work with my fave guitarist Karl Tobin who played on 'Lilith'. It was a really joyous experience making it.
Sick Girlfriend and Black Hole deal with the hyper-hysterical representation of female mental health issues in the media. How big of a problem is this? And have you been a victim of it?
When I wrote the EP the songs all centred around the same basic theme: trying to navigate life while dealing with anxiety and depression. They range from navigating that in relationships (Black Hole), in the music industry (Falling Stars), the various misgivings around being a mentally ill woman (Sick Girlfriend) and suicidal ideation (Ocean).
With Sick Girlfriend I wrote it because I was so frustrated with the depiction of the Manic Pixie Dream Girl as a device. It felt like I hadn't seen accurate portrayals of what its actually like to be in a relationship with a woman with anxiety and depression. I wanted to sarcastically write something from the perspective of someone who thought this was going to be an experience as they had seen depicted in movies of the free spirited, crazy girl who's going to help you find yourself, and then realises that its mostly crying and napping and fighting with doctors to take you seriously.
You recently shared a cover of New Partner with Maija Sofia. Why did you choose that song? And can we expect a real collaboration in the future? 
Maija and I are good friends, back when we were living together Dwayne Woods of the Co-Present asked us to do a cover for their final show. We discovered we both had a mutual love of Bonnie Prince Billy and this was a song we felt was deeply underrated. We performed it live and a long time later I thought it'd be cute to put it out. My friend Fionntan Maccaba made the video, he's very talented and also made the videos for For You and Falling Stars. I'd love to do something with Maija again. I could deffo see it being possible.
Sick Girlfriend is out now.