Leeds quartet Marsicans deliver a shimmering blend of indie pop with a tropical undercurrent. Their 2014 debut EP 'Chivalry' was heavy on funky guitars and bouncy bass and sugar sweet melodies. However, there was a darker edge bubbling under the bubblegum sheen which indicated that Marsicans had more to offer.
2016 EP 'Absence' showcased that the group's growth with a more mature sound on display whilst retaining their radio friendly sheen with acts such as The Libertines, The Maccabees and Circa Waves clear influences.
Since then Marsicans have shown growth with each subsequent release, so much so that BBC Radio 1's Huw Stephens tipped the group as ones to watch for 2018.
Stephens will no doubt feel justified in his decision as most recent single Pop-Ups (Sunny at the Weekend) is perhaps their best to date.
We caught up with Rob Brander (bassist/keyboardist/vocalist) ahead of their debut Irish shows in Cork and Dublin this September.
// GP : You guys have opted to release lots of singles over the last four years rather than an album. Is that because you guys think the format is dead or because you want to wait until you feel the band is operating at an optimal level before you go into the studio?
We're all big fans of 'the album' as that is the way we consumed music growing up, so it's definitely more to do with the latter than the former. That being said, the industry is ever changing and you have to roll with the punches.
The rise of streaming has certainly made us think more about the way we release music and singles do work well within the current climate. There will be an album at some point, but we want it to be perfect, so we're hoping to keep building things for now.
// GP : Huw Stephens picked you guys as one of his Alternative Tips for 2018. What doors has that opened for you?
Huw's support has been amazing, and it doesn't start and end with the big man. The entire BBC Introducing team have been behind us from early on. Being one of the Alternative Tips was a really great validation of last year's hard work and allowed us to start the year with a bang.
We were invited to perform a live session at BBC Maida Vale Studios, have had our music playlisted on Radio One and this summer we will be playing the Radio One stage at Reading and Leeds festivals. All of that is massive for us.
// GP : Leeds has a varied musical history Soft Cell, Sister of Mercy, Kaiser Chiefs. How's the current scene and who should we be looking out for?
The current scene is ace. In fact, the current scenes are ace. Leeds has a really diverse range of great music that seems to be thriving at the moment, from electronic producers through to metal bands. Our tips include Fizzy Blood, Litany, Caro and Happa.
// GP : You've been playing all the big festivals in the UK recently. What's been your highlight of the festival season?
So far I think my favourite moment was opening the main stage at Barn On The Farm festival. We played at 11:30am on the Sunday morning which is truly the hangover shift.
So, with reasonably low expectations, we were overwhelmed with the turnout. The tent was at capacity and the crowd were really kind to us. The festival itself has a great vibe and it's one we hope to keep going back to.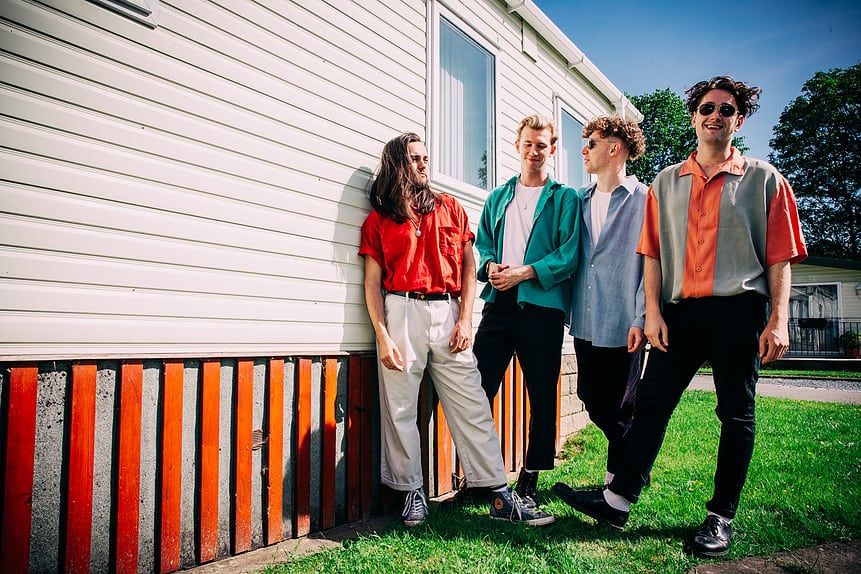 // GP : You're coming to Ireland for club shows in Cork and Dublin. Are you looking forwards to playing intimate venues again?
Of course! There is a magic about playing in small rooms that you just can't capture in a festival setting. They both have their perks but, after our headline tour earlier in the year, we are raring to get stuck in to some touring again.
// GP : What have you got in store for Irish fans (we're a hard bunch to please) and what are you looking forwards to doing in Ireland?
There will be lots of energy in the set, some new material, some brightly coloured shirts and probably a dangerous amount of our guitarist, Oli, careering backwards into the rest of us without looking.
We're really looking forward to exploring Ireland, as it is our first time in the country. We'll try not to stick out like tourists too much.
// GP : Your track Throw Ourselves In was featured in Made In Chelsea last year. What was it like to be exposed to such a popular show's audience? Do you watch the show and who's your favourite cast member(s)?
It's fun for us to turn on the television and hear our music. That kind of thing is great for reaching new audiences. And Oli used to watch it. I'll make sure I ask who his favourite cast member is next time I see him, and we will make the grand announcement live on stage at our Irish dates, accompanied by a dramatic reading of the most recent episode in poorly-imitated posh accents.
// GP : Sync deals like Made In Chelsea are so important for new bands these days. What would your ideal placement be and why?
I'd have to turn the clock back, but a big thing for me as a teenager was the soundtrack to Channel 4's 'Skins'. It aired at the perfect time during my formative years and I used to think both it and its choice of under-the-radar indie music was super cool.
// GP : Why did you choose Sophie Pearson to duet on a version of Absence and who else would you like to work with in the future?
We knew Sophie from her work with a Leeds band called Jacobean Ruff. We had always admired her voice and thought that it would be perfect to play that particular role in the acoustic arrangement of Absence.
Moving forward, there are hundreds of people we would like to make music with, but finding the perfect producer for a potential album is something that's firmly in our minds at the moment. If I was in dreamland then I'd have James Ford (Arctic Monkeys, Haim, Gorillaz) behind the faders, and Kanye West over his shoulder to inject a bit of bravado into the equation.
// GP : Your track Too Good has been your most successful release to date with over 945,000 plays on Spotify, will you guys celebrate when it gets to a million plays or do you not concern yourselves too much with stats?
Stats don't matter too much to us, but we'll certainly have a smile to ourselves. Numbers aside, it's just knowing that so many people around the world have listened to a song we wrote in a windowless rehearsal space in Leeds. It's a mad thing.

Marsicans play Cyprus Avenue, Cork September 6 and Upstairs at Whelan's, Dublin on September 7 with support from Wolff. Dublin tickets €13 on sale now.