"I feel like I haven't touched the ground in two weeks," says Maggie Rogers, when we enquire how it feels to finally have her long-awaited major label debut out. "It feels amazing," she continues from the backyard of the house she's currently residing in in LA whilst doing promo for 'Heard It In A Past Life'. "I love this record so much, I'm so proud of it. It's funny when you finish a record... it feels like a beautiful, big deep breath to finally have it out in the world."
Rogers worked with some of the hottest producers in the world right now on the album, including former Vampire Weekend member Rostam Batmanglij (Frank Ocean, Haim, Carly Rae Jepsen), Greg Kurstin (Tegan & Sara, Sia, Adelle), Ricky Reed (Twenty-One Pilots), Doug Schadt (Emmy The Great).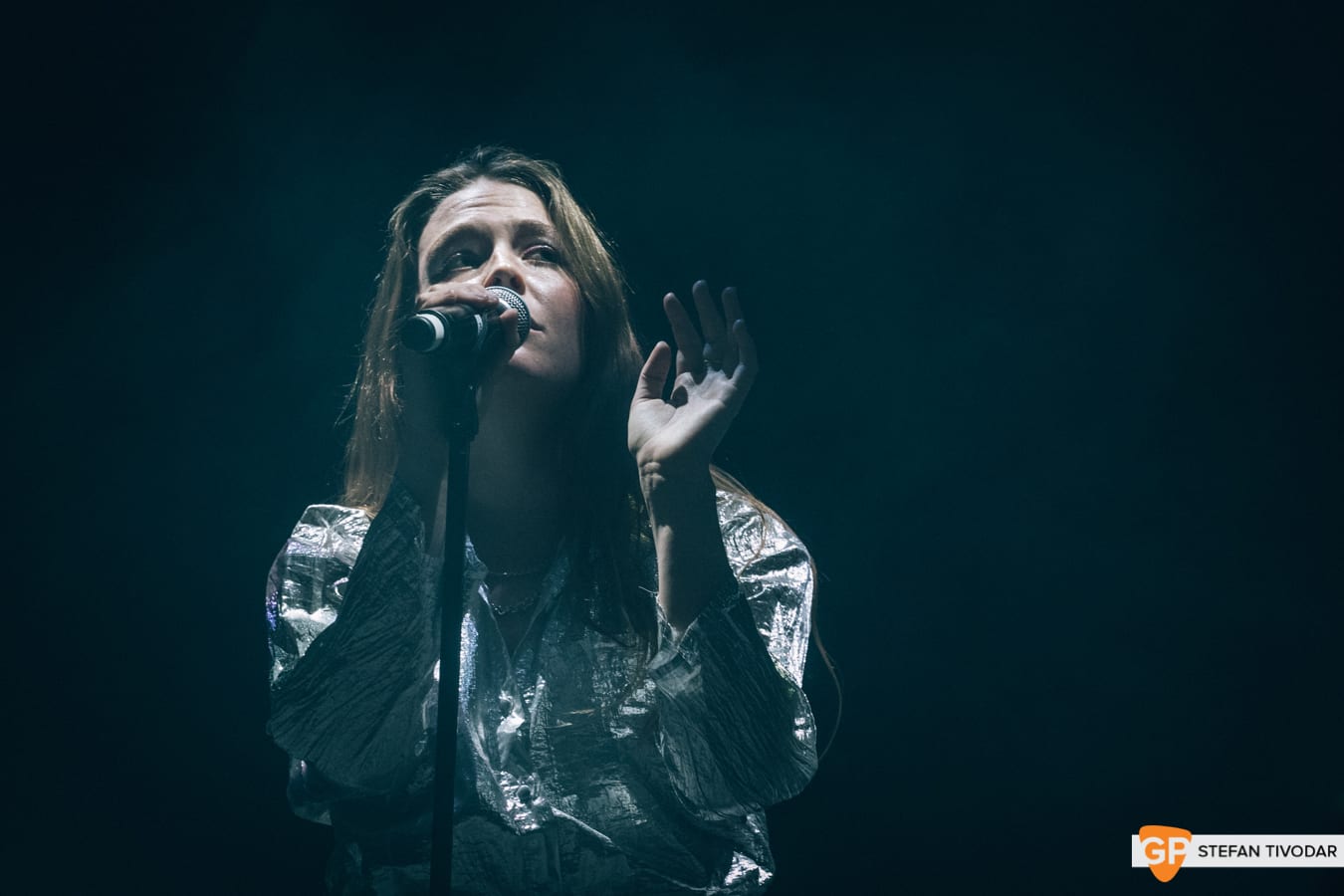 "All of the producers on this record were either my friends before I made the record or were people I had looked up to and admired," says Rogers, who has received some criticism for working with so many producers, but for Rogers it was simply a chance to continue her education in sound.
"One of the things I think about the most is using this platform and this access creatively to really learn, and really think about it as almost a form of grad-school. So, it was amazing to work with these incredibly creative people - whose work I have a lot of admiration for - because the best way to get better is to learn."
The results of Rogers' apprenticeship with a Grammy Award-winning tutelage is a lush record, but no one should be in any doubt that 'Heard It In A Past Life' is Rogers' vision. In fact, much of the ground work had already been done for her 2017 EP 'Now That The Light Is Fading'.
"I spent a lot of time experimenting on the EP and in the years before because I studied Music Production Engineering in college…getting different sounds and taking sound samples. When I made the record, I'd already done my homework...there's always an exploration phase, because that's the most fun part of creativity. I leave a lot of space to discover. But I know what I like so it's not a long process of trying things out."
Don't be fooled though, Rogers is not concerned with expediency, but rather blocking out the outside world and disappearing into the moments where she is completely unhindered by expectations.
"I think one of the things I'm most excited about in the creative process is being in the flow," she explains. "When I'm making something alone, I'll just record some drums that sound okay and I'll keep making things, keep building. Then I'll come back later, refine those sounds, hone in on those textures, but I love the moment where it just comes tumbling out and comes to together." However, this is not always an easy process. "I think I've spent a lot of time trying to separate the brain of mine that is a writer, and the brain of mine that is an editor. I try and keep the self-critic as quiet as possible, otherwise it gets in the way."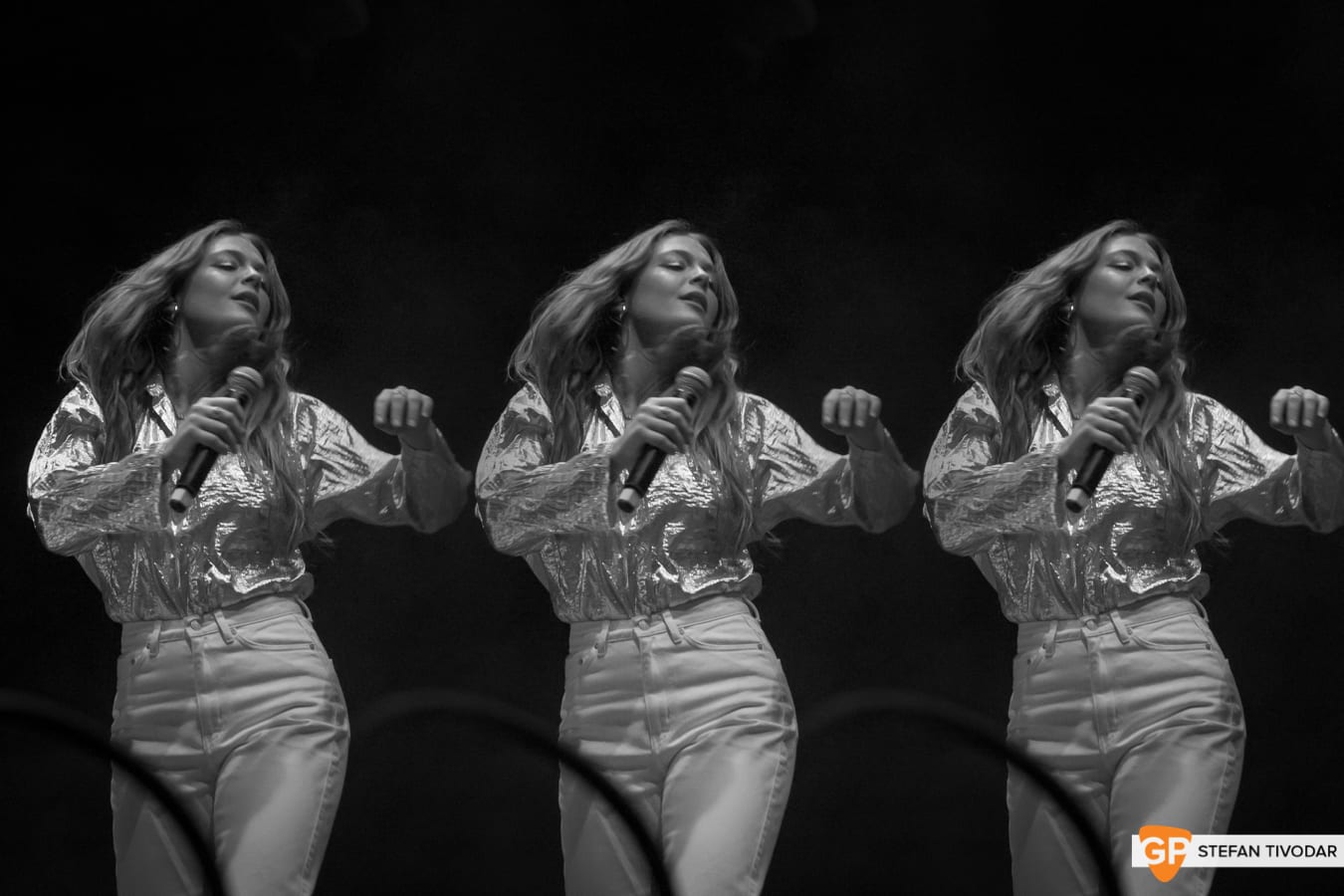 The act of creation also has positive implications for Rogers' everyday life. "Writing songs is my act of self-care," she says. "I really love to journal and I write a lot of pages, but there's something that happens when I'm singing or writing a song where I find myself able to be more - not vulnerable - but deeply, deeply honest, because the words I want to sing come tumbling out and I think when that happens I really get to know how I'm feeling about something." Whereas many artists believe that they tap into parts of themselves unconsciously known to themselves, Rogers sees it more as a matter of turning the valve on the truth. "I think (songwriting) lets me know what I already knew, but was afraid to say. The real truth of how I'm feeling. I think there's that boundary of things we say out loud and things we know to be true, but don't say out loud, but I find a lot of comfort in singing those things."
Indeed, facing up to things you already know to be true is a reoccurring theme throughout the album as Rogers works through her interpersonal misgivings, her wanderlust, and her fight-or-flight instinct.
"My fight-or-flight instinct is so strong. And I always run," she declares. "Even after the Pharrell video happened, I put Alaska out and immediately left the country; went to France and visited some friends, went to Malaysia where my sister was living. I think it comes from a desire to really be in the world and learning about the world."
Rogers informs us that prior to this interview she was in contact with her team, trying to clear her schedule and plan her latest escape attempt to let off some steam before her European tour begins. "When it kicks in, it kicks in hard," she says. "Before this phone call I was on a car rental app going 'I can get the car by 2pm, be in Big Sur by 8pm.'"
"It's good for my creativity to take time and space to enjoy things, and I think right now there's been so much excitement with the record that I'm kind of need a second to take it in and enjoy the moment," she reflects, practising her excuse for absconding…
Much has been made of the Pharrell video which launched Rogers' career; from the veteran hit-maker being astounded by an early version of Alaska to Rogers 'I can't believe this is happening' fleeting glance in his direction halfway through – probably the exact moment people fell in love with Maggie Rogers as a person and a star was born. It also created the narrative of the underdog who overcame writer's block to wow the music superstar. "It wasn't really writer's block, I would say over-stimulation…it really stemmed from being in school and learning a bunch and trying to figure out how I was going to synthesize all of that information."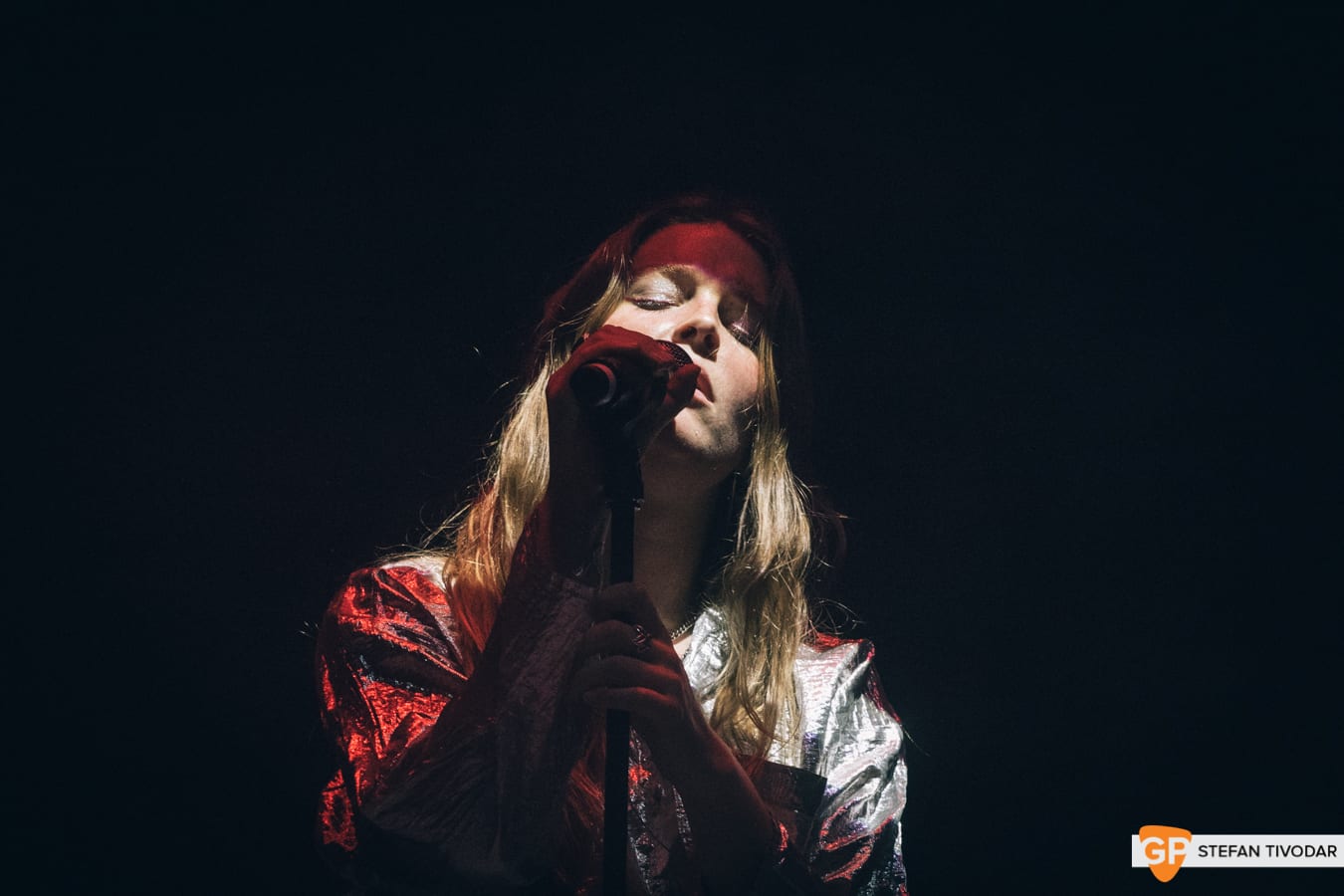 "I think that writing music takes quiet time. It takes time to process and figure out what you want to say about all the things you've seen in the world." Such experiences meant that 2017 was somewhat of a fallow year for new songs. "I was touring and there were all these new experiences happening in my life, and I was trying to figure out what I wanted to do with them and how to navigate them in a way that felt like me."  Rogers was also cautious not to jump into recording and releasing more music just for the sake of it. "(I was) trying to figure out who I was in this new world and new career as a professional musician," she laughs, as if she still can't quite believe it's true. "I did take two months off in the fall of 2017 to think about where I was and what I wanted to say, because I knew I needed some time."
However, for all of the last six years' adventures, one thing which Maggie Rogers believes hasn't changed is her creative identity; it's just solidified.
"I think my writing process has stayed very similar, reflecting on the world around me. I think I've learned I'm more capable than I thought I was," she says, pondering her journey. "I haven't had a lot of time to just be in the world, I was either in school studying music or on the road touring music. I think that's why I'm so excited about the record being out, because it feels like there's just so much possibility in the world, the world feels so open and I feel so open and excited."
"It feels like finally landing my feet solidly, because putting a record out that is publicly recognised as a first complete statement, feels like I now have a real foundation to stand on...I always knew what I wanted, I think it was just processing the way that those expectations were manifesting in my life and what I wanted to do about them."
The fact that Rogers is yet to fully process her newfound fame and position of power is probably one of the reasons she is managing to take it all in her stride. That and frankly, the fact that much of the trappings apart from opportunities for her music don't seem to interest her too much.
"Those are all things that people put on me, not that I've put on myself," she says on being given a platform for her gender and generation. "I feel pretty grounded and sure of how I feel about things like my career or politics or things with my gender. So, when I'm speaking about them, I'm not trying to actively represent anybody else's ideas other than my own..."
One thing Maggie Rogers is very interested is the inclusivity of music. "I want my concerts to be a place where everybody feels welcome. I really feel that music brings people together and can show people that they might have more in common than they think. People vote differently on different issues, but everybody knows how it feels to be sad. I think as long as everybody at the show is treating each other with kindness, respect and compassion...everyone has a place to release and nothing feels exclusive. I always wanted (my music) to feel welcoming and feel inclusive."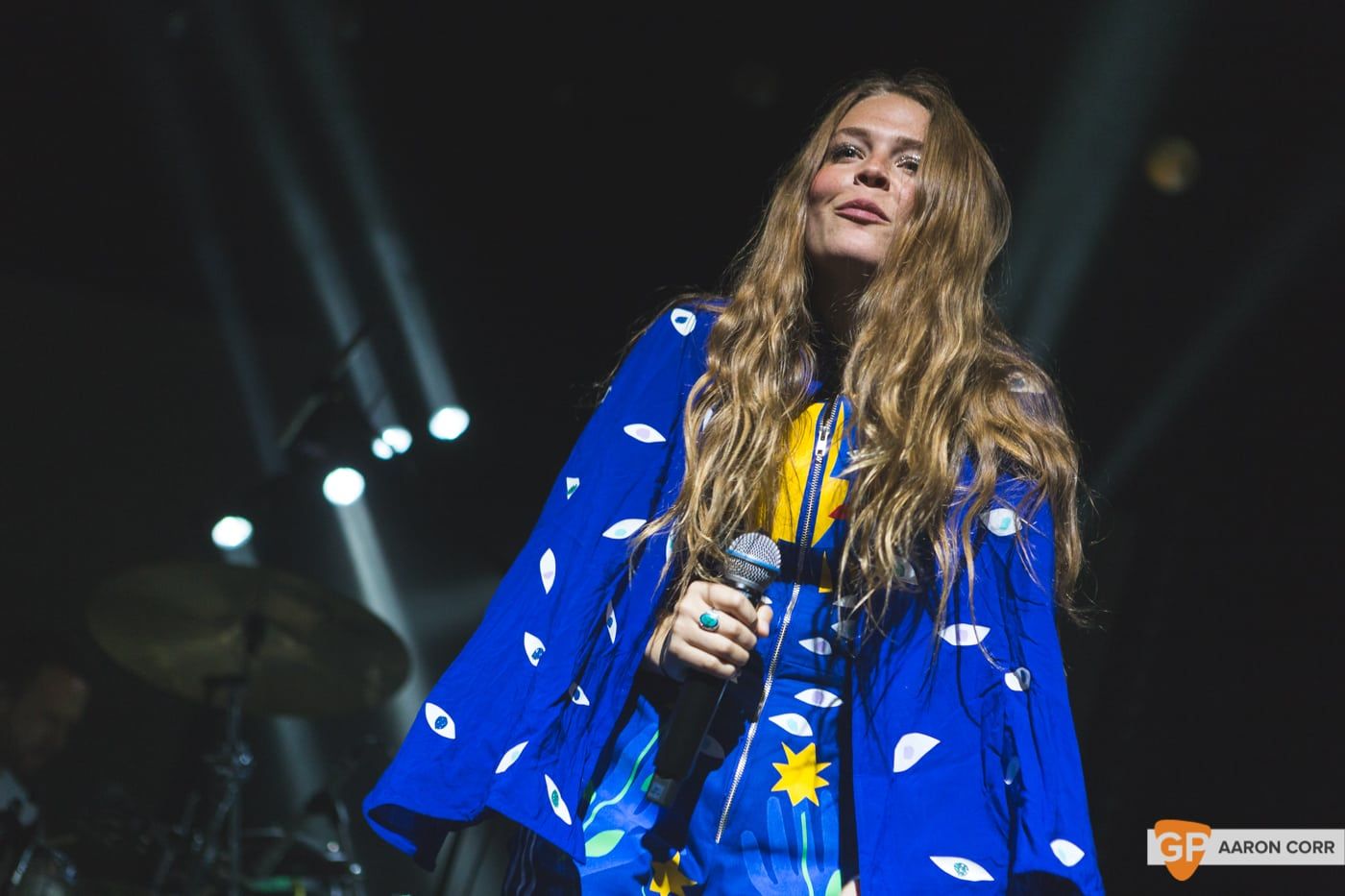 "I have this intense focus…on being human and representing the human side, whether it's being famous or going to get coffee in the park and that's something that my favourite songwriters do." Rogers name-checks Feist, Drake, Dylan, Young, and Mitchell in quick succession. "Often what draws me to their work is their ability to make really small moments feel really big and really big moments feel really small."
Perception, understanding and respect are things which continually crop up during the course of the conversation. Rogers gives it and expects it in return. She famously ran rings around unwitting record executives when they underestimated her during the race to sign her. Rogers on the other hand had done her research and knew which acts each had signed and passed on and why acts had left them.
"The first thing I'd say in relation to the meetings is that I do expect if somebody is in a situation where they're trying to make money off of my music that they take me and my music seriously and treat me with respect, but I think also treating people with respect is a really basic fundamental principle."
Such incidents have left Rogers questioning the perception of her as an artist and an individual and if there is in fact any difference between the two?
"Do people have this expectation of who I am versus who I really am? People always say: 'You know my music, but you don't know me.' I've been having this conversation recently of what is the real difference between who I am in my music and who I am as a person, because I am so vulnerable in my music and I am pretty transparent about who I am and what I believe in. Even the way I present myself, the way I dress or the way I feel comfortably and powerfully myself is not super decorated. I think the real difference is that the way I put out music doesn't give me the ability, the opportunity to be constantly updating.
I'm constantly changing, but my music, I can only update in certain chunks. It does create this weird one-way mirror of people know me fairly well if they are into my music and read a couple of interviews, but I don't have the ability to really understand people on a one-to one basis in that way. I'm thinking more and more about that and then at times what are the boundaries that I'm comfortable with."
As the record company intervene to get Maggie Rogers onto the next task before her fight-or-flight instinct kicks in and she absconds to Big Sur in a rental car, there's time to end the conversation on a happy note and one of Rogers favourite experiences as a professional musician - her appearance on The Late Show with Stephen Colbert.
"It's amazing, it's just crazy that I get to be on those kinds of stages or in those rooms Colbert is the Ed Sullivan Theatre where the Beatles premiered, there's a really special magic to those spaces and it feels like such a privilege to be included in those rooms."       
Maggie Rogers plays The Academy, Dublin February 14-15th. Tickets €24.47.