Every year the GoldenPlec community of writers and photographers (50+) come together to vote on their ones to watch for the upcoming year. After pulling the votes together, we select our 'Plec Picks' for 2017. We have classical artists alongside rap, jazz, funk, grunge and anything in between. Our list strives to encompass a broad spectrum of music in order to highlight the thriving music scene that exists in Ireland.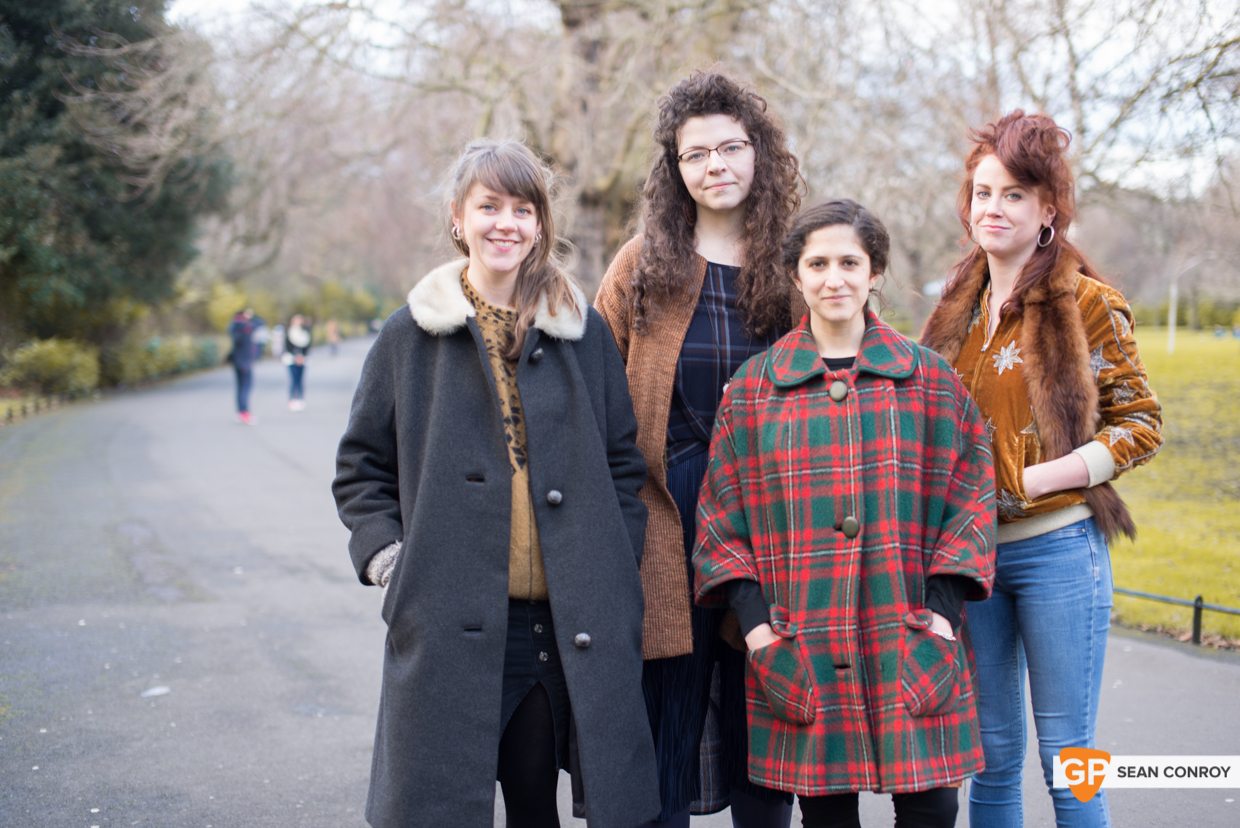 Landless are a female quartet who produce traditional vocal harmonies without instrumentation. Bound together by college and the trad scene, they combine archaic poetry with rural imagery and hope to build upon a successful 2016, which culminated in Landless performing across a series of churches in the French city of Lille.
"Yvain Delahousse came to a gig [Trad Rising in the Button Factory], he approached us that night and said 'we've this festival in France every year and we'd love to have you.'"
The quartet was only there for a weekend but wish they'd stayed longer. "The churches were really beautiful and the sound was perfect. We were very well looked after. They would bring a picnic to us before each gig. They brought us cake on the first day." At this point they recall leaving a trail of cake crumbs, laughing amongst each other.
From talking to Landless, it's clear to see that at the root of the group is a tight bond and friendship. Even from our short time together, laughter fills the air as they recall their journeys over the last year.
Meabh and Ruth became friends while studying at the National College of Art and Design, later meeting Lily and Sinead through Sacred Harp singing. They also met Solveig Bergene - an Erasmus student from Norway - at college who later designed the cover for their debut EP.
The cover sports a spøkefugl - a ghost bird or joke bird (a Norwegian pun) which as Meabh tells us, "had a bit of relevance to us in terms of birds being landless, the idea of the voice being a non-physical thing and there being no body, but you can hear it."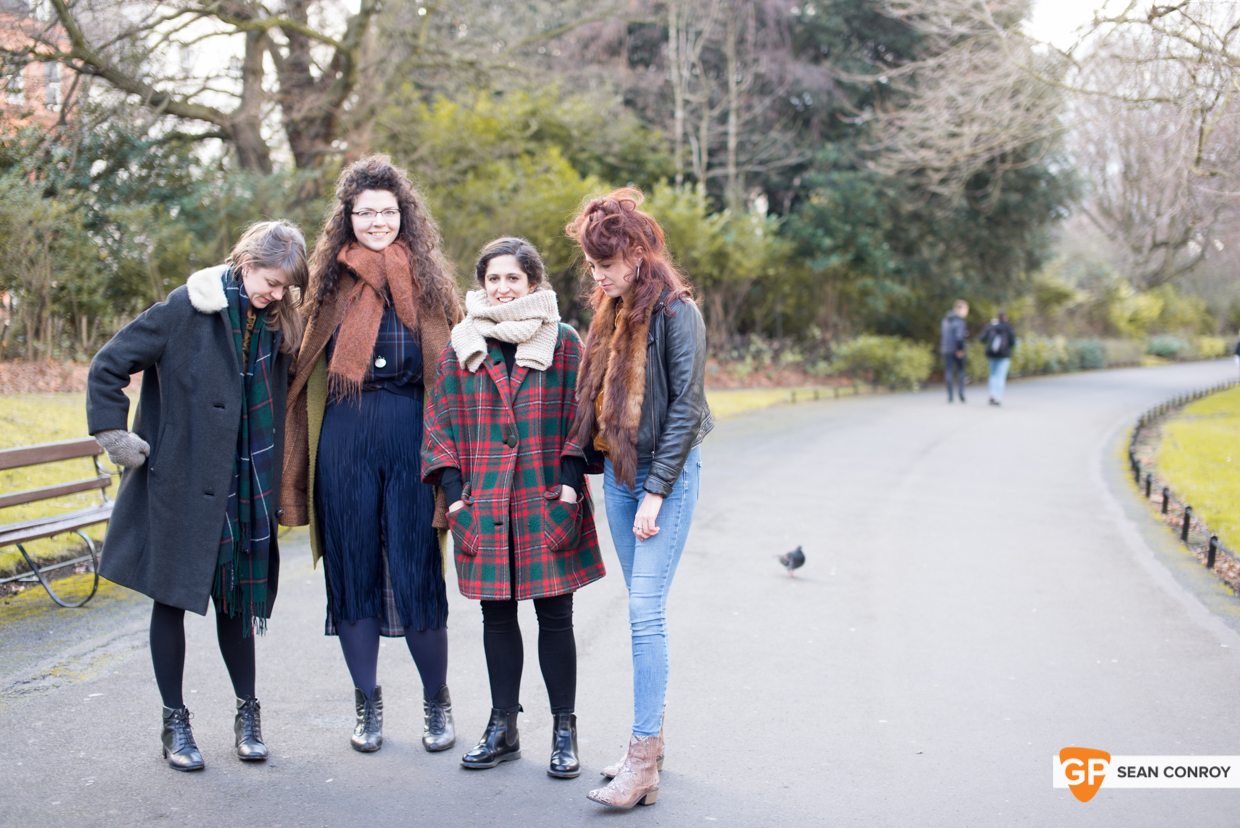 With all the talk of churches and purity, we wonder whether their involvement in pro-choice concerts might have jeopardised their plans to play in the churches in Lille, but they state there have been no issues in that respect.
Traditional music has always been deeply rooted in Celtic arts and culture, but Landless, with their stripped-back approach, offer something unique and compelling, something that challenges our modern preconceptions of what Irish traditional music can be.

Spawned through the Dublin trad scene, Landless tell us how they all met and what informed where they are today. "We all met through traditional music and were inspired by others singing in the Irish tradition and English/Scottish (traditions). Not to mention going to and singing in sessions around Dublin and around the country."

It's this organic sense of community and the way it has brought musicians together in a seemingly fun and enriching environment that has us most excited about the way the trad scene seems to work.
"In the beginning it would have been a lot of harmonies that Meabh and Ruth had made together and then they were built upon," Sinead informs us. "We were more influenced by solo singers than any other group. The Irish tradition would be more about individual singing. You know, very ornamental and complex melodies. In English harmonies would be more common - what we do is combine the two."
As well as performing in France last year, Landless also spent time in Berlin and played a series of gigs in Ireland as well. "Every month we had a couple of gigs. We were in Berlin last year - it was a mini festival I guess - Irish dancing and ceilidh bands. We did a tour of the venues, really nice venues, outdoors and foresty - very well-run."
In addition to this they also began work on their debut album."We're making an album with Vincent Dermody from The Jimmy Cake. He is starting a label called Humble Serpent and ourselves and Rue will be the first releases."
It seems to have been a productive twelve months and Landless recognise the traction they have made. Sinead claims that "We've been really lucky; gigs present themselves to us in a nice sequence." But there's no luck about it. The band has put in the hard miles and its reaped dividends.
Meabh and Ruth expand, "I think because of the nature of what we sing, we get unusual gigs like churches or art spaces or boats."
Lily alludes to one such concert they performed in Cobh. "The Sirius Arts Centre in Cobh had an event. We performed on a boat. Luckily it was calm because I have terrible sea nerves and I was worried about throwing up."
It's then that Landless explore their appeal and reach, commenting that there aren't that many vocal-driven female quartets. They do add however that it doesn't always work for them, in terms of in a live capacity, but that they're learning along the way.
A standout gig for 2016? Trad Rising or Fennelly's. "Fennelly's is this arts space in a former shop down in Kilkenny. They put on this amazing breakfast with homemade food and they had an artist or a musician interacting with the people who came in. We were singing at the tables from half-eight in the morning. It was a good exercise in warming up very early in the morning. People would come in dribs and drabs, like they would in a café. One minute you would be singing to a trendy theatre couple and their baby, then some older people from the village would come in. 
It's a cultural hub - you'd have an interesting mix of people - and the house is beautiful, antiques everywhere, a nice big fire. It's a really lovely place to be singing. And because we were there for a couple of days, we had time to work on songs. We went down there under the premise that we were going to do research. We'd research the local songs and try to workshop them. We never get a couple of days where we practice new things. We came out with two new songs. Usually it'd take a couple of months."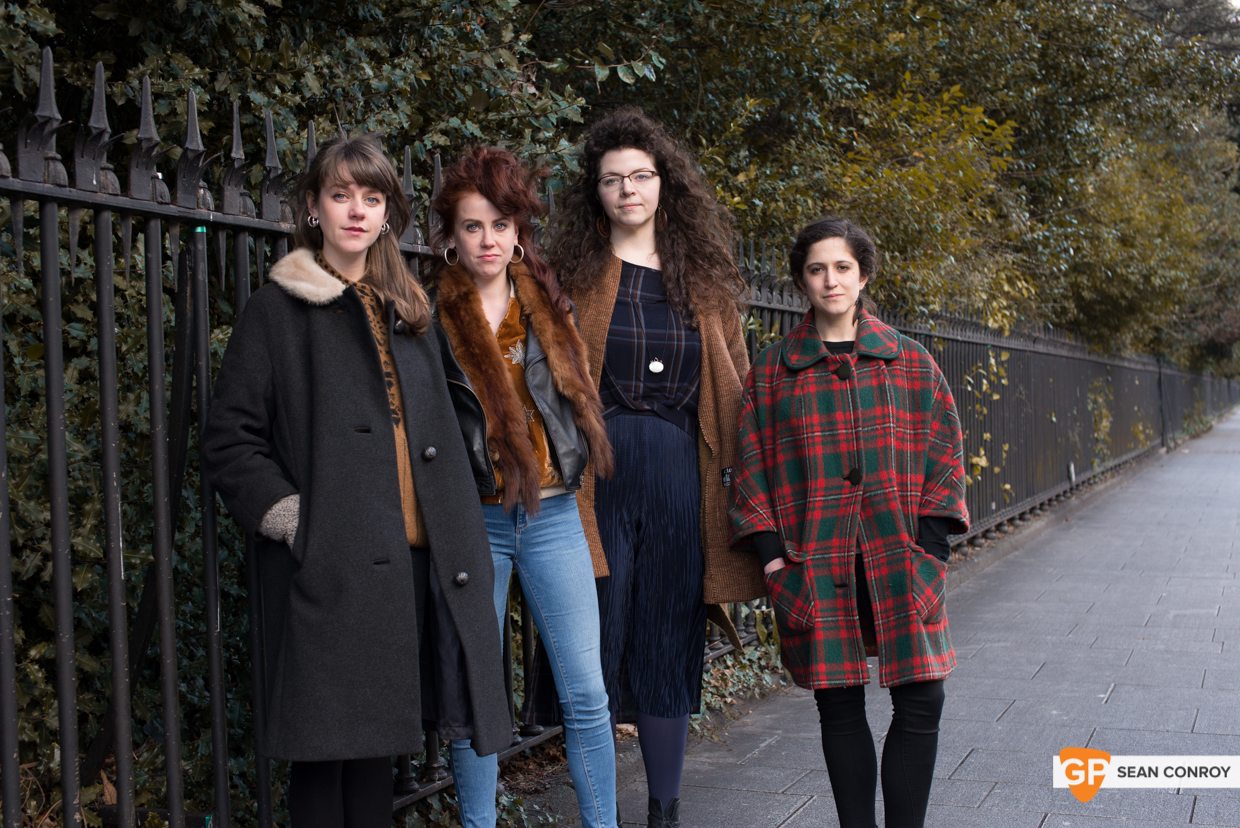 This probes us to ask them further about their creative process. "We don't need any equipment; it's mostly just sitting on each other's beds and singing. We do a lot of it at a distance (Maebh lives in Belfast). We send harmonies, learn them, get together and practice them, but because we don't meet regularly it takes a while to get them tightened-up to perform.
Usually what happens is a song's chosen and then Ruth or [Sinead] or Meabh would make harmonies and record the parts separately and send them out. Then we'd get together and practice. We're lucky because for women who are all obviously of a very similar age, we have a relatively varied range, even though the harmonies would be quite close. We're definitely getting more experimental with harmonies. We've got a new song which is about to come out with different harmonies and rhythms."
Yes, the future looks bright for Landless. You can expect a new album to arrive in the summer. But if you're too impatient for that, you can catch them showcase some new material at the Bello Bar on Friday 10th of February.
Fittingly, nothing seems to be grounding Landless at the moment. We have lift off!