The snowy barn owl that adorns the cover of King Princess' second album encapsulates the importance of family for the artist. In recent times, the 23-year-old songwriting phenomenon has lost both of her grandparents.
"Both my grandparents were incredibly important to me and still are," says Mikaela Straus, aka King Princess. "My grandfather loved owls. He was obsessed with nature and the wilderness of upstate New York, and he loved looking for owls, so I thought after he passed, how amazing would it be if I could hold an owl?"
This desire to honour her grandfather, who died during the process of writing the album, would eventually crystalise as the artwork for the album, and the photoshoot was a cathartic experience for the New Yorker.
"It was amazing. Me and the owl bonded immediately. The owl took a nap on my titties which I thought was really cute," she says. "The owl and I were good friends. He was snuggling with me. They were like "owl's don't snuggle" and I was like "owl's snuggle, just wait.""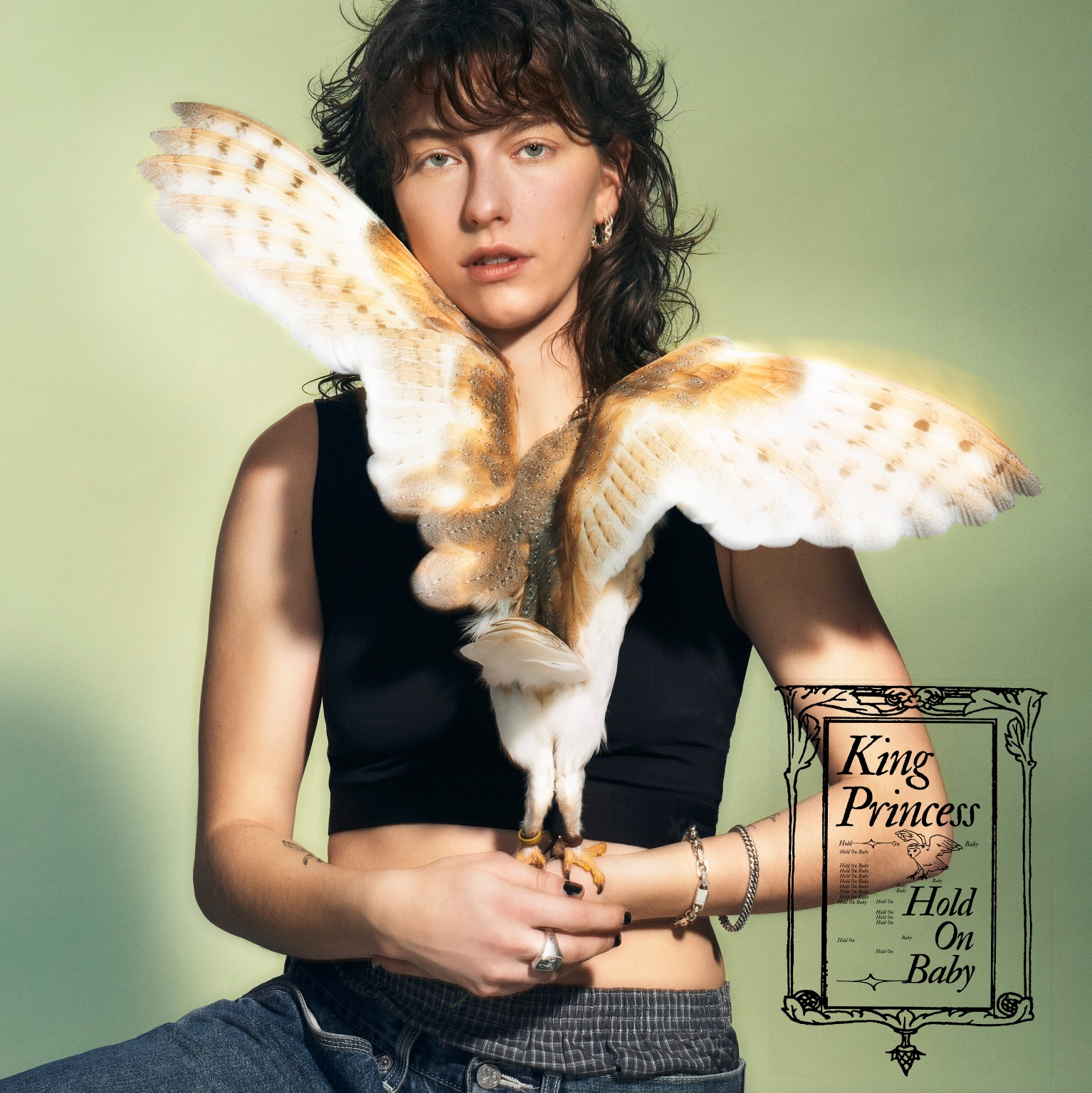 'Hold On Baby' is an intimate, almost smashed mirror reflection of Straus' inner-monologue, full of affirmations and warning for herself. "Oh yeah, it's me talking to me," she confirms of the album's title.
To achieve an accurate reflection of the multifaceted threads of Mikaela Straus' psyche that the album pulls upon, Straus assembled an impressive team of collaborators to bounce ideas off. However, much in the vein of David Bowie, there is no doubting who was helming this artistic venture.
"Music's collaborative. I think it's healthy and fun to be in the room with other people and I love to work with other people. I love to work with musicians that are better than me and that's what I got to do on this record," enthuses Straus.
"Ethan (Gruska), Aaron (Dessner), Dave Hamelin, Mark Ronson, Taylor Hawkins: These are people who are incredible, incredible musicians who allowed me to be the best version of myself."
Perhaps the most startling track on the album is Winter is Hopeful an old-school love song that you could easily imagine Frank Sinatra salivating to get his hands on. A breath-taking exploration of the joyous mundanity of long-term relationships.
Respecting the boundaries of how much your partner is willing to have the inner workings of their relationship on display for the whole world to see is a consideration most of us never have to wrestle with, but for songwriters, there's a tightrope somewhere beyond "I love you" that they have to walk.
"Of course, because I have to come home to my girlfriend and she's like "so what did you do today?" and I'm like "Hmm, I wrote a song about you"", says Straus. "I'm able to say things more clearly and accurately in music than I am with words most of the time. I'm very lucky to be in a situation where I'm with someone who accepts that about me, but no, it's definitely not normal to be like: 'Hi. I'm going to write all of my feelings into an album'. That's crazy."
Winter Is Hopeful was a song that came quickly to Straus in a stream of consciousness, but the song took time to perfect due its intricate instrumentation.
"It just kind of came out [of me] and that felt very easy and then it was just making it perfect," says Straus. "I wanted that song to just feel like a complete breath of relief, because you're just letting out all these feelings."
Straus credits producer/engineer Sean Everett with taking the track to the next level with his mix. "He heightens everything, he knows how to make moments bigger sonically."
"I try to still view it as joyous," says Straus at the mention of Taylor Hawkins' contribution to the album's closer Let Us Die. "From the little I know about him through meeting him and through his work and watching him live, this man was an incredible musician who wanted to play, and I like to think that it is an honouring of him, although obviously I was devastated and saddened and confused by how it happened."
"I just have a feeling that he would've wanted people to just celebrate a good song with good drumming," she adds. "So, I try to make sure that it's always joyous. We did a [Jimmy] Fallon performance two nights ago and put his name on the drum head because he deserves it, he's there with us in spirit when we play that song."
Not having the outlet of playing live has been one of the most difficult aspects of recent times and Straus is eager to take King Princess back on the road.
"Oh my god yeah, I thrive on the road. I love playing live. I love seeing people respond to the music in real time and when I don't get to do that it feels like I'm only doing half my job." She states emphatically. "So, I'm just ready to get on the road do my little dance, wear my little outfit, party."
The release of 'Hold On Baby' inevitably comes with expectations from both fans and record executives with comparisons to 'Cheap Queen' in terms of sales, but following the runaway success of her debut single 1950 which has over 505 million streams and counting on Spotify alone, Straus has learned not to get bogged down by metrics.
"I've started to push aside the numbers thing and be like "okay, how do I gauge success?" I gauge success by people showing up to my shows. I gauge success by writing better and better music that's more thoughtful. I gauge success by doing these milestone moments like playing Madison Square Garden with Kacey [Musgraves]. Doing Fallon, Doing SNL"
"So for me, I try to detract from this idea that I need to be this monumental streaming artist and instead I just think, look at all the amazing shit I get to do."   
'Hold On Baby' is out now.