Since the release of Kelsey Lu's cello-based ethereal-sounding EP 'Church', she has received a slew of praise and earned many support slots with big acts such as Neneh Cherry and Florence and the Machine, as well as collaborating with the likes of Solange and Blood Orange. Recent singles Due West and Shades of Blue have seen her evolve her sound with an R&B feel, introducing more instruments and layered percussion to the mix.
After running away from home and joining the North Carolina School of the Arts to escape her Jehovah's Witness upbringing, Lu subsequently left the university to yet again pursue less restricting endeavours. Hanging out with an underground hip-hop group United Minds Conglomerate and experimenting with psychedelics she was on a journey of self-discovery.
Tonight, meeting the New York based singer for her debut Dublin show, in the humble setting of The Workman's Club backstage, there is a little apprehension in the air. The singer has (according to her Instagram) had a rough day. All things considered, she couldn't be more warm and welcoming, pointing to the nearby armchairs saying "sit on down."
This small underground room is usually quite a grungy scene with band names and profanity scrawled on its walls; but it has never looked so nice as it does this evening, with draped fabrics, candles and fairy lights placed around the otherwise penis-graffitied basement.
The North Carolina native is not willing to give too much away, but does offer some mitigation on the "rough day" social media post: "No, it's fine, it's just like… Mercury is in retrograde and it's trying to throw me off…it's trying to fuck my shit." Although it is her first time in Dublin, a busy tour schedule doesn't allow for much sight-seeing around town. "We walked to the restaurant!" she laughs.
There are times when Kelsey Lu can be seen with a full band, but tonight she's solo, backed by backing-tracks and occasional electric guitar, showcasing new songs from the upcoming album 'Blood'. As a classically trained cellist and a talented songwriter, she has ambitions for a larger stage setup: "I would love to if I could afford it!" she charmingly blurts out. "I have played a few shows with other players. The first time that I performed this new material was actually with a lot of string players. I think 10 string players, a percussionist, keyboardist, bassist… there was three cellos, four violins, a harpist… oh and a stand-up bass!"
However, she is intrigued to try different, stripped down, stage setups. Both as a practical approach for the budding star and to offer a more varied performance. "I'm also interested in figuring out a way to do it in multiple ways. Because I like performing. I started by myself, on stage. I think there's a lot of power in that. But I think that adding that dynamic and other dimension of having other players onstage is exciting as well."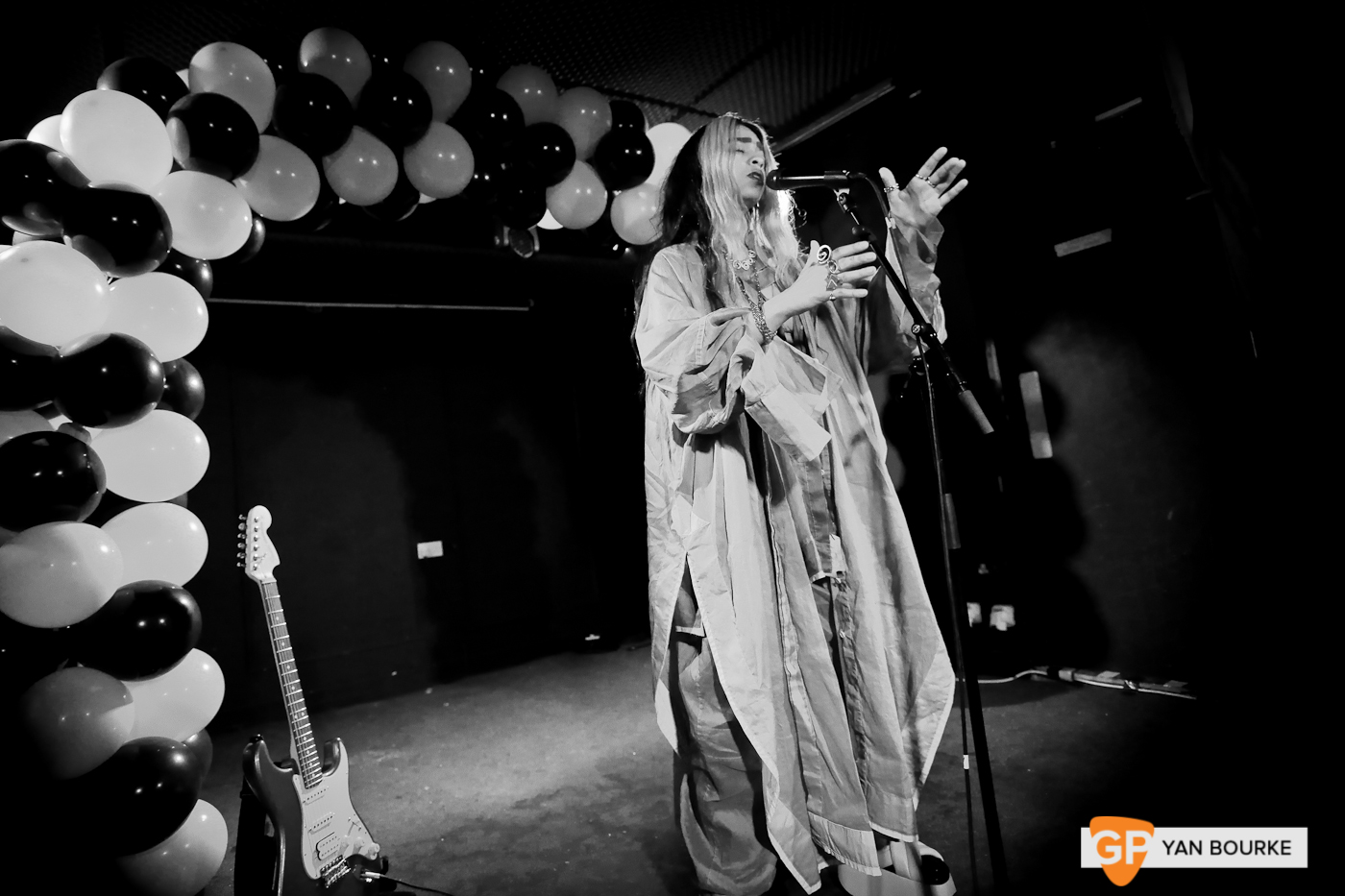 Kelsey Lu at The Workman's Club on 9 March 2019 by Yan Bourke
While this multi-instrumentalist has dipped her toes in many creative endeavours including stints on the cat walk, various collaborations and an appearance in the David O. Russell black comedy American Hustle, she still considers cello as a big part of her life. "I feel like the cello is my safe place. No matter what, I always have that," she says, before comparing touring without her cello to being away from a loved one. "I had a little bit of a breakdown. I was in London and I didn't have my cello. I was like: 'I don't know where it is! My partner! I haven't seen you in so long!' Touring with it and travelling around with it is very expensive. And also, physically it's a lot."
Although there is a palliative for this sort of heartache, it isn't without it's struggles: "So, I've been renting other cellos," she says. "Which has been… fun. It's like going on multiple dates: 'ooh you're cute…ugh you're not!'"
But while visiting various string shops and trying different cellos, Lu would regularly experience prejudice: "Still there's such an issue. In the classical world, period, but also in a lot of these string shops. Where they judge you really harshly and… the way that they make you feel. For me, and a lot of other people of colour, that experience going into shops is just cruel."
One would assume her reason for dropping out of art school would have been on account of such pretentiousness, but it was actually the confines of academia that drove her to jump ship. "I wanted to express myself in other ways outside of the notes that were given to me on a page. I was also getting into psychedelics and I was seeing rainbows jump out of the page. So, I was like: 'I need to jump out of the page too!'"
This urge to colour outside of the lines, she sees as a natural response to coming from a very restricting childhood. "I was being restricted from things my whole life. I was told: 'no you can't, no you can't, no you can't.' So, during that [time] I was in that rebel phase. And I'm still in that rebel phase. But I think that school is good. I think it's good to have these kinds of structures… to discipline yourself. I think discipline is good."
As an artist very keen on authenticity and with her acclaim ever-increasing, Lu admits that there is a slight apprehension regarding staying true to herself. "I think naturally that can be a fear. [But] I think that if I didn't have a fear of that I would be concerned. It's good to have a fear. I don't see it as a bad thing."
She credits her strong base of friends as an essential component to keeping her grounded throughout it all. "Sometimes when I do have those concerns and I'm like: 'ooh it gets too much...people start seeing me!' And I'll talk to my friends and they're like: 'but that's good!' And I'm like: '…yeah.'"
"It's definitely important to have people around you to kind of check…check…" After she trails off mid-sentence, it is suggested that maybe she is trying to remember the age old proverb 'check yourself before you wreck yourself.' She explodes with laughter: "Check yourself before you wreck yourself! That is the phrase! That's the one."
Having supported many artists on their worldwide tours and played many of her own shows and festival slots, as well as in the past touring in a van with Nappy Roots, she's not, by a long shot, new to the road. But what serves as a positive to see the world and meet new people, also comes with its own downfall. "I feel like [with] touring you get to experience travelling to all these places, that not everyone gets to go to. But the worst part is that sometimes you don't even have time to see the places. You're so tired and you want to walk around Dublin and all you get to do is walk to a restaurant."
As a runaway Jehovah's Witness who has had to reappropriate her belief system she now looks to a more secular world. "My spirituality has always been nature," she abruptly but politely says. Balancing a love for nature with a strong social media presence can be tricky, but it is something she happens to take in her stride. "I guess I don't really think about it like that. But I do think social media can become a distraction trap, where you get consumed with it." And with a wry smile she offers up some sound wisdom: "But don't let it consume you."
Success looks imminent for Kelsey Lu with her much-anticipated debut album, 'Blood' due out this Spring. With her buckets of talent and keen vision for a larger stage show, one would imagine that watching this artist in the intimate venue of The Workman's Club, Dublin will become a one-off 'I saw her when…' experience.