Over the past number of years, what it is to be an Irish musician has evolved and mutated from the previous traditional sense. While most acts now wear the Irish badge with open and enthusiastic pride, it's not always been that way.
The Irish hip hop scene, for example, has struggled with identity in its formative years. Accents have been criticised, subject matter dismissed with some well-known and successful artists distancing themselves from the Irish tag.
Refreshingly, the newest wave of Irish musicians are focussing on content and being true to themselves, come what may. Artists now proudly declare their Irishness for all to hear and the Irish music scene is the better for it. 
For Joy Crookes, the proud daughter of an Irishman and Bangladeshi mother, the melting pot and Irish dive bars of London were where she found her grounding in music.
When we sat down with Joy Crookes this week, when asked about her Irish connection, she is keen to be matter of fact on the subject: "I'm here all the time. My Dad, he's a proud Irish parent. It's not just a connection, it's my blood. He always made that very clear. So regardless of what colour I am, or how I speak, I have Irish in my blood, no English, just Irish and Bangladeshi."
This is Joy's first press run in Ireland, promoting her first Irish appearance at The Sound House in Dublin on October 28th.
In interviews, she's cited the manner in which Van Morrison sings, to the passion of Sinead O'Connor as strong influences, not to mention The Pogues cover of Pair of Brown Eyes she uploaded to her YouTube account back in 2013. When asked about her father's involvement in her musical upbringing, she's equally direct.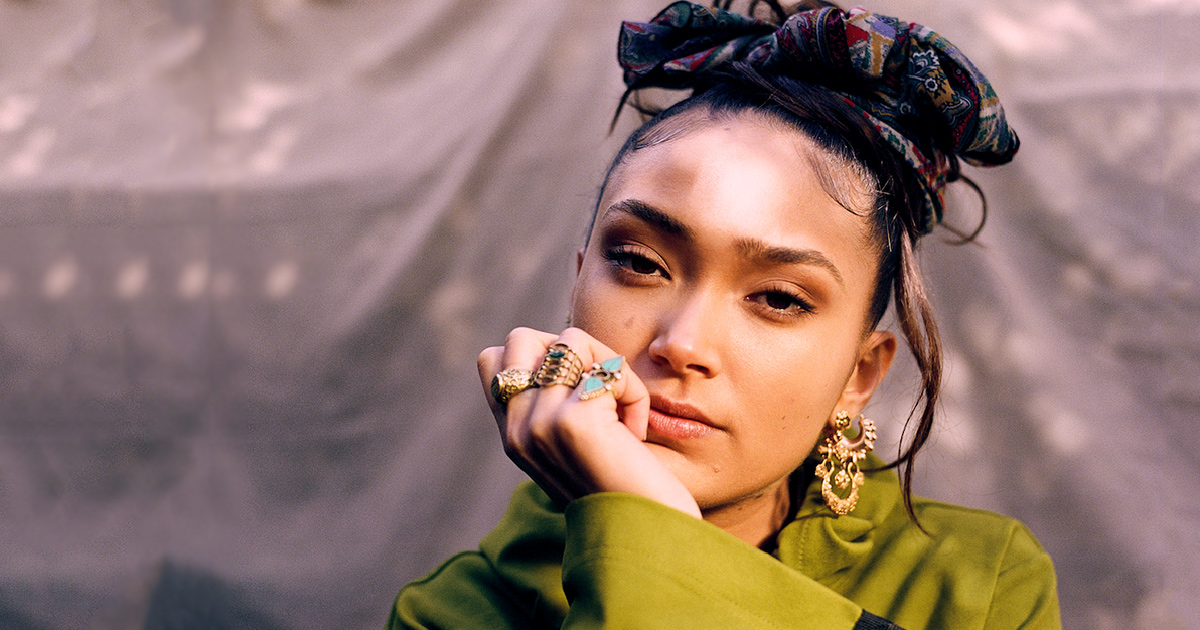 "He really put an effort in, to make me understand that I was Irish. So I mean yea, I feel 100% Irish and 100% Bangladeshi. It's a part of who I am. I feel like the way I speak and my mannerisms are way more Irish than anything else."
You have to understand, I grew up in London, my best friend next door grew up with Algerian parents. There's no "Ello gov'nor", there's none of that. None of us grew up with that. We grew up with what was directly in our houses."
"I think I'm understood a little bit more here. Even the frankness, the direct nature of conversation, the fact that I don't sugar-coat anything, it's very much of our Irish culture."
For an artist so young, she's released a wide range of music – 3 EPs in the last 2 years and 8+ videos online – adding to her already packed YouTube account of covers from when she was much younger. Many other artists, upon signing to a major label, and encouraged by said label teams, would have ripped down those earlier tracks, seeing them as blemishes in their earlier careers. But Joy is having none of that.
"That was the best I was making at that time. You know when I did The Pogues cover, I worked so hard on that cover. But I was like 15 or 16. I just wanted to do it justice, so badly. It's fucking Shane McGowan, you know?"
Back then, that was my best work, I don't know if you can see it, but I'm crying in that video. I mean, that song means so much to me, and that band too. And so to not do it justice, I wouldn't of put it on YouTube if I didn't think I done justice on it. Like now, I'd do it different, of course, but you can't have that mentality."
"It's the same in life, not to get too philosophical, you may regret the person you dated but you were in love with them at a time, you can't beat yourself up about it for the rest of your life. You just have to accept that it's part of your making. It's the reason why you are where you are today."
She then offers a refreshing outlook on her previous work. "So it's not that I don't have regrets, it's just that I also allow myself to be proud of my younger self. It's disingenuous as well, you can't just erase the past every time you want to, it doesn't work like that. I sing in a fucking different accent now, because I've gotten older and I've realised where my voice sits. I've worked on my voice.
"You have to go through the phases of where you sound like your favourites before you become your own. Back then I was singing with a weird kind of dislocated American accent, because I thought nobody wants to hear an English or Irish accent. Everyone goes through that. I wouldn't take it down. It's just part of my makeup. If someone got a problem with it, they can fuck off."
Joy has been recording the past while with Dublin hip-hop artist Jafaris. Their path to working together is equally modern. "I just found him on Instagram, I thought he was great. I thought we could meet, and then it made me love him even more. A young Irish fella, doing something in the Irish scene that is amazing, he's just super talented." She continues, "I invited him to my house in London. He came, and as soon as he came, I put a fry in front of him. I was with my friends, and we all broke bread together."
A new single and track is on the way from the pair too. "I took him for a ride around my area, my friends left and we wrote my next single, it was the first day I met him actually. It's not a feature, it's a 'Joy Crookes with Jafaris' situation – it's my song but it's very much something we made together. He's amazing, I love Jafaris."
As musical scenes change, so too do the musical landscapes that shape them. When once before, a play on a popular radio show or MTV might have made a difference, now other platforms have entered the game. While previous avenues were broad in musical output, YouTube has opened up possibilities for fans with more discernible tastes to discover music more suited to them. No less, one of the most popular online is COLORS, a YouTube channel with 3.6 million subscribers and over 1 billion plays.
When asking about the impact of Joy's performance of 'Mother May I Sleep With Danger' last year on the channel, she acknowledges its importance.
"I always say that my beginning was when I was 18. I always think your start is when you put out your first project. But it did make a huge difference to my career, I became Joy from COLORS. Everyone would stop me and be like, 'you were on COLORS'. Mine went down fucking well, I'm not gonna sugar-coat that. It went down so well, I was so proud of mine, I still am. I think it sounds amazing, the chemistry with my guitarist was on it, my involvement in the song was there."
Did nerves come with such a big opportunity? "I was pretending that my mom was right there. That's why I kept looking in front of me, because I pretended she was with me, so I decided to sing it straight to her. I think that I became well aware that it was a fucking COLORS session. In your head, you think 'oh my god, every single person I know will see this'. But at the same time, you're just like fuck it. I think it was one of the best experiences in my career so far."
If you were to scan over Joy's musical output, you'd hear a wide ranging palette of music – modern London production, to old-school Gregory Isaac lilts, then topped off with something like 'New Manhattan' that brings in that more classic singer songwriter vibe – we question if that's a case of her finding her sound or a conscious decision to keep it disparate?
"That song was inspired by the Irish side of me for sure. It's storytelling, and the art of that is about finding the right outfit to tell that story. And I think now I'm wearing better outfits now. 'Me and Manhattan' is about a red light district that I stood crying at in Belgium. I couldn't believe it, I'd never seen anything like that. And the next street was a family market, and furniture store, so normal. It didn't make any sense to me that anything like that could exist."
She continues, referencing The Dubliners in the process. "Even how I was treated when I walked down that road, and I thought about Raglan Road. That beautiful story of the leaves and the woman. 'And I said let grief be a falling leaf' – like what the fuck, you know. So for me it's like, my skeleton has always been about storytelling, it's just been wearing different outfits. Getting better and better styles, getting a better dress to wear."
Another powerful song in her armoury is 'Power', an ode to the women in her life. "Yea, I wrote that song in like ten minutes." We offer that the song is delicate, direct and complex in equal measure. "It's angry too, very angry. It's going on the album, I'm going to rerecord it. New outfit. The lyrics to that song will be staying the same. I love performing that song, but it's going to get a new outfit for sure. It deserves more love than it has been given already. It's one of the best songs I've ever written."
So what does the future hold? "I'm going in to album mode now. I'm going to be hopefully done by the beginning of next year." So that's the last of the EPs? "Like did Van Morrison have an EP, did Amy Winehouse have an EP? I don't think so. I know it's the new way, but I've always said I am an album artist. I'm putting that shit on my album, the best shit needs to go on there. I've always said EPs are for the nation, an album is for the world. I want the world to hear my album."
Joy Crookes plays the Sound House in Dublin on October 28th – Tickets priced €15.00.